Best Glue for Vinyl – A Guide to Selecting the Best Adhesive for Vinyl
This post may contain affiliate links. We may earn a small commission from purchases made through them, at no additional cost to you.
Wherever you look, this popular material is everywhere. Of course, we are talking about vinyl! This versatile product can be found in flooring, upholstering furniture, making handbags, and even inflatables. Vinyl is often used for both domestic and industrial reasons. Although vinyl is a tough and reliable material, its durability, like any other material, will eventually show signs of wear and tear. In this article, we will look at what the best glue for vinyl is, how you can repair anything made with this material, as well as how to glue vinyl correctly.
What Is Vinyl?
Flame retardant, highly durable, and super tough, the chlorine-based product known as polyvinyl chloride (PVC) is actually one of the most manufactured plastic polymers globally today. Every year, around 40 million tons are manufactured around the world. Unfortunately, as we know, plastic is not very environmentally friendly at all. Vinyl will not biodegrade, which means that in order to keep the benefits of vinyl products, we should choose to reuse and repair them rather than throw them out.
Various Uses for Vinyl
When one really understands the nature of vinyl and how it can be used, you are able to be sure what the best glue for vinyl for your unique needs will be. Vinyl is available either in a rigid form or a more flexible one. Items often made from the rigid type of PVC include things such as bottles, banking cards, piping for water, and sometimes even window frames.
When plasticizers are added to the PVC, it helps make it more flexible. This type of PVC is what is used in upholstering furniture, creating imitation or vegan leather, packaging, and electrical cables, to name a few.
PVC Pipes
Production piping is the largest reason for PVC production and amounts to around half of the PVC manufactured globally. This is thanks to it being such a versatile product – it is not only acid-resistant but also very durable and affordable. Because of its fantastic attributes, the construction industry benefits greatly from PVC; it is used almost everywhere, both in industrial applications and domestic ones. Certain glues can join PVC pipes as well, and these glues are so efficient and effective that the joints are watertight.
Vinyl Flooring
Vinyl flooring has become such a popular choice thanks to it being so resistant to water and humidity. Therefore, vinyl flooring is often used in bathrooms where humidity is high, in kitchens where things can get wet and messy, and even inside operating theaters. This versatile flooring option is available in sheets or in planks. Glue for vinyl flooring is then used to ensure that it stays in place on the subfloor, be it wood or even concrete!
Vinyl Window Frames
Thanks to its resistance to both rot and corrosion, vinyl has started to become a popular choice for doors with glass frames and window frames alike. While these frames are created and assembled mechanically, repairing them with special vinyl repair glue can be done very successfully.
Vinyl Upholstery and Fabric
Another very popular use for this versatile material is vinyl fabric, which is widely used for many different products. Imitation leather, which is sometimes referred to as "vegan" leather, is very popular. It is used to make "leather" jackets, upholster sofas, and to create bags and purses. Fabric vinyl usage does not stop there! It is also used for items such as inflatable mattresses and office furniture.
Vinyl Signage and Graphics
You probably see vinyl signage every day as you drive your car. You may even drive a vehicle that has been wrapped in it yourself! Vinyl is a fantastic surface for printing – it is easy to clean and can withstand the rain and sun without fading. Not forgetting what an affordable option it is and how simple, quick, and easy to clean as well! Certain glues and adhesives make vinyl of this nature easy to repair.
The list is almost never-ending, and of course, there are vinyl repair glues suitable for all types of vinyl.
Different Vinyl Adhesives
Now that vinyl and all of its amazing uses are understood, we can move on to which adhesives make the best glue for vinyl, be it vinyl cement glue, glue for vinyl flooring, or a basic home project. One must remember that some of these adhesives are more flexible than others. We mentioned earlier in this article how there are two different types of vinyl: flexible and rigid. You need to be sure that you are using rigid glue for the rigid form, and flexible glue for the flexible form. If you do not take note of this important factor, you will not achieve the results you expect.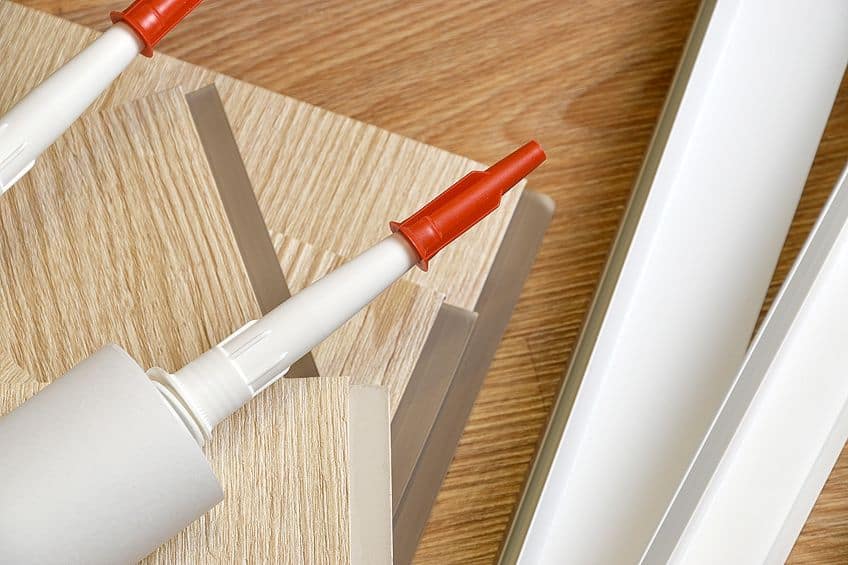 Superglue or Cyanoacrylate
Cyanoacrylates are the proper name for what is more commonly known as superglue. These adhesives are the best kind where gluing vinyl is concerned. This is because superglue cures at a rapid pace, quickly drawing in the moisture and creating an extremely strong and durable bond as it forms a mesh-like structure. Most general hardware stores will stock cyanoacrylates.
Silicone Glue
Another fantastic option for vinyl would be a silicone adhesive. That said, it is not the best adhesive for vinyl of a softer or more flexible nature. This is because the hold will not be sufficient at all. In saying this, it is still highly regarded as one of the best vinyl repair glues for rigid vinyl. Be sure to take note that you are using 100 percent silicone glue and also that your desired surface is free of dust, well cleaned, and prepped. Silicone makes a good glue for vinyl flooring edge sealing.
Epoxy Resin
An epoxy adhesive requires you to mix two substances together. Once mixed, the bond they create is tough and durable. It is not advised to use epoxy resin for the flexible type of vinyl, as it works best with rigid items. There are also epoxy glues that come in a putty-like form, which can help to fill gaps and create a strong bond in rigid types of vinyl.
Polyurethane Adhesive
This is a very versatile type of adhesive. Polyurethane glues work very well when used on more flexible and thinner vinyl. Polyurethane glue can be used both to join vinyl and to adhere it to certain surfaces, such as plastic or wood. Using an abrasion method first in preparation will help the polyurethane stick nicely to its desired surface. We suggest using sandpaper to help create the perfect surface texture for the adhesive to stick to. It will help the two different materials bond better than leaving the surface smooth.
Best Glue for Vinyl
There are so many available glues available, but which one is the best adhesive for vinyl? Sometimes, it can be tricky to figure out which ones will work with this material. Some may do the job at first but end up failing in the long run. We have created the following section to help you in your search for the best glue for vinyl without needing to do endless amounts of research. Have a look at some of our favorite vinyl glue products below!
Best Adhesive for Vinyl Sealing and Patching: RH ADHESIVES Vinyl Cement
If you are looking for vinyl cement glue, this adhesive from RH Adhesives is a truly tried and trusted brand. One of their top sellers is the PVC Vinyl Cement and once you have used it yourself, you will have no doubt about why! Not only is this glue strong and robust, but it is also the perfect adhesive for patching up or mending any of the more flexible vinyl items like upholstery or inflatables. RH Adhesives' PVC Vinyl Cement also stands the test of time as water or high temperatures will not affect its durability. Using a brush for application, this vinyl glue is a fantastic all-around product for vinyl repairs.
PVC cement that provides a strong, waterproof bond to vinyl

Highly resistant to temperature and weather extremes

Fast-drying and excellent for patching and sealing
View on Amazon
PROS
Versatile adhesive
Simple and easy to use
Dries very fast
Has an application brush included
Various quantities available
Waterproof
Excellent value for money
CONS
Releases noxious vapors
Quite flammable
Best Rigid Vinyl Adhesive Option: J-B WELD Plastic Weld Repair Epoxy Putty
When it comes to rigid vinyl, you are probably looking for a super-strong adhesive. This is especially true if you plan on using the product on a car bumper or perhaps for water pipes. Setting it apart from other glues, the J-B Weld's PlasticWeld Epoxy Putty will ensure that you are able to rebuild the damaged parts of your vinyl by filling in those gaps and holes. This awesome adhesive is of industrial strength yet still available to the regular DIY market. With a tensile strength of 600 psi, it is easy to see why it is such a fantastic choice. What is more, J-B Weld's PlasticWeld Epoxy Putty is easy to use, too.
A hand-mixable two-part epoxy putty stick for all plastic repairs
Instant bond is extremely strong and heat-resistant when fully cured
Will not shrink and can be molded, shaped, sanded, drilled, and cut
View on Amazon
PROS
Easy for DIY use
High-strength adhesive
Easy to shape, cut, or even drill
Quick-setting in under 25 minutes
Can withstand temperatures up to 250 °F (121 °C)
Perfect for rigid vinyl projects
CONS
Unsuitable for flexible vinyl applications
A costly adhesive option
Best Vinyl Repair Glue for Flooring: HENRY Premium Flooring Adhesive
With a low odor, no ammonia, and no petrochemicals, Henry's Flooring Adhesive was created especially for those needing to glue down flooring made of vinyl. It works fantastically for all types of vinyl flooring including sheeting, planks, or tiles. Professionals love it and so do regular DIY enthusiasts. This flooring adhesive is also resistant to moisture and even has resistance to thawing and freezing.
The most popular floor covering adhesive for carpet installations
Excellent open time, ultimate strength, and sticky grab
Versatile, easy to use, and resistant to freezing and moisture
View on Amazon
PROS
Perfect for DIY use
Well-priced product
Suitable for larger surface areas
Low odor
Moisture-resistant
CONS
Only suitable for vinyl flooring purposes
Not the best choice when needing small repairs done
Best Adhesive for Vinyl Tile Repair: HENRY Vinyl Tile Repair Adhesive
Not to state the obvious, but the Henry Vinyl Tile Repair adhesive is, of course, one of the top products for use when needing to repair vinyl tiles. It will also be more than suitable for use on planks made of vinyl as well. This amazing product for vinyl tile repairs comes in a nifty squeeze bottle for easy application, every time. Once you have applied this adhesive, it will be traffic-ready in under an hour because it sets so quickly!
Top product for repairing both vinyl tiles and vinyl planks
Easy to apply due to convenient squeeze bottle
Sets quickly within just one hour
View on Amazon
PROS
Simple- and easy-to-use adhesive
Comes premixed for time-saving
No need for an applicator
Quick and convenient to use
Perfect for repair work
CONS
Not a versatile vinyl glue
Not the best choice for large surface areas
How to Use Glue for Vinyl Flooring
This type of flooring has become increasingly popular over the years thanks to its resistance to humidity and moisture as well as its high durability. Vinyl planks are the ideal flooring for high-traffic areas in your home or office and even come in a wide variety of colors and textures. Some kinds of vinyl plank flooring require gluing down, but this is quite an easy task if you have DIY experience. Remember, it is always a smart idea to have a professional help you if you are not sure of yourself. We have compiled some simple instructions for you to follow in gluing down your vinyl flooring.
Supplies
Your choice of adhesive
Suitable glue applicator (according to the instructions of your glue product)
Vinyl flooring planks
Fine tooth saw or a jigsaw
Utility knife
Compound filler
Vacuum cleaner for easy cleanup
Spirit level
Steel ruler
Subflooring
Before you start gluing down your vinyl floors, consider the following: While you are sometimes able to glue your vinyl down on existing flooring, it is often not the best idea to glue over a carpet, floating floor systems, or cork surfaces. Before you begin your gluing, check the instructions from the adhesive manufacturer to be sure.
Another important factor to take note of is that you will need to prime any wooden flooring that is porous. Priming needs to take place to create a stronger bond between your vinyl and the wooden flooring.
It is also highly advisable to do moisture testing should you be gluing the vinyl directly to a subfloor of concrete. One should also apply a moisture barrier to the concrete subfloor to help sustain a good barrier as well as to ensure that it will not affect the durability or adhesion of your chosen glue.
Room Preparation
All furniture must be removed from the room, as tedious as this step may seem! Any other obstructions should also be removed. Baseboards and door jams are also best to be removed. Your baseboards can be reinstalled after you have glued your vinyl flooring down. Do not forget to make sure that you have clearance for doors! You can do this easily by laying a vinyl plank down close to the door and checking that it swings over without any hindrance. Should your door get stuck or catch on the vinyl plank, you may need to sand or shave down the bottom of the door to help with clearance.
Preparing the Subfloor
Before you can even consider gluing anything down, you must make sure that your subfloor is consistent and flat. If the room once had carpet laid down, make sure that all of the carpet glue residues are removed. You also want to ensure that there are no staples left behind and absolutely no dirt or dust! The best tool for the job is a vacuum cleaner rather than a broom as it is more effective. If you notice any holes or cracks in the subfloor, you may also require a filling compound.
You should also use a spirit level to make sure your surface is level and imperfection-free.
Vinyl Plank Preparation
Often an overlooked step, allowing your vinyl planks to acclimate is extremely important. To do this, remove all the planks from their boxes and leave them inside the room that they will later be installed in. The great thing about vinyl planks is that they are a lot easier to cut and shape compared to vinyl tiles. All you need is a good, robust utility knife and a ruler made from steel. Often, you will just need to score the vinyl plank and snap it along the break line you created. If you are cutting a shape that is irregular, or to fit a corner or unusual nook, it is usually best to use a fine-tooth saw or a jigsaw. A bit of advice – measure two times and cut once! Prevention is better than cure.
Securing Vinyl Planks with Glue
Remember that the best thing to do is always follow the instructions and advice given by the manufacturer of the glue you have selected for your project. If you are using a liquid adhesive, you will need to apply the glue to the subfloor while you work from one end of the room to the other end. As you move along, you will lay down your planks and press them down. Remember not to forget about corners or nooks, as these areas are often overlooked or forgotten.
Another important factor is to move swiftly – you do not want the adhesive to set and dry out once it has been applied to your subfloor. Some warm water in a bucket will be useful in helping to clean up any drips and spills before the adhesive has a chance to cure. Depending on your choice of glue, you may need a notched trowel for application, where other adhesives are applied with a roller. You may even need to put the glue on both your plank and your subfloor.
We cannot stress enough that because every glue is different, you must always read the manufacturer's instructions first!
Concluding Thoughts
When your floor is complete and you have glued all of your vinyl planks down, you will need to reinstall all the baseboards, doors, and door jams you removed before starting. Remember to wait at least 24 hours, if not longer, before you walk on the new vinyl flooring you installed. Another thing to keep in mind is that this is a project only for more experienced DIY enthusiasts, as gluing down flooring is a permanent fixture! If you are using a tongue and groove flooring system that does not need glue, this is a far better option for the less experienced or if you do not require a permanent fixture.
Handy Tips and Tricks
It may be easy to glue your vinyl tiles or planks down yourself, but if you have never attempted it before, our useful tips and tricks will help you get it right the first time!
Depending on your subfloor, you might require an underlayment. This is to make sure that your surface is even and flat before applying the vinyl.
You will always need to clean and prepare your surface by making sure it is free of any dust and grime before you start. You will also need to use a rasp or some sandpaper to create the perfect bonding surface for your adhesive.
Keep the leftovers and scraps from your project. You never know when you may need one for a repair! This goes for any sheets, planks, and tiles.
It is useful to store your vinyl glue in the refrigerator! This helps it maintain a longer life; just be sure to label it properly and make sure that children cannot get hold of it. It will need to be allowed to return to room temperature before you can use it.
Measure and assess the surface area size of your project so that you do not end up with too much or too little product.
Remember that you need to use the right glue for the right vinyl. Make sure that if your vinyl is flexible or rigid that the adhesive you choose is suitable.
When using an adhesive that comes in a tube, be sure to keep the nozzle clean, especially when you are done using it!
It is always best to keep your vinyl glues inside the container you got them in. When you transfer glue to another container, you may cause the adhesive to dry prematurely.
Vinyl is a wonderfully versatile material! However, you will need to select a glue that is right for the type of vinyl you are using. Be sure to follow our advice and read carefully through our top product selections if you want to get the job done right the first time!
Frequently Asked Questions
Is It Possible to Use Rubber Cement on Vinyl?
We do not suggest using rubber cement on vinyl because it is created from rubber that was dissolved in a solvent. This solvent can react badly with vinyl, causing the bond to weaken quickly.
Am I Able to Use a PVC Adhesive on Vinyl?
Yes, PVC adhesives are designed specifically for adhering vinyl to vinyl. PVC weld contains a solvent that actually softens the surface and helps to create a nice strong bond, perfect for PVC piping and fittings! This glue is used on rigid types of vinyl and not suitable for use on flexible vinyl and softer PVC types.
Will Gorilla Glue Work for Vinyl?
A tried and trusted brand, Gorilla glue will work on many different types of plastic. That said, we do not recommend using their regular polyurethane adhesive for vinyl or polypropylene.
Will Superglue Work on Vinyl?
When it comes to gluing vinyl, superglue is a fantastic option because it is a cyanoacrylate. This means that it draws moisture from the air to allow it to cure at a rapid pace while creating a mesh-like structure, resulting in a strong and robust bond. You will notice that superglue is usually only available in smaller-sized quantities, so it is usually not suitable for large projects or repairs.
Can I Use Hot Acrylic Glue on Vinyl?
Vinyl is just one of the many materials that hot glue works very well on! It is a strong and popular choice for repairs on vinyl sheet floors and other more flexible vinyl fabrics. It is less ideal for use on PVC pipes and other rigid vinyl types.
Is It Necessary to Glue Down Vinyl Flooring?
If you are using a tongue and groove vinyl plank system or loose-lay sheet vinyl, it is not necessary to use glue. These are often better options than gluing if you have a compromised or less than ideal subfloor. Of course, these are not permanent flooring solutions.
How Do I Seal Vinyl Floor Edging?
Use painter's tape to mask the edges so that you do not make a mess while also ensuring that you are applying a consistent silicone line. You can then seal your vinyl floor edges with a caulk gun. A putty knife will be handy for removing any excess silicone as well.