Best Exterior Paint – How to Find the Right Outdoor Paint
This post may contain affiliate links. We may earn a small commission from purchases made through them, at no additional cost to you.
Adding a coat of paint to nearly any surface will give it new life, and it will dramatically enhance the appearance. Although we have a lot of expectations of paint, do we know how to choose the best house paint? Conducting an exterior paint comparison is one of the most important parts of the pre-painting process to make sure that you choose the best exterior paint for your needs. We have created this full guide including exterior paint reviews to help you find the best product.
Reasons to Paint Your Home
Painting the exterior of your home might seem like a herculean task, which can be depending on the size of the building, but it can be extremely rewarding. Below are a handful of reasons to coat your home in some fresh paint.
Increasing the Value
Adding a fresh coat of paint to your house is a great way to increase the real estate value. This applies to the interior of the house as well as all trimmings. So, if you are in the market to sell your home, consider painting it as it will help when it comes to the evaluation of your assets.
Covering Permanent Stains
There are few things worse than approaching your house after a long day only to find a hideous stain staring back at you. A fresh coat of paint is the best option to cover stubborn stains and marks that cannot be removed with conventional cleaning.
Protection Against the Elements
The outside of your home is exposed to a variety of elements that range from wind, snow, rain, hail, and so on. These will damage the existing coat of paint over time and if it is not addressed, it can cause permanent damage to your home. The best exterior house paint will provide an added layer of protection against most of these elements, and it can even form a barrier that prevents moisture from getting in. This will stop mold and mildew from spreading inside your home.
Practical Costs
Despite house painting being a big job, it is surprisingly cost-effective and it should be the first thing to consider if you are looking to renovate the exterior of your home. However, this does not mean that you should buy the cheapest paint and material, as this will not yield the results that you would want.
The Best Outdoor Paint
There is more to painting than just buying the cheapest paint and hoping that it would do a good job. If you are inexperienced, we suggest that you take a look at exterior paint reviews before you decide. Making an informed decision is part of the process, and this is why we have provided a list of the best exterior paints.
The Overall Best Exterior Paint – DIAMOND BRITE Oil Base Enamel Paint
If you are looking for the best exterior paint that can be used on nearly every outdoor surface, then look no further than Diamond Brite oil-based enamel paint. This paint will provide a variety of surfaces with a durable finish that should last for a decade regardless of the weather it is exposed to. This paint can be applied to vinyl, wood, doors, trim, and outdoor furniture where it will provide an extremely hard and hardwearing surface.
A variety of exterior paint reviews have reported that this paint is resistant to discoloration and cracking, it is excellent at covering stains, and it even prevents mildew. This product is an all-rounder and should be considered if you live in a house that has seen better days.
Tough and durable, high-gloss, oil-based enamel paint
Suitable for wood, concrete, plaster, masonry, hardboard, and metal
Easy to apply and resists scuffing, fading, cracking, and peeling
View on Amazon
Pros
It provides a very hard and durable finish
It can be applied to a variety of surfaces
Easy to apply with minimal preparation needed
Long-lasting
Resistant to discoloration and cracking
Ideal for high-traffic areas
Cons
10-12 hour dry time and 24 hour recoat time
Needs paint-thinner for clean-up
Best Paint for Siding – KILZ Exterior Siding, Fence, & Barn Paint
The best exterior paint for siding is a no-brainer, as Kilz Exterior Siding, Fence, & Barn Paint is a quick-drying product that can easily cover 200 square feet of highly porous wood. This product has been the premier choice for businesses and homes and has proven to provide an extremely durable finish that is capable of lasting many years.
A durable all-purpose exterior paint
Resists cracking, blistering, and peeling
Has a unique water/oil base formula for strong adhesion
View on Amazon
Pros
Covers a wide surface area
Very fast drying
Suitable for a wide range of exterior surfaces
Excellent adhesion properties
The paint works particularly well over vertical exterior wood surfaces
Provides a long-lasting finish in various conditions
Cons
Can be stained by devris sticking to the paints surface
Best Outdoor Paint for Wood – RUST-OLEUM Zinsser PermaWhite
There are plenty of available options if you are looking for the best outdoor paint for wood, but Rust-Oleum Zinsser PermaWhite Exterior Paint is our top pick for this material. As most paints can prevent mildew to a particular extent, this product will prevent the wood from rotting, even in humid and wet environments. Furthermore, you will never experience any type of mildew or mold after using Rust-Oleum Zinsser PermaWhite Exterior Paint as it is manufactured with a formula that contains a mildewcide.
What makes this the best outdoor paint for wood is how versatile it is, as it can be used on a variety of surfaces such as railings, shutters, wooden siding, and trim. Overall, this is an exterior wood paint that is designed to resist mildew and mold for up to five years and the finish should hold for 15 years before it will need to be redone.
Mold and mildew proof exterior paint
Self-priming and fade-resistant formula
Offers great hide and resists dirt and moisture
View on Amazon
Pros
This paint will protect the wood from rot
Resists mildew and mold
Maintains its color and look for a long time
Self-priming formula for easy application
Offers a good level of hide over various wood surfaces
A durable and weather-resistant exterior paint
Cons
If covering a large outdoor area, the paint can get quite expensive
Best Outdoor Paint for Brick – KILZ Self-Priming Masonry, Stucco, and Brick Paint
This is a great product if you are looking to achieve a high-quality finish on a variety of interior or exterior surfaces. Kilz Interior/Exterior Self-Priming Masonry, Stucco, and Brick Flat Paint will provide you with a water-repellent finish that can be applied to surfaces with a paintbrush, roller, or spray gun. The self-priming paint is resistant to mildew and will provide a smooth finish, provided that the surface has been properly prepared for paint.
Acrylic latex water-based paint with high hide properties
Suitable for interior and exterior use
Accents all textured surfaces while achieving a natural look
View on Amazon
Pros
This paint is easy to clean and maintain
Suitable for a variety of applications
Resistant to mildew.
Suitable for indoor and outdoor use
Can cover a wide range of textured surfaces
Excellent adhesion qualities
A self-priming formula
Cons
A fair amount of surface preparation is required
Best Outdoor Paint for Porches – RTG SUPPLY CO. Anti-Slip Paint
Decks and patios are high-traffic areas and they will need to be given a durable finish that also looks the part. This is why we have chosen RTG Supply Co. Deck, Porch, & Patio Anti-Slip Paint, as it will provide you with a coating that will improve the appearance and the overall safety of your surface. This means that you will be able to walk across your outdoor surface without worrying about slipping when it is wet. This is one of the best exterior paints as it can be applied to a variety of surfaces such as synthetic decks and porches, wood, asphalt, and concrete.
Fast-drying, non-abrasive textured paint for slippery exterior surfaces
Suitable for weather-exposed decks, porches, patios, stairs, and ramps
Low-odor, low-VOC, water-based polyurethane formula
View on Amazon
Pros
Provides an effective non-slip coating
Fast drying for easy application
Weather-resistant formula
Non-fading and UV-stable formula
Durable for heavy foot traffic
Specially formulated for decks, patios & porches
Cons
There are only four colors to choose from
Preparations for Exterior Painting
Before you decide to slap a coat of paint onto the exterior of your home and call it a day, there are a few important steps to take. Failing to prepare any surface for paint will result in a poor finish, and you will end up repainting your house within a few months.
Clean the Walls
Over time plenty of debris and other foreign substances will start to stick to the paint. All of this will need to be removed, and the best tool for the job is a pressure washer. The high-pressure that is generated by this special tool will make quick work of any dirt that has stuck to the wall.
Conduct the Necessary Repairs
Your next step will be to repair any surface that has been damaged or broken. This is where you will fill in cracks with epoxy filler and remove materials that are beyond repair so that they can be replaced. You will need a smooth and even surface available for painting. Any unrepaired cracks or broken finishes can quickly affect the paint.
Removing Loose Paint
This is one of the more tedious jobs but it is necessary to achieve the best finish. Walk around the house and scan for fragmented and loose paint. This can be removed with a medium-grit sandpapering block. You will need to make sure that all surfaces are even and clear from any debris before you start painting.
Caulk Trim
Any gaps that are found around windows and doors will need to be filled with exterior caulk, so ensure that you have a caulk gun. This should also be done if your house consists of a variety of materials. You should add caulk to the surface where these materials meet. This helps to achieve a smooth and even finish, without any gaps for the paint to run into.
Priming
Before you can apply the best exterior house paint, take a look around the house and try and spot wood knots and stains. A coat of stain-blocking primer should be added with a paintbrush and this will do the job. Primer helps the paint to adhere better to the wall, and it will provide a layer of durability. Different exterior paints require different primers, depending on the base of the paint. Some paints are also self-priming. Be sure to check the primer need of your specific paint before getting started.
Cover Doors, Lights, and Glass
Any part of the house that should not be painted should be covered with painter's tape and plastic sheeting. This is important, as you do not want to clean up messed paint after you have finished painting. This also includes the floor where paint can drip or any surfaces where you will be placing paint cans or mixing the paint.
What is Exterior Paint Made From?
The formula that goes into making paint will vary from brand to brand; however, there each can contains the same ingredients: binders, pigments, solvents, and additives. Let's take a brief look into the purpose of each of these ingredients.
Binders
Binders are essentially a type of resin that will combine to form the paint coating once the solvents have evaporated. This gives the paint its viscosity and adhesion quality. Durable, weather-resistant binders are required for the best exterior paint.
Pigments
These are the powdered minerals that are added to paint to give it its color and opacity. Pigments come in various forms but are generally either natural or synthetic. However, for exterior paint, synthetic pigments are basically always used.
Solvents
The solvents found inside the paint will evaporate once the paint is applied, but its purpose to keep pigments and binders suspended. There are various types of solvents that can be used. These can affect the eco-friendliness and toxicity of the paint.
Additives
Additives are responsible for a variety of factors such as how long a paint takes to dry, mold and mildew resistance, leveling, and so on. For the best exterior paint, you will want the paint to be UV-resistant and have additives that help to create a more weather-resistant, durable finish.
How Much Paint Should You Buy?
There is a simple calculation that can be used to determine how much paint you will need. Take the total square footage of a wall, this includes the doors and windows, and then multiply that figure by the coverage rate that is found on the can by 0.9. Always factor in additional coats and room for wastage as well.
What to Look for in the Best Exterior Paint
As we have already established, not all paints are manufactured equally. Some are only designed to change the color of a wall or floor, and then some protect along with a beautiful finish. Below you will find a few factors to consider when trying to choose the best outdoor paint.
Low Volatile Organic Compounds (VOCs)
Paint is made from additives, pigments, binders, and solvents, and the solvents that are mixed with additives tend to emit toxic fumes called volatile organic compounds (VOCs). If the paint has a large number of VOCs, you will need to work in a well-ventilated area and wear a mask, as the fumes will cause nausea and headaches. When buying paint, it is important to check the labels for "Zero-VOC" or "Low-VOC" and conduct an exterior paint comparison between them.
Durability
The best exterior paint should be durable as a gallon of exterior paint will cost between $8 to $50. This is one of the few instances where you will truly get what you pay for and the more expensive the paint, the better the quality of the ingredients, and it will likely come with a longer warranty. Take a careful look at the warranty that is offered, as paint that comes with a 15-year warranty will likely be superior to that which comes with a 5-year warranty.
Weather Resistance
Oil-based paint used to be the gold-standard when it came to weather resistance, but with the advancements that have been made in technology, acrylic-based latex paint has been a good alternative for those that do not want the hassle of dealing with VOCs. Acrylic allows the latex to become more flexible, enhancing its ability to resist various types of weather, as standard latex-based paint is prone to becoming brittle. The best quality latex-based paints will include the words "100% Acrylic" or "All Acrylic".
Drying Time
The type of paint that you buy will determine the amount of time that is needed for it to fully dry. You should also keep in mind that you need to wait for the first coat to dry before applying a second coat. This a factor that you must consider if you only have a limited time to complete a specific project. It is advised to stay away from oil-based paint if you are in a hurry, as up to 24 hours is needed before a new coat can be applied. Latex-based paint will require between four to six hours before a new coat can be applied.
Lasting Color
There is nothing more frustrating than seeing paint discolor after a year, and this is bound to happen if you opt to use cheap paints. Cheap pigments are used with cheaper paints, and while they might be more affordable at the moment, they could cost you more in the long run. Direct sunlight will cause discoloration and this is likely to happen with darker colors. The pigment that you should look out for is titanium dioxide, this is a more expensive pigment that is only found in the best paints.
Climate Suitability
The climate that the paint will be exposed to will be a factor to consider when looking for the best exterior paint. It does not matter if you bought the best house paint that is not mildew-resistant if you live in a humid area. The same concept applies if you have bought the best exterior wood paint that is not UV resistant if you live in a hot and dry area.
Surface Suitability
The rule of thumb is to apply the same type of paint to the surface that has an existing layer. For example, if the surface has a coat of latex paint, do not use oil-based paint and vice versa. This will cause peeling and bubbling as the solvents that are found in oil-based paint will melt the latex. It is also important to ensure that the paint that you are using is meant to cover the surface that you are painting. This means that you should not try to coat metal with exterior wood paint, regardless of whether it is the best outdoor paint for wood, it will not adhere to the surface.
Tools Required for Exterior Painting
Since we have been asking 'what is the best exterior house paint', we need to know what the best tools are, as there is no point in trying to do a great paint job with poor tools. Below is a complete list of tools that will help you to complete your project with exceptional quality.
Other Types of Paints and Sheens
Apart from the conventional exterior paints that are tried and tested, there are a variety of specialty paints and different sheens to choose from. These are primarily chosen for aesthetic purposes, and they should be chosen depending on your specific project.
Specialty Coatings
These are paints that require special care when being used as their finishes are not as durable as conventional paints.
Solid-Color Stain: This easy-to-use coating produces a flat sheen that forms a thin layer that allows the texture of the material to show. It is not very durable, and can easily be removed from a surface.
Liquid-Vinyl Siding: This coating is thick and is designed to be sprayed onto a surface by a professional. It can last up to 25 years and can cost up to $5 per square foot, which is twice the cost of a professional paint job.
Self-Priming Paint: This is meant to allow painters to skip the priming process and jump straight to paint. These paints have excellent adhesion qualities. However, you may require many coats to get the proper sheen and opacity. Some of the best exterior paints that we have reviewed are self-priming.
Gelled Oil: With mousse-like consistency, gelled oil is available in a can and can produce an even and beautiful shine. The main benefit of using this product on trim and doors is that it will not drip.
Waterborne Oil: This is an oil paint that is not as smooth as normal oil-based paints but it is more fade-resistant and flexible and it can be cleaned with soap and water.
Natural Paint: This is a linseed-based paint that contains no chemicals and solvents. Three coats should last up to 50 years. This is made from boiled linseed oil and a variety of minerals that have been ground.
No-Fade Paint: This is a water-based resin that can resist UV damage for up to 15 years. No-fade paint is always a good option for exterioir use that gets exposed to harsh weather conditions.
Masonry Paints
When painting stone, stucco, or brick, the paint that is used must allow water to pass through it. This is why we cannot use oil-based finishes as they tend to trap moisture, and this will destroy the mortar. Below are alternative options, be warned, they are expensive.
Lime: One of the oldest coating formulas consists of mineral pigments and slaked quicklime. This provides masonry with an old-world look, which is extremely pleasing to look at. However, the finish easily wears off and will need to be reapplied every three to five years.
Acrylic: High-quality house paints will allow moisture to seep through; however, this must be paired with an alkali-resistant primer that will protect the paint from the high pH that is present in cement.
Mineral: Mineral paints use silicates that are chemically bound to masonry that will allow a finish that will last up to 50 years if two coats are applied.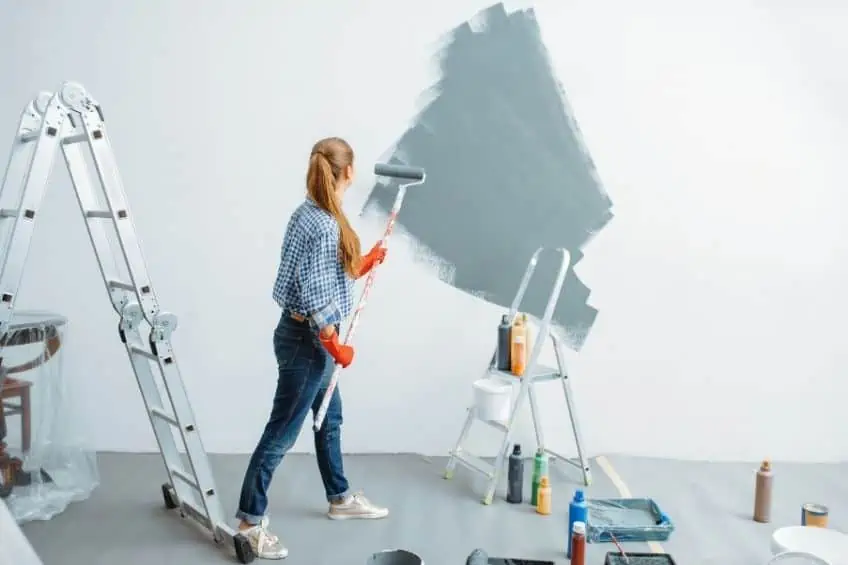 Frequently Asked Questions
What is the Best Exterior House Paint?
There are plenty of different exterior house paints, each one will cater to a specific budget and requirement, such as climate, surface, type, and so on.
What are the Most Popular Exterior House Colors?
The most popular exterior house colors are various shades of blue, red, and brown, with charcoal and olive green gaining more popularity.
Which Type of Exterior Paint Lasts the Longest?
Acrylic paint is the most durable paint and is known to last up to 15 years while withstanding extreme environmental conditions.
How Often Should You Repaint Your House?
It is advised to repaint the exterior of your house every four to seven years. Of course, this depends on the type of paint used, and the specific weather conditions.
Is it Advised to Paint Over Old Paint?
When painting over old paint, you will need to prepare the surface properly. This can involve scraping off any flaked paint, cleaning the surface, and priming it. Generally, you should avoid painting directly over existing paint surfaces without proper preparation.
Finding the best exterior paint is important, as the type of finish you will want varies depending on the surface and outdoor conditions. Our guide above should have covered everything you needed to know to get you started. Happy painting!