Do you want to learn how to seal glitter and keep it from coming off or getting on everything else? Or you want to cover your newly glittered surface or object to prevent the glitter from rubbing off? This article will help you in discovering all the methods that you can use to attach and seal glitter to all kinds of surfaces.
How to Seal Glitter – Start With the Materials
If you are keen on working with glue for the first time, then the information in this article is for you. Before you begin your quest, you will need a few items in your art bag. A little bit of experience and some good-quality tools are needed to make incredible projects. Below is a list of some of the best choices for how to seal glitter.
The Best Glitter for Your Sparkle
It is quite tricky to choose from the various brands and types of glitter available.  The final look of your project is influenced by the size of your glitter particles. Glitters are available in six different sizes. When learning how to seal glitter, you will need to recognize these. The following is a list of these types:
Ultra-Fine Glitters
These are the smallest glitter size. They form the best sparkling haze image when you throw them in the air. These particles are quite small that you will not be able to see them in the air. If you use these types of glitters on objects, they tend to give a sparky smooth appearance.
They are suitable for those objects that you look at within a close distance. This is because the dazzling beauty cannot be seen from across the room. They are available in various shades of the rainbow. These glitters are quite difficult to handle because they go everywhere when they spill. Although being the smallest, they are the most expensive type of glitter.
Extra-Fine Glitters
They are quite small, but a bit larger than the ultra-fine glitters. Most people cannot tell the difference between ultra- and extra-fine glitter types. The only difference can be seen from the price tags. This type of glitters is more economical when compared to the extra-fine type. Extra-fine glitters are the best choice because they can give your project more shimmer without the obvious glitter particles.
Note: Hair clips, belts, bracelets, and so on are often manufactured with the extra-fine glitters on them. These glitters are mostly used in the fashion industry.
Fine Glitters
They are the top-rated type of glitter because they can be cleaned quite easily, offer great coverage, and a big variety of colors. They are versatile and can be used for most arts and crafts projects, party decorations, and so on. These are the most popular type of glitter and their particles are easily noticeable.  They are easy to clean-up when compared to the ultra- and extra-fine types. The only missing thing when it comes to fine glitter is the incredible sheen offered by the smaller types.
Medium Glitters
This type of glitters can cover a large surface area. They are best used in theatres, or for costumes and so on. Big glitter particles provide a sheen that can be seen at least ten feet away. Their color range is quite low but easy to clean. They are also inexpensive.
Large Glitters
These are perfect for projects that can be seen afar. The way they spark is defined as the reflection of light on water. Meaning that it is quite reflective, and you can never go wrong with large glitters. They also have a minimum color range just like the medium glitters. They have fantastic visuals and are very affordable.
Extra-Large Glitter
This the biggest glitter with a size of quarter-of-an-inch. The application method is quite different from the one used for small glitter sizes. You can either stick each particle of glitter separately to an object or you can scatter all the particles on the floor. You can see the spark from this glitter as far as 20 feet away. It is usually used by event planners as confetti and it is suitable for outside applications. It is the easiest glitter to clean-up.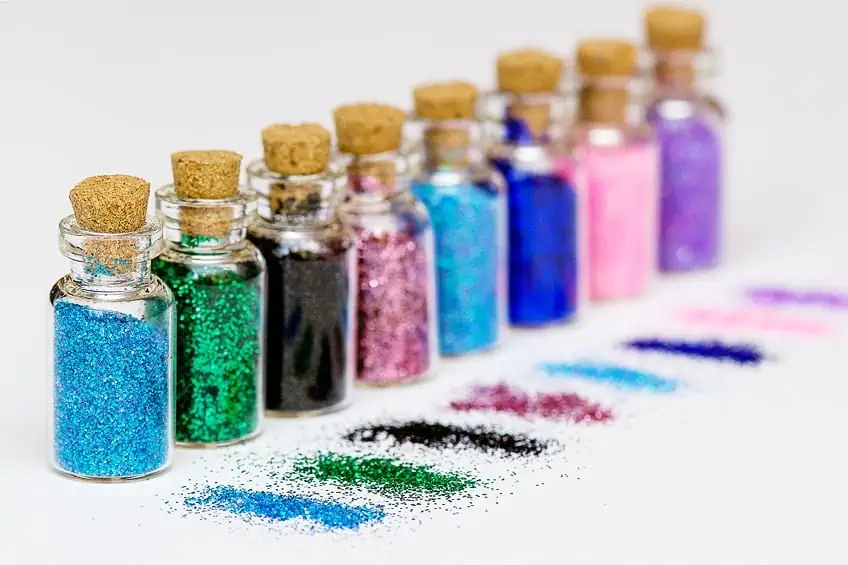 Our Glitter Recommendation: LUXAX Luxury Glitter Set
This set is suitable for most beginners because it comes in 30 different colors and glitter sizes. This is ideal for starting a glitter collection. Moreover, it can fit someone who wants to increase their art collection. The set contains non-toxic glitters which are quite versatile. Another advantage of this big set is thatr it is rather budget-friendly.
Professional grade glitters for enhancing fine arts
Includes a huge range of colors and variations
100% non-toxic and certified for safe use
View on Amazon
PROS

Comes in various colors and sizes
They are non-toxic
Good quality set
Quite affordable
Best Sealant for Glitter
You must stick and seal your glitters to your projects to prevent them from falling out. Pour-on epoxy coating mod podge glue are the best options you can use to seal the glitter. Want to know how to seal glitter most effectively? Check out the following products.
Overall Best: MOD PODGE Sealer, Glue & Finisher
This product contains glue and finisher in one, so it has a variety of uses besides sticking glitter. This product will seal the glitter after sticking it, adding an extra sparkle to the finished product. Mod podge turns clear when it dries, so it is suitable for most surfaces like paintings, plastic, wood, and so on.
This is a water-based formula that is water-resistant and permanent when it has dried. It dries within an hour. You can easily clean it with soap and water because it is water-based. You can also add color to the mod podge by adding dry pigment, acrylic paint, or watercolors. Sometimes it dries with a bit of tackiness. You can prevent this problem of tackiness by applying an acrylic sealer.
Multipurpose all-in-one sealer, glue, and finish
Fast and clear drying for multiple coat buildup
Water-based, non-toxic, and dries to a glossy sheen
View on Amazon
PROS

Suitable for a variety of surfaces
It can be colored
It is easy to clean
Dries to be water-resistant
Dries quite fast
One bottle is suitable for multiple uses
It dries to a clear glossy finish
It is quite affordable
Best Pour-on Epoxy Sealant: ENVIROTEX Lite High-Gloss Epoxy
One single coat leaves a professional, smooth, and glass-like finish. It is a high-quality epoxy coating that is water-resistant and heatproof. This product is a perfect choice for glazing on most surfaces. It is also solvent-free. This is the best sealant for protecting your indoor and outdoor environments. A single coat for this product is the same as 60 coats of varnish. If you want to know how to seal glitter very effectively, then this product is a great start.
High Gloss 2 component polymer coating

Solvent free formul,

Waterproof, 

Heat and alcohol resistant

32-Ounce kit covers approximately 8 square feet
View on Amazon
PROS

Can be used on various surfaces
It is suitable for the outdoors
It is a high gloss finish
It is free from solvents
Water- and heat resistant
It is quick and easy to use
CONS
Turns yellow if exposed to too much sunlight
It requires two parts to be mixed
Best Glitter Sealer Spray: KRYLON Triple-Thick Crystal Glaze Spray
You will not regret using this glitter sealer spray for your glitter projects. It dries fast and will be dry to touch within 15 minutes. The product will dry fully in two hours. This is an easy high gloss finish and glitter spray.
When the product dries, it will become permanent and will not be prone to cracking. The spray tip can prevent overspray, so you will end up using less sealant. You do not have to press too much on the spray tip as you do with other spray bottles. A single spray of about 11 oz is capable of covering 20 sq. ft.
Quickly builds a bright clear coating to create depth
One coat equals three other coats of regular aerosols
Can be used on a wode variety of surfaces and materials
View on Amazon
PROS

Has a high gloss finish
It dries quite fast
It does not crack
Suitable for various uses
It is easy to use
How to Seal Glitter – A Quick Guide
The process of applying and sealing glitter to a surface is based on the medium type. This can be whether you are adding a glittery sheen to a glass vase or jazzing up an old item of clothing. The answer to these questions will determine the preparation and aftercare of the project. Want to know how to seal glitter? Check out the following steps.
Preparing for the Glitter
Before you get started on your glitter project, there are a few things you must consider so that you can have a cleaner process. Your workspace must be a place where you can clean easily after completing your work. It is advisable to do the process on a smooth surface, to prevent having bits of the glitter stuck in the grooves and corners of the table.
Ensure that the work area has a surface or floor that you can clean easily. Make sure you have a tray of some sort – this can be very useful. The tray will be useful in catching the glitter that would have failed to stick to the surface. The tray is beneficial in saving excess glitter so that you can use it for the next process.
How to Seal Glitter on Glass
Using glitter to revamp old objects and solid surfaces can be an effective way of decorating and playing around with sparkles. However, it becomes a different story if the glitters do not stay where they are supposed to be. So, how to seal glitter on glass? There are different methods you can use for sealing glitter to certain solid surfaces. The following are some of the tips and tricks that you can use when learning how to seal glitter on glass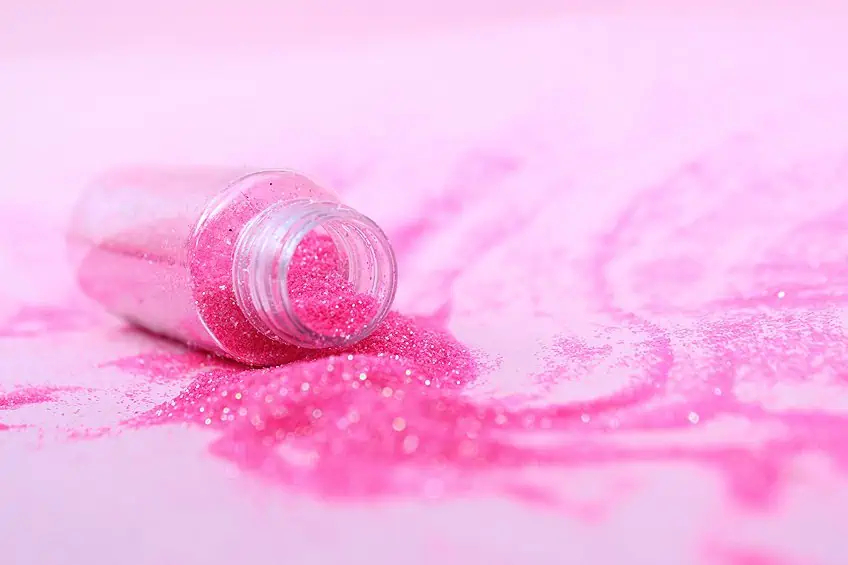 Painting with Glitter Mod Podge
This method will be suitable for you if you want a quick method that is easy to follow. It also prevents you from making a lot of mess when sprinkling glitter. This glitter paint for glass is also suitable for various other surfaces. For this method to work out effectively you will need the following items:
Foam brush
Clean glass object
A glitter mod podge of good quality
Favorite glitter in any shape or size
This is the best glitter paint for glass, and it makes the whole process easy. If you want to enhance the shimmer and coverage, then make sure you make a mixture of a greater ratio of the glue compared to mod podge. Then use the foam brush to apply the glitter mod podge mixture to the glass surface, making sure that you completely cover the whole surface area. You can also use this method on wood or plastic, it will work effectively as it does on a glass surface.
You can apply a few coats depending on your preferences and the amount of glitter you would have added to the mixture. The number of coats to apply also depends on the coverage. If you need to cover a large surface area, then you might need more coats compared to a small space. If you add more layers, then you should wait for each glitter layer to dry fully first before applying the next one. The mod podge tends to have a tacky finish when it has fully dried.
This mod podge has a glitter dull sheen sometimes. If it turns out to have a dull finish, then you can use a clear spray-on sealant to give your surface or glass object a smooth and glossy finish. A sealant from Krylon is the best choice.
Sprinkling Glitter Onto the Project
You will need a tray to catch any of the falling glitter for later use. This method produces a smoother finish when you apply the glitter. This is because it produces more sheen. After all, you will not be mixing glitter into the glue. This method of glitter adhesion and sealing uses the same equipment and products as the one above.
You should use a foam brush to apply the mod podge onto the surface of the object. When you are done you can put your object on the tray and sprinkle the glitter all over the covered areas. Leave the layer to dry when all the mod podge has been completely covered with glitter.
You can also repeat this process if you want your coverage to be opaque and strong. Ensure that the first layer is dry before you attempt on adding another layer.
When you are certain about the level of coverage and sheen you have applied, then you can seal the surface. The glue dries clear, so you should apply the last layer to seal the mod podge. A high gloss mod podge will leave a beautiful, smooth surface. Since the mod podge can dry to be tacky, then you should use a spray-on glaze sealant as a means of finishing your piece.
Adding and Sealing Glitter on Fabric
The process of adding glitter to your clothing is an enjoyable way of art. You can give a new spark and look to old, boring clothes by adding glitter. However, it is quite hard to keep the glitter sealed to the fabric compared to other surfaces. This is because clothing items tend to be washed regularly and this will disrupt the adhesion of the glitter particles to the fabric. The products that you use on your fabric affect the durability of the glitter on your fabric.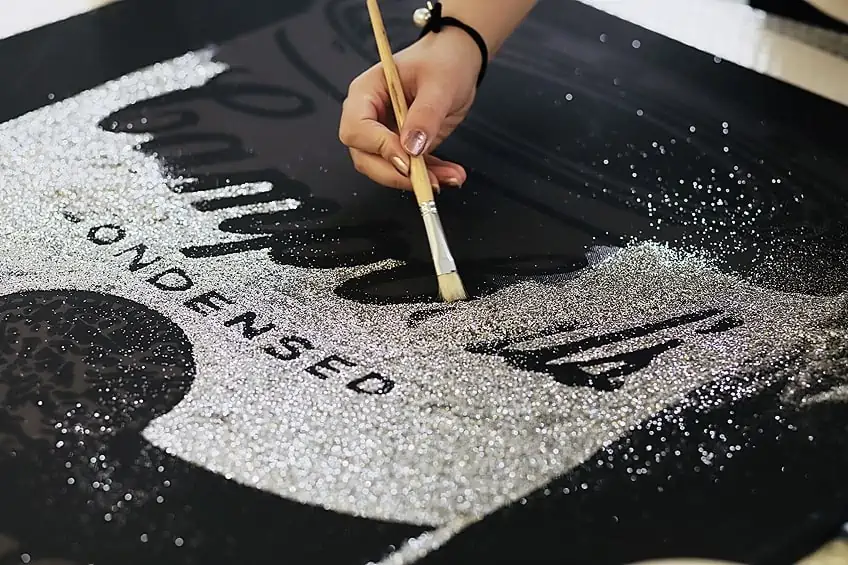 Using a Permanent Fabric Glitter Spray
A permanent fabric glitter spray is the best option for adding and securing that the glitter stays in the same place. These fabric glitter sprays are manufactured to be used on fabrics specifically. This makes them more suitable than any other option. Follow package instructions to ensure that you get the best results.
Best Permanent Fabric Glitter Spray: TULIP Glitter Spray Paint
This method is not messy as compared to sprinkling glitter. You can either spray, spritz or splatter the glue onto the fabric. This product is the perfect choice for a permanent glitter spray and it is available in different color glitters This product produces a permanent glitter color that does not disappear after several washes. This spray product is glitter and sealer in one.
Using this product will also allow you to use a stencil in creating a unique pattern. It dries quite quickly and leaves a beautiful sparkle and shimmer. It works best on light-colored fabrics. These Tulip glitter fabric sprays are environmentally friendly and non-toxic.
A special fabric glitter spray paint
Permanent fabric paint dries to a vibrant shiny color
Non-toxic and eco-friendly fabric spray paint
View on Amazon
PROS

It is easy to use
It leaves a shiny sparkle
Comes in vibrant colors
Remains permanent after several washes
You can spray, spritz and splatter
Environmentally friendly and non-toxic
It is less messy
CONS
Suitable for light fabrics only
Sealing Glitter With Hairspray
If glitter is falling from any of your clothes, you can use fabric glue to seal back the glitters to the fabric. Hairspray is also a quick option that can effectively work. Most hairsprays are readily available in our homes which makes the process cheap and easy to do.
Hairspray tends to dry quite fast, so they are perfect for this method. It is a quick fix that seals glitter to the fabric. However, you must be cautious when dry cleaning these clothing items because the glitter might come off. This method is not a permanent option for sealing glitter.
Take the piece of clothing that must be fixed into a well-ventilated area. Lay it on a clean surface and spray a layer of hairspray on the glitter that you want to seal. You should hold the hairspray can at a distance of ten inches away from the fabric to get the best coverage. It dries very quickly but it will not hold for a long time in the long run.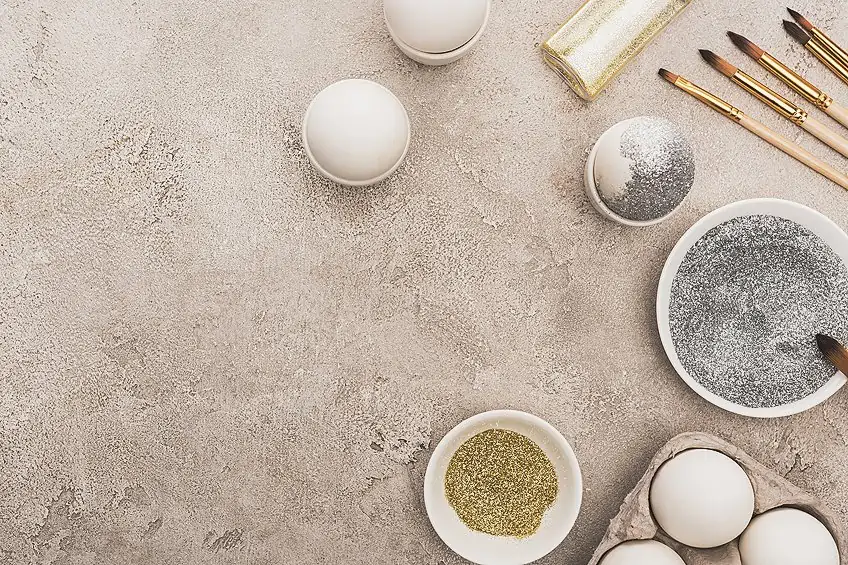 Sealing Glitter with Fabric Glue
To get a permanent glitter seal option, you can also use durable fabric glue. You can use this method in the same way as the mod podge and glitter method. Lay your clothing on a flat, clean surface before you commence your work. If you want to add and seal glitter, then you should paint the fabric using the glitter and glue in your desired design and pattern. The glittered fabric must be left to dry for 24 hours. The fabric should dry first before you paint or seal your layer of glue.
Best Fabric Glue: ALEENE'S OK to Wash-It Fabric Glue
This is the best option for sealing glitter onto your clothing and fabric. This fabric glue is wash-resistant and dries very fast. The glue requires 24 hours to dry and at least 7-10 days before you can wash the glittered fabric.
This will give a lot of time for the fabric glue to dry. It is advisable to wash the clothing turned inside-out. Also, wash the fabric in gentle cycles to enhance the durability of the glittery surface. However, you cannot use this fabric glue on thin and light fabrics like silk, rayon, and so on.
Permanent fabric adhesive for various materials
The glue is fully washable once it cures
An easy fabric bonding solution - no need for sewing
View on Amazon
PROS

It can be washed
It is permanent
It dries quite fast
An easy fabric adhesive for various materials
CONS
Not suitable for thin fabrics
Requires delicate washing
What Surfaces Can You Add Glitter to?
There are a lot of surfaces and items that you can add glitter to. You can work from party dresses to Christmas decorations, it all depends on you! Glitters can make a whole lot of difference in the world we live in today. You can also use mod podge to add some glitter to your hair clips and pins or to create fantastic party hats or gift bags. You can also take this glue an extra mile by adding some of it to your phone case.
Add a Dazzling Sparkle to Your Step
The other exciting DIY glitter project that you can work on is your shoes. Yes, you add and seal glitter to your shoes! So, how to seal glitter on shoes? The glitter paint can be made from mod podge and glitter, then use it to paint your shoes. The other option is to add the mod podge directly onto the surface and then sprinkle the glitter on top.
How to seal glitter on shoes is done by painting mod podge in beautiful patterns on different sections with colored glitter. This should be done at different times. Mod podge and glitter can also be used on your shoes or you can opt for a sealant spray. The sky's the limit once you have learned how to add and seal glitter to your shoes.
Frequently Asked Questions
Does Hairspray Seal Glitter on Wood?
It is not advisable to use hairspray as a means of sealing glitter onto wooden projects. This can work for a short while since hairspray is not a permanent solution. This is because the wood can turn yellow in the long run. Seal your glitter with a thin layer of mod podge or buy a sealant spray from Krylon.
Is Mod Podge Effective in Sealing Glitter?
Mod podge is considered one of the most effective ways of sealing glitter onto any surface. You must stick glitter onto your project using mod podge. You can also do a second layer to seal the glittered surface. Use mod podge with a gloss finish to achieve a shiny and durable finish.
What is the Best Glue for Glitter?
This depends on what you want to stick the glitter glue to. You can use Aleene's permanent fabric glue to stick and seal glue onto the fabric. You can also use mod podge to add glitter to your old pair of shoes, wood, glass, or any other surface. Mod podge is effective in keeping the glitter firmly in place.
How Can I Seal Glitter to My Christmas Decorations?
Most of the Christmas decorations are made from glitter that can easily fall off with time. It is quite easy to add and seal glitter onto your ornaments. You can use mod podge to apply a thin glossy layer on the glittered areas and leave them to dry. You can also opt for a glitter sealer spray like Krylon`s glaze spray to achieve a quality glossy permanent finish.
Glitter produces a sparkly, shiny, magical effect over all kinds of items. You will just need to make sure that you use the right sealer over your glitter to ensure a long-lasting finish. We hope our guide above has answered all of your questions to help you get crafting with glitter!