Epoxy Clear Coat – Comprehensive Epoxy Top Coat Tutorial
This post may contain affiliate links. We may earn a small commission from purchases made through them, at no additional cost to you.
When applying certain types of flooring, you can add on a clear epoxy topcoat at some point. While you may choose to leave your floor once it is coated, it is advised to include an epoxy topcoat as numerous benefits are associated with this. As soon as the floor preparation is completed, the remainder of the job is straightforward, with the addition of an extra epoxy clear coat easily manageable. Your floor will look even better, and the durability will be improved. While a clear epoxy topcoat is used on floors, it can also be easily applied to coating pieces of art, wood tables, countertops, and more. We have rounded up some of the best epoxy clear coat solutions below, as well as some pro tips on how to use them.
What is an Epoxy Clear Coat?
The best epoxy contains resin and hardener, which needs to be mixed correctly before it can be applied. After it has been applied to the prepared surface of your choice, the epoxy will start to harden and cure. One last coat will be needed to provide an added layer of protection and to enhance the appearance of surfaces.
In addition to other advantages, adding a clear coat over an epoxy garage floor adds a layer that protects against scratches, chemicals, water, oil, and more. An epoxy topcoat can be added to countertops over a color coat. This helps with creating a long-lasting, high-gloss, and appealing countertop, as it protects the surface from general kitchen use that is typically encountered in this type of environment.
Can you use an epoxy clear coating with art? The most common form that is used today involves acrylic pouring onto canvases. Through using an epoxy clear coat, the color and shine of a piece can be improved. Additionally, the epoxy topcoat provides the art piece with a protective layer that works against moisture and scratches.
Can You Add an Additional Coat to Epoxy?
In short, the answer is yes, as just a few preparation steps are needed to add another coat to epoxy. In reality, you may need to add multiple coats to achieve your desired results. An epoxy top coat, or a second epoxy, will help in fixing scratch marks and other problems that can crop up after the first layer. If this is not the case, you can still add another coat to build up layers which will go on to improve its longevity.
For instance, using a garage floor epoxy clear coat provides resistance against the hot lift emitted from tires and normal wearing away. This will also help to increase protection from the different oil or chemical spills that are possible in this situation.
The product information should always be read, as this will advise you on all the important information, such as how to mix properly, and how thick you should pour it. For example, in the case of tabletop epoxy, this has to be applied in thinner layers to provide a thicker coating, meaning that you will need to add many additional layers.
Using epoxy can be irritating and challenging at times, but after you have mastered the basics, you will be able to easily add a subsequent layer with minimal issues. The most important thing to understand is how to properly prepare your first coat when it comes down to sanding and cleaning surfaces. This step is critical, as the following coats will need something to stick to, so toughening the surface will provide the ideal grip for the epoxy.
Best Epoxy Clear Coat
We will now have a look at some of the top epoxy clear coat products that are available. It is important to remember that you can purchase products other than epoxy that will also provide a high gloss and long-lasting finish over an epoxy coating. Because of this, we have also included an ideal epoxy substitute.
Best Epoxy for Floors: RUST-OLEUM Premium Floor Coating Kit
If you are looking for the best clear coat over epoxy garage floors, then this product is ideal. It works best when used on coated areas that are inside and on stripped concrete. This coating is made up of 100 percent solids, meaning that it will provide you with exceptional durability and resilience to oil, chemicals, and water. This product will preserve your floors for the foreseeable future, as well as provide you with a coat that has an incredible sheen.
Low odor formula is ideal for use on interior coated or bare concrete surfaces

The coating provides excellent adhesion, durability, and chemical resistance 

Each kit covers up to 500 sq. ft. on painted surfaces, 250 sq. ft. on bare concrete
View on Amazon
Pros

Very straightforward to apply
Has a non-slip additive
Provides an incredible sheen finish
Long-lasting and resilient towards chemical substances and water
Cons
Coat can deteriorate if spills are not wiped away immediately
Costly
If you are wanting a resistant and transparent epoxy floor coating, this is the product to consider.

Ideal Epoxy Alternative: KBS COATINGS DiamondFinish Clear Coat
If you are looking for the perfect topcoat for epoxy floors, the KBS Coatings DiamondFinish is the ideal choice. This product has outstanding resistance to chemicals and corrosion. The high gloss finish that it provides is also unaffected by scratches and spills involving water, brake fluid, gasoline, as well as battery acid. This makes it a great garage floor epoxy clear coat.
This product is easy to care for and has excellent qualities that make it resistant to heat, which is beneficial in cases of pick-up from warm tires. In addition to epoxy, you can also apply it over most other coatings and even directly to metal. Application is by brush, roller, and sprayer. It is so heat resistant that you can even use it on cylinder heads, engine blocks, brake components, and even inlet manifolds, where it will last without any yellowing up to 300° Fahrenheit.
Formulated to apply directly over other coatings or direct to metal
Moisture cured urethane is durable, flexible, and resistant to corrosion
Withstands fuels, solvents, battery acid, brake fluid, ethanol, and acetone
View on Amazon
Pros

Is able to cover a wide area
Extremely resistant to chemicals
Provides a satisfying final high gloss finish
Provides excellent heat-resistance
Cons
The application might prove to be a bit challenging
Supercoat is the ideal product to use when choosing an epoxy alternative.
Ideal Top Coat Resin for all Uses: STONE COAT Countertop Epoxy
This product comes in a kit that is very simple to use, allowing you to revitalize your countertops yourself. This product contains no VOCs (Volatile Organic Compounds) and will provide you with a finish that is protected from scratches and effortless to wipe clean.
A durable woodworking/countertop epoxy resin
Scratch-resistant and UV resistant
Provides a clear and shiny finish
View on Amazon
Pros

Eco-Safe
Contains no VOCs (Volatile Organic Compounds)
Has a durable and high-gloss finish
Is scratch-resistant and food safe
Has great heat resistance
If you are a do-it-yourself enthusiast who wants to save instead of hiring a professional to do the job, this product has been specifically crafted for you. This is a superb choice for countertops as it provides a quality finish.
Why Add a Clear Coat Over Epoxy Garage Floors
Numerous advantages are associated with adding a clear coat over epoxy garage floors. We will be looking at some of the reasons you should consider adding a clear epoxy floor coating.
Clear Epoxy Floor Coatings Preserve the Shade of the Coat
Including an epoxy topcoat is wise, as it adds a barrier that protects the color coat. By doing this, the color of the coat will still be preserved despite chemical spills, other messes, and general deterioration which will help maintain the color. Having said that, this coat can still begin to deteriorate if messes are not cleaned up immediately. An additional benefit hampers pick-up from your warm vehicle tires, as it adds a thickened coat to the exterior.
Multiple coating kits for epoxy garage floors include embellished chips or flakes. Applying a clear coat over an epoxy garage floor can prevent these chips from peeling away, as well as preventing any dirt from gathering around edges that remain uncovered.
Due to the majority of garage floors being exposed to impacts and traffic, it can be said that the surface will undoubtedly develop minor damages and scratches. Therefore, you can hide these flaws by applying a clear coat on top of an epoxy garage floor.
An Epoxy Top Coat is Simple to Wash and Maintain
If you cover the flakes, an even finish is easy to clean. Any spills should be cleaned up immediately. Dust and loose dirt can be easily removed by using a dust mop or a vacuum cleaner.
Creates Depth and a High-Gloss Finish
When you are applying a garage floor epoxy clear coat, you will generally be given a more in-depth appearance as it will look thicker than it actually is. A lovely high-gloss finish should also be achieved, as it will reflect light and give you a shiny and smooth appearance.
Straightforward to Include Non-Slip Additions
Non-slip additions are concealed better in a clear epoxy floor coating. These can be included with the color coat in the absence of a topcoat, but keep in mind that minor lumps may be evident.
Easy to Maintain
Garage floors with an epoxy topcoat can be extremely long-lasting. Despite this, your surface will have to be refurbished at some point because of the excessive use it will be exposed to. This process includes simply using sandpaper to roughen the topcoat, which will remove scratches and other flaws.
The surface must then be cleaned, and another application of clear epoxy floor coating will be needed to achieve a fresh appearance. Ultimately, a garage floor with a clear epoxy topcoat looks much better than a floor with no added coat. There should be no uncertainty of adding an epoxy topcoat or not, as the benefits are evident.
Epoxy Top Coat for Wood
An epoxy clear coat can be applied to all kinds of wood surfaces for a perfect finish. You can also prevent any damage to wood surfaces. The task is quite easy to follow, with just a few steps needing to be followed.
Preparation is Important
Preparation should never be overlooked when you are working with an epoxy resin, as this is where the basis to create the perfect finish is formed. Before you begin, each surface needs to be clean, free from dirt, and completely dry, no matter which wood surface you want to add a clear coat on. For optimal results, you should sand the surface going along the grain, and then vacuum or wipe away any dust.
Using acetone and a kitchen towel, you can remove any residue if the wood you are working with is naturally oily. Your work environment is also very important, as it should be dust-free with the temperature ranging between 72 and 85 degrees Fahrenheit. Avoid working in any environment where the temperature falls below 65 degrees Fahrenheit. Other important factors to consider are to ensure that you are wearing gloves and protective gear for safety and that your space is well-ventilated.
Applying the Epoxy Clear Coat
Once all of the preparation has been completed, you can start to apply the epoxy. To achieve the best results for your epoxy project, it is important to always follow the label instructions. Combine the two-component epoxy as indicated.
In terms of applying the epoxy to your wood, it is suggested that you do this in thin layers, and to use a foam roller or spatula when applying multiple coats to ensure even coverage. You may see some bubbles forming, but these can simply be removed with a hot air gun, torch, or hairdryer.
You will usually need between two and four coats of epoxy and will need to apply the next coat when the earlier one becomes sticky. If the initial coat looks too uneven and some wood fibers stick up, the first coat will need to set before you can sand it even so that it is prepared for the next coat. Additionally, you will need to wait until a coat has properly cured if you have let it harden for too long, and if you can see an amine blush, you can wash this away. After, you can sand the surface and prepare it for the following application.
Applying an Epoxy Clear Coat to Other Surfaces
Wood surfaces are not the only surfaces that can look good with a clear epoxy topcoat, as you can also revamp kitchen countertops with an epoxy coating. Many resilient clear epoxy coating products are at one's disposal that can help to design immaculate and durable finishes that still work to preserve the surface.
Coating a Painting with Epoxy Clear Coat
You can provide your artwork with an additional barrier that prevents scrapes and water damage whilst simultaneously giving them a beautiful up-to-date lustrous look. Like all epoxy projects, you will need to choose a well-ventilated area, properly assemble your work area and collect everything that you will need. The optimal working temperature should be mild and should be between 72 and 78 degrees Fahrenheit.
You should use a cover that protects, such as plastic, to cover your workspace and prevent it from getting resin all over. To ensure a good level of coverage and to allow the resin to drip right off, you should place your painting on a raised and well-balanced surface. A thin layer of resin should be applied to any artwork that is on a porous material. You will need to let this dry completely before you can begin to pour the remainder of the resin.
If you dam the edges, a thicker layer of resin is produced. Essentially, this just requires you to apply painter's tape that stands up approximately half-an-inch around the edges of the entire painting. After pouring, wait 24 hours before you can pull this tape off.
For the best results, stick to the instructions on the resin product label, and mix equal parts of the resin and hardener. When using the resin, it should be at room temperature. If the resin is too cold, it can be thick and difficult to work with and will struggle to spread evenly. Other issues that may crop up include bubbles and clarity.
As soon as the resin has been mixed well, you can use a spatula, brush, or popsicle stick to spread it over the surface of your painting. Some people have even used a playing card to equally spread the resin. When using resin, it is important to always work with protective gear.
If you start to see bubbles forming, you can get rid of these by using either a hairdryer or a blow torch. Hold the torch about eight inches above the surface, keep moving it around, and do not hold it for too long in the same place. At this stage, you can also look out for any dust or hairs that may be on the surface and remove them. Bubbles that persist can be taken care of with a toothpick.
To prevent any dust or dirt from landing on the surface of your painting, it is suggested that you make a cover for your artwork while the resin hardens. You should leave it for roughly 24 to 72 hours to cure completely, with bigger projects possibly needing a little more time.
If you are going to be putting your item outside, you can spray on a UV-resistant acrylic product. If the resin is exposed to UV light, it will eventually yellow as time goes on. When you are finished, ensure that you correctly discard any excess or unmixed resin.
Art is typically something that holds sentimental value, that you would want to keep for a while. Therefore, despite resin being more costly than other finishes like varnish, it is worthwhile to keep your piece immaculate by adding an epoxy clear coat.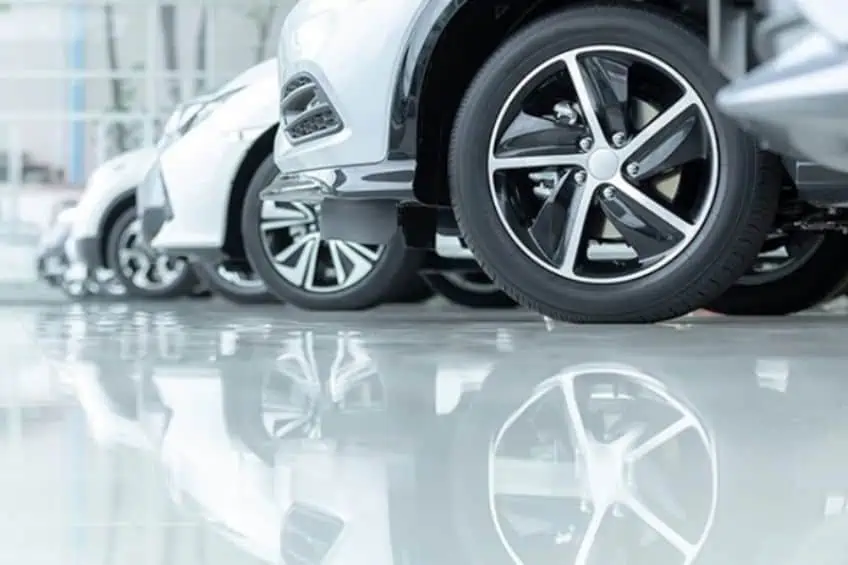 Frequently Asked Questions
Are You Able to Apply a Clear Coat Over Epoxy?
Yes, as the clear epoxy top coat is applied as an additional protective layer which enhances protection from scratches and other flaws.
Is it Possible to Apply Epoxy Top Coat over Polyurethane?
If this is over water-based polyurethane, it is best to avoid this. The polyurethane is softened by epoxy and does not hold well, which can cause fisheyes.
Why Do You Need a Clear Coat Over an Epoxy Garage Floor?
The longevity of the garage exterior is improved by an epoxy topcoat as it aids in protecting the surface from bumps, as well as preventing pick-up from heated tires.
Why Do Many Artists Apply an Epoxy Clear Coat Over Their Paintings?
Colors are enhanced and a lovely glossy appearance is achieved by applying the epoxy topcoat. Added protection from scratches is also provided with the epoxy clear coat.
Will an Epoxy Clear Coat Improve the Look of My Kitchen Countertop?
A clear epoxy topcoat will transform your old countertops and provide them with an attractive glossy finish. This method may also be more cost-effective as opposed to replacing your old countertops with other materials such as marble.
Applying an epoxy clear coat can do wonders for floors, countertops, and all minds of other surfaces. We hope that our guide on epoxy top coats has answered all of your questions and inspired you to apply an epoxy clear coat of your own. Choose from our recommended products above and you will be sure to have a great epoxy experience!