Fall Crafts for Kids – Fun Autumn Project Ideas
This post may contain affiliate links. We may earn a small commission from purchases made through them, at no additional cost to you.
As the seasons change, we get ready to say goodbye to what was, and we start preparing for the season ahead. As fall approaches, there's already a chill in the air, and you may find that your kids don't want to go outside and play. We are sure that we can help with some easy fall crafts that are guaranteed to keep those little ones occupied. There are thousands of simple autumn crafts to make, and we will be discussing some of the most popular crafts in this article. We will share some favorites with you, keeping you busy for a few days and getting the creative juices working.
Fall Crafts for Kids
It's that time of the year when gardens are overrun with leaves and nature's colors start changing right in front of us. Fallen leaves in the garden can become unique gifts for the family with just a little imagination. With the little ones at home, we think a bit of acrylic paint and Mod Podge will get you through those long days where kids have a habit of saying, "I'm bored." Let's get started with those fun craft ideas for kindergarten kids and a few for older kids.
In this article, we will look at making:
Name place cards for the dinner table
Candle holders
A pine cone basket
Leaf sketching
Hand and leaf paint prints
Autumn leaf bunting
Glitter leaves
Simple Autumn Crafts to Make
If you have been lucky enough to go to the beach with younger children, the first thing they invariably do is pick up the first shell they find and grab your attention by saying, "look how beautiful this is!" Well, it should be no surprise that they typically do the same when finding the perfect autumn leaf. Children are often in awe of the stunning shades of red and orange that autumn brings.
On a walk through the fallen leaves, you will likely find yourself carrying many of your child's treasured finds. Let's look at a few ideas we can create with the random gifts you are presented with.
A Dinner Party With a Difference
When playing in the garden a few hours before dinner time, you can give your kids the task of finding the best leaf they can. This will keep them occupied for a while. It's a lot of fun and could become a great adventure for them. Sit back and enjoy watching the treasure hunt – it's probably going to get loud! You will need a few simple items for the craft project with these leaves
Big beautiful leaves of all colors
A bowl of water
A drying cloth or towel
Sharpie pens
Once all the leaves are collected and admired, it will be fun to sit in a circle and choose the best ones for the table. Once you have the best of the best, it's time to start getting creative by making name tags for each person eating dinner.
Have a small bowl of water for each child and ask them to carefully dip their leaves into the water to remove any nasty residue, and then place the leaves on a cloth or a towel to dry. If the kids are too small and don't know how to write, you can write the name of each dinner guest on the smooth side of the leaf right at the top. This can be done with a sharpie pen. Once the names are written down, hand the leaves back to the kids and ask them to draw the faces of each person.
Laying the table will be an exciting chore because the kids can then decide on the table seating and present their beautifully decorated place cards. It may not be the best place cards you have seen, but oh boy, it will certainly be a proud moment for each kid, and there will also be plenty of laughs!
Mod Podge and Leaves
Everybody has a few old glass tumblers in the kitchen that are not being used, so why not try your hand at creating a beautiful candle holder for the dinner table? This is one of those fall arts and crafts projects that most kids can do, no matter their age. You will need the following items to complete this fun fall craft project.
Old glass tumblers
Small candles
A nice collection of small leaves
A paintbrush
Mod Podge
A pair of scissors
Wash the tumblers and dry them, so they are clean from old finger marks. With a paintbrush, paint the backside of a leaf with Mod Podge and place the leaf directly onto the surface. Carry on until the entire glass surface is covered. Because most tumblers are relatively small, using the smaller leaves from the garden will mean that you can get more textures onto the surface. Don't worry if it's not perfect because the idea is to cover the entire area, and little oopsies won't make a difference. Once all the leaves have been placed on the glass, leave them to dry for about 15 minutes.
Once the leaves have dried, you can paint the entire surface with the Mod Podge so that all the leaves are covered. If any leaf pieces overlap the edges of the glass, cut them off with scissors and then leave the glass to dry completely. Once it is dry, place the little candle in the glass, and it is ready for the table! The light from the flame will make the leaves glow.
Pine Cone Basket
During the fall season, we all think of beautiful leaves on the ground, but what about pine cones? If you don't have any trees in your garden, taking a pleasant stroll around the neighborhood is a sure way to find a few treasures as you enjoy the outdoors and get some fresh air. Here is a list of supplies you will need for the next craft idea.
A basket with handles
Pine cones
A few big leaves
Acorns
A bucket filled with warm soapy water
A piece of ribbon to tie onto the basket
A dry cloth or old towel
Paintbrushes
Paper towels
Old newspaper
Small cups of water to clean the paintbrushes
A good range of acrylic paint colors
Glitter or clear lacquer
Metallic paint, glitter, and Mod Podge are optional
Take a basket with you so that while you are exploring, the kids can pick their best treasures. Tell them you are looking for big beautiful leaves, pine cones, and perhaps a few fallen acorns. The filled basket will make the best accent piece for your kitchen or bathroom, and the kids will take the bragging rights.
Once you have all your treasures, put the basket to the side because it will be used to display the bounty when these easy fall crafts are finished. Filling up a bucket with warm soapy water, ask the kids to carefully wash their treasures by swirling them in the water. This is a great fall craft for kindergarten kids because not much can go wrong.
Once all the little pieces have been washed, please place them on a towel to dry. While the treasures are drying, set out acrylic paint, paint brushes, small cups of water, and paper towels and cover the table with old newspapers, as this is going to get a little messy. You can have Mod Podge and glitter on standby to add a little drama! If you want to create a beautiful masterpiece that the kids will be proud of, you can use a few metallic paint colors, such as copper, silver, or gold, which are water-based.
Once all the treasures are completely dry, each child should choose their object and color. This way, you will ensure that you will get the best use of each color for these simple autumn crafts. Once all the pieces have been painted, it's time to wash those hands and then let the objects dry. Once they are dry, if any of them want to add a bit of sparkle, paint a few small areas with Mod Podge and let them sprinkle some glitter over the wet spots. Leave that to dry for about 15 minutes, and to add a nice glow to the treasures, you can spray paint it with glitter or clear lacquer. As it is drying, take the basket and tie a beautiful ribbon on the handle and then let the kids pack the basket so that all their pieces are displayed.
Leaf Sketching
A great fall crafts for kids' project is to show your kids how to use a pencil to create leaf sketches. The effect is beautiful and can be displayed on bedroom doors or framed and hung up in a kid's bedroom. You will need the following items.
Four leaves of different sizes
Gray pencil
White paper
Eraser
Once again, this will entail a stroll through the neighborhood or backyard to go scrounging for the perfect leaves. Try and find at least four different-sized leaves that are still quite flexible and not too brittle. Once you have the leaves, you will need blank white paper and a gray pencil. Flatten the leaves as best as possible, then place one leaf on a flat surface and cover it with white paper. Then with the gray pencil, using the side of the pencil and not the tip, start shading over the entire leaf, from the top to the very bottom little corner. It doesn't matter if it is not perfect.
Little hands might get tired during this project, and as such, you will see some darker and lighter areas which is fine as this will add to the mystique of the picture. Once the first leaf is done, please remove it from the surface and place the next leaf down. You can decide to have them far apart, or you may even want to overlap them. It doesn't matter because imagination is critical when creating art with little ones.
Once the artwork is completed, the final touch is to add the name and date. You will now have a fine masterpiece on your hands. If there are smudges on the page from all the frantic movements, rub them out with a soft eraser to neaten up the page. This is one of the more simple kids fall crafts to make, and you would also have used the opportunity to help your child hold a pencil differently.
Hand and Leaf Paint Prints
This is a fall craft for kindergarten-aged children that want to do something exciting. It's messy, so best you are prepared ahead of time. It is also a good idea for the kids to wear a T-shirt or apron to protect their clothing. Here are the items needed for this fall craft.
An old T-shirt or apron
Lots of newspaper or a plastic tablecloth
Paintbrushes
A nice selection of acrylic paints in different colors
Plastic plates
White cardboard
Mod Podge
A big bowl of warm soapy water
At least four nice-sized leaves
A bottle of clear lacquer is optional
Let each child choose their four leaves, which they should set aside and have the white cardboard in front of them. Each child can now paint one hand, or alternately you can go around the table and add a dollop of paint to the plastic plate next to each child and then smooth it out so that if a child places a hand in the paint, the entire hand plus fingers will have color on them. We warned you this was going to get messy! Once the hand has paint on it, press it down on the white cardboard and carefully lift it back up. A beautiful impression of the hand will now be on the cardboard in a bright color. It's always great if you can get both left and right hands onto the cardboard; this way, the parents can keep it to remember how their children have grown when looking back at their artwork.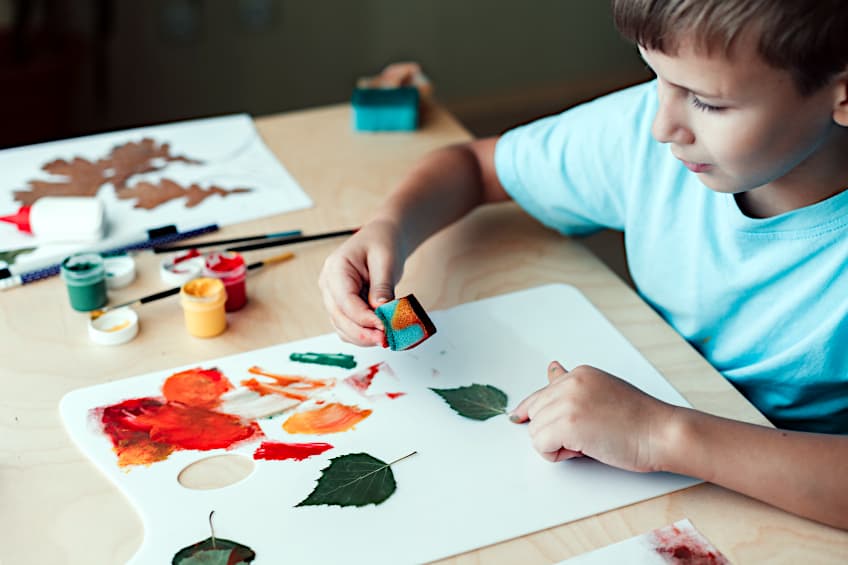 Once all the little painted hands are washed in clean soapy water, let's start with the leaves. They can be placed one by one on the cardboard by covering the entire surface of the leaf on the rough side with Mod Podge and pressing it down on the cardboard in a pattern of choice. Be careful not to cover the precious pictures of their palmprints!
If you want to protect the masterpiece once it is finished, paint Mod Podge over the entire piece of cardboard or spray it with a clear lacquer and let it dry before putting it in a focal area of the home where everybody can admire the artwork.
Autumn Leaf Bunting
The entire family can enjoy this perfect arts and crafts project. It's a fall craft for kindergarten children as well as being one of the easiest fall crafts to make where older kids can join in, and because a few hot items are going to be used, the participation of a grown-up may be needed.
Making a "no sew" autumn leaf bunting is one of the relatively easy fall crafts to display during this beautiful season, either outside on the patio or in the dining room, and can be added to Thanksgiving festivities when the entire family is together. The collection of fall leaves should be on the smallish side so that you can fit in as many leaves as possible in each section. For this project, you will need the following items.
At least 30 to 40 dried autumn leaves that are relatively small
A generous amount of wax paper
A heated iron with an ironing board or a flat surface covered with an old towel
Newspaper
A half-inch ribbon
Place the leaves on wax paper and try to cut them into triangular shapes. Once done, carefully place another piece of wax paper over the leaves. Take a piece of newspaper, cover the wax paper, and go over the entire newspaper surface with a heated iron. The heat from the iron will melt the wax and fuse the paper and leaves together.
Arrange the triangles in one straight line as you want to display them, then move from triangle to triangle, adding glue onto the ribbon, and lightly press down. Remember to leave a piece of ribbon sticking out at both ends of the bunting so that you use those ends to hang it up. Leave a little gap between each triangle and repeat the process until all triangles are glued. This will be an attractive bunting to add to your front door or even used as a display in a window.
Glitter Leaves
Which kid doesn't love sparkly things? Making easy fall crafts is a brilliant way to spend an afternoon, and with glitter added to the mix, the day will be a winner. To make glitter leaves, you will need a few basic things.
A selection of various-sized leaves
Mod Podge
Paintbrush
Glitter in various colors
White cardboard
Bowl of warm soapy water
Newspaper or plastic tablecloth
Cotton or string is optional
Because of the amount of glitter used for this project, we suggest that this easy fall craft is done outside or in a room that is easy to sweep, otherwise you may have glitter around for years. Once you have a nice selection of leaves, take one at a time and paint it with Mod Podge. Once the surface is painted, sprinkle glitter over it to cover the glue surface and set it aside to dry. Repeat the process with all the glitter colors until the leaves are finished.
When the Mod Podge has dried, arrange the glitter leaves onto the cardboard in a design of your choice and then glue each piece down onto the cardboard using the Mod Podge. Once all the leaves are glued down, paint over the entire cardboard surface to lock in the glitter and let it dry overnight. If you like the idea of the glitter leaf hanging by itself, you can easily cover both sides with glitter and then tie a bit of cotton on the leaf's stalk instead of using cardboard. You will now have little leaf-floating mobiles that can hang from the ceiling. Now that you have created some great fall crafts for kids, you will have time to take a little walk around the neighborhood and enjoy the season.
Simple autumn crafts to make may seem daunting for parents who think they have little artistic skill, but the majority of the skill involved in the making of fall crafts for kids is imagination! Your children will be as proud as punch after working side by side making their easy fall crafts. As a parent, always remember that in a few years, kids won't necessarily recall what you bought them, but they will never forget the fun times spent with those they love most. Need more inspiration for fall? Then get inspired by these fall quotes.

Frequently Asked Questions
What Can Be Made With Fallen Leaves?
Almost everybody has a fallen leaves issue during the fall season, and instead of delegating chores, why not try a few fall crafts for kids using those leaves? Beautiful things, such as decorations for kids' bedrooms, can be made as well as a few gifts for family members to let them know how much you all love the fall season. The kids will love it, and after enticing them with simple autumn crafts, you will probably be able to carry out the big chore of raking the leaves up with less grumbling.
What Are Some Fun Fall Crafts for Kids?
As the weather cools, you may start looking for some fun fall arts and crafts projects to keep your children busy indoors. A few kids' fall crafts include making greeting cards using fallen leaves, bookmarks, and even candles.