How to Use Chalk Paint – Get Perfect Painting Results
This post may contain affiliate links. We may earn a small commission from purchases made through them, at no additional cost to you.
If you are upcycling old furniture or sprucing up your home, then you will want to get your hands on the best chalk paint you can. Chalk paint is an easy to use solution for touching up old furniture and bringing new life into your space. Chalk paints come in many different options to choose from. Some are available in spray paint cans, some come as ready to use paint, and others require mixing into other standard paints. Whichever one you choose, you will want it to work well with the surface you are painting on – allowing you to end up with a smooth chalky paint finish. Here is our guide to finding the best chalk paint out there for anyone starting a new decor project.
What is Chalk Paint?
Chalk paint is a favorite choice for DIY enthusiasts. This is a decorative paint that is best used on furniture and home decor. As the name suggests, this kind of paint has a very chalky, matte finish. Don't confuse chalk paint with chalkboard paint though. This is the paint that provides a harder finish for writing over with chalk.
This chalky texture makes the paint a great choice for furniture and decor projects that are going for a rustic or vintage style. You can add additional finishes over chalk paint, but many people like to just leave it as is. This style of paint is water-based and can be easily applied to all kinds of different surfaces without worrying about preparing them.
Pros and Cons of Chalk Paints
Chalky paint offers a unique look and feel that works well in many DIY situations. Below are some of the advantages and drawbacks of this kind of paint.
Pros
Can paint directly over most dry surfaces
No need to strip back paint underneath it
Brushes are easy to clean
Provides a unique look and texture to furniture pieces or walls
A thick paint that sometimes only requires a single coat
Doesn't drip as much as other paints
Cons
Often leaves brush marks
Custom colors aren't usually available
What to Use Chalk Paints For?
Chalk paints provide a unique texture and finish. This thick paint is generally used for painting over furniture and interior decor objects. However, it can be applied to a number of different projects. Here are some common uses of chalk paints:
Painting furniture
Used to paint over decorative objects in the house
Can be painted over walls for a unique finish
Upcycling old pieces of furniture
Indoor or outdoor use
How to Use Chalk Paint
Working with chalk paint is a convenient, quick, and user-friendly task. Often this paint requires zero primer, stripping, or preparation before applying any coats. However, chalk paint is particularly thick and can provide some difficulties to work with – such as leaving brush marks or getting an uneven coat. Below are some winning tips for anyone using chalk paint.
No prep required – as mentioned above, chalk painting requires no prep before getting started. Whether you are painting over a cracked old antique, a wall, or a piece of glossy furniture, you can just take the chalk paint and go straight ahead.
Imperfection – It is important to avoid drips and runs while painting. Besides that, chalk painting is often best done with a slight imperfection. Part of the appeal of this kind of paint is its rustic look, so crossing brushstrokes is often an aesthetic that people aim for. Remember that chalk paint is thick, so brushstrokes often show through.
Use a natural brush – If you are interested in getting a more smooth and even coat, then using a natural bristle brush is recommended. This helps you to avoid bristle marks coming through, allowing you to get a more gentle, smooth layer of paint. Foam brushes can also be used.
Waxing and sealing – You don't have to wax or seal over chalk paint, but many do to add some durability to the paint. Wax options include a light clear wax or a darker wax. Both will add a unique look to the painted surface. This should be applied in quick motions with a cloth.
The distressed look – Not everyone chooses to paint their furniture with a distressed look, but it is an effect that works really well with chalk paint. If you are after this aesthetic, then chalk paint would be your best option.
The Best Tips and Tricks to Apply Chalk Paint
Chalk paint is unique, and it offers a look that just can't be achieved with regular acrylic paint. Some of the main reasons that people choose chalk paint are to get a vintage look, a distressed look, or to give their furniture a shabby chic feel. Each of these chalk paint looks require specific techniques.
When using chalk paint, leave the surfaces as is. Just make sure there is no dust and the surfaces are clean, then they can be painted over directly. Try to use a smooth brush or foam brush with this kind of paint. Brushes with thick bristles will leave clear paths, and will often result in the bristles getting stuck in the paint.
If you are painting over a smooth and shiny surface, try to use thin coats of the paint. Chalk paint is particularly thick, and spreading it out thin on these surfaces creates a stronger adhesive. As this is a water-based paint, it can easily be thinned out with some extra water if that is what you are after.
Chalk paint is often only applied in one or two coats. The amount of coats that you do depends on what kind of look you are going for. Generally speaking, one or two coats will be enough to provide a solid finish over furniture.
Chalk paint also reacts really well to sanding down. While much of its appeal is in the unique chalky texture, this also makes it very easy to sand down for an extra smooth finish.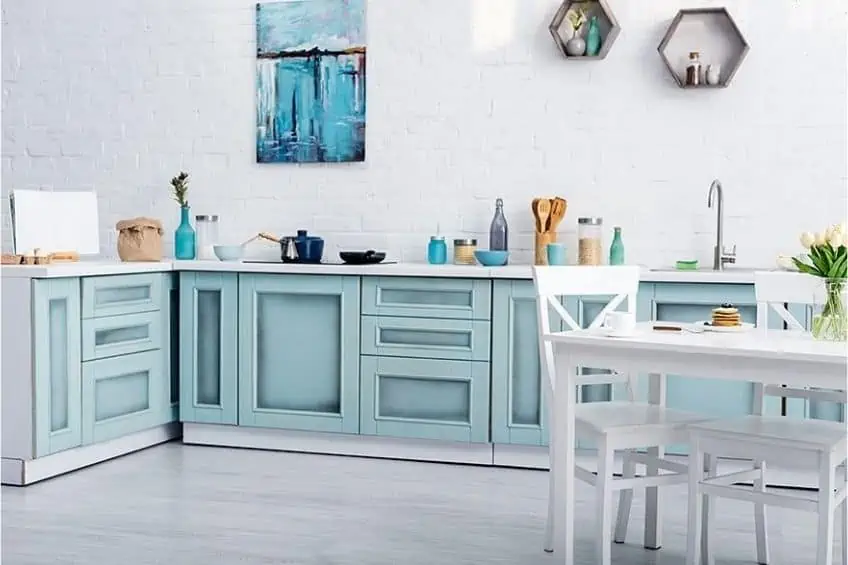 Chalk Paint Recommendations
There are many different chalk paint brands and products out there, so choosing the right one for your project can be tricky. Below are our top three product picks after extensive chalk paint reviews.
Renaissance Chalk Finish Paint
The Renaissance chalk finish paint is one of the best products available for those wanting to bring some new life to their furniture or cabinets. This paint contains zero volatile organic compounds (VOC's), has zero emissions, and is completely non-toxic. This makes it a smart choice for indoor use.
The paint gets its chalky smooth finish from being 100% acrylic. Being such a thick paint, only one or two coats are necessary to get an even look. The paint also offers self-leveling coverage and dries in 30 minutes. While you do get an appealing chalky look, the paint dries with a smooth to touch finish. Absolutely no sanding or priming is required here.
This is possibly the best chalk paint for furniture thanks to its convenient use, non-toxic nature, and attractive finish. This paint can be used indoors or outdoors and can be applied to a wide range of surfaces. Overall, this is a versatile and eco-friendly chalk paint.
Rust-Oleum Chalked Paint
Any good chalk paint review should always include something by Rust-Oleum. This brand produces some of the finest chalk paints for interior projects. This paint offers a luxurious matte finish and can be used to achieve very specific vintage looks. This is seriously versatile paint, as it can stick to a range of different surfaces (ceramic, wood, metal, glass, and canvas). No primer is required, and the thick paint may only need a single coat.
Rust-Oleum chalk paint has excellent adhesion qualities and can dry to touch in 30 minutes. The formula is low-odor/VOC for safe indoor use. While this paint can be easily applied by brush, it is also available in a spray can version.
This paint does not have a massive color range, but it includes most popular colors that would be needed for furniture and decor purposes. This product is a favorite amongst those seeking a more antiquey look and can be modified with a Rust-Oleum protective topcoat.
Kilz Interior Chalk Paint For Furniture
If you are looking for the best chalk paint for furniture, then this offering from Kilz is one of the top options. This ultra-matte paint has been specially formulated for smaller interior projects. The paint comes in 13 attractive colors to help liven up your space. Most finishes and surfaces can be painted over directly. Surfaces that can be painted over directly include wood, ceramics, metal, stone, canvas, and glass.
As you would expect from chalky paint, this product is thick and requires minimal layers. A single coat is often enough, although this can change depending on the kind of look you wish to achieve. This paint dries to touch in one hour. The paint can also easily be sealed with wax for added strength and durability. This will help to protect the paint from everyday wear and tear.
This chalk paint offers a fantastic finish at a reasonable price. Thanks to its thick coverage, a little bit of this paint goes a long way. You can enjoy it on a wide range of different finishes relatively easily.
What to Look Out for When Buying Chalk Paint
As there are so many different options out there, choosing the ideal chalk paint can be confusing. The product you pick should be suited to the specific needs of your project. Here are some necessary points to consider when choosing the best chalk paint.
Drying Time
Different paints dry at different times, and it is important to pick one that works best with your situation. If you plan on applying multiple coats, then choosing a quick-drying paint will make the job much easier.
Chalk paint may be thick, but it is water-based. This means that its drying time is generally pretty fast. You should expect a drying time of around 30 minutes to an hour. This depends on the specific conditions though, such as the surface, temperature, and brand used.
Adhesive Quality
The first thing you should know when looking for chalk paint is whether it will properly stick to the surface you need to cover. The adhesive quality refers to how well the paint will hold to certain surfaces. This can vary between different products.
Typically, chalk paint has powerful adhesive quality. This paint can be used for all kinds of different surfaces, and generally requires no preparation or priming before painting. Sometimes you will want to add an additional layer of sealant to protect the paint. This depends on the surface you are painting over, and the kind of look you wish to achieve.
Environmental Friendliness
Being responsible with the products that you choose is important in today's climate. Always consider the environmental impact of the paint, and whether it will be safe for household use. As chalk paint is generally used for interiors and furniture, this is an important aspect to consider.
Ideally, you will want a non-toxic paint that has zero emissions and contains no VOC's. Making sure that the paint is odor free is another consideration. The environmental friendliness of the product you pick is important if you plan on painting with it indoors – as this could pose a health risk if using toxic products.
Price
DIY projects can turn into costly affairs if not properly managed. Considering the price of the paint, and how much of it you will need is always important. When it comes to paint, you generally get what you pay for. If you desire a more luxurious look, then you may have to pay for it. However, there are plenty of quality brands and products outr there that won't break the bank. Always compare products and prices when shopping on a budget.
The Most Famous Chalk Paint Brands
Shopping for chalk paint can be a confusing process, as there are many different brands to consider. Chalk paint brands vary greatly, and picking the right one is important. Here are three of the top brands out there to consider when searching for the best chalk paint.
Rust-Oleum
This US brand is always a firm favorite amongst painters sprucing up their homes. Rust-Oleum provides a wide range of different interior and exterior paints, as well as protective coatings. Their chalk paints are available in regular, or spray can form.
Renaissance
Renaissance produces specialty decor and furniture paints. Their chalk paint is a high-quality option for those wanting to add a unique vintage feel to existing furniture. Renaissance offers easy to use paints for upcycling and enhancing your furniture.
Kilz
The Kilz paint brand has been going strong for over four decades, offering lasting solutions for your home. Kilz paint offers some of the most durable finishes – ideal for use on furniture. This brand also produces quality primers and sealants to be used with their chalk paints.
Frequently Asked Questions
What is Best to Use to Seal Chalk Paint?
Polyurethane provides a durable finish to chalk paint. This topcoat is clear and liquid-oil based and can be painted or sprayed over.
What is so Great About Chalk Paint?
Chalk paint dries super quickly and can be painted directly over a wide range of surfaces. It offers an attractive look and feel and is an easy option for those wanting to paint their old furniture.
Do You Need a Special Brush for Chalk Paint?
Chalk paint is best applied with a natural bristle brush or even a foam brush. Avoid using brushes with thick bristles, as they can leave visible brush marks when dry.
Where to Buy Chalk Paint?
Chalk paint is a popular choice for many home improvement and interior projects. This means that it is widely available at most good paint and hardware stores.
Finding the best chalk paint can seem a tricky task as there are a wide range of different aspects to consider. Understanding the unique qualities of this paint, and the kind of effect that you are hoping to achieve, are important when looking for the right product. Chalk paint is a convenient and user-friendly paint for many DIY projects and furniture revamps. Be sure to check out the top products listed above before starting your next project.