Best Cordless Glue Gun – Find Your Ideal Hot Glue Gun
This post may contain affiliate links. We may earn a small commission from purchases made through them, at no additional cost to you.
When completing a DIY project, using a good quality and effective glue or adhesive can make the world of difference when it comes to the finished product. It really is the difference between a finished product that you are excited to show off to anyone who will give you five minutes of their time and a frustrating pile of bits and bobs that falls apart when you look at it. Experienced craftsmen and women often choose adhesive devices such as hot glue guns to do the hard work of sticking everything together, but we want to know if they work. After some reflection and research, we have discovered the most effective ways to use your adhesive devices, as well as which projects they are best suited for. We also spent the time to discover what makes a great glue gun tick, and detailed all this information in this guide, so that you can skip all the research and simply benefit from our hard work. You can thank us later.
What Exactly is a Hot Glue Gun?
Having a hot glue gun in your crafting toolkit is imperative, no matter if you are a novice crafter or an expert. Hot glue guns are essentially adhesive devices that distribute hot glue at the touch of a button (or trigger) by heating sticks of specially formatted glue that comes in sticks that are inserted into the device. These nifty gadgets resemble a firearm, hence the namesake, which contains a cylindrical stick of adhesive, which the crafter presses through the device, by holding down the trigger.
The cylindrical sticks of glue used in the devices come in various sizes and are made to suit a multitude of different applications, ranging from plastic to metal, from fabric to glass, to name just a few. These miracle devices haven't always been as easy to use or dependable as they are in today's age. As a matter of fact, the first hot glue guns had to be connected to a power outlet and the melted glue would very often become congested, which would result in it clogging up the inner workings of the device, making it unworkable.
Luckily, over time companies innovated in the design of these devices, and the result is hot glue guns that are not only more durable and dependable, but they are cordless too!
Not sure what to use your cordless hot glue gun for? An easier question to ask is: What can't you use it for? If you have the time to read through a lot of lists then this article is for you, because we've tried to list all of them for you. Essentially, a portable hot glue gun can be used to repair anything from books to furniture. Honestly, once you start working with the best cordless hot glue guns available, you'll wonder how you ever got any adhesive work done without one.
So, now that you know how these guns work and what they can be used for, you might feel that you could probably get by with a corded hot glue gun, but you might be surprised at how annoying and inconvenient this variant of glue gun can be. We have put together a list of the advantages and disadvantages of both the corded and cordless hot glue guns, so you can make a more informed decision.
Cordless Hot Glue Gun
A cordless hot glue gun is any hot glue gun that does not have to be connected to a power source to be used. They are powered using batteries or power cells.
PROS
They can be moved around more easily
Can be used in an area without a power outlet
Simpler, more convenient storage
Failing power cords no longer a risk
They are far easier to use in small or inconvenient to reach areas
CONS
Limited battery life
Batteries can be expensive
If batteries are not disposed of correctly, it is bad for the environment
Can take longer to heat up
The user must decide if they need low- or high-voltage units
Corded Hot Glue Gun
A corded (also referred to as wired) glue gun is any glue gun that must be plugged into a power source in order to be used. These glue guns come in all shapes and sizes, depending on your particular requirements.
PROS
Uninterrupted power supply
Heats up quickly
Heats evenly
Most units have the same voltage
Batteries are not needed, so these are better for the environment
CONS
Limited movement
The wires make it more complicated to store
Cords can break over time
Cannot be used without an earthed power source
Some units will need a power adapter
They can be a potential hazard for forgetful people who leave them plugged in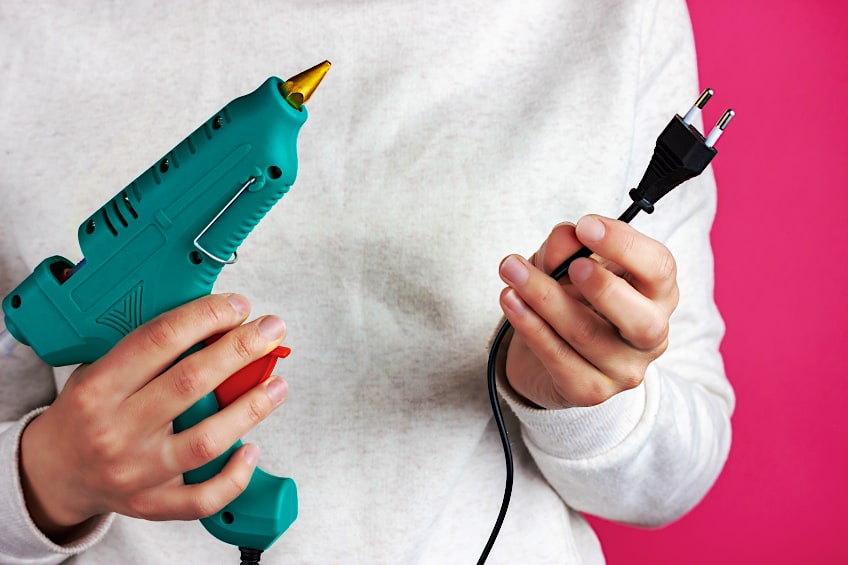 Different Types of Cordless Hot Glue Guns
Cordless hot glue guns come in all shapes and sizes, so you will have a few different options available. These portable hot glue guns have different voltages and they can be charged in different ways. Even their power cells can be different, so let us look into some of the options you may find while on the hunt for the best cordless hot glue gun for your requirements.
Rechargeable Batteries
A few cordless glue guns are powered by rechargeable batteries or power cells. The batteries can either be found inside the actual gadget or can be removed from the unit when needed. Regardless of where the battery is located, they can be recharged and they enable the device to store power while not in use and distribute energy when needed.
The power source ensures the device stays at the optimal temperature for use, which essentially means the glue stick will not become hard without warning after the device has warmed up. If the device has batteries that are located inside the actual machine, they will need to be charged by being plugged into a power outlet. However, if the device has removable batteries, it is possible to have more than one and use them interchangeably, so that while one is in use, another is charging. These batteries are considerably more environmentally friendly, they are typically more energy-efficient and almost always last longer.
Rechargeable batteries typically hold their charge considerably longer than disposable power cells. Their efficiency is further extended when you start looking at more premium cordless hot glue guns, as these guns are often fitted with timers and prompts to help you manage their charge.
Disposable (Regular) Regular Batteries
Upon a quick glance, portable hot glue guns that make use of regular (non-rechargeable) batteries may seem cheaper, in the long run, they could cost you a lot more once the cost of batteries is factored in. Disposable or penlight batteries are placed inside the body of the hot glue gun and must be replaced once they run out of charge.
These devices are convenient in that you do not need to wait for them to charge before you use them. Additionally, because these batteries end up in the bin after they lose their charge, the user does not need to worry about the state of their battery over a long period of time, so they will not need to remember to check for corrosion or faulty power retention.
That being said, there are certainly some downsides to using hot glue guns that make use of non-rechargeable batteries. Firstly, we all know how often we find ourselves hunting for the right size batteries in our homes without any luck! These devices are also often power guzzlers that deplete the batteries quicker when compared to their rechargeable counterparts.
One way around the continuous purchasing of batteries is to use the rechargeable penlight batteries (or whatever size your device uses). These batteries come with their own chargers and usually hold a charge for longer and (of course) are better for the environment. We definitely suggest looking into this as an option if you are thinking about buying this type of portable glue gun.
Best Cordless Glue Gun Available
Okay, so now that we have covered the theory behind hot glue guns (what they are and how they are powered) we can get to the fun stuff, which is: which one do you choose? To help you make this decision, we have reviewed three of the best cordless hot glue guns in different categories: performance, value, and best overall.
Top Pick in Performance: RYOBI ONE+ Cordless Hot Glue Gun
The saying, "a Jack of all trades and a master of none" only half describes Ryobi because while they do make almost everything, they make everything pretty well! The Ryobi One+ is one of those things Ryobi makes well. In fact, this device is one of the best performing hot glue guns, and the fact that it is reasonably priced is the cherry on top of the sundae. It's debatably the best cordless glue gun available right now.
With its 4Ah battery, the Ryobi One+ lasts up to four hours per single charge (even if it is being used on its maximum output), making it the hot glue gun that has almost (if not, the) best battery life in a glue gun today. Looking at it, you would never doubt the durability and "can-do attitude" of the Ryobi One+ and unlike the competition, this cordless hot glue gun is NOT just a pretty face.
The Ryobi One+ may only have one tip size, but it is compatible with glue sticks of varying widths and always ensures a consistent and constant application. Although the Ryobi One+ may only have one tip size, it is compatible with glue sticks of varying widths and always ensures a consistent and constant application.
While we are pretty confident that this glowing review will have you running to your Amazon cart to hit "purchase", we do think it is worthwhile noting that the device does not come with a charger or battery pack, so to avoid disappointment, don't forget to add that to your cart before you check out. Why not add more than one so you have no downtime while waiting to recharge? The One+ comes equipped with three glue sticks, and it weighs about 55 lbs, which makes it light enough to be used all day if needed.
Ergonomic grip and extra large trigger for maximum control

Extra long three and a half hour run time between recharges

Compatible with Ryobi's 18V lithium ion and NiCad batteries
View on Amazon
PROS
Reasonable price point
Light
Durable
Extended battery life
Functional design
LED signal
CONS
Brand-specific compatibility
Batteries sold separately
Charger sold separately
Overall Best Recommended: MONVICT Hot Glue Gun
If the DIY projects are starting to pile up, the Monvict cordless rechargeable hot glue gun may be the perfect adhesive partner for you! The handy humans responsible for the design of this product have ensured it is qualified to handle any crafty project you have on that ever-growing list. With its two power modes, this nifty tool really does have you covered, no matter what you throw at it.
Thanks to their unique and patented design, it takes just a few seconds to change from 80- and 120-watt output, and if you are impatient (it is okay, this is a judgment-free zone) you can even pop the interchangeable, rechargeable batteries into the device and get started before they're fully charged! Still not sold? What if we told you the Monvict takes only two to three minutes to warm up the glue, and (once heated) this wonderful little device actually works to sustain the heat, allowing you to work with the device off, thus saving battery power?
The Monvict is not the most comfortable, as it does not have a rubberized grip like the Ryobi, but it is still convenient to use and easy to hold. It is lightweight as well, which means you can use it for an extended time without needing a wrist replacement. The team at Monvict seems to have thought of everything because even the plastic used in the body of the device is heat- and pressure-resistant. Safety definitely takes center stage in the Monvict brand blueprint with a high-grade ceramic glue tip design (to avoid burns), not to mention each device comes standard with rubberized protectors for the user's fingers. As we see it, the Monvict is possibly the prettiest glue gun, and believe wholeheartedly that it is the best cordless hot glue gun overall.
Unique built-in stand-up base for stability

Dual power settings and residual heat operation
Anti-scald protection nozzle and ceramic PTC heating system
View on Amazon
PROS
12-month warranty
Includes 12 complimentary glue sticks
Two power settings
Comfortable grip
User-friendly
Functional
Smart safety features
CONS
Not as accurate as some competitors
Takes a while to fully charge
Dispenses glue very quickly on higher voltage settings
The grip is not rubberized
Top pick for Value: SUREBONDER Cordless Hot Glue Gun
When the team at Surebonder said they wanted to create a cordless, battery-operated hot glue gun that is both versatile and efficient, but still kind to the purse strings, they definitely achieved what they set out to achieve! Everything about this battery-operated hot glue gun is compact and user-orientated ensuring it is both easy to use and easy to store.
That said, however, calling it cordless may be a slight stretch because it, unfortunately, needs to be charged every three minutes, so you will need to have access to a power source somewhere in the vicinity of your crafting station.
Disappointing this may be, it should be said that this device can work as a corded and cordless hot glue gun and this function can be useful at times, however, you will probably use the device in its wired state, for the most part, to save time and avoid frustrating charge times. Some might consider the cordless feature of this device as "gimmicky", but that does not mean this affordable hot glue gun isn't perfect for a part-time crafter who really only needs a battery-operated hot glue gun, but who would occasionally prefer a cordless one.
Despite having a shorter battery life than many cordless hot glue guns, the Surebonder is still efficient to its core – even boasting an insulated nozzle that helps stop the glue from burning the user, which is a nifty safety feature if we do say so ourselves. The Surebonder sure does (see what we did there?) provide superior value for money, despite some obvious improvements that could be made to the design.
Dual temperature with 30 minute auto shut-off

Ergonomic design with side fins to prevent glue back-up

Interchangeable nozzles available for models DT-360F, DT-3100F
View on Amazon
PROS
Compact
Simple to store
Efficient and quick heating
Includes drip stand and charging port
Both corded and cordless functionality
Cools down quickly
Effective on most surfaces
CONS
Three-minute cordless mode only
No rubberized handle
Long charge times
Some retailers sell batteries and chargers separately
Getting Started With Your Cordless Hot Glue Gun
Understanding how a hot glue gun works are half the challenge, and learning how to use it is the other half of that challenge. The rest of this article deals with instructions on how to use a hot glue gun. Even if you think you know already, continue reading – you never know what helpful hints we could be sharing today.
Loading Your Device
Hot glue guns are usually relatively easy to load with glue sticks. Most devices will come with at least a few sticks of glue and all you need to do is insert one of these into the glue stick holder. Some devices will have a locking mechanism, so we absolutely suggest you read through your specific device's use-manual to ensure you are fully clued up on its inner workings.
Examine Your Device
Before you put the device on, ensure there is nothing blocking the tip. Blockages may result in a hot, sticky mess (and possibly even a few burnt fingers) as the glue could travel up the tube and into the mechanisms.
Turn On Your Device
This seems to be a logical start, yes? Pop your battery into your Cordless Hot Glue Gun (if required) and turn on your device. Point the nozzle downwards and take care to avoid touching the tip as it starts heating up.
The more powerful the gun, the quicker it will heat up, but remember to be kind to your smaller hot glue guns, which can take a little longer to get to the desired temperature. When your portable hot glue gun has reached the right temperature, the device is ready to use! We recommend testing it before you get started, to ensure the glue is dispensed sufficiently.
Using Your Cordless Hot Glue Gun
This is it! All your preparation and research is about to pay off. It's always best to work on a flat surface, but we know that's not always possible. The rate at which the glue comes out of the gun may not always be consistent, so don't forget to give the glue a helping hand with a little gravity by pointing the tip of the gun downwards and ensuring both the gun and glue stick are upright.
Now is the time to be gentle, at least until you get the swing of things and learn more about how your particular device works. Start by softly pressing the trigger, allowing just a small amount of glue to escape. Squeeze harder as you grow your confidence.
Here is another helpful hint: lay down some cloth or a piece of cardboard to rest your glue gun on between takes. This helps keep your workbench clean and clear of any glue for the in-between moments when you are not using the actual device.
Time for Your Cordless Hot Glue Gun to Do its Work
The glue sticks used in the best cordless hot glue guns are usually multi-purpose, but just because it's multi-purpose does not mean it does not do the trick and work superbly on pretty much any surface.
The glue will need to cool once you have applied it, and this should not take too long, so you will be able to move on to the next item to glue after just a short waiting time. Made a mistake? Not to worry: we have an entire tutorial dedicated to removing hot glue. In the meantime, we have some tips on how to use your glue gun below:
It's time, young crafters. Now you know about the different types of hot glue guns on the market, what each is best suited for, how to prepare to use a hot glue gun as well as how to actually use it and you can take this new skill and apply it to your crafting and handiwork. Just remember to examine your gun first, go through the manual, and (always) be safe!
Frequently Asked Questions
Can Glue Gun Injuries Be Fatal?
Although the glue dispensed by your hot glue gun is hot, it's not so hot that it will cause any lasting damage. At most, you may experience a mild burn if you accidentally touch the nozzle when the device is in use. Always stay within the manufacturer's guidelines and remember: just because the glue sticks aren't necessarily toxic, this does not mean you should eat them.
Is Hot Glue Toxic to Humans Once it Has Dried?
No, it is not usually toxic at all. Even if the fumes are inhaled when hot, you should be safe. We do NOT suggest you ingest this glue on purpose, though. It is still glued, after all. Your hot glue gun glue is safe, even around children.
Can a Cordless Hot Glue Gun Cause a Fire?
Usually, this should not be an issue. Almost all hot glue guns come with regulators which stop the element from going above a set temperature, so this is unlikely. You can purchase your hot glue gun without a worry!