Best Teak Oil – How to Find the Best Teak Oil Finish
This post may contain affiliate links. We may earn a small commission from purchases made through them, at no additional cost to you.
When it comes to wood, the type that you choose for your next home improvement project is extremely important. This is because each type has different characteristics and it will react differently in particular environments. This is where teak comes in, this extraordinary wood is considered to be the best choice when it comes to outdoor projects. Teak and other hardwoods are usually treated with teak oil, and that is what we are going to discuss in this segment.
Understanding Wood Oil
Any experienced woodworker or carpenter will stress the importance of using a high-quality finish to protect the wood. There are also a variety of options to choose from such as polyurethane, varnish, and lacquers. One of the most popular options is wood oil, as wood is a material that has natural oils and when it starts to dry it will begin cracking, be more prone to damage, and eventually start splitting. Wood oil will provide a layer of protection that will keep the wood enriched and replenished.
Wood oil does not provide a hard layer of protection but it does assist in restoring the natural beauty and grain that the wood possesses. Furthermore, you can expect the wood to last much longer as it will be protected by the oil. The wood oil that you choose needs to compliment the wood that you are working with. This is why there are different types of wood oils, each one is formulated for a specific type of wood.
What is Teak Oil?
If you are asking what is teak oil, it is a wood oil variant that has been specifically designed to protect and enhance the properties of teak wood. Tung or linseed oil is usually used to formulate teak oil, with the help of a few additives. The natural grain that is found in teak is enhanced when using this oil, and you are then left with a warm and rich looking wood. Teak oil is generally used to protect and enhance the finish on a variety of wood surfaces such as outdoor furniture, boat decks, and so on.
It is a common misconception that teak oil is made from teak wood that has been drained. However, this oil is not a true natural oil and it has been formulated to be used on hardwoods such as maple, walnut, beech, teak, and so on. There are a variety of types of teak oil; however, it is usually a resistant and hard oil. Using teak oil will leave the surface of the wood with a thin coating of varnish that will protect the wood while it is being absorbed.
The Best Teak Oil
Teak is one of the more expensive hardwoods, therefore you would want to give it a good layer of protection that will simultaneously maintain its natural appeal. This is why you would want to give it a good teak oil finishing. The best teak oil depends on what it is being applied to, and where it is being used. Ultimately, finding a great teak oil is difficult as there are plenty of available options, but we have provided a list of products for you to choose from below. These products will help you get the best teak oil finish for your woodworking project.
Overall Best Teak Oil: STAR BRITE Premium Teak Care Kit
The only thing better than the best teak oil is a teak oil kit, and this is exactly what the team at Star Brite has put together with their Premium Teak Care Kit. This kit includes a teak cleaner and a brightener that will allow you to completely morph the appearance of your teak surface. This is done in three easy steps, as you will start with applying the brightener and the cleaner. This will allow the oil to penetrate the surface of the wood more consistently, as it is better prepared for the teak oil finishing.
The teak oil that comes with this kit is perfect for providing all of your teak furniture with the perfect finish and a prolonged lifespan. You will find that this teak oil promotes a natural golden shine and it can be used on all hardwood finishes. If you own a boat or you have built a small pier, then this kit is perfect for you as it is known to work well with all marine teak finishes.
The kit includes teak oil, brightener, and cleaner
Ideal for use on all fine woods and teak
The three-part process renews and protects the wood
View on Amazon
Pros
This product includes a teak cleaner, brightener, and golden teak oil
It has products that are of extremely high quality
It is very easy to use
It can be used on a variety of fine woods
It is a full kit that is designed to restore, protect, and clean teak
Cons
It takes a lot of physical effort to use the kit as it is intended.
Best Value for Money: MINWAX Teak Oil
Being frugal goes a long way and this oil will provide you with a teak finish that is accompanied by excellent surface protection for hardwoods. Minwax teak oil will keep wood safe from moisture and UV rays while simultaneously enhancing the color of the wood. The wood grain is improved by the oil as it penetrates deep into the pores of the wood. If you are looking for a product that is versatile enough to be used for indoor and outdoor applications then you should strongly consider Minwax. This will also work very well on marine wood that sits above the water surface.
This oil will provide you with a teak finish that will restore and enhance the natural richness and warmth of wood. It will also provide extended protection for a fraction of the cost. If you do not want to spend too much on teak oil or you have exhausted your budget, this is a product that you should consider.
Protects dense woods from moisture and UV rays
Deep penetration for enhancing the wood grain
Ideal for outdoor and indoor surfaces
View on Amazon
Pros
This product will provide you with a durable finish
It will protect against moisture and UV rays
It enhances the richness and warmth in the wood
It will work on all outdoor hardwoods
It is incredibly versatile teak oil
Cons
Does not penetrate as deep as other oils do, but it has a sticky coating
It has a brown tint that is significantly darker than other oils
Best Teak Oil for Outdoor Furniture: RUST-OLEUM Watco Teak Oil
Teak oil for outdoor furniture is something that cannot be neglected, and this finish by Rust-Oleum is ideal for providing your furniture with a long-lasting layer of protection. This oil works very well when it comes to providing UV protection to your wood, and this also comes with moisture-resistance. Furthermore, you are not limited to only using this oil on teak, but it can be used on a wide range of hardwoods. Watco teak oil is great for surface marine use, such as the decks of boats or private piers.
This teak oil is absorbed deep into the pores of the wood, and it provides a golden glow on the surface of the wood. This is the best teak oil for outdoor furniture and it is easy to use and even easier to maintain. This product can also be used on hardwood finishes inside.
Outstanding UV and moisture resistant finish
Works well for marine use above the waterline
Easy to maintain and apply to all dense woods
View on Amazon
Pros
This will provide your project with a durable finish
It will penetrate quite deep into the wood
It is resistant to mildew and water
It will provide excellent moisture and UV resistance
It is easy to apply and to maintain
Cons
This product takes a long time to dry
Understanding Teak Oil
The key to using any product is to understand it, and it is no secret that the term "teak finish" is quite a broad term. You will be forgiven for assuming that a teak finish only applies to teak wood, but it can also be used on a variety of hardwoods. Looking at teak wood, a high-quality version of this wood will consist of plenty of natural oils. Upon adding teak oil, it will not penetrate as deeply into the wood as you would think, and this will vary depending on the oil. This is why it is known primarily as a surface finish.
There are cases where teak oils that are manufactured on an industrial scale will deplete the natural oil that is found in the wood. This is because the oil is made with a variety of added ingredients and solvents. This does not mean that these products are ineffective, it just means that there is a significant difference between natural teak oil and "teak oil". Linseed oil is a popular choice when it comes to providing wood with a beautiful teak finish, but the drawback is that this oil is prone to premature drying. This will leave the teak furniture with the same look that it had before.
Tung oil is usually the best teak oil, as it provides surfaces with a long-lasting and attractive finish. When buying the best teak oil, it is usually a version of tung oil that has been altered to work better on teak finishes. It is very easy to make a mistake and buy the incorrect oil due to the available number of options. This is why it is vital to understand the differences between oils and which variants work with particular materials.
Teak Oil vs Linseed Oil
The popularity of linseed oil is due to its penetrating wood exceptionally well. If you are looking for a rich, yet natural-looking color to the wood then linseed oil is what you would want, and to top things off, it works very well with teak. However, this should not be viewed as a permanent solution to finishing teak, as it will require regular maintenance. If you are objectively looking at teak oil vs linseed oil, teak oil is the obvious choice, as it will dry harder and will provide flooring and furniture with a long-lasting protective coat.
Teak Oil vs Danish Oil
Another popular choice for finishing dense woods is Danish oil, but it varies from one manufacturer to the next as there are a variety of existing formulas for it. Generally, Danish oil is made from a polymerized variant of linseed oil or tung oil. The comparison with teak oil vs Danish oil needs to be looked at from an unbiased perspective as there are distinct differences between them.
Danish oil creates a more lustrous finish, whereas teak oil has some sheen to it. Both of them will provide a quick-drying and durable finish, and both will dry quite hard. Danish oil that is made from tung oil will work on teak woods; however, it is best to use a specially made teak oil or pure tung oil.
How to Apply Teak Oil
Seeing that you now have a good understanding of teak oil and you know which one is the best, it is time to focus on applying it. There are a few steps to take before the oil is applied to a wooden surface. You should also abandon the idea that it is a quick and easy procedure – it is not. However, the results will be worth the effort. Below you will find the steps that explain how to apply teak oil to achieve the best finish.
What You Need to Get Started
Before you jump in and start smearing teak oil all over your furniture, there are a few important items that you will need to complete this project. You will require:
Sandpaper or an orbital sander
A cleaning solution for the wood
A few clean cloths
A bristle brush
Teak oil
You should know how much oil is needed before you get started, as the worst thing you would need to do is to run to the hardware store in the middle of a project. Try and work in a well-lit and well-ventilated area, the outdoors on a sunny day would be perfect. Plenty of space will be needed if you intend on sandpapering the wood. Safety gear, such as protective glasses, a mask, and gloves, should be high-priority items.
Preparation and Cleaning
The first step is to prep the surface of the wood to ensure that it is prepared to be oiled. This starts with removing any existing layers of the existing finish with sandpaper. This is because teak oil can only be applied to bare wood, so if there is any trace of a pre-existing finish such as lacquer or varnish, it must be removed. The surface of the wood should be clear, even, and smooth before the oil can be applied.
The next step is to clean the surface of the wood, this mostly applies to older furniture as they are likely to have dirt, mildew, and mold that has formed over time. There are kits available that contain teak cleaner, and this will ensure that the wood has been thoroughly cleaned before it is oiled. If you do not have teak cleaner, the next best thing would be to pressure wash it or hand wash it with soapy water. The wood will then need to be completely dry before the oiling process can be started.
Application of the First Coat
Once the surface of the wood is clean and dry, it is time to apply the first coat of teak oil. There are two preferred methods of getting this done, the first is to use a bristle brush and the second is to use a cloth and rub the oil into the wood. Start by adding a lot of oil and then rub it into the wood, and once this has been done take a clean cloth and remove every trace of excess oil. This is important as you would not want any wet spots. When this is done, wait for it to soak into the wood, and the time it would take to do this will depend on the product that you have chosen. However, the drying process should not take longer than two hours.
Repeat
Once the first coat of teak oil has finished drying, you will need to repeat the process. Start by rubbing the oil into the wood, leaving it to stand for up to 20 minutes, remove the excess oil, and then let it dry for two hours. This process can be repeated as many times as you would like, as it depends on the type of finish that you want. People will usually apply up to four coats of teak oil as this will maintain a natural-looking finish while protecting the surface. However, wood that has been treated with oil will need to be maintained. This means that this process will need to be repeated every few months or it will lose its color.
Teak Oil Uses
Buying products that are branded as teak oil does not necessarily mean that they are pure or natural oils. These products are usually specifically made to be applied to hardwoods and to preserve teak surfaces in a wide range of environments. These teak oil uses have been listed below.
Outdoor Furniture
Teak is commonly used for outdoor furniture and good reason. Not only does it look fantastic, but it is also an excellent choice for the outdoors as it is durable enough to be left outside for extended periods. However, this does not mean that it is immune to discoloration after being exposed to the elements.
Outdoor teak furniture will inevitably begin to turn gray after an extended period. It might begin to display various cracks, mildew, and mold. A teak oil finish will restore the furniture to its former glory and this will result in a natural glow and a newfound richness to the wood. The best teak oil can restore even the most discolored wood and provide it with a layer of protection with added sheen.
Marine Wood
Teak is generally used on boats due to how durable it is and how well it is used in water. If you see a boat with wooden finishes, there is a strong possibility that the wood that is being used is teak. As great as this looks, it does require regular maintenance.
Marine wood is always exposed to the sun unless it is covered with a tarp when the boat is not being used, but this is unlikely. Maintaining marine wood is one of the most common forms of teak oil use and applying it to boats is the same process as what it would be with outdoor furniture. The result is a shiny and rich finish that looks completely new. It is advised that only the best teak oil should be used when refurbishing marine wood.
Flooring and Decks
If you are looking for a flooring finish that is durable and it looks the part then teak oil should be used. This can be applied indoors and outdoors and should be applied after the floors are installed or when the teak starts to discolor. When teak oil is applied to a floor it will not only enhance the appearance but will also provide a long-lasting finish that is extremely durable. It will be able to withstand high traffic areas and will require regular maintenance, especially if it is an outdoor floor that is exposed to direct sunlight.
A variety of wooden surfaces can be protected with the right teak oil finishing. This does not mean that it is only meant for outdoor furniture, as it will make any surface look brand-new. If you are using a particular type of hardwood, you should apply teak oil, as this will enhance the look of the surface and it has a range of properties that makes it such a popular choice. But it requires a fair bit of maintenance to retain its color.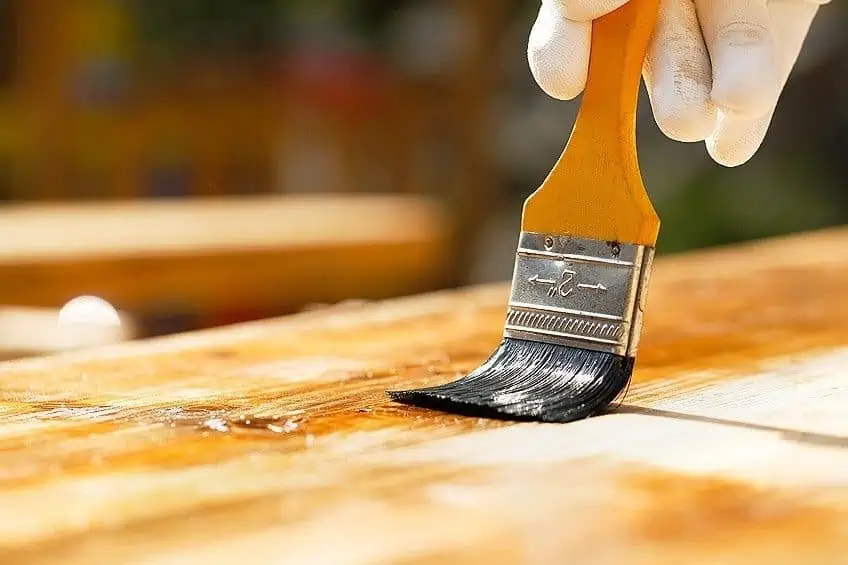 Frequently Asked Questions
Is Teak Oil Safe for Food Preparation Surfaces?
Yes, teak oil can be used on a variety of surfaces, especially cutting boards. It should be advised that you have to wait for it to dry before applying.
How Many Layers of Teak Oil is Required for a Good Finish?
For a great finish, we recommend that you apply a maximum of six coats, but this also depends on the general condition of the wood. Be advised that teak oil needs up to two hours to dry before a new coat can be added.
Will Teak Oil Remain on a Surface for a Long Period After it is Applied?
Two factors will affect how long the finish lasts; the condition of the wood, and the quality of the oil that you have used. Teak oil will usually last for a year, and it is easy to maintain.
Is Tung Oil Superior to Teak Oil?
The conditions that the wood is exposed to and the type of oil that you choose will determine the outcome of the finish. Teak oil will provide excellent UV protection and this is what makes it an ideal choice for marine wood, outdoor furniture, and decking.
Teak oil offers a durable, weather resistant finish to many different wood surfaces. It will also make your wood look great, and completely renew the finish and grain! Consider using the best teak oil if you have some hard wood that needs restoring.