Best Glue for Bookbinding – How to Repair Your Old Books
This post may contain affiliate links. We may earn a small commission from purchases made through them, at no additional cost to you.
Most people have not given the art of bookbinding much thought, leaving it to the professionals to sort broken books out for them. But imagine the satisfaction of being able to bind your own book, or repair your favorite and most sentimental novel yourself. You won't know until you have tried and succeeded at the job, or at least made an attempt to learn how to repair a book spine. Today we shall teach you just that! We will talk about the various types of book glue that can work wonders to bind your favorite books. We will also include instructions on how to repair a book spine, concerning the different bookbinding glues. If you have come here today in the hopes that you will learn all you need to know about repairing books, then keep reading this tutorial on bookbinding repair glue.
Different Types of Bookbinding Glue
For more than 2000 years of human civilization, we have been binding books with glues. At the beginning of this book repairing era, the glue was made from animal by-products, particularly the collagen inside their bodies. Luckily, this was eventually deemed inhumane, and synthetic or plant-based glues were discovered.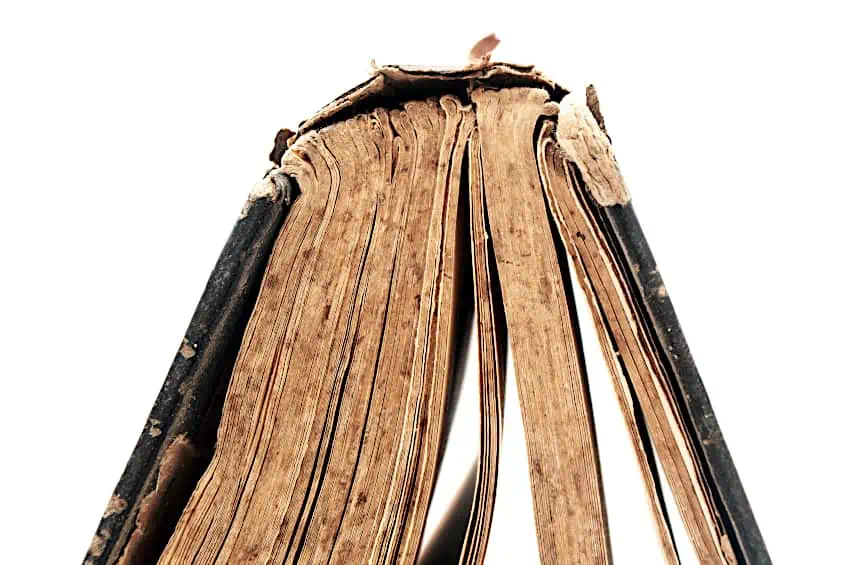 The various types of glues that are suitable as bookbinding repair glue will vary according to the different types of books that need repairing, as well as how badly the damage is in the first place. The best glue for bookbinding according to one hobbyist might not be the right bookbinding glue for the job you have at hand. Not to worry, we have covered all of this throughout the tutorial, but for now, let us take a look at the different types of glue that you might have considered as the right bookbinding glue to use
Polyvinyl Acetate (PVA) Glue
PVA glue is one of the most commonly found glues. If you want to know what glue is, think of the sticky white liquid substance that you often see in the arts and crafts corner at schools. Typically, this glue is used by crafters and hobbyists, and it has a highly versatile range of uses. This also includes the range of surface materials it works with.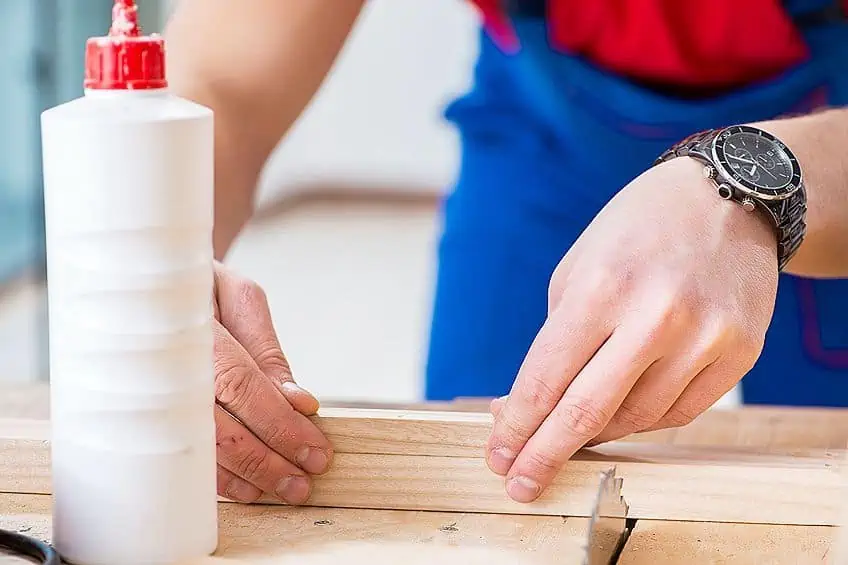 This glue is quite malleable, and flexible when it has dried, which increases the versatility of this glue. PVA is also a very strong glue, so you can appreciate the repair lasting longer than it would if you used another glue. There are more benefits with this type of glue-like the fact that it has a neutral pH level, and it is free of any acids, so you will not have to worry about the paper going yellow after a while. Polyvinyl acetate glue is a very long-lasting glue that is a great option to use as a bookbinding repair glue, provided that you mix in some water to thin out the solution (particularly the typical crafting PVA). Here are some of the better versions of PVA glue that you can use for repairing a book:
Wood glue, but it might turn a yellow color when dried
Any white PVA glue that you will find in a school
Glue sticks of PVA glue, but not when you need to repair a book's spine
When you are using this glue, you will need to make sure you have some clamps of some form.
Once the two sides of what you are gluing have been coated in glue, then you must clamp them together, or place a heavy weight on it if that is possible. Only remove the clamps when you are sure the glue has dried and set.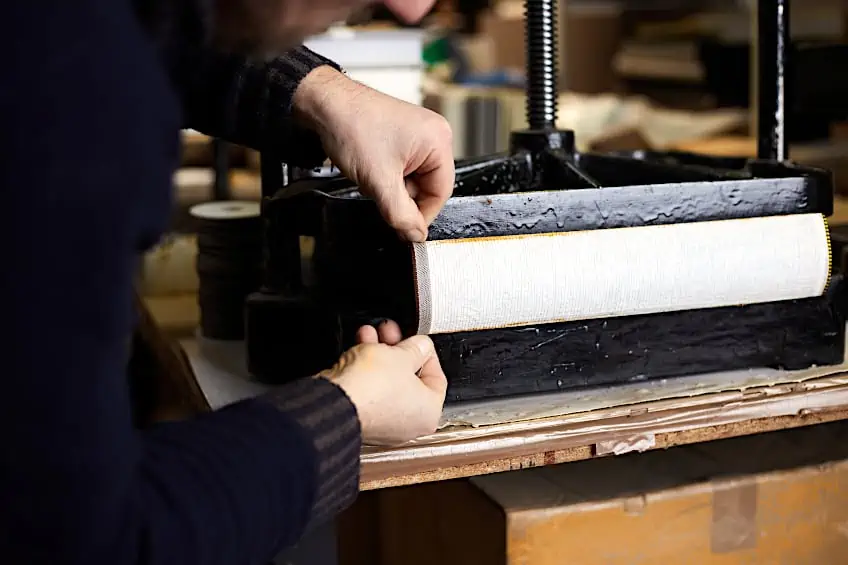 It might seem obvious that you should keep the book away from water because books are made of paper which will be destroyed by the water, but the glue is not waterproof in the slightest, so you will need to take extra care to not splash water on the newly repaired spine.
Two-Part Epoxy
When you purchase this glue, it will come in one package that has two parts. The first part is the resin and the second is the hardener. Before you apply this glue to whatever needs repairing or conjoining, you must mix both arts according to the instructions on the label of the product that was provided by the manufacturer. The typical ratio is equal parts of both. However, the more of the hardening substance that you add, the faster the drying process will be and it will set just as fast as well.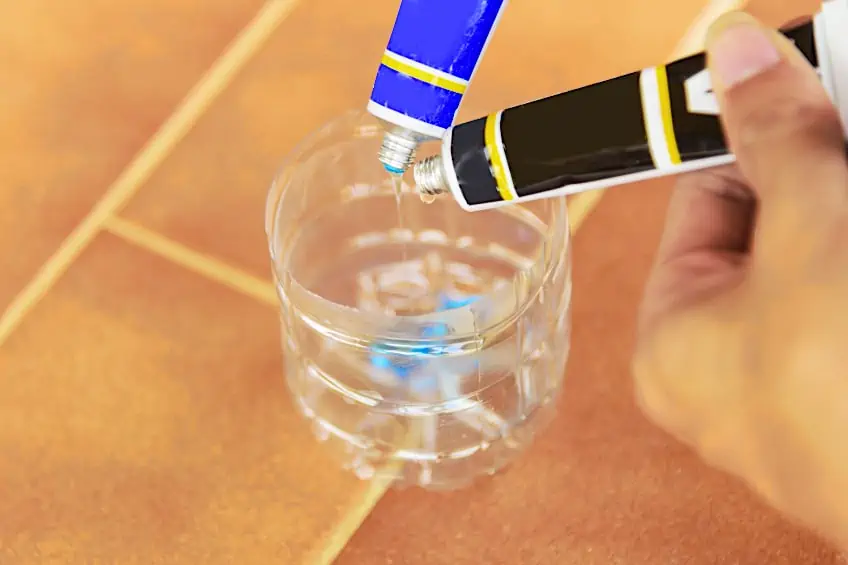 A two-part epoxy forms a very strong and resilient bond. It will dry clear, and the permanent seal that it creates is also very flexible so it can be used on fabric and paper. This glue will be set within five minutes of applying it, so there is little time to waste. You can use this type of glue on a vast range of surface materials.
Contact Cement
It is available in any craft store or hardware store. It is a versatile, strong, and flexible glue because of the high quality of chemicals that are found in its formula. It can be bought at almost every hardware store quite easily. This glue is not only an amazingly suitable glue for binding the spines of books or repairing whatever other paper-based repairs are needed. It also works wonders with materials like plastic, wood, rubber, and even metal.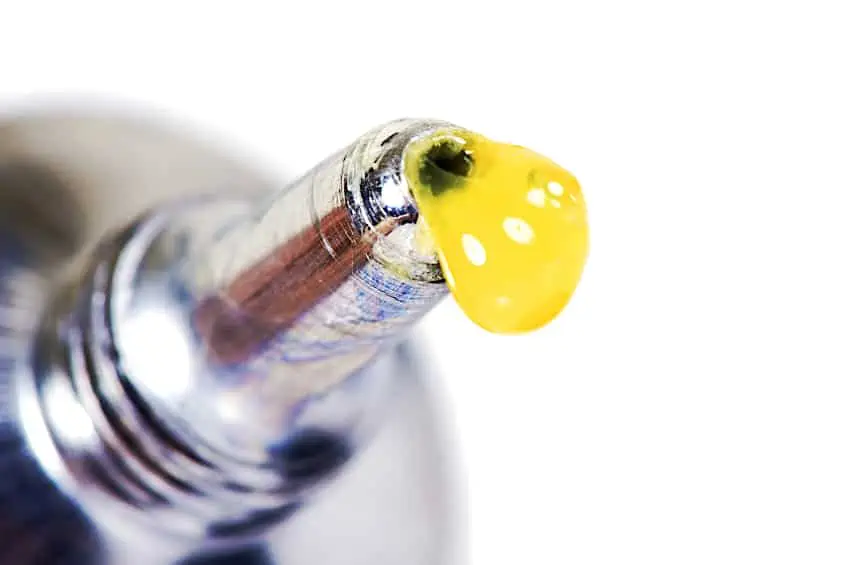 There is one disadvantage of using this glue, which is that it has a very strong odor due to its chemical composition and can be detrimental to your health, so we recommend that you use it in a well-ventilated area or outdoors.
Wheat Paste
Now, this is a glue that has been used for more than a century. Wheat paste is one of the favored bookbinding glue types to use for restoring books to their former glory in no time at all and with ease. You can use this glue for gluing posters and flyers onto walls, lamp posts, and billboards. When using this glue as a bookbinding glue we suggest that you add in some PVA white glue to increase the strength of the adhesive. This has been done by all bookmakers for a long time. They say this combination of glue is the best glue for bookbinding. It is a non-toxic glue as well, so no worries about poisoning your lungs in the process.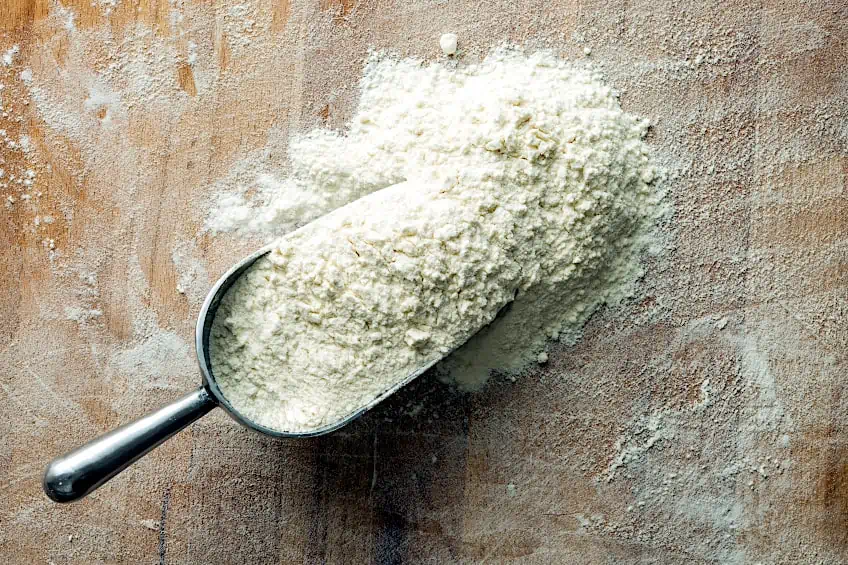 How to Make Wheat Paste
Wheat paste is not exactly the most commonly spoken about glue, unless you are familiar with bookbinding, or you simply have a vast general knowledge about adhesives in general. You might be curious whether the rumor is true that you can make your very own wheat paste, and the good news is that you can! Here is a list of the things you will need to make your wheat glue mixture.
Distilled water, 5 parts
Cake flour that is free of acids, one part
Whisk for mixing
A non-stick pan
We recommend that you use cake or pastry flour that has a low level of gluten. Follow these directions carefully.
Tip: When making wheat paste make sure that the cake flour you use is low in gluten, if not gluten-free. This will prevent the glue from drying too stiffly as the typical gluten-rich flour might do.
Now that you have all the ingredients ready, here is how you will mix them. Combine three-quarters of the water and all of the flour in the non-stick pan and whisk them together. Once the initial mix is done, you can add the remaining water. Once you have a milky consistency, you can switch the stove and bring the mixture to a boil and then bring the heat down so it begins to simmer. Then you must make sure there are no lumps in the mixture, and if there are, return it to the heat and whisk away until the consistency is smooth. If the mixture cools down, the lumps will be very hard to remove.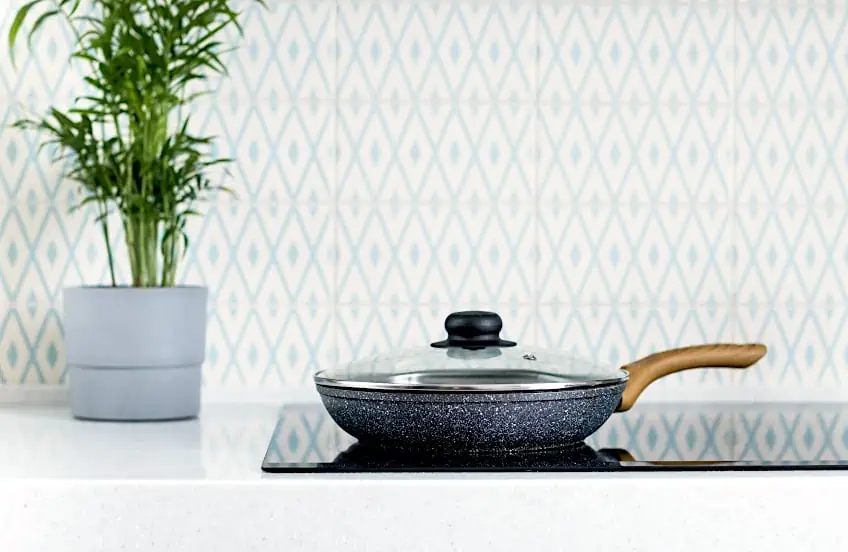 Methyl Cellulose
In addition to being non-toxic, the pH level is neutral, a chemical compound that cannot be digested. Cellulose plant fibers are made from methylcellulose, which is also made from plant fibers. This mixture makes a glue that is heat-resistant and can withstand harsh weather, except for humid climates. When methylcellulose dries it is still quite flexible in comparison to other glues. When you purchase this glue, you will receive it in a granular form that must be mixed with water to activate the glue.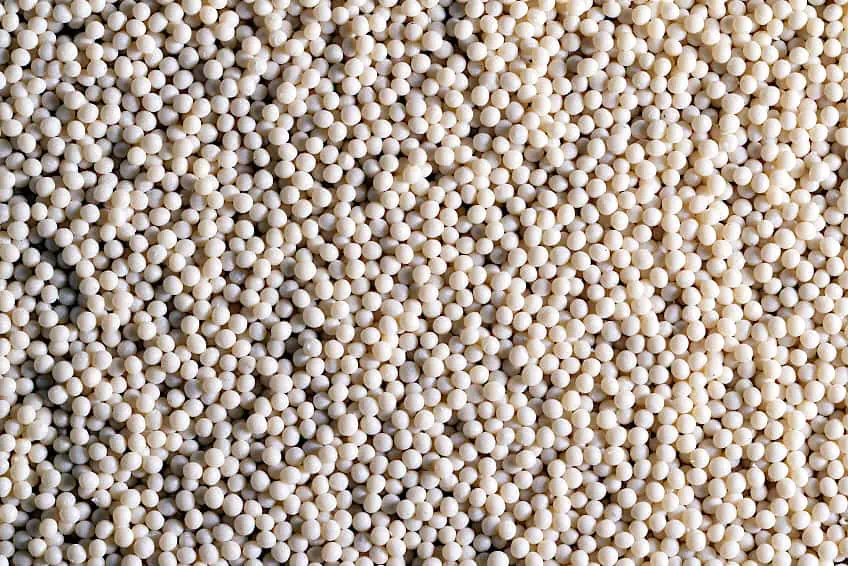 Superglue
The question of whether or not super glue can be used to repair the spine of your book is one of the first on most people's lips. This is one of the glues that can be found in most households so it is not surprising that people are curious if it can suit a book repair cause. Unfortunately, this glue will dry hard so it is not ideal to use on thin paper.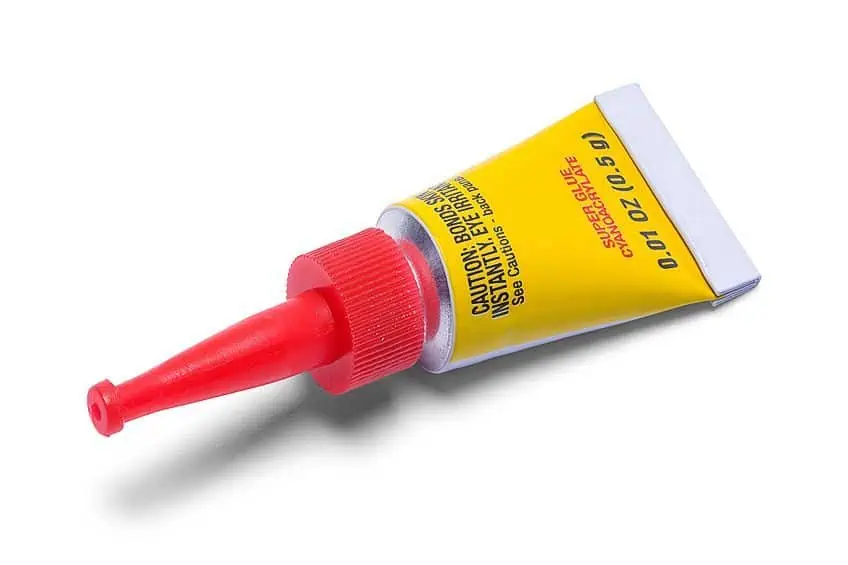 How to Choose the Right Book Binding Repair Glue
Learning how to repair a book spine starts with understanding how to select the right book glue for the job. We have compiled a collection of important aspects to keep in mind when selecting the glue.
Level of Toxicity
Generally speaking, glue is obviously quite toxic. This is because there are strong chemicals in the formulas that make the glue. There is no need for much explanation here, but the toxicity level in the glue is important to consider, especially when children are going to be using the glues. They are also quite bad for the environment, so if you prefer to live eco-consciously then choose the lesser of the toxic glues, like wheat paste.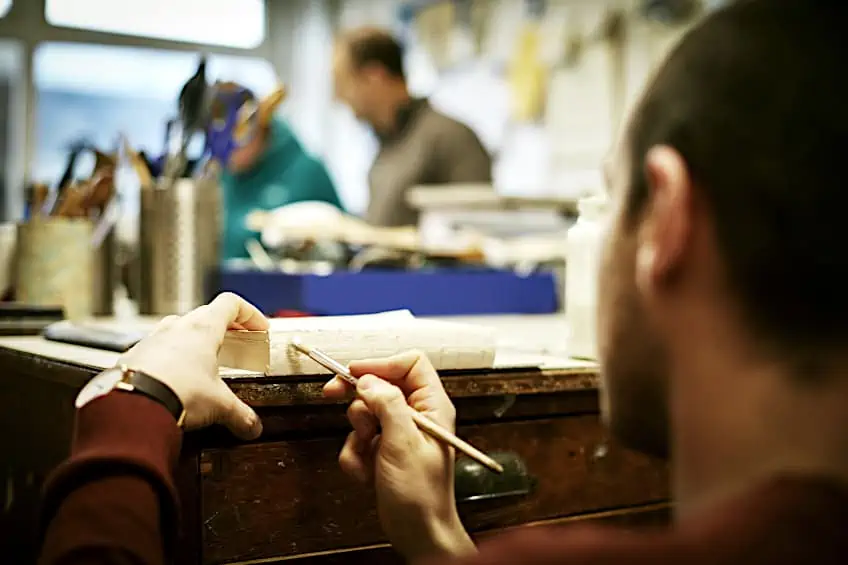 Level of Strength
Not all glues are made the same way, so some are stranger than others. There is heavy-duty, medium-duty, and light-duty, and even school-grade, industrial-grade, craft, and permanent-grade.
Color of the Glue
Some manufacturers have made glue that will eventually fade into a yellow color when they have dried and cured. The best thing for gluing a book back together would be to use clear glue. This way the glue will keep transparent regardless of how much time has passed.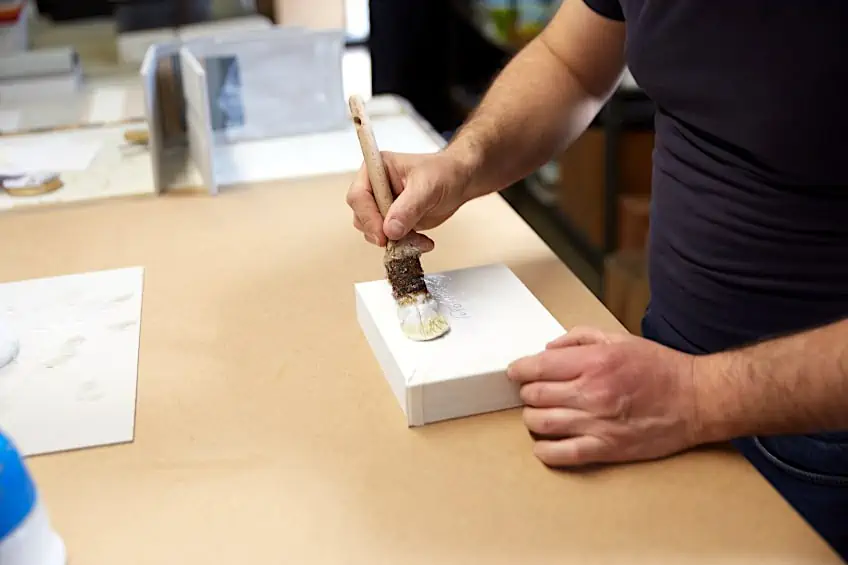 Versatility
There is a large range of uses for glue, but not every glue is designed to be used for any material. The label on the glue's packaging is information provided by the manufacturer that will stipulate exactly what surface materials you can use the glue with. Make sure that you have read the label and that you have purchased the right glue for the task at hand.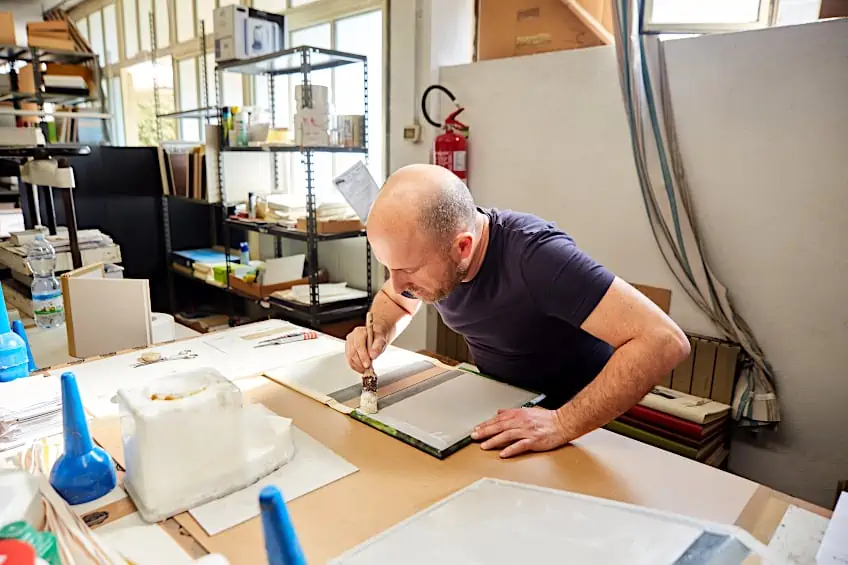 Level of Acidity
Some glues are not as toxic as others, and at the same time, they are not filled with acid-based ingredients. The acids in the glue's formula make the PH level very acidic and this is what causes the glue to turn yellow after a while. The best glue for bookbinding is a neutral-PH glue that is free of acids.
How Flexible
Some glues, like superglue, are best designed for connecting more hardy materials like plastic, wood, or metal. Superglue tends to cake once it has dried, making it a tricky adhesive to use for books because they contain thin pages. Other glues will be more flexible even after they have dried, and those are better for your book repair.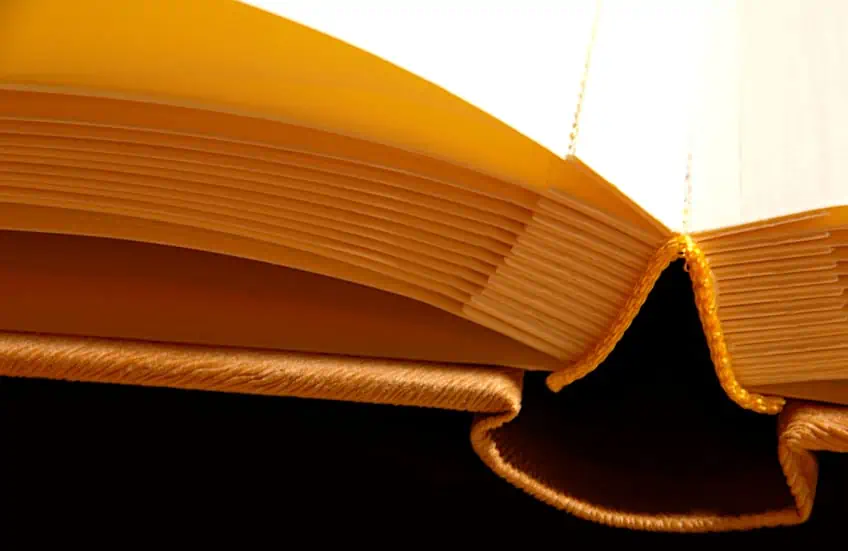 Our Favorite Bookbinding Glue Brands
Learning what types of glues will work best is not enough if you want an efficient job done when repairing your favorite book. The next step in becoming a professional book repair technician, or hobbyist is learning which glues are the best, and which brands made them. Here are a few of our favorite glues to use for book repairs.
Most Efficient PVA Bookbinding Glue: LINECO pH Neutral Adhesive
Lineco is glued with a neutral adhesive that is one of the better glues to use for any type of book repair. It comes highly recommended by all sorts of craftsmen and women. Because it is a neutral PH level, you will not have to worry about it fading to a funky yellow color over time.
The curing time for this glue is about 48 hours, which is not the longest time considering some other brands. It is a versatile paper glue, so you can use it to bind all sorts of paper textures and thicknesses, and for many different paper repair jobs.
Archival acid free formula for bookbinding and all paper projects

Water soluble when wet allows for thinning and drying time extension

Fast drying with non-yellowing properties for a clear bond
View on Amazon
PROS
Provides a permanent bond
You may counter the bond by soaking it with water
Easy application
Neutral pH level
It will not fade to a yellow color
Dries quite fast
Free of acids
Top Recommended Two-Part Epoxy Book Glue: GORILLA 2-Part Epoxy
The Gorilla glue brand has been a favorite amongst all professional craftsmen and women, as well as all hobbyists. They make an array of glues that are useful for specific tasks. Their epoxy glue comes in two parts, the hardener and the resin which you must mix before you apply it. Each part comes in a syringe that has equal parts of both the hardener and the resin, so the mixing is easy.
After about 5 minutes of applying the glue, it will be dry, which makes working many jobs an easy task because you can work faster. Not only that, but it remains transparent regardless of how much time has passed. This is a water-resistant and versatile glue that is definitely worth your time, effort, and money.
Strong, permanent, fast, and gap-filling; great for multiple surfaces

For tough repairs needing a durable bond and solvent resistance

Dries clear and sets within 6 minutes, allowing for repositioning
View on Amazon
PROS
Fast drying
Leaves no residue
Dries transparent
Strong water-resistant bond
Versatility allows for multiple paper-based repair jobs
Also works with other surface materials
CONS
Dispensing the glue will be hard to control
Most Recommended Paper and Craft Book Binding Glue: ELMER'S Craft Bond Fabric and Paper Glue
If you are looking for the ultimate paper glue, then look no further than the Craft Bond Fabric and Paper Glue by Elmer's. This is a glue that promises the most amazing repair jobs for books because the glue is an extremely strong bond that is still flexible so the pages can bend snapping.
Elmer's craft bond paper and fabric glue have a bond that is permanent when dry. It has a tip for applying the glue that makes the whole process easy and simple. With the applicator, you can accurately apply the glue precisely where you planned, without making too much of a mess. Amazingly, the glue is also fast drying, so there will be minimal wasted time.
Multi-purpose acid-free art and craft adhesive

Suitable for all fabric and paper projects

Produces a clear, permanent, and washable bond
View on Amazon
PROS
Reasonably priced
Waterproof
Promises a permanent bond
Dries transparent
Free of acids
The applicator makes the process simple
Which Glues are Suitable for Bookbinding?
Now that you are aware of the best glues to use for binding books for repairing them, it is not the time that you can be all "gung-ho" and begin gluing the book back together without actually knowing how to do the job. There are some specific methods to use for specific jobs, and it is a good idea to get a guideline for the process.
Luckily for you, we have prepared just that. All you need to bring to the table is the glue of your choice and the few tools and other materials that will make the process a successful one.
Here is a table that states which glues are the best for paper, or not.
| | | |
| --- | --- | --- |
| Glue Type | For Bookbinding | General Purpose |
| PVA Glue | ✔ | ✘ |
| Super Glue | ✘ | ✔ |
| Two-Part Epoxy | ✔ | ✔ |
| Wheat Paste | ✔ | ✘ |
| Methyl Cellulose | ✔ | ✘ |
| White or Yellow Wood Glue | ✔ | ✘ |
| Fabric Glue | ✘ | ✘ |
| Hot Glue | ✔ | ✔ |
| Polyurethane Glue | ✘ | ✔ |
| Glue Sticks | ✘ | ✘ |
Fixing a Book With Bookbinding Glue
Imagine if your absolute favorite book was handed down by your grandmother to you, and you wanted to hand it down to your children one day. Book repair jobs are simple enough if you know what you are doing, so keep reading for the following guidelines on how to fix various damages.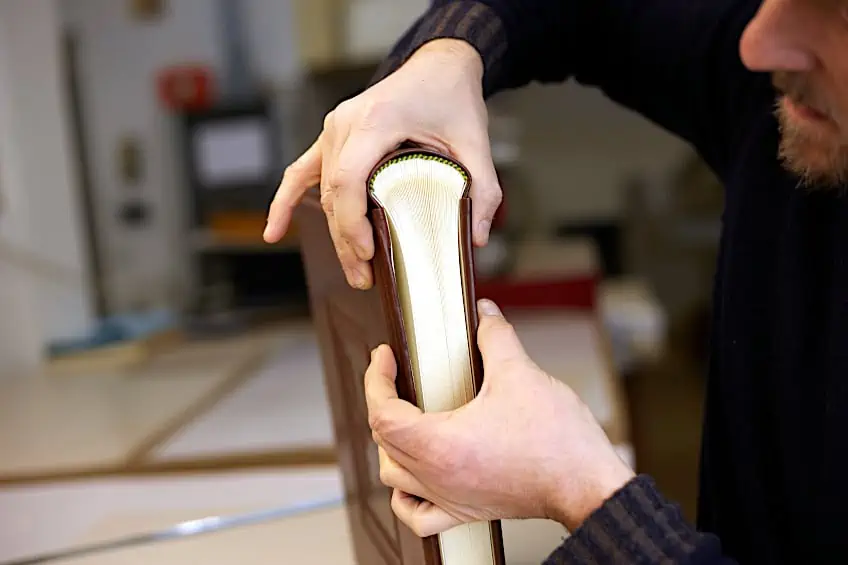 Loose Page Reattachment
The most common problem we face with books is the pages falling out from being too rough with them. It can be an invigorating thing to read an exciting part of the story and you might find that you just cannot turn the pages fast enough! This leads to the pages falling out easily and you will need to reattach them.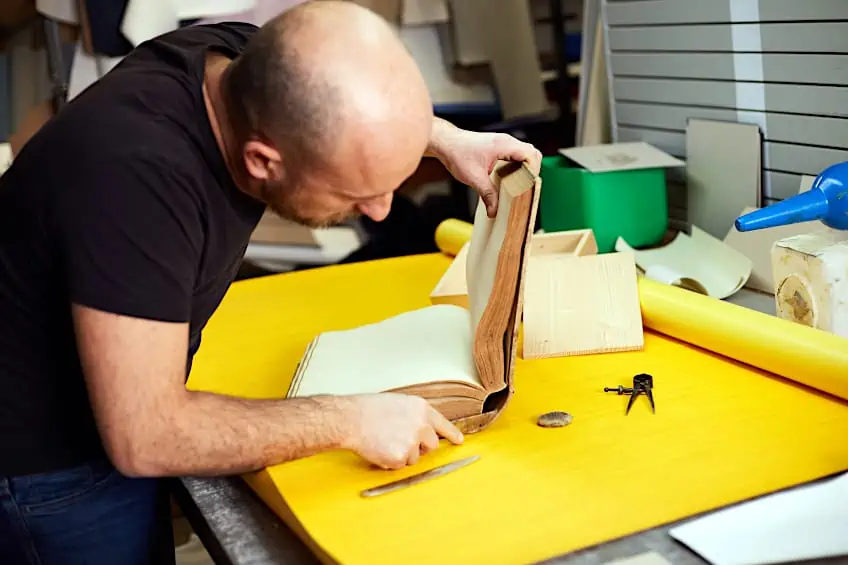 Make sure the glue you are using to reattach the pages is free of acids so it will not turn yellow after a while. Get a knitting needle ready, along with an ice cream stick, three hardy rubber bands, and something heavy like a book. This will be used after the glue was applied and the book has been bound shut with elastic bands.
First, you must remove the loose paper from the book entirely, fixing it like that will be much easier and long-lasting than working around the pages somewhat attached. This will also prevent the pages from getting covered in glue. Just make sure that you keep them in the right order and well out of the glue's spilling range.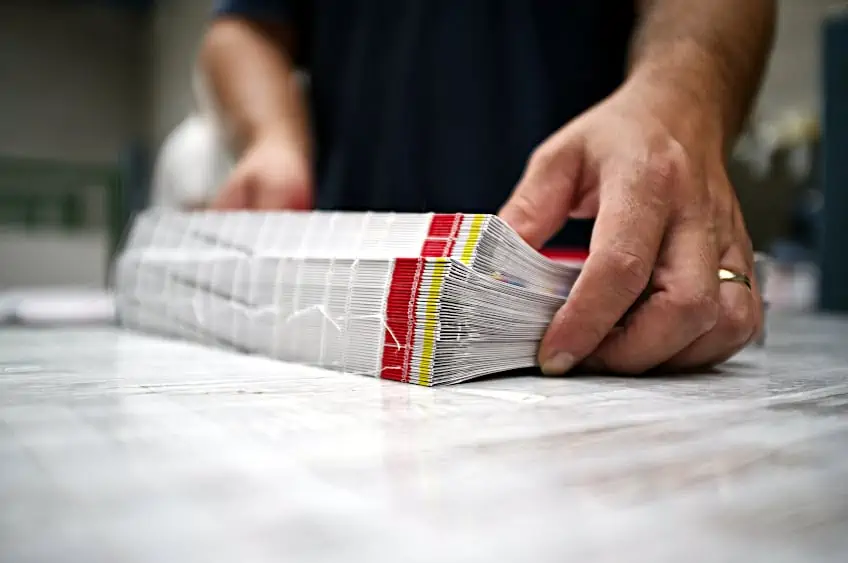 Get the glue you chose out and apply it to the inner side of the spine using either a paintbrush or the applicator that the glue came with (provided there is one). Insert the page into the spine and then press them down firmly. Work fast enough so that you beat the glue from drying before the page is properly in place. Close the book and press down on the spine just as firmly. Then, wrap the elastic bands around the book from all angles, and leave that there until the book has dried. Place a heavyweight on the book whilst you wait. The drying time for the different glues will be stipulated on the label of the glue.
Making the Gap Between the Spine and the Pages Tighter
To tighten the gap between the pages and the spine you will need some wax paper, knitting needles, a glue that is free of acids, and finally, a sheet of plastic.
First, use your hands and fingers to make the gap between the spine and the pages of the book more open. Work carefully, because books are usually quite sensitive, especially when they need to be repaired. Next, get the tall bottle of glue that you need for the repair, and dip in the knitting needle, then insert it directly into the gape that you have made with your fingers, and wiggle it around so that the glue coats, both the spine of the book and the pages.
If you find that there are more gaps along the spine, then turn the book around and repeat the process from the other end of the book's spine. Make sure that each page is stuck to the spine by firmly pressing the blank pages at the front and back of the book (the end pages) into the spine. This will make the opening and closing of the book as easy as if it were new, as well as prevent any of the glue from leaking through to the front cover.
How to Repair a Book Spine
If you want to repair a book where the hinge has broken, you can follow these guidelines. Firstly, the hinge is the part of the book where the pages connect to the cover of the book and the spine. Feel free to look up a diagram on the internet.
To begin the repairing process, one must first take the hinge off entirely. When that is done, you can remove any remaining threads that once held everything together with some scissors. The next thing to do is use some binding tape that is single stitched that has been cut to the same length of the book you are repairing. You must use the glue that you have chosen, provided that it is free of acids, to make the tape stick. Apply the glue using a paintbrush, but only to one-half of the tape. Hold the one half that is glue-less and then press the tape onto the first page of the book. Then wait for the glue to dry.
Wait a couple of hours for the glue to dry properly. You can find the accurate time to wait for the glue to dry in the instructions provided by the manufacturer on the label. Next, you can cut the wax paper to fit the size of the book, and apply it over the binding tape that you have already stuck to the first page, and then beneath the binding tape that is still detached from the spine. Then you must apply the glue to the other half of the tape that has to be stuck down still with the brush and then align the spine with the binding tape seam.
Repeat the process that we mentioned above for attaching the binding tape to the spine. And the book should look like a book again. The last step in the repairing process is to clamp the book shut with some elastic bands. Wrap the bands around the entire book from all directions, and wait for the glue to dry properly before you think of opening it.
To conclude this tutorial, we will sum up what the best glue for bookbinding is. In a nutshell, if the repair you need to do will not have to withstand much mishandling by many eager eyes wanting to read the contents of the book you will only need to use the typical glue you will find in the stationary of school kids. On the other hand, if the repair is going to be handled by many of said fingers, then you might find you will appreciate having used glue that is free of acids, and water-based.
Frequently Asked Questions
Is Double-Sided Tape a Good Alternative for Binding Tape?
Double-sided tape is not the strongest of tape adhesives. This makes it a temporary option to use for book repairs because it will not last long. Not only that, but you might struggle to work with it because of how sticky it is on both sides.
Is There a Best Glue for Bookbinding?
The best bookbinder glue is said to be epoxy adhesive. This is because of how flexible it is when it has dried, so the book will not be impossible to open once you have glued it, nor will the glue crack and fall away when you are opening and closing the book very often.
Is Superglue Effective for Repairing Books?
Superglue tends to dry much harder than the liquid you initially see come out of the tube. Its rock-like dried structure is not a great option to use on paper. This type of glue is better when repairing items that are made of harder materials like plastic.
How Long Will Book Glue Take to Dry Properly?
Certain brands have designed glue to dry in about 24 hours. The longer you wait, the stronger the bond will be. That being said, some glues are equally as strong, but they can dry within as little time as 5 minutes. The drying time for each glue will be described on the label of the glue's tube.
Can I Use Fabric Glue to Repair a Book Spine?
Fabric glue was designed for gluing fabrics, so it is not the most ideal adhesive to use for binding books, because it is made from paper.
What Brush Is Best for Applying Glue?
This is dependent on what you might prefer to use. First, work out what you want from the brush. Like how big is the book you are binding, for example? Then you will be able to determine which brush will work best.