Wood Burning Art – Complete Guide on How to Wood Burn
This post may contain affiliate links. We may earn a small commission from purchases made through them, at no additional cost to you.
Burning is an ancient technique. Thousands of years ago in ancient Egypt, wood and leather were decorated through the use of fire. Today, wood burning is experiencing a unique revival as a creative hobby. We will introduce you to pyrography and help you with your first steps in this fascinating creative technique.
What is Wood Burning Art?
The technical term for wood burning is pyrography and is derived from the Greek words pyro = fire and graphos = writing. Wood burning is a traditional art form in which materials such as wood, leather, or cork are burned on their surface by a heated metal tip. This results in dark colors of the material from the burn marks. In their entirety, these burn marks result in the desired decoration.
The first fire art of this kind was practiced in ancient Egypt and Africa. They simply used pieces of metal heated in a fire to decorate wood or leather with works of art and writing. With the arrival of electricity and the invention of the first soldering iron, by Hans Sachs, the metal tip heated by fire was replaced.
Not long after, the industry developed special devices for pyrography, the so-called branding irons. For some years now there has been a wide range of different wood burning tools, which can be adapted to the most diverse needs with temperature regulation and exchangeable burning loops (metal tips).
Tools and Materials Required for Pyrography
The equipment needed for pyrography art is quite manageable. It can also be purchased in good quality at quite moderate prices. Basically, you only need a type of pyrography pen and a few burn loops for starting out. The latter is already included in most wood burn art sets. Let's take a closer look at how to use a wood burning tool.
Pyrography Pen or Soldering Iron
In principle, it is possible to create simple designs with a normal soldering iron. However, the design possibilities are very limited. The work with a special wood burn art pen is much more versatile. The tip of a pyrography pen, also known as a burning loop or shaped tip, can be replaced. In this way, a wide variety of brands and effects can be created.
Higher quality wood burning art models can be regulated in the firing temperature and thus adapted to the different surfaces. The temperature can be regulated by a rotary wheel directly on the pen, these models are also called wood burning pens. If the regulation takes place via a transformer, one speaks of the so-called wood burning kits.
The biggest difference between soldering irons and wood burning kits is the maximum achievable temperature. Wood burning kits allow higher working temperatures and are therefore more versatile.
Overall Best Wood Burning Kit: TOPOLEK Wood Burning Machine Kit
This kit by Topolek is one of the most efficient and easy to use wood burning machines out there. The kit is specially designed with a 40W woodburner pen that uses high quality 0.8mm wire tips. The kit includes four different wire tips to allow you to bring more versatility into your wood art. These wire tips will heat up really quickly, but can hold up against pressure while in use.
There is a fully adjustable temperature regulator knob with a wide range of temperature options available. This makes it the pen suitable for use on a range of different woods and materials. The temperature is turned on and off by a switch. With rapid heat dissipation properties, this product is safer to use. It also heats up really fast when turned on.
Pros
Durable wire tips
The kit includes four different wire tips for versatility
The temperature is easily adjustable
Safe, heat-resistent handle
A great looking wood burning machine
Cons
The kit does not include any stencils or art accessories
The Topolek wood burning tool kit is a smart choice for beginners or experienced pyrography artists. This kit is durable, efficient, easy to use, and offers great results over a variety of duifferent surfaces. Not only this, but the kit looks great and is available at an attractive price.
Best Value Wood Burning Kit: WOODLAND HOME Wood Burning Kit
This is a deluxe pyrography set that includes everything you would need to start creating wood burning art. All neatly packaged in a convenient case, this set includes 27 different wood burning tips, stamps, patterns, stencils, a stand, and of course the wood-burning pen.
The pen has an easily adjustable temperature control knob and is suitable for use on a wide variety of surfaces. There is an impact-resistant rubber handle for added safety and comfort. The pen is also lightweight and fast heating. For anyone looking for a budget-friendly wood burning pen, this product has a lot to offer.
Pros
27 different tips included
The set comes with stencils and lettering guides
Completely variable and adjustable heat settings
Excellent value for money
Cons
The kit does not come with instructions
The heat trigger is not on the pen
This complete set by Woodland Home is a great way to get started with wood burning. The kit includes everything you need to create art and lettering, all packaged in a neat case. For everything that is included in this set, the product offers excellent value for money.
Best Wood Burning Kit For Beginners – VIIART Pyrography Tool Kit
Anyone looking to start out with wood burning art will love this convenient kit by Viiart. This kit is designed for a wide range of different surfaces thanks to its multiple tips and temperature adjustments. For detailed, precision work, this kit includes 20 different pyrography wire tips.
The handle of this product is completely heatproof, non-slip, and comfortable to hold. This makes it a safe pen for long periods of use. The temperature control comes in a digital display and ranges from 32 – 1112°F. The pen only takes 15 seconds to heat up – making it an efficient tool for wood burning.
Pros
A safe and comfortable ergonomic handle
Includes a wide variety of wire tips
Fast heating
Durable wire tips
Can be used as a double pen set
Cons
There is no button on the pen to control the heat
This is an easy to use wood-burning pen that can be applied to a wide range of different surfaces and materials. It heats up fast, is safe and comfortable to work with, and comes with many different wire tips for creating all kinds of art. This is the perfect choice for beginners.
Holding Bracket
Having a holder for the wood burning pen is very useful. This is made of fireproof material and is used to be able to place the firing pen safely during work without damaging the worktop or risking it falling down.
The Burning Tip
Whether to use a burning loop (this is basically a shaped solid wire) or a shaped tip (a solid metal head of a certain shape) depends on the branding iron. In order to achieve the most unique types of burn marks, you should have a set of different burn loops or shaped tips at hand. The choice ranges from pointed, thin, tips to curved, round, and wide burn loops.
Other Tools and Materials
Apart from the branding iron and the various burn loops, a screwdriver and a wire brush are needed. The screwdriver is used to change the burning loops. The wire brush serves as a cleaning brush for the burning loop.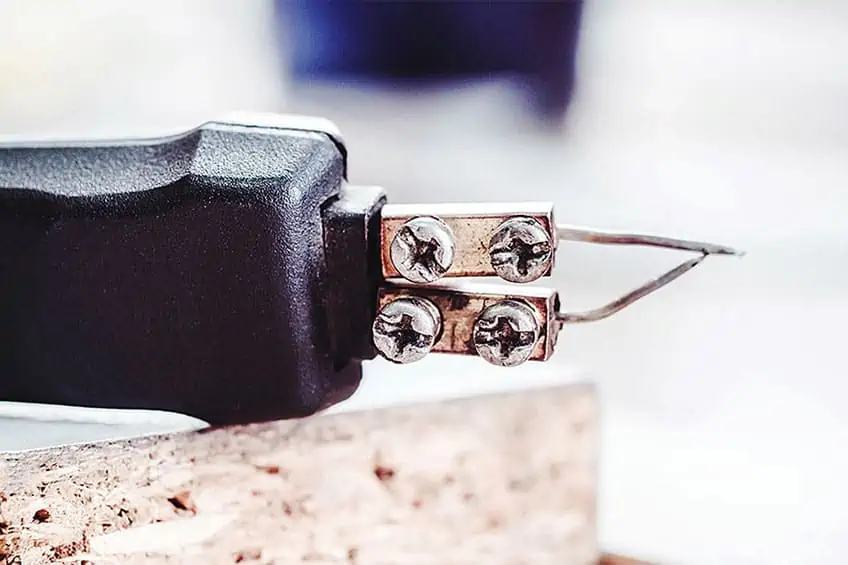 If pyrograpohy is to be done on wood, an additional sanding machine is required to prepare the surface.
To protect the finished work of art from the elements, it should be protected with oil, varnish, or wax. A natural wood oil or linseed oil is preferable. This is ideal for protection against moisture and dirt.
Utensils Needed for Sketching
Pencil, eraser, ruler, and compass should be readily available to bring your own sketch on the surface to be worked on.
Carbon paper for tracing a printed template or a ready-made stencil can also be useful
An orbital sander with sanding papers of different grain sizes facilitates the pre- and post-processing of the workpieces enormously.
Accessories for Ambitious Hobby Artists and Professionals
If one occupies oneself longer and more intensively with wood burning art, further purchases can become necessary.
Thus a gas burner is very practical for the application of larger shades.
A multifunctional tool with different attachments for grinding and milling is perfectly suited to work out fine details in a design.
How to Wood Burn: Basics for Beginners
Safety First
The hobby of pyrography is certainly associated with certain health and safety risks. The temperatures of up to 1832°F reached with the wood burning pen can lead to really painful burns if handled improperly or carelessly.
The work of wood burning art is also generally accompanied by the development of smoke. This smoke contains carbon. If there are resins, fungi, or chemical impurities in the wood, additional harmful fumes can be produced. If one is exposed to such vapors regularly and intensely, diseases of the upper respiratory tract and the lungs, or even brain damage could result. It is therefore important to take certain protective measures:
Pyrography should only be performed in very well ventilated rooms
For larger and longer jobs, an extraction system or wearing a respiratory mask is advisable
The work should be carried out on a fireproof base
There should also be a fireproof storage facility for the pyrography pen, on which the pen can be placed in a stable and secure manner
The material to be processed should be untreated, clean, and free of adhesive
It is recommended to wear a protective mask and goggles
Never leave the pyrography pen unattended on the power supply system, as it could cause a fire
Never touch the burning loop, not even to test if it is hot
Before changing the burn loop it should cool down well to avoid burns
Plastic or synthetic material is absolutely unsuitable for wood burning. Toxic fumes are produced during the combustion of these materials
Pay attention to a good sitting position while working to avoid back problems
Children should never pursue the hobby of pyrography art without supervision!
Choosing the Right Pyrography Tool – Which Ones Are Most Suitable?
Burning loops or mold tips are the exchangeable burning heads of the pyrography pen. In most cases, wood burning pens have shaped tips and firing stations in most cases have flame loops.
Flame grinders, as well as shaped tips, are available in a wide variety of designs and produce a wide variety of burn marks.
Classical Wood Burning
Thin, pointed flame-cut loops: they are used to draw contours and fine details.
Bent flame-cutting loops: this shape allows the drawing of soft transitions and the machining of large surfaces
Flattened, round firing tips: they are the all-rounders and are suitable for fine lines and dense surfaces depending on the positioning
Flattened, wide focal point: it is designed for fine, thin lines and shades
Pyrography Pen Tips
The many different shapes of the wire tips are usually available as a set. The burn marks produced are comparable to the burn loops. Round tips are all-rounders, flat ones for shading, and pointed ones for contours.
In addition, sample stamps are now also available. With these, a small design can be burned on the wood. Popular sample stamps are hearts, stars, or small figures.
Some manufacturers also have finished letters as burning tips in their assortment with which names or quotations can easily be burned.
The Best Materials for Pyrography
The classic material for the pyrography is wood. With it, every beginner should also make his first attempts. Light, small grained and softwood is preferable over hard, dark wood.
If you already have some practice in pyrography you can also dare to work on leather, cork, or even paper and decorate it with burn marks.
When processing leather, you should use vegetable-tanned leather. In the case of chemically processed leather, harmful gases can be produced by burning.
Before the first designs are applied to the wood, you should familiarize yourself with the wood burning pen and its various attachments.
Wood Burning Tips
A soldering iron is held like a pen, i.e. loosely between thumb and index finger.
Do not press too hard with the burner loop during work, otherwise, it could be damaged. If the wood is well prepared, the loop glides over it without any pressure.
Experiment
Try out all the burn loops on a piece of cheap plywood. This is the only way to get a feeling of which burn marks are possible with which fire loop.
The next step is to try out the effect of the different temperatures. Low temperatures tend to produce brighter results, and high temperatures darker. The temperature should be adjusted to the wood. If very dark scorch marks appear too quickly during the work and strong smoke develops, the temperature must be reduced. If the fire loop leaves hardly any burn marks, the temperature is not yet sufficient for this wood.
Burning
Pyrography involves working your way layer by layer to the finished design: first the background, then the foreground, and always first the light areas, then the dark areas
Drawing long lines is rather difficult and should be avoided. Usually, you get stuck somewhere on the wood and unsightly dark spots appear. It is better to work from top to bottom in stages. Small mistakes can often be corrected with sandpaper.
Tips and Tricks
Working at low temperatures is preferable. The reason for this is that the resulting light burn marks are easier to correct than very dark marks. In addition, light lines can still be made darker, but dark traces can't really be made lighter.
The burner loop must always be clean. Dirt quickly changes the result.
Plywood is an inexpensive way to practice pyrography, but there is also a danger: if the wood is burned down to the glue layer, toxic fumes are produced. So never burn plywood too deep!
How to Use a Wood Burning Tool
The first wood burn art attempts should be made by beginners on wood. This material is classic for this kind of art, is relatively easy to work with, and forgives even small mistakes.
Preparation
First of all, protective clothing, i.e. the breathing mask and goggles, need to be put on. Some hobby artists choose to wear protection for larger sanding jobs: the piece of wood to be worked on is first brought into shape and sanded down well. The finer and smoother the surface is, the more precise the work can be done with the fire-painting pen, and the resulting sanding dust should be carefully removed. If necessary, use a vacuum cleaner. Plywood panels do not require sanding
Tracing or Sketching the Design
Now it is time to sketch the design with a pencil on the wood. This can be done freehand or alternatively also by a template by means of tracing.
A template must first be fixed to the workpiece. You can use glue at the corners or double-sided adhesive tape.
It can then be transferred to the wood using carbon paper or tracing paper. When working with very soft woods, it may also be sufficient to draw the contours of the pattern very firmly with a pencil. The traces are pressed into the soft wood and can later be redrawn with the branding iron.
With a good eraser, you can also make corrections to the sketch.
Follow the Contours
As soon as the pattern is applied to the wood, the firing pen, equipped with the appropriate firing loop, can be connected to the power supply and the temperature can be set correctly. The burning pen needs only a few minutes to reach its working temperature.
When the pen is ready for firing, the contours are drawn first. The firing pen lies loosely in the hand. We work with as little pressure as possible. The burning loop is guided from top to bottom over the wood, so it cannot get caught in the wood.
Avoid keeping the burning loop in one place. Holes can quickly appear in the material. If a line does not seem thick enough, it is better to rework it in another step.
Filling in / Shading
Once the contours have been completed to your satisfaction, it's time to start shading and filling in the designated areas.
For this purpose, a firing loop that is as flat as possible is used; in addition, the firing pen is also kept as flat as possible.
Pyrographic shading is quite difficult to accomplish and requires some practice. Once you get the hang of it, they turn your designs into real works of art.
Last Working Steps and Finishing
When the design is completely fired, the workpiece is sanded again with very fine sandpaper. It is best to use 120 or 180-grain sandpaper and sand the surface carefully.
Before it gets finished, the sanding dust must be carefully removed.
The finished fire design can be refined with color before the final painting. For this purpose, high-quality colored pencils, oil crayons, or acrylic paints can be used.
Finally, the branded artwork is sealed with oil, varnish, or wax.
Note: Even wood burnings sealed with varnish should be protected from intensive sunlight. Otherwise, burn marks could fade very quickly.
Which Types of Wood Are Best For Pyrography?
Basically, any untreated wood can be used for pyrography. In order to achieve a really beautiful result, it is recommended to work with soft, light woods that have an even structure. Lime, birch, maple, and poplar are ideal. With these woods, there are hardly any limits to creativity and the designs are displayed best.
Hard, dark woods with a pronounced grain are difficult to work. It is therefore not advisable to work with oak, beech, pine, and spruce. If it is necessary to use one of these woods, it is essential to set a higher burning temperature.
Chipboard, MDF, chemically treated, sealed or glued wood are absolutely unsuitable for pyrography.
Wood Burning Ideas
Designs on a Cooking Spoon
A beautiful gift idea or as decorative objects for your own kitchen: Cooking spoons with individual branding designs are always an eye-catcher.
For processing, the wooden cooking spoons must first be carefully sanded down and cleared of dust. Then the design is sketched with a pencil. The branding designs can be placed as desired on the back, or even on the front.
A lower temperature should be set on the pen because cooking spoons often consist of softer wood. Once the temperature is reached, the contours of the design can be traced with the firing loop. Afterward, shades are processed.
If the cooking spoon is to be used solely for decoration, the design can be colored and finally painted or treated with wood oil. If the cooking spoon is to be used for cooking, a final finish should only be carried out with materials that are not harmful to health.
Personalized Pencils
Personalized pencils are a wonderful gift. You should only use untreated, simple wooden pencils. As with all projects, the preparation includes the thorough sanding and removal of the sanding dust.
Then the lettering is sketched, this can also be done using a letter template. For the processing of pencils, a temperature around 842°C is sufficient because soft wood is also processed here.
Designed branding irons are also very attractive and easy to use for this idea. The pencil can be painted at the end.
Decorative Coasters or Cutting Boards
An easy way to decorate coasters or cutting boards made of wood or cork is to work with burning patterns. These can be downloaded from the internet and printed out – some of them even free of charge. They are cut to the right size and fixed to the workpiece with carbon paper underneath. Then the contours are drawn with a pencil, the carbon paper transfers the design onto the workpiece.
Now you can start with the burning work. Take care to adjust the working temperature of your firing pen to the material used. For the final wood impression, a linseed oil or olive oil can be used. Our tip: A fun and very personal gift for grandparents, uncles, or aunts are to use funny children's drawings as a burning template. Just write on the cutting board and the unique gift is ready.
Place Cards or Name Badges From Wooden Clips
Simple clothes pegs made of wood are versatile for pyrography. Probably the best-known variant is to design the wooden clothes peg as a name tag or place card. For this purpose, the name is transferred to the clip by hand or by means of a writing stencil and is tightened with the branding iron. The use of design branding stamps and other accessories such as beads, flowers, or little stones, which can also be glued on. Round off the result and adapt the name carrier to the most diverse occasions.
By the way: Labelled accordingly, these brackets are also useful in flower and herb beds.
Keyrings
Well-ground branch discs are excellent for making keyrings for all doors from garage to cellar. Advanced wood burning artists can also try their hand at the doing this on leather.
Other Ideas
Pyrography can decorate an infinite number of objects made of wood, cork, or leather and turn them into unique works of art. There are hardly any limits to creativity.
Decorate simple wooden boxes with branding designs and use them as high-quality gift boxes
A wooden plate or a wooden bowl with Easter or Christmas designs looks splendid on the holiday table
Beautifully decorated wooden bowls can also serve as storage for the handicraft items and thus be a great gift
For young children, it can be a good idea to create a small, beautifully decorated wooden box for the first milk tooth as a lasting memory
Attractive pieces of jewelry can be created from wooden spheres and discs
With simple wooden figures, pyrography gives a natural look
Wooden Easter eggs decorated with poker and paint are a particularly beautiful sight
A particularly beautiful or unusual wooden disc with the family name and a chic decoration is a great housewarming gift
Old games reinterpreted: with a board, the branding iron, and a little acrylic paint, you can create your own personal board game
Fire-painted wooden hangers for the visitors' wardrobe welcome your guests in a creative way
For confirmation or baptism, a simple wooden cross can be designed individually
Bookworms and cooking professionals appreciate a wooden book stand very much, if it is decorated with a rich branding the book stand becomes an exclusive decorative object
For the sweetheart, a high-quality wooden hairbrush or hairpin with a name or a declaration of love makes not only the artist himself happy
Bread tins made of Swiss stone pine are fully in trend, with a nice brand painted slogan it becomes an absolute eye-catcher
We hope we could inspire you to pursue pyrography. We wish you a lot of fun and joy with your first experiments with a wood burning pen.
Frequently Asked Questions
How Can I Correct Mistakes in Wood Burning?
Small mistakes and wrong burn marks can easily be corrected with sandpaper. Use 80 and 100-grain sandpaper. Take care not to sand too much away.
What Temperature is Best For Wood Burning?
In order to find the perfect working temperature, the pyrography artist has to experiment a little. In principle, however, softer woods are worked at lower temperatures than hard woods. For example, temperatures of up to 450°C are sufficient for poplar, linden, or other softwoods. Plywood should also not be processed at higher temperatures.
For ash, oak, and other hardwoods the temperatures must be well above 450°C. Burning with higher temperatures requires some practice. The work should be done with very low pressure and great speed. Only an easy and fast gliding over the material prevents unclean and unattractive burn holes in the material.
How Do I Use Templates for Wood Burning?
Anyone that is creative and artistically talented can draw their designs from their head directly freehand onto the workpiece. For all others, there are excellent templates. Templates are often used for fonts.
With stencils, one works with the pyrography surface as well as on paper. The stencil is placed on the workpiece accordingly, the contours are drawn with pencil and then painted with the fire-painting pen.
A paper template can be easily transferred to wood, cork or leather using carbon or tracing paper. Special templates for branding can be found on the internet, they are often even free to download.