Metal fences, furniture, or other metal items around the house can provide a decorative and functional flair to any home. But like with many things, you must make sure to keep the metal looking its best. Rust or discoloring of the metal can make it look damaged or worn. Thankfully, metal paint is there to revive old metal surfaces, bringing back new color and life. As with wood, painting metal is fairly simple, you just have to follow a few steps. When you Paint Metal using the best product, it will give you the finest outcome.
Types of Paint for Metal
Would like to paint metal? Then there are many types, similar to other conventional paints, each created by different manufacturers who make their paint with specific ingredients. Depending on the brand and the more you are willing to pay, the higher the quality the paint will be. You can choose cheaper metal paint, however, you will in all likelihood sacrifice quality in the process. Fortunately, there are budget-friendly options available as well.
Metal surfaces can be difficult to paint and you need paints that have been specifically designed for metal or a multi-purpose paint that is also compatible with metal and other surfaces. Next, let us see the types of paint to use on metal.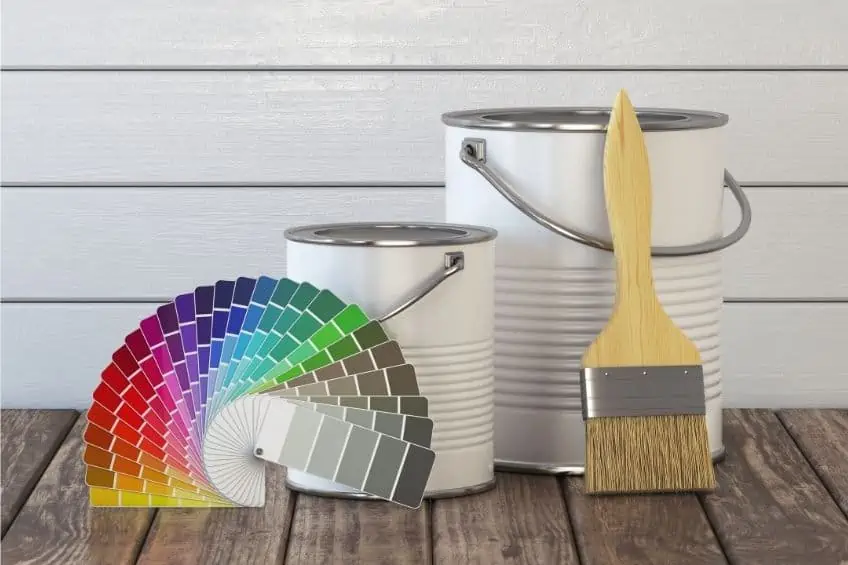 Oil-Based Metal Paint
This is the best type of paint for metal, as it is durable and is resistant to things like marks and stains. The surface is easy to keep clean once applied and is something you can use to cover up any flaws. To get the best results when applying metal paint, it is a good idea to first use a primer. However, it is possible to apply oil-based metal paint without a primer. In most cases, using a primer will provide more of an even finish.
One disadvantage of oil-based paint is that it can fade and is more costly than other paint options. They are also flammable and have an unpleasant odor when applying. Some surfaces that can benefit from oil-based metal paint are metal fences, outdoor furniture, grills, and window frames.
Oil-based paints are made up of alkyds which are synthetic resins or plant-based oil, pigments, and a solvent. The solvent is what gives off the nasty odor. When applied, this cures to a hard surface that can withstand stains and water.
Water-Based Metal Paint
Latex or water-based paints have been around for quite some time now and, in many cases, are the preferred choice for many. These paints consist out of acrylics, rubber-based composites, or vinyl. One of the most popular advantages of water-based paints is the quick drying time. They are also easy to keep clean, do not give off any unpleasant odors, and are not flammable. Also, once you are done painting, your tools are easy to clean. So, all-around safer to work with than oil-based paints.
Sorry to say, there are also some cons to water-based paints. Unlike oil-based paint, if you paint water-based paint directly onto the surface without a primer, this could cause rust to eventually form. So, make sure you first apply an oil-based primer to the metal surface. Also, it is significantly less durable than oil-based paints.
The latex paints are easy to keep clean, but the oil-based paint is even better in this regard. Metal usually has a smooth surface, which makes it difficult for the latex paint to hold onto the surface. So, a primer is necessary to help the paint hold onto the metal surface. This type of paint on metal is better used on indoor items like bed frames, night tables, or wall brackets. Water-based paint is also cheaper than other options and is more resistant to fading.
Metal Paint Finishes
The best paint for metal would be oil-based paints, however, water-based paints also have a place. When all said and done, you also need to decide on the finish you want for your metal surface. There are quite a few options to choose from, offering different degrees of resistance and durability.
You need to determine what the metal surface is going to be exposed to, like lots of traffic or handling, will it need to be cleaned often, or is it going to be exposed to sun and rain? We recommend you use gloss finish for surfaces that will be cleaned often or are exposed to the rain and sun etc. Otherwise, a matte finish will work nicely on surfaces that are not washed too often.
The best choice is the semi-gloss finish, as it is more of a flexible option and works in most conditions. Easy to clean using soapy water, it is also an exceptionally durable option. If you had to choose the best paint for metal, it would be an oil-based paint that has a semi-gloss finish.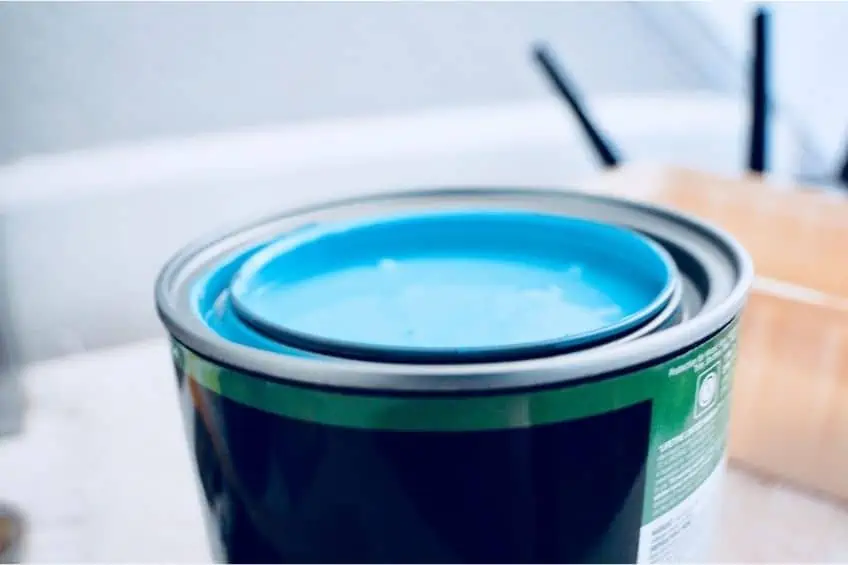 Pros and Cons of Metal Paints
Knowing the type of metal surface, you want to paint will help you to choose the correct metal paint. You have aluminum, steel, iron, galvanized steel, each requiring a certain amount of knowledge on how to paint properly.
You will need to choose a different paint according to your needs. Metal paint that is applied to iron rails outside will be different from an iron chair that stays indoors. You then have to decide whether you want to choose an oil-based metal paint or a water-based one. Each of these has benefits and disadvantages.
Oil-Based Paint on Metal Pros and Cons
Pros
Extremely durable
Can cover flaws more effectively
Provides excellent coverage
Colors may appear deeper or more vivid
Cons
Oil-based paints are more expensive
Tends to wear and fade quicker
Difficult to clean-up once the painting is done
Long dry time
Gives off fumes or odors
Flammable
Water-Based Paint on Metal Pros and Cons
Pros
Simple to use and clean
More affordable
Dries fast
Best for smaller jobs indoors
No odor
Cons
Less durable
Can cause rust to form, as it is water-based
Does not adhere effectively onto smooth surfaces
Best Paint for Metal
Choosing the best spray paint for metal is important for optimal results. Some paints offer better color, durability, rust-resistance, and provides excellent coverage. Here are three options we have selected for your convenience.
Overall Best Paint for Metal: KRYLON Color Master Paint
Considered one of the overall best spray paint for metal that provides a great durable finish. You can apply the paint to many different surfaces, such as wood, plastic, and, of course, metal. The metal paint can easily be used on both indoor and outdoor surfaces.
A black aerosol painter and primer
Suitable for indoor and outdoor use
Fully dries in 10 minutes or less
View on Amazon
This paint comes in many different colors as well as finishes. You can also check out the Krylon Covermaxx Spray Paint, another best overall metal paint from the same brand.
Pros
Drying time is 10 minutes or even less
Offers a durable coat
Can be used on a variety of surfaces
UV resistant
Comes in vivid colors
Cons
The kit does not include any stencils or art accessories
Top Quality Metal Paint: RUST-OLEUM 7251830-6PK
This product comes in a six-pack, which is perfect if you want to paint larger areas. The Rust-Oleum paint is superior in preventing rust and is resistant to fading, chipping weather, and corrosion. Great to use on surfaces outside and indoors. You can also use on wood, masonry, concrete, and other surfaces for a durable finish that can withstand the elements.
Weather and corrosion-resistant for a durable finish
Oil-based formula for a protective coating
Contains metallic flakes for a shiny finish
View on Amazon
The metal paint is oil-based and contains metallic flakes, which gives you an amazing shimmering finish. Comes in many different colors and finishes. A single paint can will cover 15 square feet without any problems.
Pros
Wide finger pad for comfort
Easy to spray hard to reach surfaces
UV resistant
Rust Proof
Excellent coverage
Cons
May take longer to dry than other similar products
Best Value for Money Metal Paint:  RUST-OLEUM Painter's Touch
A versatile product, the Rust-Oleum Painter's Touch acts as both a primer and a metal paint, providing a durable cover that seals metal surfaces excellently. It will give you great coverage at a good price with a wide variety of vivid colors available. Can be used on both outdoor as well as indoor surfaces and works well on metal, plastic, plaster, unglazed ceramic surfaces, and masonry.
Ideal for all kinds of interior and exterior surfaces
Durable formula for long-lasting protection
Oil-based and easy to spray
View on Amazon
The oil-based paint is rust-resistant and can withstand abrasions and chipping. You can easily cover about 12 square feet for each can, which will dry in about 20 minutes. The finish is smooth and will give your surface a brand-new look.
Pros
Durable and offers Long-lasting protection
Comfortable spray tip
UV and abrasion-resistant
Color and a primer in one
Comes in vivid colors
Cons
May not be completely permanent on plastic
Selecting the Finest Metal Paint
So, you want to paint on metal? There are various metal paints that can augment certain applications. Depending on what you want to paint, you will need to consider a few things before buying the best spray paint for metal.
What Paint to Use on Metal for Extreme Conditions
In certain circumstances, your metal paint will need to be able to resist high temperatures or prevent the formation of rust. When it comes to the metal itself, one of its properties is that it acts as a good heat conductor. Therefore, you need a paint which is able to handle high temperatures. A paint that does not handle this well, will not last long.
There are also extreme conditions where paints can be applied, for example, a metal radiator, or a grill. These need specialized paint that can offer high resistance to heat. You can choose the proper paint product for the job at hand, in this case, an example of a good paint would be the Rust-Oleum High Heat Spray Paint.
You should also consider rust and moisture resistance options. Any metal surface that is going to regularly be exposed to moisture will need paint that is formulated to withstand rust. This will ensure the look and durability of the metal surface.
Choosing the Correct Metal Paint
The best paint for steel is usually enamel or oil-based paints, which are great because they produce a tough and hard finish. Sometimes this is not what you want, or it is difficult to come by. If this happens, you may need to look for a few alternatives.
You can then search for metal paints that are specially formulated and have some type of special feature. For example, you get paint that has a metallic finish, or you even get some that provide an iron or rust effect.
Some metal paints come in a tin, while the popular paints come in a spray can, or can be used with a sprayer. The water-based and oil-based paints come in cans, which are great when applying with a roller or a brush. These can come in handy when painting larger areas that have straight planes, such as a fence.
Spray paints are more popular and convenient when applying metal paint to smaller difficult to get to areas that are irregular in shape. For example, bed frames or metal chairs. A sprayer will take less time and will offer better coverage than using a brush. Also, you will not have any annoying brush streaks all over. Some paints come as a primer and paint all in one for convenience.  Always check the directions on the product, to see if it is the right paint for you.
Metal Paint Thickness
Most metal spray paints have an adequate thickness, and it should only take a few coats on application. However, if you come across a paint that seems too thin, it is best to avoid it, as the quality might be compromised.
Metal Spray Can Design
This is not an essential feature when looking for the best paint for steel. However, certain designs can help with comfort and prevent any strain on the hands. If you are using a paint sprayer, a pistol grip design might be a good idea for comfort. You can then paint much longer than usual, as you will be more relaxed while working.
The spray cans also come with comfort in mind, you can look for products that have wider finger tabs on the spray tips. These need slightly less effort and are also easier to use for longer periods.
Paint Drying Time
Paints have varying drying times; some take longer than others. You can get paints that dry within minutes, so you do not have long waiting periods. You can enjoy painting and do more without having to wait around for the paint to dry.
Guide on How to Paint on Metal
To get the desired results when using metal paint, it all comes down to how well you prepared the surface. Whatever metal surface you are going to paint, you will need to follow a few steps to get the best finish. Consider these requirements when choosing the correct metal paint.
Metal surface: The more common metal surfaces include aluminum, galvanized metals, and ferrous metals. You need to select a paint that will adhere properly to these surfaces and paint that is rust resistant.
Work area: What is the humidity in your workspace and the temperature? Is the application going to be done outside or indoors? These elements will impact your paint selection.
Surface Preparation: This is extremely important, as the preparation will decide the final results of your metal finish.
Next, let us have a look at a basic guide on how to paint on metal.
Cleaning the Surface
Have all your tools and your workspace ready. Next, examine your metal surface you wish to paint. Check to see for any peeling, chipping, grease, or dirt. For safety, wear a mask, and work in a well-ventilated space.
If it is a new metal surface and there is some grease on it, simply wipe off with some mineral spirits. For painted metal surfaces that still look good, start by removing any dust with a clean cloth. Then gently sand the area to take off any gloss and wipe off dust using some mineral spirits. Any stubborn dirt can be removed by a special detergent for cleaning metal surfaces
When removing loose paint, use a scraper, sandpaper, or wire brush. Others might opt for a power tool, but this can be tricky as you could tarnish the metal, which could affect paint adhesion.
To remove rust, check your metal surface for any rust issues. If it is only slightly rusted, you can remove this by using sandpaper or a brush. Then apply a good quality rust-resistant primer
Priming Your Metal Surface
This is an important part of the process, particularly if the item being painted is going to be subjected to moisture. You will need to select a primer that is best for your project, you can either choose to use a brush or roller or a sprayer depending on the job.
Water-based primers are not recommended as a primer for metal, as the moisture will get through. You can get a rust-resistant primer or a galvanized primer, which is best for surfaces that inhibit paint from clinging to the surface. The primer that works best on steel and iron surfaces both inside and outdoors is the iron oxide and zinc chromate primers
If you do need to repair any holes or minor dents, you can do this by sanding the area until you get to the metal. Clean the area using mineral spirits and a degreaser. Smaller holes can be filled with a recommended epoxy. For bigger holes, use an epoxy filler and place a fiberglass mesh over this, which is slightly bigger than the hole. Cover with epoxy working from the furthest point inward.
Apply your Metal Paint
Apply your paint using either a roller, a brush, or spray. You might have to apply anything from one to several layers, which is dependent on the product you are using. The paint should be dry before going onto the next layer. Once done, let everything dry overnight
Lacquer Sealer (optional): Can add protection and a nice shine to your surface
Painting on metal might be a bit daunting but following the correct steps should make it easier. The main issue to consider when painting metal is to make sure you have done the preparation properly and that you have the appropriate tools and paint to do the job.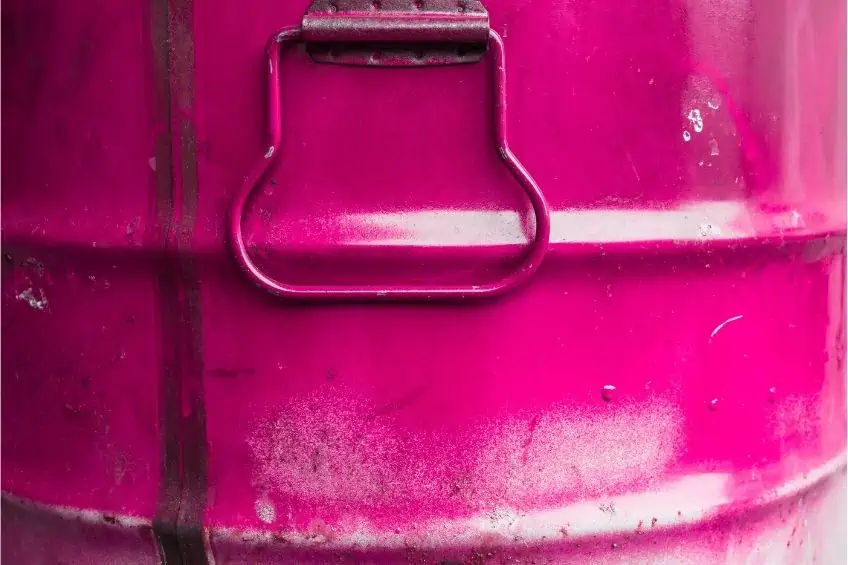 Frequently Asked Questions
What is the Most Effective Paint to Use on Metal?
Oil-based paints offer the best durability and are great for outdoor metal surfaces and items exposed to moisture but do take a long time to dry and usually have an odor. However, water-based paints can also be used but it does require some preparation.
Is a Primer Required Before Painting on Metal?
Using a primer does offer the best results no matter what metal paint you are using. There is the option of applying a paint product directly to the metal. These products are formulated and act as both a primer and paint in a single application.
Can I Paint a Metal Surface Without Sanding?
After cleaning the metal and there is still residue or even rust, it is best to sand the metal surface. This creates a more even surface that will be easier to paint and provides a more durable finish.
How Many Coats of Metal Paint is Needed?
Always go by the directions provided on the metal paint label. In general, two coats of primer is enough, and three coats of paint
Is it Possible to Use Metal Paint Over Rust?
Yes, but you will need to get rid of any loose rust or paint beforehand. The surface needs to be prepared properly and a product with rust protection can also be applied.
Painting on metal requires specific materials for a suitable finish. It is importanmt to maintain metal objects in order to get a long life out of them – as well as to keep them looking good! This guide on metal paint should have covered everything you needed to know about keeping metal objects in their best condition through using the best metal paint for the job.