Mandala Art Tutorial – Instructions on How to Draw a Mandala
This post may contain affiliate links. We may earn a small commission from purchases made through them, at no additional cost to you.
Mandala painting is a meditative and healing drawing technique. We will show you step by step how to draw your first works of art yourself. You will learn what makes up a Mandala and which tools you need for creating one. In this article, you will also find free painting templates for use at home.
What is a Mandala?
It is a geometric image that has a religious or magical meaning in Buddhism and Hinduism. It is mostly round, rarely also square, and is always oriented towards the center. The term mandala is also often used for patterns in nature, for example for round leaves or stones. Mandalas are also often seen in western culture as round coloring pictures.
Mandala Meaning
The name mandala comes from Sanskrit, an old Indian high-level language, and means circular picture, or holy circle, whose center is the "core". Mandalas symbolically represent the wholeness of the divine order or the center of our universe. It serves as a visual element that can tell religious stories and connections.
In our culture today, mandalas no longer necessarily have a religious or ritual meaning. Here they rather serve as relaxation, stress reduction, and concentration tools.
Natural mandala of flowers
Mandala Art – How to Draw Mandala
Want to know how to make a mandala? To draw a mandala yourself, make sure the environment is calm and undisturbed. Have all the necessary drawing equipment ready so that you can fully concentrate on the actual activity.

Drawn by Serafina030
Mandalas are always constructed according to the same principle. The form always has a clearly defined center, with movement happening around this center, and the design is based on this center. You can draw from outside to inside and vice versa. Many people find the procedure from outside to inside easier. Follow these steps below on how to make a mandala.
1. Draw a circle with the compass. Then mark the center of this circle. This is now the base for your mandala.
2. First draw a few auxiliary lines with the geo triangle to achieve a more symmetrical picture when drawing the mandala. Imagine a compass that shows the cardinal points. Start with an angle of 45 degrees, so you get a total of 8 lines with equal distance.
3. then draw as many circles from the center as you like with a compass. These circles are the different rows your mandala will have at the end. You can also draw circles from outside the actual main circle to get round lines at the edge.

Drawn by Serafina030
4. Then you fill in the circles. There are no limits to your imagination when choosing the patterns. Try out different patterns, geometric shapes, and techniques. The Zentangle technique is particularly suitable here. With time you will develop a preference for certain shapes and find your own style.
5. Now you can switch from pencil to fineliner and draw the lines by hand. You can also use colored felt-tip pens or fiber-tip pens at this stage.
6. Last but not least, you can color in the whole thing if you wish.
Mandala Art Materials
For creating the mandala, you will need some materials like pens, paper, and other tools. Below we picked out exactly what you really need, and what you should pay attention to. When learning how to make a mandala, being properly equipped is important.
Which Mandala Drawing Pens are Best?
When drawing mandalas, you need precise pens to make the result look symmetrical. With high-quality pens, you will also have much more fun for a longer period. Many artists prefer to use fineliner pens when making mandala drawings.
Paper
Since you will not normally use brush pens, you can use cheap laser paper. Ideally, it should have a smooth surface for better precision. This is so that the pen's tip glides more smoothly over the surface.
Helpful Tools
There are some tools that are very helpful for mandala drawing. Besides a compass, you will also need a geometry triangle and pencils.
Mandala Stencil
If you don't want to bother with a compass and all kinds of other tools, you can also get a spirograph – which is a mandala template consisting of various different parts. This enables you to create different designs in a very short time
Free Mandala Painting Templates
Mandala painting has a beneficial meditative effect. Painting in colored mandalas is even said to have therapeutic properties. This is because by painting mandalas you allow yourself to play and relax. By playing, you open new doors for your creativity and do something that you normally do not do in your everyday life. This helps to open up your mind, which gives you easier access to creativity and a conscious experience of the moment. The painting of mandalas symbolizes the cycle of life. But of course, the whole thing is primarily just for fun!
To make sure that you can start right away, we have provided you with an easy mandala template to print out. You can simply click on this free sample and you will receive a larger version as a graphic, which you can either save or print out directly.
Are you looking for mandalas to print? Then take a look at our article on mandalas for printing and coloring for many more designs to print. These range from easy mandalas to advanced designs.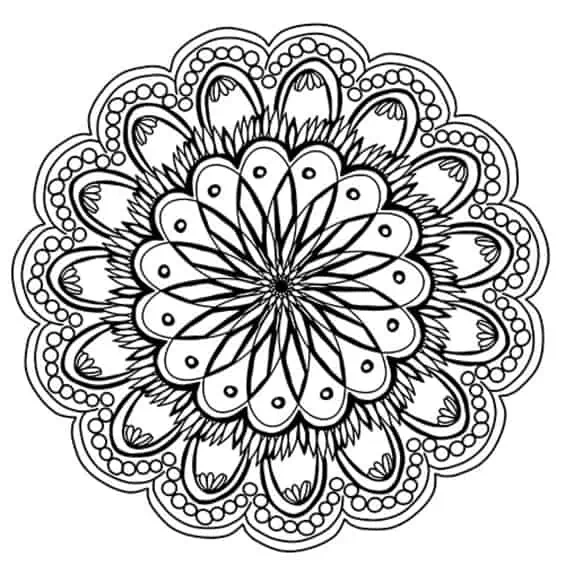 Mandala Books
There are some recommendable books on how to create a mandala. These are divided into books for learning to draw and coloring books. Check out the recommendation below on mandala painting books.
As you can see, mandala painting is an incredibly exciting field, which allows countless variations. You can also use other drawing techniques such as Zentangle. This way you can create even more exciting works of art and always find possibilities for new creative fields of activity.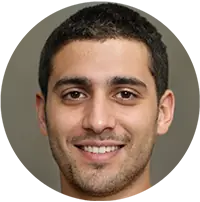 Israel Benloulou aka IzzyBll is a digital artist and content creator from Israel, currently living in South Africa. Originally, he started his career in videography but later shifted his focus to digital graphic art. He specializes in using digital drawing software like Photoshop and Procreate. Drawing and photo editing have always come naturally to Izzy, and he now has 5 years of experience in the industry, working on commissions for various renowned brands such as Audi. Izzy creates drawing tutorials on his drawing tablet and produces related content for Craft Art since 2021.
Learn more about Israel Benloulou and about us.