Small Woodworking Projects – Quick and Easy Wood Crafting Ideas
This post may contain affiliate links. We may earn a small commission from purchases made through them, at no additional cost to you.
Do you want to try woodworking, but do not know where to begin? The best place is to first try some small woodworking projects that are easy to do for beginners. Build up your confidence and experience and then you can try something more challenging. To provide you with a few ideas, here are some easy cool wood projects you can try. These small wood craft ideas do not require an extensive workshop and are specifically aimed at those with less experience. All you need is a willingness to try something new.
Fun Woodworking Projects
When it comes to small woodworking projects, there are many ideas from easy to more challenging projects. Some of these fun woodworking projects are functional and can be used around the home, while others serve a more aesthetic purpose. When choosing a project, you should make sure you have all the necessary tools and safety equipment like protective eyewear.
DIY Small Wood Projects for the Home
Most of the small wooden project ideas we are starting with below can be used around the home for various purposes. Many of these DIY small wood projects are easy to complete and require little experience, so are perfect for beginners. Of course, many of these small wood craft ideas can also be customized or made in different, and more challenging ways that require a little e expertise and equipment. However, there are many tutorials available online that are simple and easy to follow.
Homemade Cutting Board
This woodworking idea can be extremely easy when using a simple piece of hardwood that can be cut into a preferred size, for example, about 12 inches by 16 inches. This is optional, but you could also drill a hole in one corner so that you can attach a piece of rope or cord to hang the board for easy storage. All you need to then do is to sand the wood, make sure to wipe it clean, and then seal the wood with food-grade oil. Remember, this is a chopping board and will be in contact with food.
You could stick to this idea but make it more challenging by using more pieces of wood instead of a single block of wood. You can convert the chopping board idea into a serving tray, by simply including handles. You could also try creating a different shape tray, for example, a hexagonal tray. Another idea is to use thinner plywood or thin wooden boards to create wooden placemats.
Wooden Shoe Rack
There are quite a few different ideas for this type of small woodworking project. There are even shoe racks and small stool combinations. You can construct a shoe rack from pieces of wood or consider using wooden pallets. You can create a single, level shoe rack, or think about several shelves for shoes. There are also wider rack options and narrow single, stacked rack options.
The shoe racks can also be designed to fit under the bed or in a closet, or they can be freestanding. Instead of creating a shoe rack from scratch, why not use an old piece of furniture, like an old mudroom bench, and convert it into a shoe rack. The framework is already in place, all you need to do is sand and paint.
Step Stool
Multipurpose small woodworking projects are interesting and fun to make. The step stool provides a place to sit and acts as a small step when you need to get something just out of reach. If you want to go even further, you could also include a space for tools. This is a more challenging project, and below are a few examples of the tools you will be needing.
Cordless drill
Circular saw
Jigsaw
Drill bit (countersink)
Framing square
Orbital sander
Protective eyeglasses
Various screws
Plywood
Wooden Storage Containers
Wooden storage containers are always needed around the home, there is always something you can store, which helps keeps things looking tidy. There are many ideas for storage containers and here are a few of them for you to consider. How about a magazine holder or rack? These can be for magazines, books, or files. Create a few simple squares or rectangular wooden storage boxes with handles.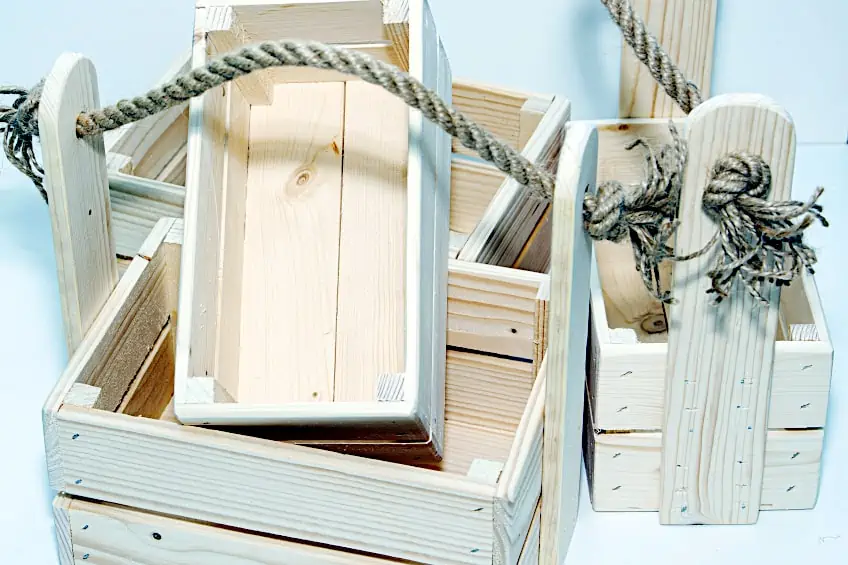 Your homemade box can be used as a single storage container or you can consider stacking them. Many of these you can make from scratch with wood pieces, affordable plywood, or you can even convert wooden pallets into useful storage solutions.
Cool Wooden Hat Rack
When entering a house, it is nice to have a coat or hat rack to hang jackets and hats on. You can make a rack by selecting a length of wood that is about six feet long or shorter, to which you can then add some coat hooks. This can either be attached to the wall vertically or horizontally. If you want to go more rustic and you have access to or know where to get sections of birch trees, you can use the natural shape of the branch as a hat or coat rack. You simply drill in some holes to attach to the wall and sand to soften any edges.
Wooden Spice Rack
Most of us who do the cooking in the house, love an organized spice rack. Thankfully, there are many DIY ideas you can try at home. Some of these ideas can be more complicated than others, but who does not love a challenge. The more challenging idea is to create a moving circular spice rack, using some cut to size wooden disks and the hardware necessary to create a lazy Susan. Once done, you simply turn the wooden disks to find the spice you want. Of course, with the lazy Susan hardware, you can make your own wooden turntable for the dining table.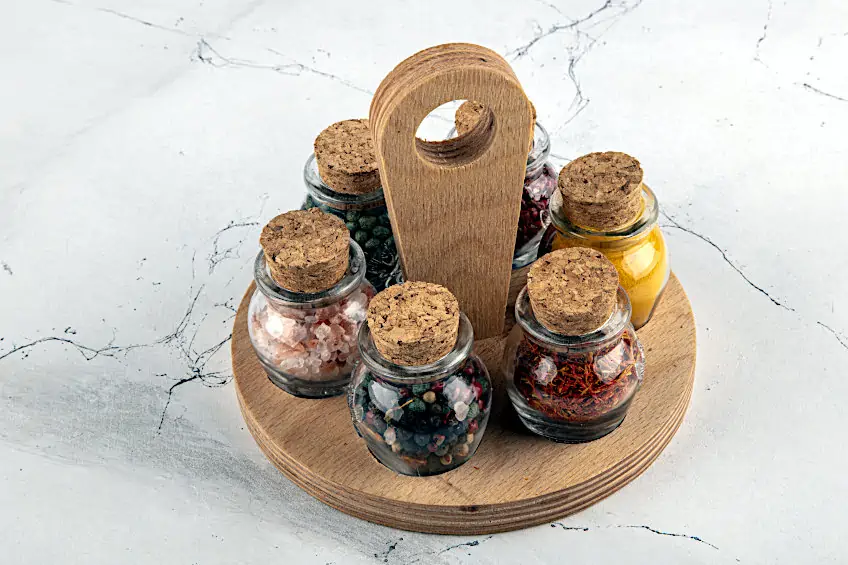 Other spice rack ideas mainly involve creating some shelves to store the spices. These can then either be hung on the wall or inside a kitchen cupboard. You could also choose to make some free-standing shelves. These can be a single long shelf or tiered, with many shelves. Another unusual idea is to use a basic length of wood, cut thick enough so that you can make holes to fit test tubes, which hold the spices.
Wooden Shelves
There are many different designs for a wooden shelf. You could even use a natural branch of wood to create a branch-supported shelf. Other ideas include different shapes for a shelf, for example, one of the more popular ideas is to create hexagonal-shaped shelves. When doing simple flat shelves, these can be placed as single shelves or multiple shelves. Also, you can place these shelves on top of each other or slightly off-center from each other. Here are a few more ideas.
Create a box shelf
Floating shelf
Freestanding shelves
Place shallow shelves behind a door instead of on the wall
Use apple crates, or old wooden ladders as shelves
Create shelves from old dresser drawers
Change up the way you hang a simple shelf, for example. An easy idea is to take a wooden board and hang it up using a leather belt. Create more hidden shelving on the top shelf of a closet, which usually has enough space to do this.
Simple Wooden Side Table
A small side table is always useful in the home and there are quite a few tutorials you can choose from. For example, you can repurpose a tree stump, or use four pieces of wood to make an open box shape table that can hold items inside and on top. You can add some small legs to provide more height, if necessary. If space is an issue, how about a wooden side table that fits over your couch armrest. Drill a hole into the top to create a space where you can place your cups.
Other Creative Small Wood Projects
Now that we have gone through a few DIY small wood projects you can use around the home, we can now look at a few more creative small wood projects. These can be anything from wooden jewelry pieces to candle holders, which can make great gifts as well.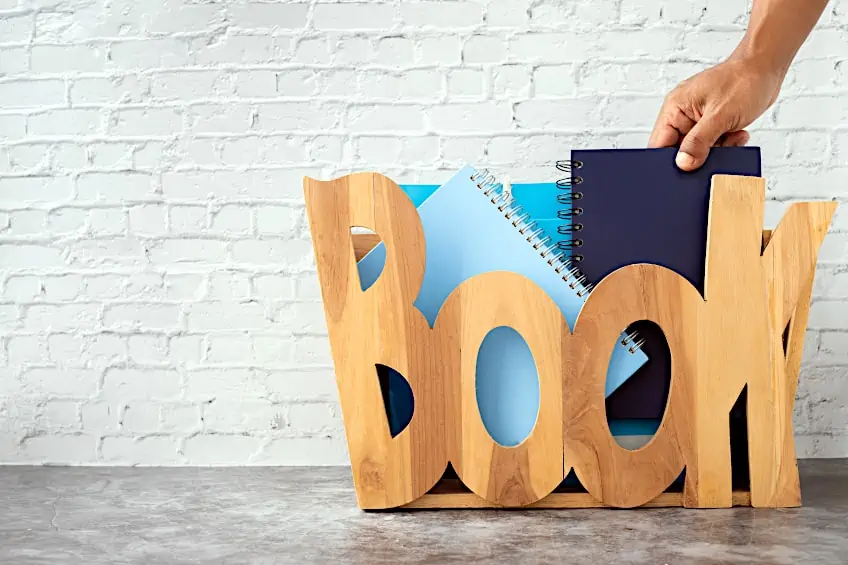 Sliding Book Ends
For those of you who are avid readers and have many books, a nice bookend always comes in handy. Bookends can also be useful at the office for those binders that might be just laying around. The wooden bookends can be as simple as two pieces of wood placed at right angles to each other. To this, you can also include a wooden shape placed between the wooden pieces, for example, a silhouette of a cat or wooden letters.
Other wooden bookends can be more elaborate or unique like the sliding bookends. These are made from blocks of wood, with a piece cut out that can fit over a shelf. The bookends are then able to slide across the shelf. Another simple, easy, and more rustic idea includes using half a log of wood, which is then cut in half again. This then forms flat edges, which you can sand and paint to create the bookends.
Wooden Candle Holder
This can be as simple as using leftover wood pieces, which you can use to cut out small pieces that then hold the candle. These can be long pieces of wood, with more than one place to fit a candle or single candlewood holders. The wooden candle holders can also be shaped differently, from round to square shapes.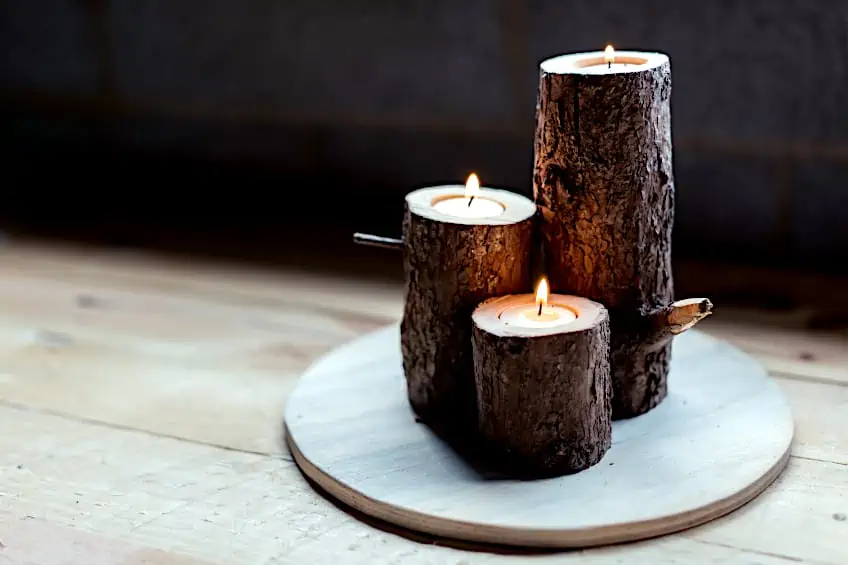 Wood scraps can also be used to make candle holders that stack the wood pieces. The top wood piece can then be carved out to fit a candle. You can create bigger candle holders or something to fit the smaller tea lights. The candle holders can also be freestanding or made to be mounted onto the wall. An extremely easy wooden candle holder can be made from a larger stick of wood, into which you can drill some holes that take the longer, thinner candles.
Wooden Address Plaque
When trying to find a house when visiting someone, it is always nice to have a visible address plaque or number. This can be an easy woodworking project for your home, that is not only useful but can add a certain uniqueness to the outside of your home.
You can easily take a solid piece of wood and prepare it for painting the number on it. Just remember that the wood piece is going to be outside, so treating and sealing the wood properly is important. Create a more unique wooden plaque by using a wooden board, but instead of painting numbers on it, use nails to create the number or have the number made out of metal and placed on the wooden board.
You can also make a bigger wooden plaque, to which a wooden planter has been added. Place some pretty flowers in the planter for added effect. How about creating a wooden planter, which stays on the ground, on which you can paint the house number. You can also make the numbers themselves out of wood. Instead of a wooden board, consider using wooden shutters as your address plaque. You can also place an address plaque away from the house, by creating a wooden post, to which you can attach a hanging wooden signboard.
Wooden Wine Racks
Do you enjoy wine, but cannot find a wine rack you like or one that fits in with your décor? Why not make your own wooden rack. There are many designs to choose from, but a basic shelf can work. A really simple idea is to take a crate, and then add a shelf inside that forms an X or Y type design. The wood can then be stained or painted.
Another idea is to use a block of wood and place some long spikes through the wood so that the wine bottle can rest on two of the spikes. Lean this against a wall, so the wine bottles will face up slightly. Other versions include using a base piece of wood and instead of spikes, you can use large hooks, or rope on either side to suspend the bottles.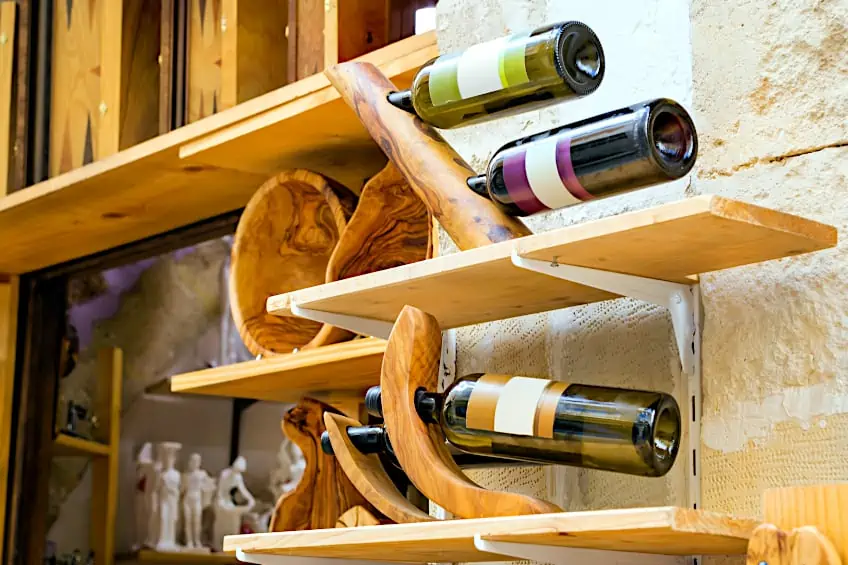 Wooden bottle openers are also something you might want to try making. There are more challenging designs, but you also get extremely simple ideas like a small length of shaped wood that has been stained or painted, with a bent nail on the one end.
Wooden Ring
Wooden rings are quite beautiful and are quite inexpensive to make. You can use pieces of dense scrap wood for this project. Other tools that will help you through the process include a drill press, vice, Dremel tool, and a drill bit or wood bore. Once you have measured and marked out the ring, and then drilled your hole, you can then sand and shape the ring. Once you have your ring, apply a coat of natural wood oil for protection and to add shine.
Rings are not the only items you can make, there are other wooden jewelry pieces as well. You can make pendants, wooden beads, wooden bracelets, wooden earrings, and even the jewelry box itself can be made from wood.
Bathtub Caddy
This is a handy item to have in the bathroom, no more having to look for the soap and the caddy is a place to put other items like your cellphone if you want to watch your favorite soapy in the tub. You only need a piece or pieces of wood that can fit nicely over the bathtub so that it can balance there and hold items. A bathroom is a place where there is a lot of moisture, so sealing and protecting the wood is important.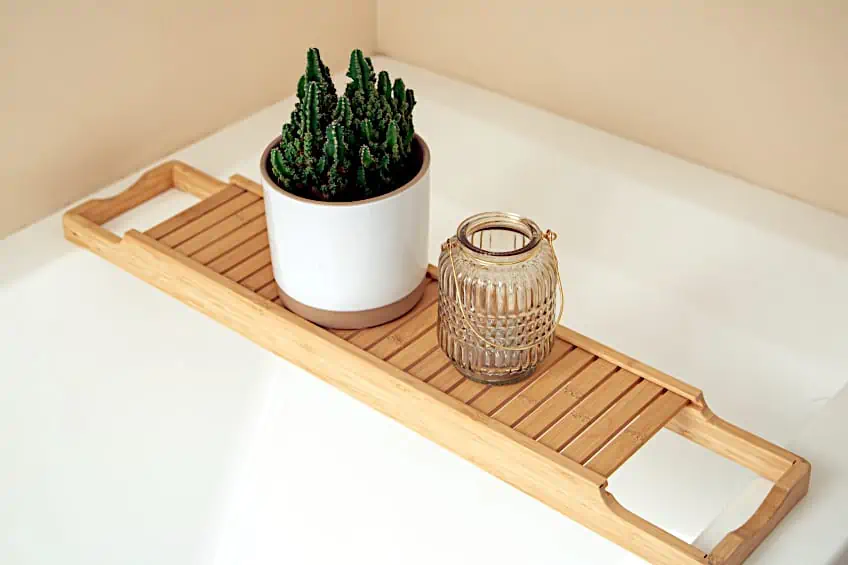 Wooden Cutout Décor
There is any number of wooden décor pieces that can add that extra something to a room. You can create and design various shapes or create letters. You can transfer images to wood, which can be family photos or any other photo you want. A wooden wall clock can be a nice addition, instead of the store-bought variety. How about creating large scrabble letters from wood, which seem to be quite a popular idea.
Similar to the scrabble idea, are wooden monograms, which are quite easy to make. This idea can be wood pieces that are larger or something smaller like a keychain. You could also try your hand at wood burning to create a unique decor wood piece.
Bird Feeders
If you are also an avid gardener and love the birds coming to visit, then making a wooden bird feeder is the project for you. Cedarwood is the most popular type of wood for bird feeders. You will need to create something with a roof and platform where the birdseed can be held. You could also simply make an open wooden platform with sides, which can hold the birdseed and can be suspended from a branch.
Wooden Coasters
These are a great idea for beginners who want to make something as a gift. To make it more challenging, you can cut out the wood from scratch, otherwise, there are wooden blanks you can purchase from the craft store. Making them yourself, you can do various shapes from round to square and hexagonal.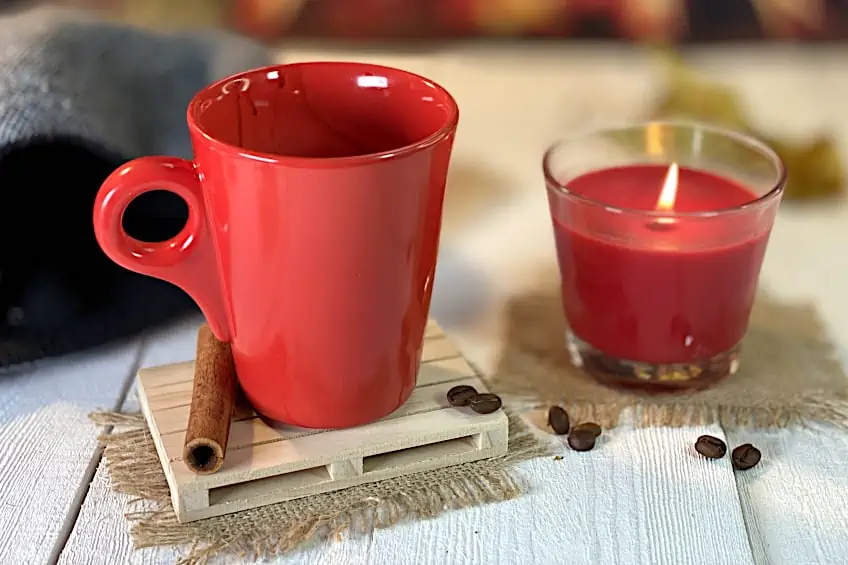 Some interesting coasters can be made from different scraps of wood, which can create various shades of wood within the coaster. Scraps of wood can also be combined with materials like resin, to create even more unique coasters. The coaster holder can also be created from wood. These can easily be stained, varnished, or painted.
Wooden Cellphone Stands
Cellphones have become a part of everyday life, so why not make a wooden cellphone stand so that you know exactly where your cellphone is at all times. There are quite a few designs to choose from, but the simplest idea is to use a block of wood and cut out a length where the cellphone will rest. Other designs are more like a stand the cellphone can lean and rest on.
Napkin and Paper Towel Holders
These are one of the easier small wooden project ideas. A basic design is simply a square wooden container that napkins can fit into. Another idea is to use two pieces of wood that sit upright, which are connected to a base piece of wood. The napkins are then placed upright inside, instead of lying flat.
One last simple idea is to use a square base piece of wood big enough to take napkins, and then have two nails placed on each side. Then make a third, flat piece of wood with holes on each side that fit over the nails. These pieces of wood will then hold the napkins down.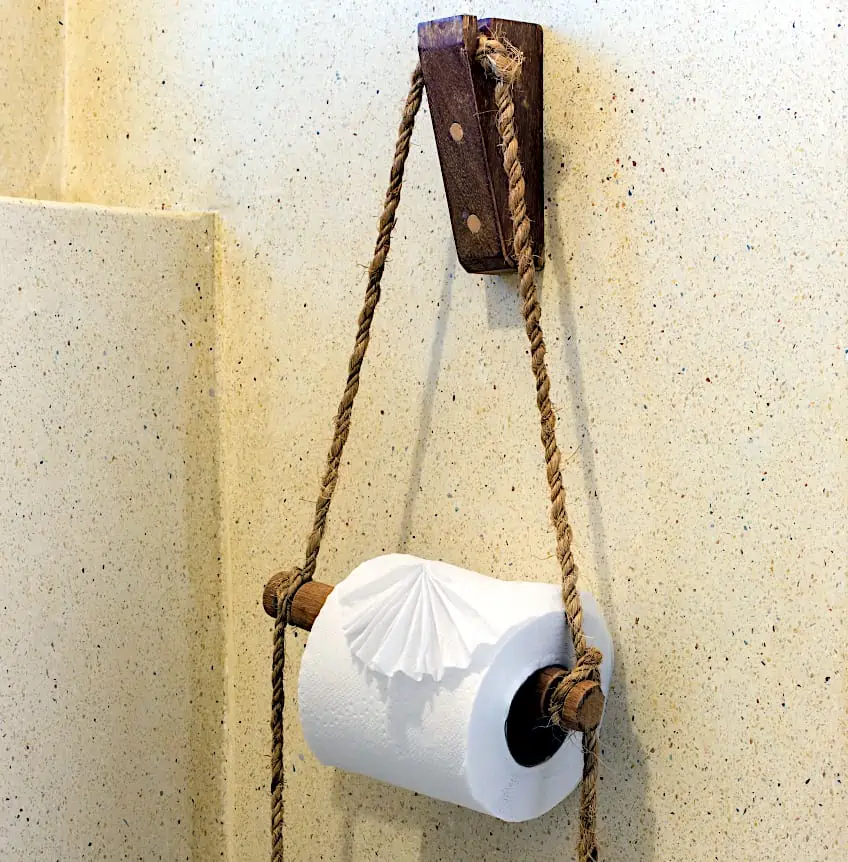 Other creative small wood projects can include making toilet paper holders, paper towel holders for the kitchen, or a wooden utensil holder that can hold all the cutlery or wooden spoons. And there is another idea that can fall under small woodworking projects, create your own wooden spoons.
There are so many cool wood projects that you can try, and many of them are perfect for those just getting into woodworking. As you gain experience and you want to expand your knowledge, you can then venture into more challenging and larger woodworking projects. We hope these small wood craft ideas will get you started on your journey.
Frequently Asked Questions
What Are the Most Popular Small Woodworking Projects?
There are so many small wood craft ideas, but some of the more popular ideas include wooden toys, knife blocks, candle holders, pet houses, picture frames, house number plaques, coasters, wine racks, coat racks, planters, and wooden trays.
Can Anybody Do Woodworking?
Anyone enough to handle the tools and equipment necessary for woodworking can give it a try they are willing to learn. There are easy DIY small wood projects that are great for beginners, and other projects that require a few more tools to get the job done.
What Types of Wood Are Best for Woodworking?
Some of the better wood types to work with include pinewood, which is a softwood and is popular as it is affordable. Other kinds of wood you can use include cedarwood, cherry wood, redwood, and maple.