Satin vs. Gloss Finish – How to Choose the Best Finish for Your Project
This post may contain affiliate links. We may earn a small commission from purchases made through them, at no additional cost to you.
You are busy renovating, and by renovating we just mean redoing the finish on all the wood trimmings in your living room, and a new coat of paint on the wall. In this day and age, we are unbelievably spoiled. There are so many options for pretty much everything in this world. From what flavor soda you want, or what type of finish you want in your interiors. What should you choose? Before we or you can answer this, you need to first ask, what is satin paint? And, what is gloss paint? This tutorial is about satin vs gloss finish for wood. How shiny is satin paint compared to gloss paint, and which is the better option? By the end of this tutorial, you will know the difference between gloss and satin finishes for wood, as well as where and how to use them within your home. So, if a friend asks for your advice on, what is a satin finish? Or, maybe, what is a gloss finish? You will be able to give them a detailed breakdown of satin vs. gloss finish.
Differences Between Satin and Gloss Finishes
The ongoing struggle to determine which is better between satin finishes and glossy finishes is about to be over. What is satin paint, and what is gloss paint? Is satin paint shiny, or is gloss paint shiny? In this next section, we will be discussing the differences between the two, and we shall highlight the fact that neither is better than the other and that both are ideal for specific applications.
Gloss Finishes
The age-old argument of gloss vs. satin wood finish will not soon be over. This is entirely a subjective choice, relying upon your preferences, as well as the destination for the finish – where will the finish be applied, and how?
There are several types of coatings or treatments that have the effect of creating a shiny appearance as soon as they have been applied and have been completely cured. In addition to polyurethane sealants, gloss finishes are made in a variety of coatings such as paint, clear coat, aerosol spray paints, stains, as well as natural oils and varnishes.
One thing is for sure – gloss wood finishes are the longest-lasting of the two. These finishes are easier to clean and not as easy to scratch. This means that there will be less gritty dirt settled seemingly forever into the grooves of the wood. It is best suited to a smaller room because of how the light reflects on it. This shiny effect makes the small space feel much more spacious. You will need to make sure that the small room you are painting it into has ample natural light that flows through. This will enable it to bounce off the gloss finish in question.
Let us not forget the minor disadvantages. We would not want to lead you into thinking that this is the perfect sheen, because there is no such thing. Gloss finishes are at a disadvantage in terms of how they bring out the color of the wood, since if there are any damages or stains, then the gloss finish will highlight those, and they will be even more noticeable.
Another disadvantage is how much people love the shiny effect the finish gives off. This might seem strange to you, how can someone loving the shine be a disadvantage? Well, if you are gloss-crazy, then you might use it a bit too much within your home, and that can have the opposite effect of the light spreading, welcoming feel that you were going for. It will make the room feel overwhelming and dizzying.
PROS
Easy to maintain
Suitable for a variety of applications and surface materials
High sheen finish
Visitors to your home will appreciate the sheen
Easily reflects any light
Makes a small room feel more spacious
Cleaning gloss finish is easy
CONS
All light will be reflected which can be overwhelming
Any stains will be highlighted and made more obvious
Not all wood types are suitable for gloss finishes
Too much shine can feel dizzying
If there is not enough natural light, the room can feel smaller
Satin Finishes
It can be said that satin finishes were the original finish type used in woodwork and crafting. They made their name by being (at one stage) the only version of stain that you could choose from. Back in the day, there was far less variety, and these days we have too much variety. For those of you who are the kind of people who sit at a restaurant for hours, staring at the menu indecisively, you may want to read this tutorial twice so you are more aware of what each finish is intended for.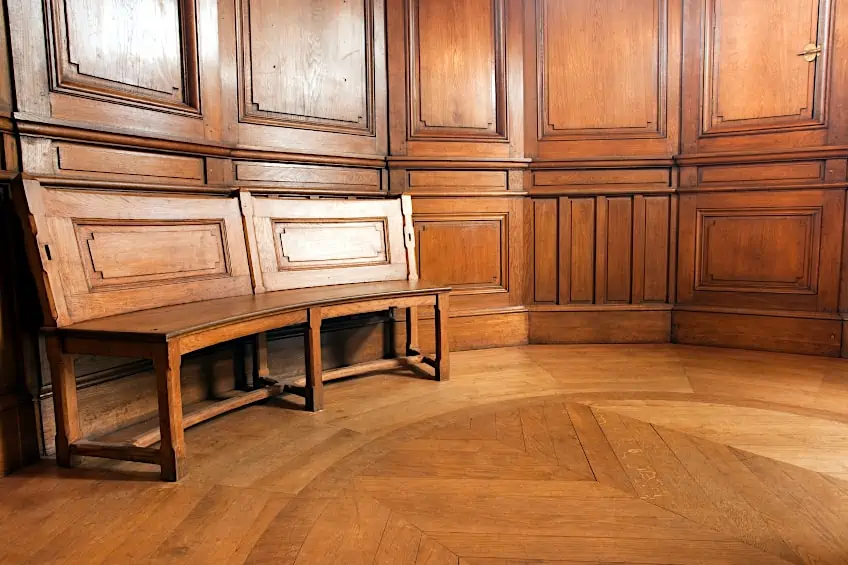 Natural woodwork treatments normally result in a satin finish. Oils such as Tung oil, Linseed oil, and even Danish oil all provide this incredibly rich, yet understated finish that can be applied and maintained easily. A cloth and elbow grease are all that are needed to apply oils. Dip the cloth into the finish and then rub it on with circular motions.
The main difference between gloss and satin finishes is that while satin finishes reflect light, the amount of light they reflect is minimal. This leaves you with a muted glow that creates a warm atmosphere.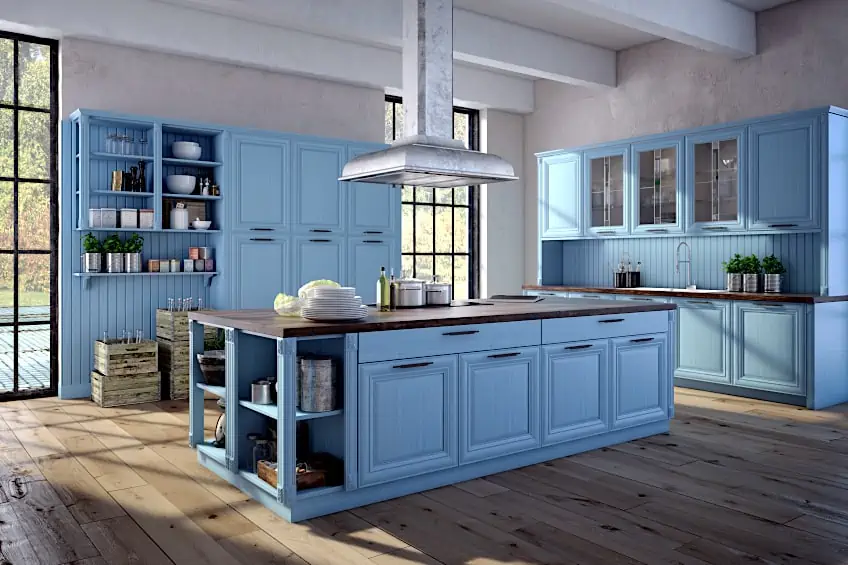 The satin finish does not refer to any particular product; rather, the satin finish refers to the overall look or appearance provided by the finish. You could choose another method of achieving the same result. Or you could use a stain and have it applied in various manners. Either using a spray canister to spray the satin stain onto the wood's surface, or you apply the cloth to rub it on it in circular motions, you could even brush it on (being careful not to dip the bristles in too deep so that the ferrule is saturated with the oils and the bristles fall out).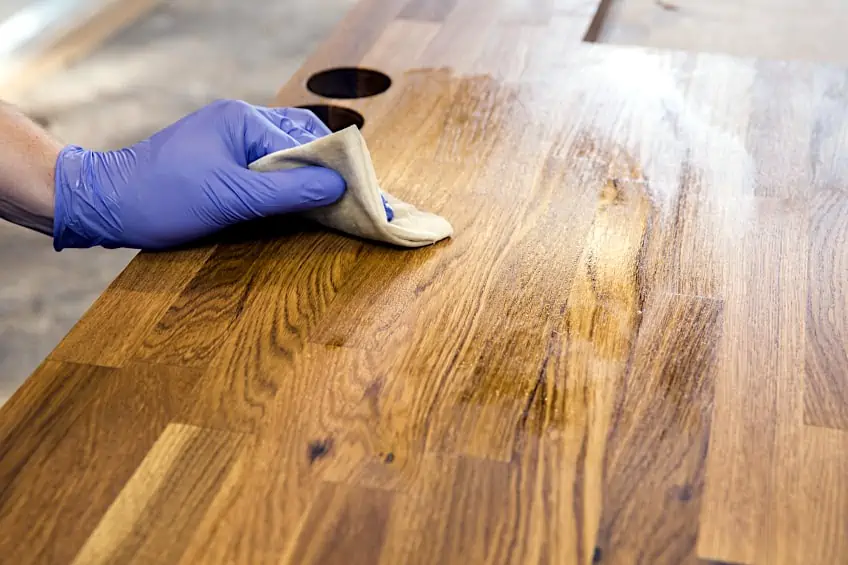 A satin finish is also a strong finish, like its glossy counterpart, although it is not as strong, according to reviews made by experts. This type of finish will tarnish easily where it is exposed to a lot of movement. Lastly, is satin shiny? Well, satin is the lesser of both gloss and satin finishes in terms of shine, but yes, it is shiny to some degree.
PROS
Most cleaning products can be used on a satin finish without ruining the sheen
The color will not be obscured by glare
The wood's grain will be kept in good condition
The stains and imperfections will be hidden by the sheen
CONS
Will not improve a space in terms of spatial illusions
There is no reflective finish
Imperfections will still be slightly visible
Repairs will be difficult to do
Comparing Satin and Gloss Finishes
Just in case you are not quite clicking with this information, we understand that this might be a bit of a sensory overload. To help you understand a bit better we have made a table that compares the two different finishes, gloss vs satin wood finish.
| | | |
| --- | --- | --- |
| Features | Satin Finish | Gloss Finish |
| High sheen | ✔ | ✔ |
| Maintenance | ✘ | ✔ |
| Masks stains & imperfections | ✔ | ✔ |
| Safe for food | (varies between brands) | (varies between brands) |
| Suitable for outside | ✘ | ✔ |
| Ease of application | ✔ | ✔ |
What Products Suit a Satin or Gloss Finish?
There are many things to think about when it comes to choosing a finish for your project, but picking a particular product (if you don't know what you want) can be even more challenging. To remedy this, we have made a list of things to consider the next time you are at the store or about to click the check-out button on your shopping cart.
Paint Finish
Painting is the most common activity in the industrial world, the commercial sectors, and pretty much any and every part of life incorporates painting to some degree. You could use oil-based paint, water-based paint, latex paint, and so much more. There is paint for every situation. Paints also come in a variety of finishes, so it is not just the stain that has a glossy or a satin finish, but there are also glossy paint and satin paints – you even get matte paints.
Is satin paint shiny? Or, is gloss paint shiny? The answer is the latter of the two. Gloss paint is the shinier version whereas satin has a sheen, but not much. Choose gloss paint if you want your walls to reflect light.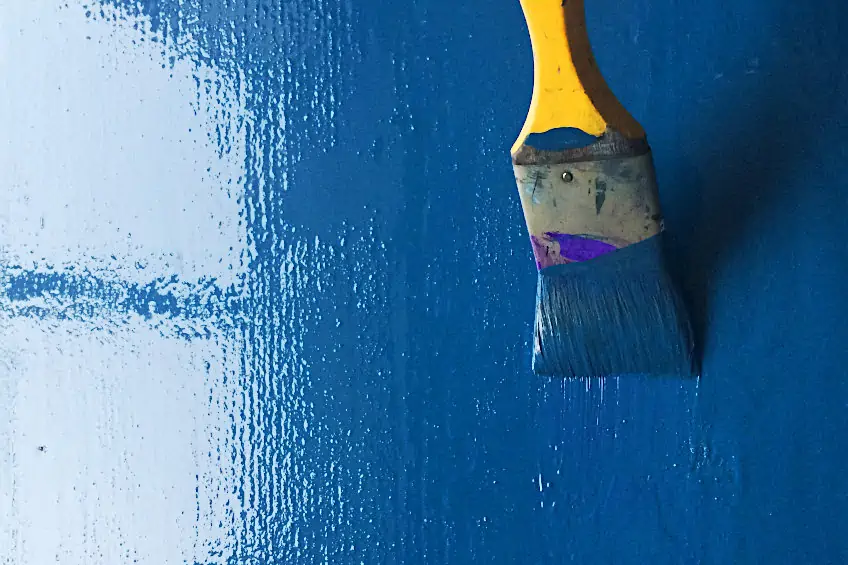 Clear Coat Finish
We could not leave out the final addition to the tutorial – the clear coat. Clear coats are quite similar to a transparent varnish. They are applied over a stain (of any finish) and they help to preserve the finish, and the wood, for much longer than without. They are slightly UV resistant, so excess sunlight will be less of a damaging risk. They also provide more water-resistant qualities to your wood's surface, so if your item is outside most of the time, the weather conditions will not damage them.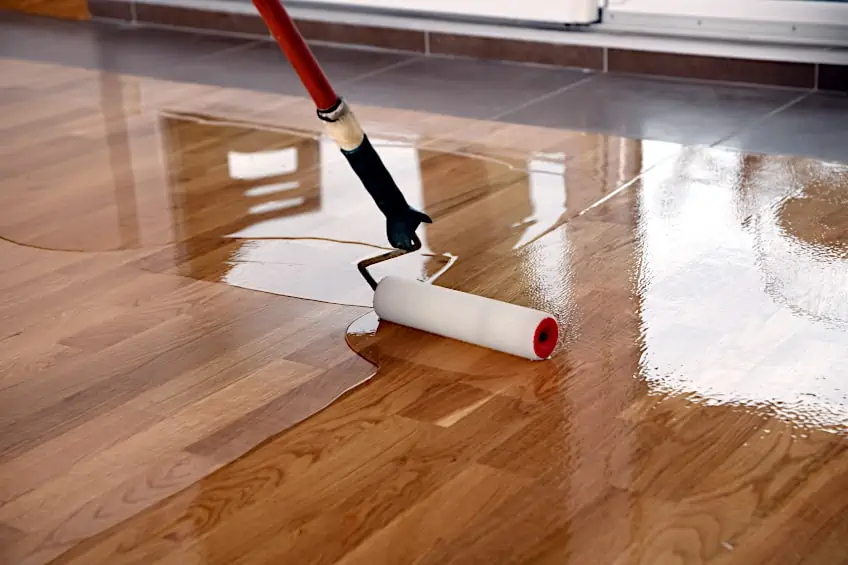 A clear coat is not the most expensive thing, and they are also quite easy to work with. This is a necessary part of the finishing process if you want to make it look like a professional was a part of the project the whole time – who are you kidding, you are the professional now!
Aerosol Spray Paint Finishes
As we have mentioned, there are many different methods that you can apply to various finishes. Gloss finishes can be applied with a spray canister if you so wish. This is unbelievably helpful because you will be able to cover a larger space with a more even finish. You might find that this method of application still requires a quick rub-over with a cloth so that the finish is polished right into the wood's surface.
Even as a spray canister application, both the satin finish and the glossy finish do not change in their appeal. A gloss finish will shine, no matter how you apply it. You might be able to get it to shine even more by polishing the surface with circular motions and a cloth.
One benefit to appreciate with using a spray method is that there are versions of the finishes that are both satins as well as gloss. This means that they are shiny, yet muted simultaneously.
Wood Stain Finish
Many woodworkers will recommend using a wood stain over any other topcoat. This is because it is much easier to work with than varnish is, and it is a cost-effective way to make your room or piece of furniture look like you sent it to a professional to repair it.
A stain is successful because it inks into the surface of the wood instead of adhering to the surface. This makes the first few layers of the wood protected from liquid, humidity, heat, and occasionally flames (to some degree). Let us say you are looking for a finish for your busy deck for your restaurant. Should you use a satin vs gloss finish for it? In this case, a satin finish would be better suited, because the gloss finish will scratch too much under all the feet.
If you are painting your display cabinet, then this is where your gloss finish will shine above the rest, we are not joking! A glossy finish is typically used for things that you wish to highlight. Where do you want people to look? Would you want them gazing at the floor the whole time? Or rather up and seeing the room before them?
The benefit of a stain is the strength that it gives your wooden item. Regardless of applying a gloss vs. satin wood finish, you will need a sealer to finish it off. The sealer is an added layer of protection that is simply unavoidable.
Varnish Finish
Varnish is typically a lot more pungent than a finish. This is thanks to the high amount of Volatile organic compounds that are a part of the formula. Varnish and a stain are quite similar if you are choosing the satin glossy finishes. The varnish is just slightly more cumbersome because you will need to do routine maintenance. After all, it scratches so easily. Varnish with a gloss or satin finish will be somewhat shiny, yet they are not as brilliant as a gloss vs. satin wood stain.
Working with varnish is easy enough to manage but you should always make sure that your workpiece has undergone some vital preparation before you use it. Cleaning the surface is the first step, which ensures that there are no other chemicals present on the surface before your varnish has been applied. There are most likely to be fewer professional craftsmen and DIY enthusiasts who use varnish these days, but this does not imply that the quality and effectiveness of the finish it is capable of providing have diminished in any way.
In terms of working with varnish, you do not need much experience. These days, most craftspeople and enthusiastic DIY crafters tend to avoid using varnish. However, this does not mean that the quality and effect of the finish are not up to its usual standard, because it is as strong as ever!
Where Should You Use Each Finish?
Knowing how each finish looks and how to apply them is not enough. At the beginning of the tutorial, we promised you that we would explain how to use them, in terms of where the various sheens are better suited. This is where we fulfill that promise, so keep reading for some interior design input.
Where to Use Gloss Finishes
Every one of us is like a crow. To some degree, we all have a love and desire for the shiny things in life. There is a part in our brains that lights up and gets all excited when we see something shiny, quite literally, so it is no surprise that so many of us have an urge to touch or pick up whatever caught our eye.
Having said this, gloss finishes should be used sparingly, either to bring a room together or to make a smaller room feel more spacious by allowing light to shine through. A great example of this is how hotels often use this trick to brighten up their rooms, along with the use of glass and the color white.
If you want a gloss finish to bring out details in the workpiece, a trick is to use it on those areas that you would like to stand out and use a matte or satin finish for the rest of the workpiece that will make the gloss finish pop out even more.
Where to Use Satin Finishes
How do you feel about the idea of having a modern classic look that works on both contemporary furniture and older furniture? How do you feel when you run your fingers over the surface of a wooden object and sense the warmth and texture of its grain? Would you prefer a slight shine in your workpiece without the annoyance of glare caused by sunlight? It sounds like you want something a little more refined, which is why we think a satin finish might be a wise choice.
Let us say you need to coat some decking at your extremely busy restaurant with a stain, and this deck gets a lot of foot traffic, so there is a high amount of damage that is at risk here for the finish. We recommend painting the deck with a satin finish because it can withstand the number of feet on it every day. On the other hand, there is also less maintenance that needs to be done for a satin sheen, because the shine is already so minimal.
Satin finishes are ideal for your child's room. This is because they can make a room feel more welcoming and comforting. They are also ideal footing, or if you want to make a certain piece of furniture or environment stand out. To achieve the referred homely feeling, ensure that the room has enough natural light.
Choosing a Finish
One does not always want the same finish applied to every item they are working with. A home is better suited to a variety of finishes throughout. Your oak flooring will have one type of finish, and the walls another. Then the armrests of your antique sofas surely cannot have the same finish? Unless that is your vibe, then, by all means, pick your favorite finish, and finish it off!
If you like the mix of finishes, here is how to choose the right one. If the space is large, then you should use a satin finish because the sheen is slightly more subtle, so it will not be as overwhelming as if you painted a glossy one throughout. If you are dealing with a smaller space, then we highly recommend bringing everything together with a glossy finish.
Always remember that you need sufficient ventilation when working with these products. Volatile organic compounds, VOCs are highly toxic so you do not want to be breathing in those fumes at all! Make sure you are fully equipped with protective gear that you have been looking after well. There is no point in wearing a respirator mask if there are holes in it. You can avoid that if you routinely check your gear.
What you need to do right now is to put your newly acquired knowledge to the test. Now that you are familiar with the differences between gloss and satin finishes, advantages and disadvantages included, as well as what items will suit this type of finish, it is now time for you to go out and practice applying it. Make sure that when selecting the finish for your workpiece, you always consider the elements it will be subjected to.
Frequently Asked Questions
How Shiny Is Satin Paint?
Satin paint produces a shiny but more muted finish than gloss paint. You will be able to tell if this shine on your workpiece is noticeable depending on the type of light you expose it to. It is important to note that the degree of this shine can vary greatly between brands.
What Is Satin Paint?
In terms of paint colors, satin paint is considered to be a muted variety of paint colors. This type of paint, even though it has some degree of shine, is commonly used due to its warm, rich colors which contrast with gloss or semi-gloss coatings. The amount and type of light that is exposed to satin paint will determine the strength of its reflective properties.
What Is Gloss Paint?
Another name for sheen paint is gloss paint, and it sure is reflective! Sheen is defined by how reflective a finish or paint is. To put it into perspective, a paint or a finish that is called glossy will have a high sheen. It will shine when the light falls on it at all angles.