How to Draw a Palm Tree – Our Favorite Beach Tree Drawing Tutorial
This post may contain affiliate links. We may earn a small commission from purchases made through them, at no additional cost to you.
Picture this: The sun is shining in the clear blue sky as the smell of suntan lotion fills the air. You glance to your left and see a row of palm trees lining the ocean's shore. A beach vacation just would not be complete without these iconic trees to perfect the picture. In our "how to draw a palm tree" tutorial today, you will learn just how easy palm tree drawing is! So, gather your art materials and follow our simple palm tree sketch guide to learn how to draw this classic beach-side plant.
How to Draw a Palm Tree in 15 Easy Steps
If you have been looking for a simple and easy palm tree drawing tutorial, you have come to the right place! Our easy-to-follow guide will explain everything from the construction lines of your palm tree sketch to the ins and outs of a perfect palm leaf drawing and even adding the color, highlights, and shading to your palm tree sketch. If you have a quick look at the following image, we have mapped out every step that you will go through in this tutorial.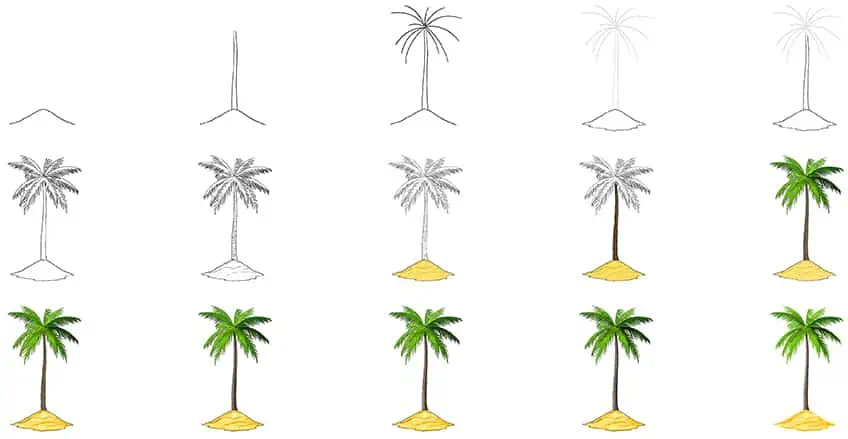 Whether you are creating a picture to hang on your wall or just want to learn a fun new skill, our easy palm tree drawing tutorial will help you create it. For our guide, we are using paper and acrylic paint, but if you prefer to use another medium, like pencils or even a graphic tablet, you are more than welcome to. Just simply adjust the palm tree drawing steps in this tutorial to fit in with your chosen medium. Now, gather your supplies and let us get right to it!
Step 1: Sketching a Sand Dune Base
Choose a spot on your page where you would like your palm tree to be. Slightly lower than where your tree's base would be, you will be drawing a dune. Simply draw a line in a rounded-triangle shape to create the sand mound. As you can see from our picture, both sides slope, but are not perfect or symmetrical.

Step 2: Drawing a Palm Tree Trunk
Right on top of your mound of sand, you will place the trunk of your palm tree. Remember, palm trees are very tall, narrow, and skinny trees. Draw two vertical lines extending from the center of your sand mound. Make sure that the distance between the lines is narrow and becomes more so as it reaches the top side of your page. Just like with your dune, these lines should not be perfect.
Step 3: Adding the Palm Leaf Drawing Guide Lines
You will now add some palm leaf drawing guidelines. Decide where you want each leaf to be or copy our image if you prefer. You will need to draw several lines in varying lengths, all extending from the top of your palm tree trunk. These lines should curve so that your palm leaves look natural.
Step 4: Outlining the Sand Dune
We will now take a step back in our palm tree sketch and return our focus to the dune. Outline the dune and add a base. This should be done freehand.
Step 5: Adding an Outline to the Palm Tree Trunk
Next, we will be outlining the trunk of our palm tree sketch. Simply trace over the construction lines you already created. Do not forget to leave a gap for the crown leaves of your palm tree. As you can see in this picture, we have not traced the trunk all the way to the leaves. This is important for the step that follows.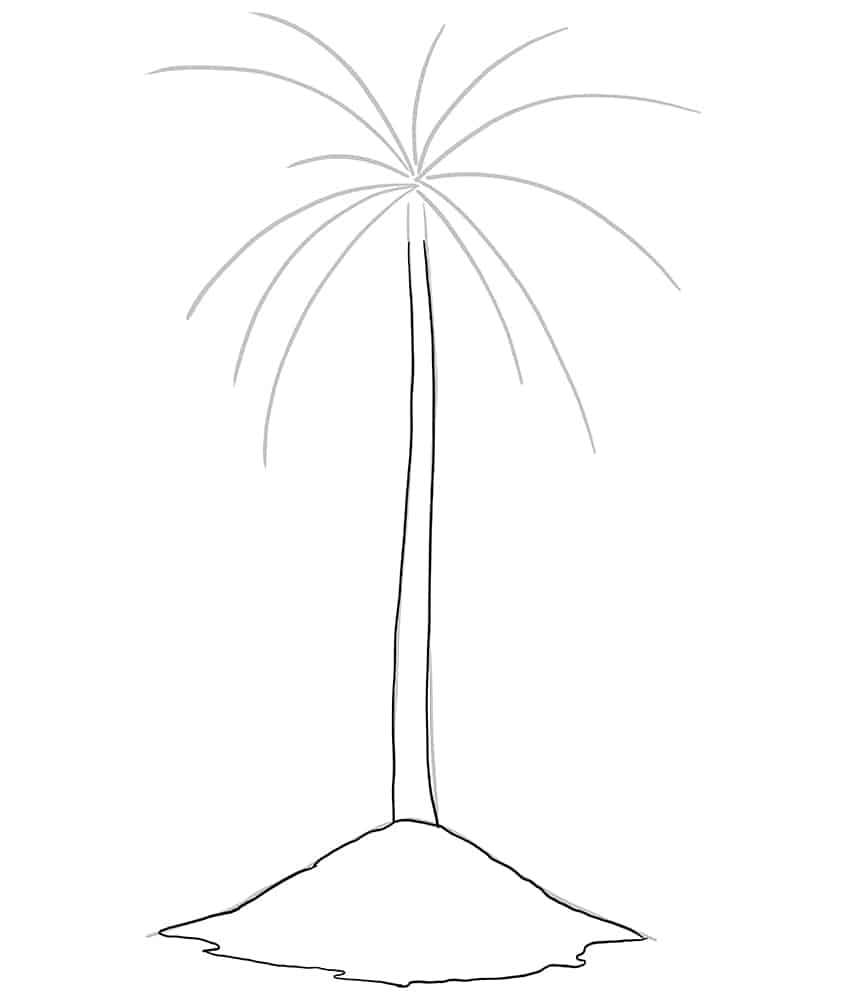 Step 6: Drawing the Outline for the Crown Palm Leaves
You will now be drawing your tree's leaves by using the basic construction lines you drew earlier in this tutorial. Using a pencil, use a zig-zag motion to complete each leaf. Your palm tree should be taking shape now and looking more like an actual tree! It is recommended to first draw the front leaves of your palm tree sketch and then move towards the rear of the tree. Remember that the leaves at the back will be smaller than in the front. This will help make your palm tree drawing look more realistic.
Step 7: Adding More Detail to the Palm Tree Drawing
Your palm tree drawing is almost complete! There are just a few more details to be added before you can begin adding color. In this step, you will be adding some line details to the trunk to create texture. These lines should be done freehand and from left to right. You can also add some texture to your dune by adding a few lines and dots. Lastly, add some fine point-arched lines on the leaves.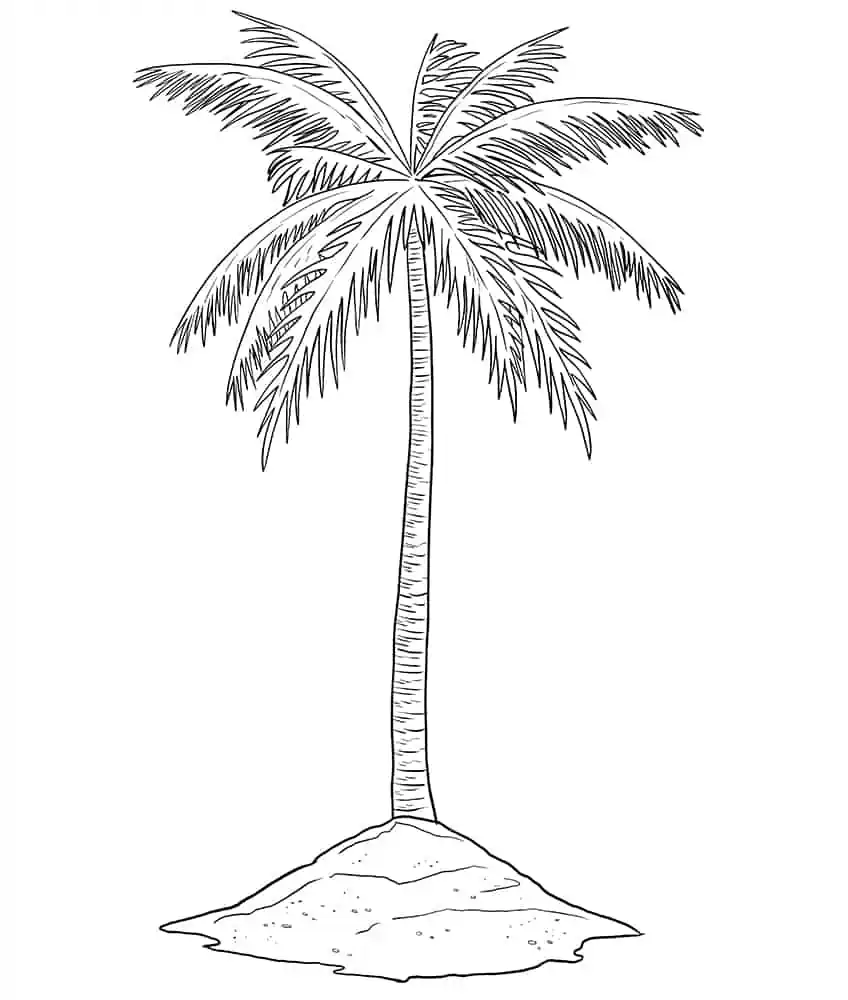 Step 8: Adding Color to the Sand Dune
Well done! You have finally reached the most exciting part of our "how to draw a palm tree" tutorial – adding the color. Choose a light beige or golden yellow color paint and a medium paintbrush to color your dune evenly.
Step 9: Choosing a Color for the Palm Tree's Trunk
Next up is the trunk of your palm tree sketch. This time, choose a small regular brush and dark brown paint. Make sure to keep the color even.
Step 10: Adding Color to Your Palm Tree's Leaves
Lastly, you will need to paint the leaves of your palm tree. Choose a regular brush and a medium to a light shade of green. Each leaf should be painted evenly. Once complete and before the paint has dried, load some black paint onto a very small, soft paintbrush and lightly color some of the leaves to create a darker green. You should try to paint some of the leaves a bit darker and some slightly lighter to create variation.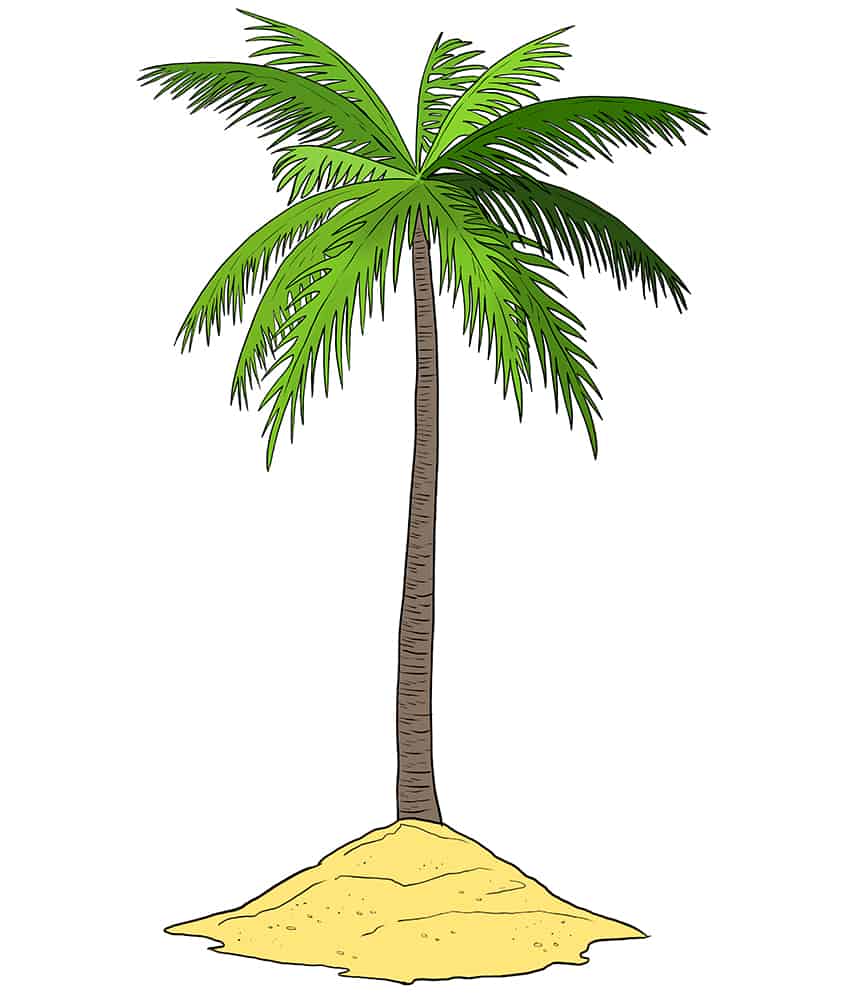 Step 11: Creating the Dune's Highlights and Texture
Your color should be complete by this step. It is now time to add highlights and texture to your dune. Choose a soft, small paintbrush and golden colored paint and begin tracing the lines you drew on your sand. Next, use a clean brush of the same size and add highlights with white paint. Simply trace along the golden lines.
Step 12: Adding Detail to the Trunk of the Palm Tree Drawing
You will now be adding some shading to your palm tree trunk. Again, use a small soft brush and black paint to very lightly add shading to the right-hand side of the tree's trunk. Be sure to add the shading to the entire side. You can also use a clean brush to slightly blend the black toward the left so that the shading appears more realistic and natural.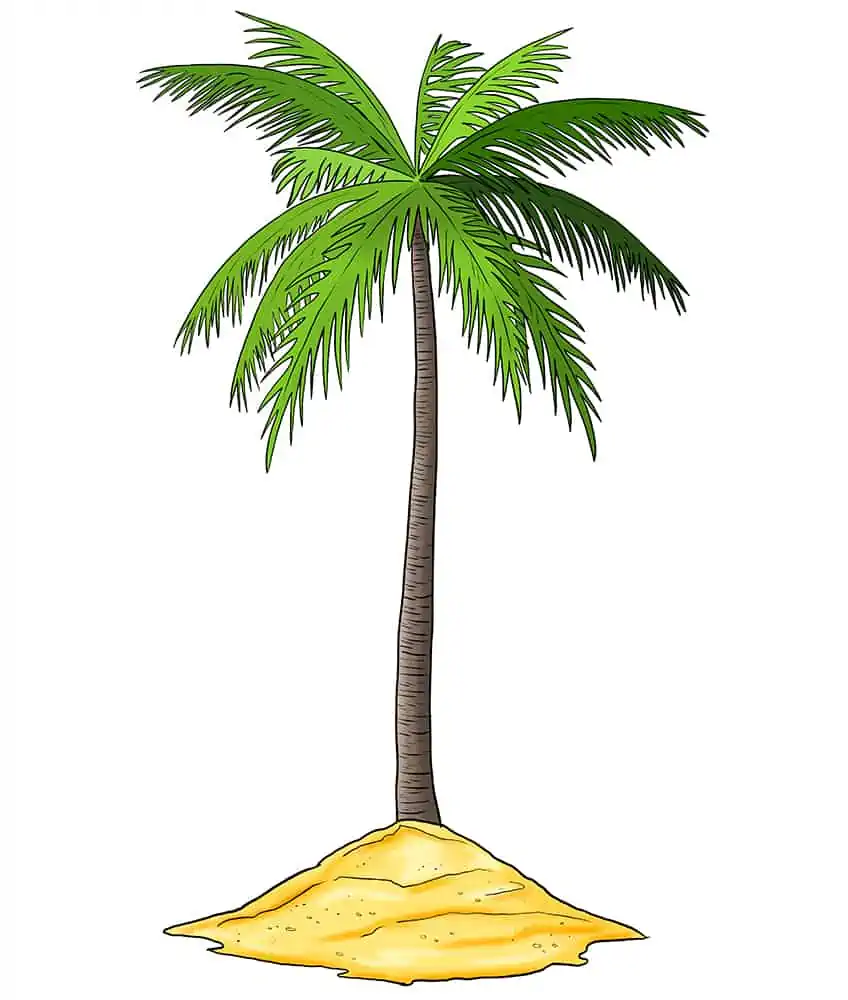 Step 13: Adding Highlights to the Trunk of the Palm Tree Sketch
Next, you will add highlights to the palm tree's trunk. This time, use a finer, sharper paintbrush and white or light grey paint. In a horizontal motion, add stripes along the entire palm tree trunk. You can place them in between the texture lines.
Step 14: Adding Shading to the Crown Leaves
This is the last bit of shading that will be added to your palm tree drawing. Use a clean and soft brush along with some black paint to add shading to the leaves.
Step 15: Completing the Palm Tree Sketch
While this step is not necessary, we highly recommend adding this small detail to finish your tree off professionally. Using a sharp and small paintbrush, use corresponding paint colors to outline your palm tree drawing. Trace around the entire tree including the dune. Once you have completed this step, you should be left with a beautiful palm tree drawing!
And that brings us to the end of our easy palm tree drawing tutorial, well done! We hope that you had fun learning how to draw a palm tree with our tutorial and that you are happy with your result. Remember, art is about having fun, so, even if your first attempt at a palm tree sketch is not perfect, with practice you will gain confidence and experience. Happy drawing!
Frequently Asked Questions
Is It Easy to Create a Palm Tree Drawing?
Learning how to draw a palm tree is simple with a good tutorial and step-by-step instructions. In this basic tutorial, we show you in just 15 steps how easy palm tree drawing can be. So, even if you have never tried to draw a tree of any kind, you should easily be able to create a beautiful palm tree drawing, no experience is needed!
What Are the Best Colors to Use When Drawing a Palm Tree?
When creating our palm tree drawing, we decided to use traditional and naturally occurring colors. These include shades of green and brown. Of course, it is entirely up to you if you prefer to use unusual colors. Art is about being unique and adding your special flair, so do not let anything hold you back and be as creative as you wish!