Best Wood Lacquer – Complete Guide to Lacquer for Wood
This post may contain affiliate links. We may earn a small commission from purchases made through them, at no additional cost to you.
If you wish to achieve a shiny, smooth wood finish your go-to is lacquer and varnish, both products are very similar as they offer a glossy, hard finish. More often than not lacquer is used over varnish as it is simple to use and dries quickly. You can spray lacquer onto the wooden surface, creating a strong layer as opposed to the likes of wood oil which seeps into the wood. Interested in finding the best wood lacquer? Want to know how to apply clear lacquer for wood? Follow our guide below for everything you need to know.
What is the Difference Between Varnish and Lacquer?
Wood Lacquer paint is a solvent-based finish made up of dissolved nitrocellulose, plasticizers, and pigments, the product can be used to create a protective layer on surfaces such as metal and wood. While both spray varnish for wood and lacquer offers a protective finish, lacquer is often considered the better option.
Both products provide you with a shiny finish, lacquer provides an assortment of color options and level of sheen, while spray varnish for wood tends to just be clear. Lacquer is also available in a clear option, but alternatively, you can purchase it in an assortment of sheens from ultra-matte finish to a high gloss finish. Lacquer for wood can be bought in a spray-can which is easy-to-use, alternatively, there are rub-on options available, or paint-on versions. Lacquer also dries faster than varnish as it is thinner.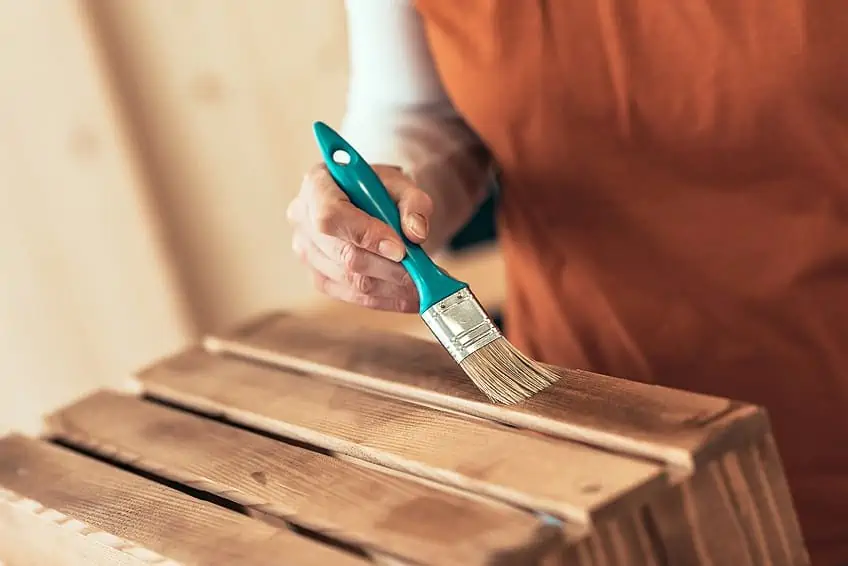 Lacquer VS Polyurethane for Wood
Lacquer is thought of as easier to apply than the likes of polyurethane (another form of wood sealant). You need to be very careful and precise when you are applying polyurethane, whereas lacquer does not need such attention to detail when applying.
If you make any mistakes or cause any damage it is a lot easier to fix when working with lacquer, as polyurethane requires a complicated process to correct any damage. Lacquer can be used not only on wood but also on metal surfaces. You can not apply the two products together on the same surface, as they do not work together and will damage your surface.
Polyurethane provides a more durable surface than lacquers but takes a lot longer to dry. Over time lacquer is known to yellow when exposed to sunlight and is very prone to scratches. If you are looking to apply several layers it is easier and faster to do so with lacquer than the likes of polyurethane.
Reasons to Use Wood Lacquer
Lacquer is a great option, as it has a number of advantages, that being said you should also take the negatives into consideration.
PROS

When spraying you are able to thin it out using a lacquer thinner
Lacquer dries fast which also decreases any chance of it running
Easy to keep clean and can be applied with ease
Even if you are just a beginner, lacquer offers a smooth finish
Really affordable
To achieve a stunning shine, you only need to apply a thin layer
Has waterproofing properties and acts as a sealant
You can achieve an even better shine by polishing the final finish
Can be purchased in an assortment of colors and sheens
CONS
Suggested to not use as an outdoor wood finish
You require a lot of layers to ensure a durable finish, as you are required to apply it in thin coats
You will have to clean it often with a clean cloth as dust shows up with ease
Lacquer is not heat-resistant and over time and exposure to the sun or heat, it will begin to deteriorate
There are health and fire risks in using lacquer
It is easy to get scratches on a lacquer finished surface
Lacquers with nitrocellulose are known to yellow over time
Lacquer gives off a strong odor
Next, you need to determine which type of lacquer you require, to do so, take into consideration the results you are wishing to achieve.
Different Kinds of Paint Lacquers
It is important to understand the different types of lacquers available, as it will help you to determine which is the ideal wood lacquer to purchase for your project. There is an assortment of types of lacquer, we will go into more details for the following three:
Catalyzed
Nitrocellulose
Acrylic
Catalyzed Lacquer
This is made up of your standard lacquer, when applied the solvent evaporates and it hardens, the product doesn't only use solvent evaporation, but also includes a chemically cured catalyst. An affordable option a catalyzed lacquer helps improve durability and has fewer problems compared to other lacquers. This type of lacquer has two forms:
Pre-Catalyzed lacquer
Post-Catalyzed lacquer
The types describe how you will purchase the lacquer product, post-catalyzed lacquer means you buy the product at the shop yourself, while the pre-catalyzed lacquer means the catalyst has been added by the manufacturer. Either option, the shelf life is very short, and is determined by aspects such as temperature, and when the catalyst was added. If you choose to mix the catalyst yourself you will need to be very careful that your measurement is precise to ensure the product cures correctly.
Nitrocellulose Lacquer
This lacquer has been used for years in the automotive industry and with time was incorporated for use with musical instruments and furniture. This lacquer contains dissolved nitrocellulose, along with plasticizers, in a solvent base, these help with the flexibility of the product and increase the durability. You are able to include dyes and pigments, once dried you will be left with a beautiful smooth finish.
This lacquer is like shellac, but provides more durability and is more scratch-resistant. That being said, it is an environmental and health hazard, and highly flammable as it is solvent-based. The product has a light tint, which may be what you are looking for as it works with some woods, but is not ideal for lighter woods. The lacquer is not the ideal option to protect against abrasions, chemicals, or other liquids.
Acrylic Lacquer
Used throughout the automotive industry, acrylic lacquer can also be used on wood, and is great for lighter woods, as the product dries clear due to it being made up of synthetic acrylic polymers. Unlike nitrocellulose lacquer the finish will not start to yellow over time, the lacquer is overall tougher and more scratch-resistant.
An option that most go with is a CAB-Acrylic Lacquer which includes Cellulose Acetate Butyrate (CAB), this is a form of transparent thermoplastic, it also contains acrylic resins which heighten its durability and flexibility in comparison to standard acrylic lacquers.
It is important to note there is a further type of lacquer, which is a waterborne lacquer that is completely different, they are not as hazardous and are better for the environment, but aren't as durable as other types of lacquer.
Best Wood Lacquer
It is always helpful to see what others have to say about the products, when selecting a wood lacquer spray, a great indication of a good product are five-star reviews. What follows are details of three of the most popular lacquer products available, including their pros and cons.
Best Lacquer Paint for Wood:  MINWAX Polycrylic Protective Finish
This water-based protective finish is the ideal solution for all kinds of wood surfaces. This is one of the best wood lacquer options thanks to its combination of quality as well as durability. The Polycrylic finish offers a superior level of protection to your interior wood surfaces.
The lacquer is water-based and very easy to use and clean up. The formula also dries really fast, produces low odor, and is non-yellowing when dry. Another benefit of this lacquer paint for wood is that you can choose between a range of different sheen options.
Protects and enhances interior wood surfaces
Dries to a crystal clear finish and can be used over stains
A water-based formula for easier, safer use
View on Amazon
PROS

Provides a highly durable, protective finish
Water-based and easy to work with
Available in a range of different sheen options
Ultra-fast drying
Low odor formula
Non-yellowing
CONS
Not suitable for exterior use
Best Wood Lacquer Spray: DEFT INC Clear Lacquer Polyurethane Spray
This wood lacquer spray is perfect for metal surfaces and interior wood and is pure nitrocellulose lacquer. It is a spray lacquer for wood that is also self-leveling, takes only two hours to dry, and is really easy to use. It will give you a clear finish that does not yellow, it is dry to the touch in only 30 minutes and you won't have to sand it down in-between coats.
This clear spray, ideal for interior woods enhances the natural element of the furniture item, while also bringing out the richness, it is great to use on rosewood and other such exotic woods. When it has hardened completely the lacquer is water-resistant and protects the surface from any liquid spills.
Suitable for interior and exterior wood surfaces
High-solids oil-based polyurethane formula
Aerosol spray suitable for a wide range of different surfaces
View on Amazon
PROS

Water-resistant once hardened
Dries fast
Yellowing does not occur over time
Increases the value of your wooden surfaces
Really easy to apply
Protects interior wood surfaces and improves their overall look
CONS
Can be a little costly
If you do not clear the nozzle between coats, it may clog
Has quite an odor and is flammable
Before the product has cured it has potential health risks
This product is easy to use, and dries quickly, providing you with a stunning glossy finish, if you are looking to add some extra shine you can buff it and polish it further once it has set.
Best Automotive Lacquer Spray: RUST-OLEUM Acrylic Lacquer Spray
This is your go-to lacquer for any automotive touch-ups. This spray lacquer can be used on an assortment of surfaces including masonry, metal, unglazed ceramics, and plaster as well.
This lacquer is great for both exterior and interior surfaces, providing you with a durable high sheen that hardens quickly. This clear coat spray for wood can cover 7 square feet per can with ease and within 20 minutes it is dry to the touch. To achieve an even brighter shine you can sand it down and recoat it.
A premium automotive formulation spray
Extremely durable and easy to handle
Dries to a black gloss finish for interior and exterior use
View on Amazon
PROS

A specialized automotive lacquer spray
Dries fast
Provides a durable and tough finish
Dries to a black glossy finish
Very easy to handle
CONS
Any overspray can leave a murky finish on items that are quite delicate
You shouldn't use it on larger surfaces
Best Clear Lacquer for Wood: WATCO Lacquer Clear Wood Finish
This clear coat spray for wood doesn't yellow over time and is a self-leveling product. The finish is clear and glossy in color, and it can be bought in a quart container that can cover 290 square feet of a wood surface. The clear coat spray for wood is perfect for cabinets, doors, furniture, and paneling it is great for interior projects, but should not be used for outdoor surfaces. You will not require a wood filler with this product, and the clear lacquer for wood offers great protection from scratches. Your finished surfaces are bright and clear and will not require sanding in-between coats.
Ideal for use on various indoor wood surfaces
Formulated for a higher clarity finish than polyurethane
Eliminated the need for wood filler and protects against scratches
View on Amazon
PROS

Wood fillers are not required
One of the most affordable brands
Gives a clear glossy finish
Will not yellow
You won't have to sand in-between coats
CONS
Can only be used on indoor items
You will require a sprayer
Applying Wood Lacquer
You can apply lacquer paint for wood with a brush or by spraying, some options of lacquer can be bought in a spray can which is simple to use, you can also choose your own sprayer. By choosing to spray your wood lacquer you will not have any brush strokes left on the surface, and you will be able to cover the harder-to-reach areas.
When spraying your lacquer, you will achieve a more even coat, giving you a smooth finish. If you choose to spray your product and don't own a spray, you don't necessarily have to buy one as you are able to simply rent a sprayer. We recommend spraying for the best wood lacquer finish.
Easy-to-use spray can lacquer, offers the user a long time during the application process, so you are able to complete your work before it begins to dry. If you choose to apply the lacquer with a brush, ensure you use top-quality natural bristle brushes, cheaper brushes will lose their bristles and then will end up bristles on your wooden surfaces. When brushing on lacquer, apply a thin layer at a time until you get the look you require.
When dealing with toxic products, and working with a sprayer you will be required to wear protective gear and ensure you are working in a well-ventilated area. You should also wear a respirator as you do not want to run the risk of inhaling any toxic fumes. This is important when applying the best wood lacquer.
Applying a Spray Lacquer for Wood
Start by preparing your equipment and work area, set yourself up in a well-ventilated space, and using newspaper to cover the area, as you do not want to mess, alternatively, you can tape off any areas you do not want lacquer on. Good lighting is also important so you can see what you are doing, and perhaps have a fan available for even better air circulation.
When using a sprayer, you begin by adding a 50/50 mixture of both thinner and lacquer, filling the cup of your spray gun to roughly three-quarters. If you are using a spray can lacquer, work out prior to beginning, how much lacquer you will require, and ensure you have sufficient amounts of spray cans.
You can apply a sanding sealer coat as the initial coat, but this is not always required, it does however assist in creating an extra smooth finish. If you are applying a sanding sealer coat, allow it to dry for 30 minutes, and then using steel wool, buff down the surface.
Before you begin using your sprayer on the item's surface, test it out on a spare piece of wood, when you are happy with the consistency you can start spraying your item's surface. When you have sprayed the whole surface, you need to wait at least 2 hours before you begin using either sandpaper (220-grit paper or finer) or steel wool to buff it down. Always consult your manufacturer's instructions for clarification on drying time etc.
Clean off any dust created by buffing and sanding and apply another coat, repeating the process as many times as required, a rule of thumb is three coats. When you have applied your final coat, allow the surface to completely dry for a minimum of two days, then if you want to achieve an extra bit of shine you can buff or rub the final coat.
Conserving Your Final Lacquer Finish
Your lacquer finish will need to be maintained over the years, particularly as the lacquer is known to get marks and scratches, lacquer also shows up dirt and dust quite easily. Even the best wood lacquers need mainyenance and reapplication.
To ensure there is no dust and dirt you will have to wipe down the surface often, you can use soap and water, and wipe it down with a cloth. Alternatively, you can use a dry microfiber cloth or a feather duster. If anything spills on the surface, make sure you deal with it immediately, otherwise, it may damage the wooden surface. Be careful to not oversaturate your cloth and try and avoid circular motions when cleaning the surface. Avoid dragging items across the surface and try to not leave any heavy items on top of your lacquered wooden surface.
Removing Wood Lacquer
It is important to wear rubber gloves as protection when you are removing any lacquer, using a cloth with some turpentine on it, wipe down the surface. Next, make yourself a mixture of equal parts lacquer thinner and denatured alcohol, then apply this mixture to a small section of your lacquered surface. Using steel wool, rub it in a circular motion over the area, this will remove the lacquer finish. You can also use a scraper to help you, when you have removed it use a damp cloth to wipe down the surface, if necessary, repeat the whole process.
Safety When Using Wood Lacquer
As previously mentioned, safety is of the utmost importance when working with varnish for wood, lacquer, and all other solvent-based finishes. These are all products that give off dangerous odors and are highly flammable, you also want to protect your skin when using these products to ensure no harm is done. When working with the best wood lacquer, here are some top safety considerations:
Ensure you are working in a well-ventilated space, if necessary, also use a fan
Make sure to wear gloves
Do not smoke in the vicinity of your working area or finished items
Wear a respirator mask
Keep products away from open flames or heat
Wear goggles to protect your eyes
Wear long-sleeved clothing for added protection
Make sure any equipment you have used such as cloths and brushes are cleaned completely before they are either discarded or put away.
Frequently Asked Questions
Can You Waterproof a Wood Surface With Lacquer Paint for Wood?
Sealants such as polyurethane, lacquers, and varnish have amazing waterproofing qualities. You can purchase lacquers for outdoor use only and indoor use only, make sure you buy the correct one for your project.
Is Lacquer Paint for Wood Scratch-Resistant?
Lacquer is unfortunately prone to scratches, so it is important to look after your finished piece to avoid the problem.
Is Lacquer Expensive?
Overall lacquer is cheaper than polyurethane or varnish, lacquer also offers you more options when it comes to sheen and color and requires less labor.
How Much Lacquer Do You Need to Apply?
A minimum of two layers are required, but it is recommended to apply more. If you are using lacquer from a spray can it is very thin and may require twelve to fifteen coats to achieve the results you require.
Does the Lacquer Smell Last Long?
The smell should be gone after 24 hours, but you may notice a slight smell for a short time after that.
Can You Buff the Lacquer Finish?
If you are using a nitrocellulose product it can take anywhere up to four weeks to completely harden, while the pre-catalyzed nitrocellulose is completely hardened in only seven to ten days (thanks to the catalyst). Consult your manufacturer's instructions to determine the time required for the product to completely harden, and only once it has should you buff it.
The best wood lacquer will help you to protect and enhance all kinds of wood surfaces. This is an important finish option that can be used on all kinds of DIY projects. We hope that our guide to lacquer paint for wood has helped you to find the perfect product for your needs.