Best Stain for Cedar – How to Find the Right Stain for Cedar
This post may contain affiliate links. We may earn a small commission from purchases made through them, at no additional cost to you.
Red cedar wood is a species of wood that is renowned for its outdoor woodwork uses, such as for furniture or wooden decks. As its name indicates, it has a rich reddish-brown color and is very resistant to rotting and decay. So, it will do well under any weather conditions, it is also easy to find and fairly cheap. One major disadvantage of the wood is that it turns grey rather quickly and cannot be restored to its original state. However, you can tint the wood by using a wood stain to help bring back some of its original beauty. Below is our complete guide on the best stain for cedar to help you accomplish this.
Stains for Cedar Wood
Cedar Wood is prone to turn grey fairly quickly as a result of exposure to moisture, UV light, mildew, or other types of weather conditions. Once this occurs it becomes difficult to restore the natural color or tone of the wood. However, by applying a wood stain or toner you can restore some of its natural beauty.
Wood stains come in various types of opacity, which means the solidness of their color. They also offer durability and a degree of protection. You have four choices: opaque, semi-opaque, semi-transparent, and natural or clear. These kinds of wood stains are effective when applied to numerous kinds of wood like mahogany, pecan, cedar, dark walnut, and many more.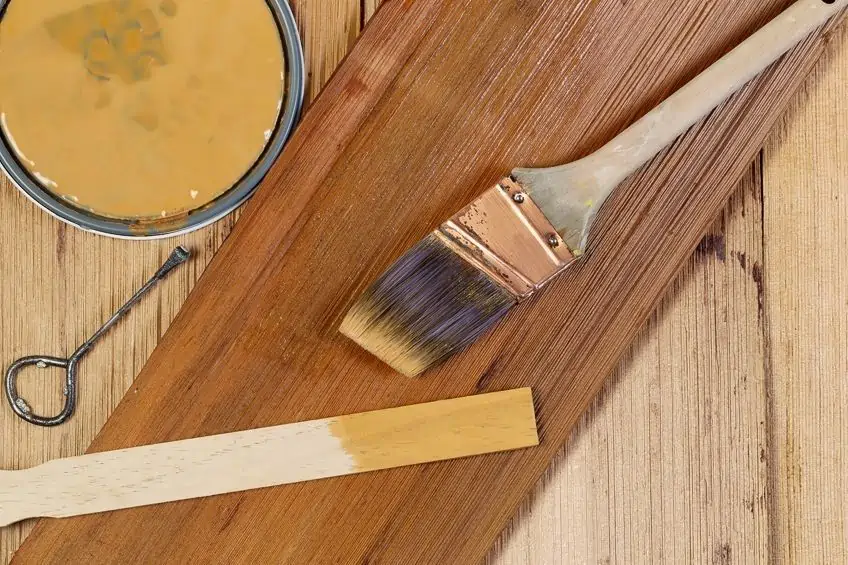 Natural or Clear Wood Stain
This wood stain will provide you with a warm touch to the surface of your wood, as it is transparent and will not hide the original grain of your wood. This wood stain will not leave a residue or peel, but its durability is not as good as those of the opaque colors and as a result, will have to be applied on an annual basis.
Semi-Transparent Wood Stain
This is the most popular and best deck stain for cedar because it offers only a light shade or tone and is, therefore, still able to bring out the natural grain and color of the wood. Unlike the clear wood stain, it only has to be reapplied after two or three years.
Semi-Opaque Wood Stain
This wood stain offers you a semi-solid finish leaving you with a strong shade or hue on your wood surface but does not completely hide the natural wood grain or color. This wood stain has to be reapplied only every four or five years.
Opaque Wood Stain
This wood stain offers you a totally solid finish that provides durability and protection to almost any type of wood surface. It contains a high percentage of pigmentation, which completely covers the natural grain and surface of the wood. This wood stain also needs to be reapplied every four or five years.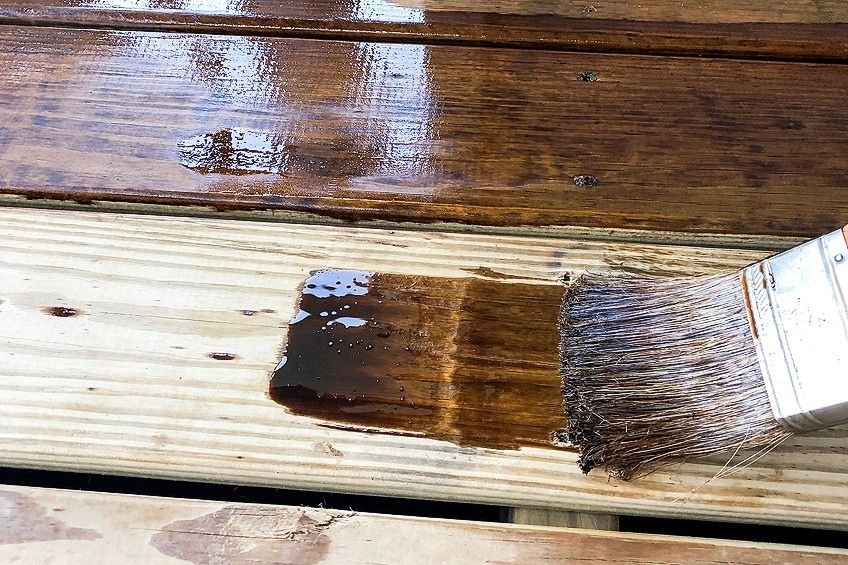 Best Stain for Cedar – Top Products
Cedar Wood comes in various patterns and grades; however, choosing the correct type of wood stain can prove to be rather tricky. This is because many brands on the market do not stick to their claims. In this article, we will be helping you buy the best cedar deck stain for all your outdoor cedar wood surfaces.
Best Overall: READY SEAL Exterior Stain and Sealer for Wood
If you are looking for the best deck stain for cedar and an exterior wood stain and sealer in one product, then the Ready Seal Wood Stain is the answer. Ready Seal is a superb quality product and is reasonably priced; it is also a two in one product consisting of a sealer and a stain. By following a few easy steps, it will provide you with a professional deck surface finish, restoring your spoilt to its original beauty and color. This best stain for cedar can shield and protect your wood surface from harmful UV light. The product is effective for all your rooftops, fences, and stained cedar decks that have gone grey and will restore their beauty and color.
Ready Seal is a semi-transparent wood stain that is oil-based and also contains a penetrative sealer. To apply this product, take your roller or paintbrush and start working. This cedar deck stain does not need to be diluted, nor do you have to apply a primer. Another highlight is that it does not run or drip while you are applying it. You only have to apply two coats but remember to apply both coats in the same direction to give you a smooth and even finish. For the stained cedar deck to show its original color, you will have to wait for at least 14 days for a perfect job.
 A cedar wood stain and sealer
UV-resistant, waterproof, and mildew resistant
Easy application - requires no primer, thinning, or stripping
View on Amazon
Pros
Does not run or drip while applying
Does not need a primer
Is easy to apply
You can apply it at any temperature
Comes in a two in one stain and sealer combination
Will provide your cedar wood surface from harmful UV light
Cons
Takes around 14 days for the products original color to show
Premium Choice: DEFY Stain for Cedar
The Defy Extreme wood stain is a superb quality semi-transparent stain and an excellent choice. It increases the durability of your wood surface and protects it from dangerous and harmful UV rays. The Wood stain also contains zinc nanoparticles in its formulation, which helps to protect your wood surface from mildew build-up as well as from the sun's rays. Defy Extreme is far more effective than any of its competitors, which makes it the absolute best cedar deck stain for wood surfaces.
Defy Extreme is a water-based product that can bring back the beauty and luster of your outdoor furniture, fences, and decks. As it is a semi-transparent product, it comes in a variety of different colors, giving you the option of choosing the color shade that will suit your wooden surface.
This best exterior stain for cedar is easy to apply and has no need for dilution, and only requires you to brush or spray it onto your wooden surface. If you have chosen to spray the product on, make sure you use the airless pump sprayer. The beauty of this product is that it provides you with a beautiful finish within 24 hours after application. To obtain the best results, remember to clean the wood surface first using soap and water and then wait for the wood to dry completely before application.
A water-based semi-transparent wood stain
Extremely durable, lasting quality
UV resistant and eco friendly
View on Amazon
Pros
Contains small particles of zinc that help to resist mildew
Easy to apply
No need for dilution
Excellent results within 24 hours after application
Comes in a variety of shades
Cons
Tends to fade and needs to be reapplied more often
Most Cost-Effective: THOMPSON'S WATERSEAL Waterproofing Stain
Staining cedar decks with Thompsons Waterseal Stain gives your cedar deck a completely waterproof coating. It is also a two in one product that seals the wood surface as well as staining it, a product well worth the money. Using Thompsons Waterseal Stain for staining cedar decks prevents your deck from any type of water damage, as well as giving resistance to mildew and UV damage. Once applied, all your fading problems will be over. Application is easy and only one coat is all you need, and it can easily be applied to a wet or a dry surface.
However, if you prefer to apply a second coat, you will have to wait two hours or more to allow the first coat to dry properly. When you have finished applying the final coat, you will have a shiny smooth wood surface, but you need to wait for about 48 hours before you can walk on it. It is not recommended that you apply the stain when the weather is hot or in direct sunlight, but rather select a day when you record a temperature of 50 to 95 degrees Fahrenheit (10 to 35 degrees Celsius). Also, it is not to be used on freshly painted wooden surfaces.
Provides a fade-resistant color and prevents water damage
A wood stain and sealer all in one
The formula resists mildew and UV damage
View on Amazon
Pros
It can take a second coat
Staining cedar decks provide complete waterproofing for the wood surface
Can be applied on dry or wet surfaces
Offers protection for UV rays and any mildew build-up
Cons
Not suited for freshly painted wooden surfaces
Requires cool temperatures for effective application
Most Affordable: KRYLON Exterior Semi-Transparent Wood Stain
This KRYLON Exterior Semi-Transparent Stain offers you excellent protection on several different types of wood, including fencing, decks, outdoor furniture, and much more. The wood stain prevents water from filtering into the wood and also provides protection from UV light; it is oil-based and offers you a durable finished surface. Krylon Exterior is only available in an aerosol spray can, which means that you need to take extra care when applying it to avoid ruining your wood surface.
This best exterior stain for cedar only requires a single coat and dries within 15 minutes. However, if you want to add a second coat, you need to wait for a minimum of 48 hours allowing the first coat to dry properly. The spray covers an area of 25 square feet if you use it correctly and can only be applied on dry and clean surfaces. Because it is oil-based, you should wear protective gear when handling it. This cedar deck stain comes in various shades from Rustic Brown, Olive Grove, to Redwood, and Cedar.
A very durable, premium, exterior wood stain
Water repellent and UV fade protected
Spray bottle for fast and even coverage
View on Amazon
Pros
Protects your wood surfaces from UV light and water
Is semi-transparent and oil-based
Dries fairly fast
Gives you a durable finish due to its oil-based formulation
Can be applied under any temperature range
Comes in four different shades
Cons
Is only available in an aerosol spray can
Selecting the Best Stain for Cedar Decks
There are a few factors that you need to take into consideration before you go out and buy the perfect stain for your cedar deck surface. Buying the best stain for a cedar deck has several advantages, for example, it improves the appearance of your cedar wood and also gives you a long-lasting wood surface. We will now be helping you make the correct decision when purchasing your best stain for cedar deck wood surfaces.
Type of Wood Surface
The various types of wood will tell you how much stain you need to use. For example, Pine Wood is a very softwood, and so it will absorb a lot less stain than hardwood. When the stain is applied to a softwood, it gets a darker color when only one coat has been applied, whereas a harder wood like oak, for example, will require more coats to make the stain darker. How can you tell if you have soft or hardwood? Simply look at the grain, most of the grain of the hardwood will appear even and consistent, but the grain of softwood is unevenly distributed.
Water or Oil-Based Wood Stains
The type of protection you want will govern the type of stain you need to buy. Stains are either oil or water-based. Oil-based stains appear to be more durable due to their formulation, as well as the pigmentation of the wood. However, they can produce dangerous and hazardous fumes. Water-based stains are not as durable, but they produce very low or if any hazardous fumes. You will also find that the solid colors give you a lot more protection than any of the transparent shades or colors.
Colors in Wood Stain
As far as stain colors are concerned opacity is an important factor in choosing the correct stain for your project. The opacity of the stain depends on whether it is solid, semi-solid, semi-transparent, or clear. Opacity is closely linked to the durability of the stain which means a solid stain color is more durable than a clear stain color. So if you are after a more natural look then you need to go for a stain that matches the color of your natural wood surface.
Cost
Most of the stains for exterior wooden surface application are fairly cheap, so you should buy a good quality stain that can cover a larger surface area. You should make quality your main focus when choosing wood stains, as this will help you avoid any extra costs for future maintenance.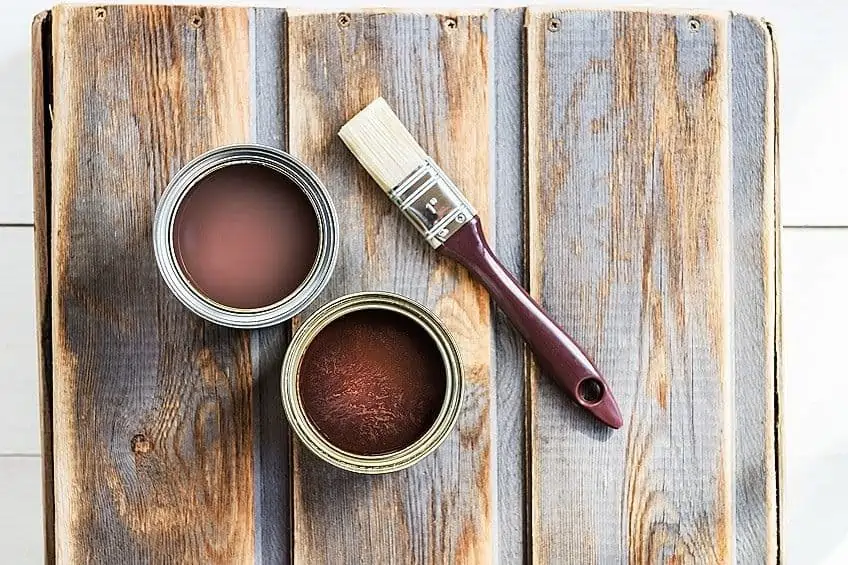 Applying the Wood Stain
Now that you understand all the necessary factors for the type of wood stain you want for your exterior wooden surfaces, you can begin to apply the stain. If your project is fairly small, then a small brush will do the job, but if it is a larger area then you will need to have a wide brush.
Preparing the Wood Surface
You need to thoroughly clean the surface of the wood before you apply the stain. Clean most of the debris off using a brush or clean cloth, and then use some water and detergent to remove any oily or greasy spots. When using the detergent, allow it to stay on the wood for about 10 to 15 minutes, and then you can rinse it off. If there are still some stubborn marks, scrub them off until the surface is completely clean. Now take some light grade sandpaper and sand the surface until it is smooth, or if you want a rough surface, use a coarser grade of sandpaper.
Safety Measurers
Make sure that you always wear safety gear when handling with wood stains, as it can be toxic. Use a face mask, rubber gloves and wear old clothes or an overall. Ensure your work area has plenty air circulation to protect yourself from any hazardous fumes. When working with oil-based stains, be extra careful, as they are flammable when wet. Also, make sure all your old rags are properly dry before you get rid of them.
How to Apply the Stain
Here are a few easy steps to follow when applying your wood stain:
You need to have a liberal amount of stain on your brush for the first application, let it sit for about 15 minutes giving it a chance to absorb into the wood. Always apply the stain in the direction of the grain
After 15 minutes, you can now wipe off any excess stain. Then always remember to work in the direction of the grain. Ensure you have an ample amount of old rags nearby, as you will need a lot of them
Allow the first coat of stain to dry before you start applying the second coat, usually around four to six hours. The second coat can be applied exactly in the same way as the first coat
Once you have applied all the coats, you need to let the stain dry out completely, this should take about 48 hours. Each wood stain brand may have varying drying times, so it is important to read the manufacturer's instructions carefully
If you want, you can apply a sealing coat like wax, polyurethane, oil, or resin which will protect the wood coating for a long time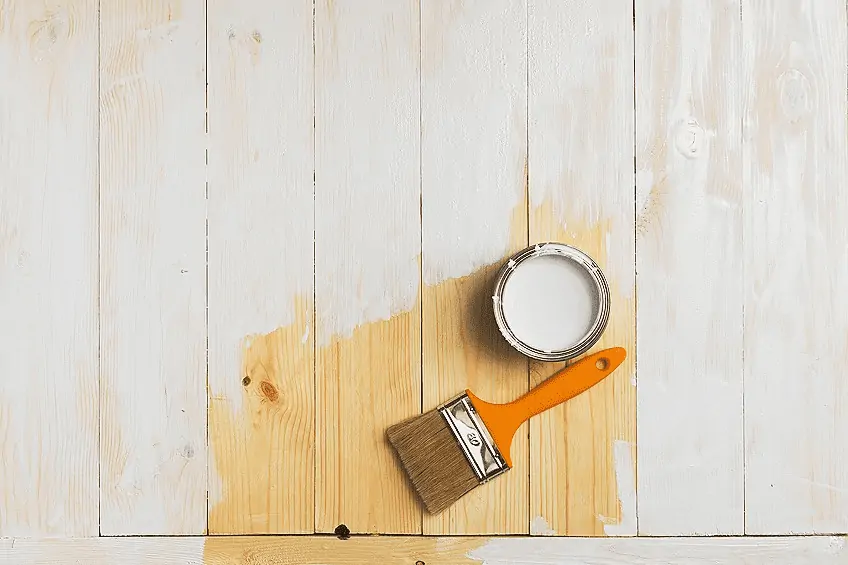 View our Cedar Stain web story here.
Frequently Asked Questions
What Type of Stain Lasts the Longest?
The different types of stain for cedar determines when they will need to be reapplied. Solid stains are the most long-lasting, as they can penetrate deeply into the wood and only have to be reapplied every four to five years.
When Should You Reapply Your Wood Stain?
The opacity of the wood stain plays a vital role in determining how frequently your wood stain needs to be reapplied. If you buy a good quality wood stain, it will last longer before you need to reapply a fresh coat.
How Many Coats are Necessary When Applying Wood Stain?
If you are applying wood stain to a softwood, you will need fewer coats of stain as the softwood absorbs the stain bringing out the color sooner. However, if you are working with hardwood, you will need to apply more coats, as the hardwood absorption rate is much lower than that of softwoods.
What is the Drying Time for Wood Stains?
The weather conditions and the type of stain you are working with determine the drying time. A water-based stain will take around three hours to dry, while an oil-based stain takes around 48 hours to dry completely.
Is a Wood Sealer Necessary?
Sealing your wood is important, as it will protect the wood surface from any further damage. The wood stain can restore the natural appearance of the wood, but a wood sealer gives it protection from the elements like mildew, VU rays, scratches, and much more.
What is Better to Stain or to Paint?
To paint your wood surface is easier and cheaper than staining. However, even though it protects your wood surface from the sun's rays, it tends to trap moisture underneath the paint layer. A wood stain gives you far more valuable options; the solid color wood stain will protect your wood from the UV rays, mildew, and scratches, and the semi-transparent wood stain also brings out the beauty of your wood.
There are various options when it comes to the best stain for cedar. We hope that our guide above has helped you to better understand these stains, and how to choose the best product for your needs. Be sure to check out our recommendations above, and follow our guidelines for great results. We hope your cedar staining job is a success!