Best Decoupage Glue – Adhesives for Decorating with Paper
This post may contain affiliate links. We may earn a small commission from purchases made through them, at no additional cost to you.
There are many ways to refresh your ornate decorations or furnishings in your house these days. With the assortment of DIY aspects available, such as coatings, treatments, tutorials, repairs, and additions, it's easy to get overwhelmed by the options available to you. Sometimes it is better just to go with the simplest option. You do not get any simpler, and more fun to work with, than decoupage. You might recall how to apply decoupage from when you were in kindergarten, but things have become significantly more nuanced since then. Let's get into more detail about what decoupage glue is, how it can be used, and how you can utilize it to make your items more exciting.
What Is Decoupage?
You may wonder what is decoupage? Decoupage is a layer or coating that can be used to stick items like graphics and any form of paper to an assortment of surfaces. You will begin by sticking your item onto the surface you are working with, and then you simply apply some varnish over your item or image. This will result in the item becoming completely flush with the surface.
When you think of decoupage glue, the Mod Podge brand immediately comes to mind. Mod Podge is known for making an assortment of products, not just decoupage glue, but also puzzle glue, and stickers, to name just a few. The Mod Podge brand has been around since the 1960s and they have become synonymous with window art, decoupage, stenciling, puzzles, and other entry-level crafting activities. These activities are both educational and entertaining, regardless of the age group you fall into.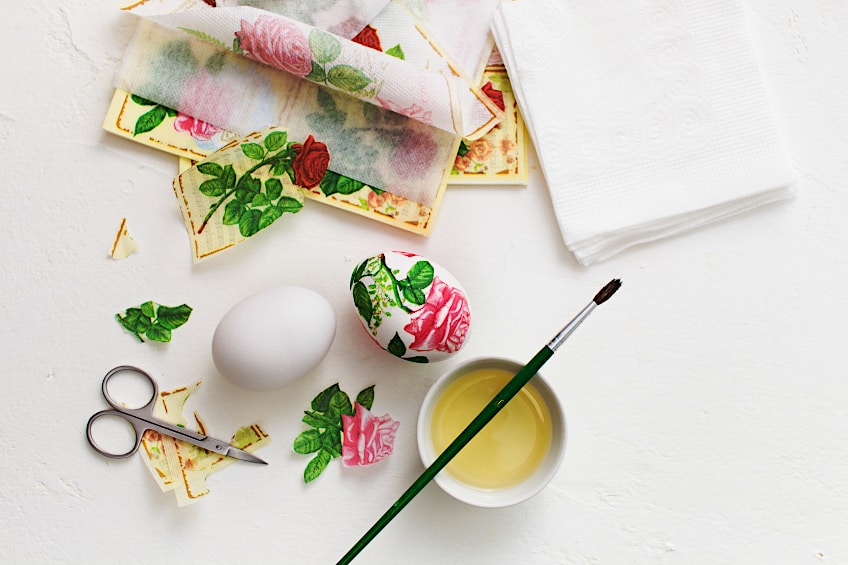 Decoupage glue is simply white craft glue, that has been watered down to create a liquid with a thin consistency. This thinner consistency allows you to layer glue over window decorations, paper, puzzles, mirror decorations, and toys to make things adhere to them.
The French word decouper is the origin of the word decoupage, and translates directly to "to cut or tear from something", which is accurate even though it only describes half of the practice. Decoupage is normally considered a serious art form and is used by a lot of mixed media artists in the adhesion of stickers, fabric, plants, paper, and any other type of material malleable enough to be stuck to the medium you have selected.
In the old days you would normally apply decoupage using a brush. But we want to show you that these days the application can be a bit more refined. You can use an applicator to apply decoupage glue. The applicator looks similar to a conveniently shaped sponge on the end of a stick. You use the applicator to absorb the watery glue and deposit it when you apply pressure to the surface you have selected.
Decoupage glue is a simple and readily available way to level up your crafting game without having to spend a fortune on a lot of tools or equipment. Vision, technique, and developing your balance of water and glue are what sets most professionals apart from everyone else.
Why Has Decoupage Become So Popular?
The popularity of decoupage can be easily explained. To start with, the process of painting has been around nearly as long as, though it is not as popular as decoupage.
The reason that decoupage is more popular than painting, is thanks to it offering you more freedom, particularly, when it comes to personal style and interpretation than when painting. The nature of decoupage is quite memetic if one thinks about the way it traversed cultures over many years, infecting native people with its combination of complex visual impact and simple practicality. Anyone can decoupage, regardless of if they have any experience or not, thanks to it being such a simple process.
Several cultures have used a form of decoupage to decorate their dead with various messages, symbols, and patterns that reflect their faith and farewells.
Decoupage art has always remained popular throughout the years. Thanks to the development of technology and those who have integrated the technique into other art mediums, decoupage's popularity has only grown. Decoupage has evolved alongside society. Thanks to all the cultures and subcultures who have embraced decoupage and contributed to the art form, we are lucky enough to have it as the art form we use today.
The versatility of decoupage further adds to its popularity. Decoupage is the composition and manipulation of paper when molded or adhered to a surface. Thanks to a new generation of decoupage pioneers, we have seen it applied to a variety of surfaces, including metal, plastic, canvas, glass, wood, fabric, brick, and even vinyl.
It is thanks to all these elements that decoupage is so popular. Regardless of the cultural boundaries of different nationalities across the world. However, despite all these elements, the main reason decoupage art is so popular is thanks to how easy it is to do.
As an art form that is used in practically all art movements and sub-cultures, decoupage can be learned and experimented with ease at a minimal cost, as you hardly require any tools or equipment to do decoupage. There is a drastic difference when you compare decoupage to other fine art practices like sculpturing, sketching, painting, or poetry, which require more skill and sometimes can only be done at great expense. Decoupage gives you the freedom to find your way, as an affordable process, while having so much fun!
What Types of Glue Work Best for Decoupage?
There are a handful of glues that work well when doing decoupage, however, not all glues will give you the same level of results. Certain glues have different impacts on the finish. While others might have certain characteristics that cheaper or inferior products do not offer.
PVA Glue
Another name for PVA glue is polyvinyl acetate, or as you might know it, wood glue. Regardless of if you are young or old, even if you have never been to a craft store or workshop before, you would probably still be able to pick out wood glue simply from its smell, or the well-known white bottle with yellow neck and top that it is normally sold in.
This type of glue can be used on decoupage projects as it is viscous enough. It will allow you to adhere to anything from crinkle paper to leaves, you can use your medium with confidence and ease. This type of glue is available everywhere and can be purchased from most craft shops and hardware stores, and it is well priced.
Decoupage Glue
As you may have guessed from the name, decoupage glue has been specifically designed for use on decoupage projects. You may wonder what makes this glue better for decoupage than other glues. Well, thanks to it being specifically designed for decoupage, the glue offers certain characteristics that make it perfect for use in this exercise. Decoupage glue contains elements like glue (of course) tint, sealer, finish, and varnish that offer you the best finish when working with decoupage.
One downside to decoupage glue is that it is significantly more expensive than other general-purpose glues due to it being a specialized formulation.
Spray Glue
Another very popular glue in the crafting world is spray glue. You may wonder, what is spray glue? Spray glue is an adhesive that is aerosol-based that you can directly apply to a material or surface to form a bond.
Spray adhesive is inexpensive and dries quickly, and is a great option to use when doing decoupage. Thanks to the glue drying quickly, it is the perfect option to use when you have a time-sensitive project to do. You can purchase spray glue in several different adhesion strengths to ensure that regardless of the project at hand you can be confident in the knowledge that your work will stick and dry quickly.
Recommendations for the Best Glue for Decoupage
As previously mentioned, several different glue types will work when decoupaging. We have put together a list of a few products we recommend using for decoupage, including their pros and cons.
Best Overall: MOD PODGE Water-Based Sealer, Glue & Decoupage Finish
You might have guessed that this product would be on the top of our list. This product has been specifically created for decoupage. Since the 1960s, Mod Podge has been the "backbone" of the Mod Pod industry, and will in all likelihood continue for years to come.
We can assure you this is for a good reason, as it provides everything you can hope for in decoupage glue. It offers adhesion that is reliable and strong. It also has a protective, clear finish that will last the lifetime of your workpiece.
The team at Mod Podge has developed a formula that suits both the avid beginner and experienced artist that gives you a product that is simple to use, dries quickly, and is non-toxic.
In addition, this decoupage glue requires little clean-up and seals off any addition you wish to use on your work surface. There is not much more we can say, though we might note that it would have been nice if Mod Podge had made their glue available in larger quantities, and had considered updating the applicator.
Multi-purpose all-in-one glue, sealer, and dishwasher-safe finish

Quick-drying clear finish available in gloss, matte, glitter, and satin

Suitable for wood, paper, canvas, tin, terra cotta, and plastic
View on Amazon
PROS
Dries fast
Legacy brand
Non-toxic
Simple to use
All-in-one glue, sealer, and finish
Clean-up is easy
CONS
Over time the base formula may yellow
Can only be purchased in small quantities
Best Finish: GORILLA Two-Pack Decoupage
While Mod Podge might be the instigator for decoupage's popularity, the team at Gorilla glue has done all they can to improve and innovate the industry, with their two-pot decoupage range.
While Gorilla glue does not have the same brand legacy as Mod Podge. This is quickly disregarded when you realize the quality of the product, they have made is of equal standard to that of Mod Podge's glue. They have designed a formula that is not only great for decoupage, but they also seem to have solved the issue of yellowing which is often a problem with the majority of entry-level decoupage glue brands.
What this means is, that when you have finished decoupaging you will be left with a workpiece that looks professional and has a sheen finish. You can achieve a permanent bond with Gorilla Glue that is both impact and water-resistant which is ideal for installation art pieces or mixed media that you may want to attempt.
Gorilla Glue has formulated this product to include a sealer, making it an all-in-one product, much like Mod Podge. Regardless of which decoupage mediums you select, Gorilla Glue will ensure stunning results.
Permanent and fast-drying, all-in-one glue, sealer, and finish
Non-yellowing, dishwasher safe, and suitable for indoor/outdoor use
Non-toxic and cleans up easily with water on a variety of surfaces
View on Amazon
PROS
UV-resistant
Dries fast
Water-resistant
All-in-one glue, sealer, and finish
Simple to use
Great value for money
CONS
If you are a beginner crafter the adhesive strength may seem excessive
Despite minimum toxicity, can cause discomfort
Only available in gloss finish
Best Value: DECOART Decoupage Glue
DecoArt is another beloved brand in the crafting world. If you have been to a crafting store before you will instantly recognize their large range of craft and art-related products.
Their decoupage glue is just another example of a high-quality product produced by Decoart. This glue is a great alternative to Mod Podge or Gorilla Glue.
Gorilla Glue as a fast-drying product that has extreme adhesive strength does not leave much room for error. While Gorilla Glue has the advantage of resisting UV damage you might not want to use it if it is your first-time trying decoupage.
On the other hand, this brand of decoupage glue provides you with a non-toxic, great-quality matte finish. The finish is clear when dried and is as durable as Gorilla's glue (and is more durable than Mod Podge). The matte finish will set your piece apart from the competition, though it might not be the best finish for all decoupage mediums. Decoart decoupage glue is an all-in-one glue which is great if you are looking to save money, as you will not have to purchase the sealer separately.
This product is simple to use, not too expensive and can be bought in a 16-ounce container. The larger container is great for those bigger tasks.
All-in-one glue, sealer, and finish for decoupage projects
Clear-drying, durable, non-toxic, and easy to use
Available in gloss and satin/matte finish
View on Amazon
PROS
Simple to use
Well priced
Matte finish
Fast drying
Versatile
Can be purchased in larger volumes
Non-yellowing
All-in-one glue, also contains sealer and finish
CONS
The matte finish is not very popular
Not considered a professional brand
How to Use Decoupage Glue
We have put together a short tutorial advising how to use decoupage glue and what you will require to begin. While decoupage is considered a form of art, it is also a form of expression, so remember to enjoy yourself and select pictures of places, receipts, things, letters, events, people, and anything else you think is special and want to keep. You will require the following to begin:
Decoupage glue
Your pasting object/surface
Scissors
A clean cloth
Sanding paper
Prepare Your Surface
Luckily this decoupage glue will not need nearly as much effort to prepare, as say the like of painting. If you will be sticking your paper to cardboard, ensure that both surfaces are free of any particles such as dust that might negatively impact the glue from bonding the two surfaces. Certain surfaces will require sufficient friction, these materials include wood, vinyl, metal, glass, and plastic. You can create the necessary friction by going over the surface once so that the adhesive will stick completely.
Prepare Your Pictures/Text/Other Additions
This step is up to your interpretation as it is all up to the design you are going for. You can tear your pictures up, cut them into the shape you want, layer them one on top of the other, create patterns with them, write on them, cut them up, paint them, it is all up to you. Make a note of the size of the area you need to fill. If you do not consider the space, you may be disappointed later when your items do not fit onto your surface as you had hoped.
When everything has been cut out and is prepared, we recommend you do a mock-up of how you will place everything. If you are just having fun, it is nice to see how the pieces you have chosen look together and see what works best for your intended design.
Gluing the Paper to Your Workpiece
It is time for the fun to begin! When your images are ready, you can apply the decoupage glue to the object that will be receiving your cut-outs' surface. You will need to ensure that the whole surface area has been covered in glue, and then you can begin applying the cut-out images directly onto the glue. You can begin applying the decoupage glue directly to the surface of the images you have stuck down.
You will have to flatten out any bumps and wrinkles so that all your pictures are flat, this will ensure that the surface is flush with the body of the item you have stuck it to. When everything is flattened out you can remove any excess glue using a cloth that can be a little damp, but ensure it is not wet.
Seal Your Workpiece (Optional)
Most of the decoupage glue products we have discussed in the above article are self-sealing. Thus, this step isn't required if you are using one of them. If not, you will have to use some varnish to seal your workpiece when all of the decoupage glue has dried completely.
Decoupage is a lot of fun to work with, and it is a common mistake to seal your piece too quickly. We suggest you consult the manufacturer's instructions to know the correct drying time before you use a varnish sealer. You can apply the sealer when the piece is completely dry. The sealer will provide you with a seamless, glossy appearance.
Now that you know what the best glue for decoupage is, why decoupage has remained so popular over the years, how to correctly apply decoupage glue, and which type of glue is best to use for decoupage, you can start your decoupage project. Keep in mind that certain glues can be toxic so you will have to work in a well-ventilated space for your health and safety. The most important thing when you are decoupaging is that you enjoy yourself.
Frequently Asked Questions
Do You Need Special Paper for Decoupage?
No, it is not necessary. Any material can be used, as long as it offers similar characteristics to decoupage. You can use materials such as newspaper clippings, fabric, ticket stubs, leaves, recipes, photographs, and even flowers if they have been compressed. There are no limits when it comes to decoupage, only your imagination!
Is Decoupage Waterproof?
Sadly, decoupage glue is not waterproof, although many types of decoupage glue offer some water resistance (such as Gorilla Glue). If a few water droplets land on the surface of your workpiece it will not fall apart, though if the item is completely submerged in water, the decoupage glue's bond will most certainly fail.
Is Decoupage the Same as Mod Podge?
While Mod Podge and decoupage are closely associated, the two are not synonymous. Mod Podge is a brand name of a glue that is used for decoupage, while the word decoupage refers to an art form that consists of bonding various materials to an assortment of surfaces (although normally paper). Mod Podge is considered the leader in the market, offering you the best decoupage glue available.