Best Spray Adhesive – Our Top Recommended Spray Glues
This post may contain affiliate links. We may earn a small commission from purchases made through them, at no additional cost to you.
You may be wondering why there is even such an invention as spray adhesives. Well, there are several reasonable and utterly convincing reasons why one should be on the hunt for the best spray adhesives. But what is spray adhesive? This is our topic for today, and we will be diving into all the explanations for the strongest spray adhesive. We shall discuss some of the uses of this form of glue, from fabric adhesive spray to using it on wood, and even the ever so useful, repositionable spray adhesive. We will discuss a few of the brands that manufacture spray adhesives, from Krylon spray adhesive to the oh so faithful, Gorilla Glue spray adhesive. Between those brands, we will talk about the best spray adhesive for fabric and various other materials.
Spray Adhesives Explained
What is spray adhesive? Well, from its name, you can guess that it comes in a spray can, or aerosol canister, that you would spray the adhesive in as the form of application. The typical white glues that are used for bonding wood items, or the basic craft glue found in daycares and schools, are not the same as spray adhesives which are water-based and will absorb right into the material you are gluing, putting the item at risk of creating a warped surface.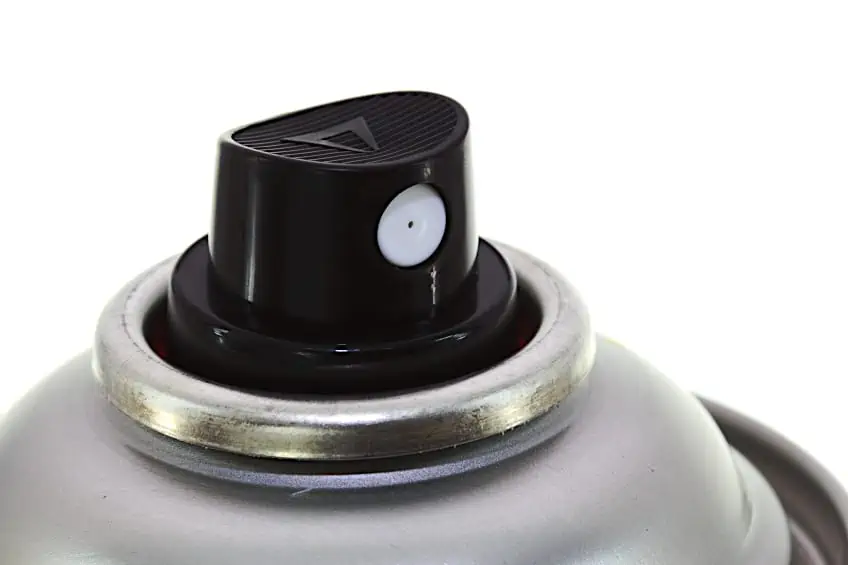 Two distinct types of bond are created by spray adhesives, making them identifiable by use. If you see "fixative" or "permanent sprays" on the label, the glue can easily be cleaned. But, if you see "spray adhesives" on the label it is a glue that forms a durable bond that lasts quite some time.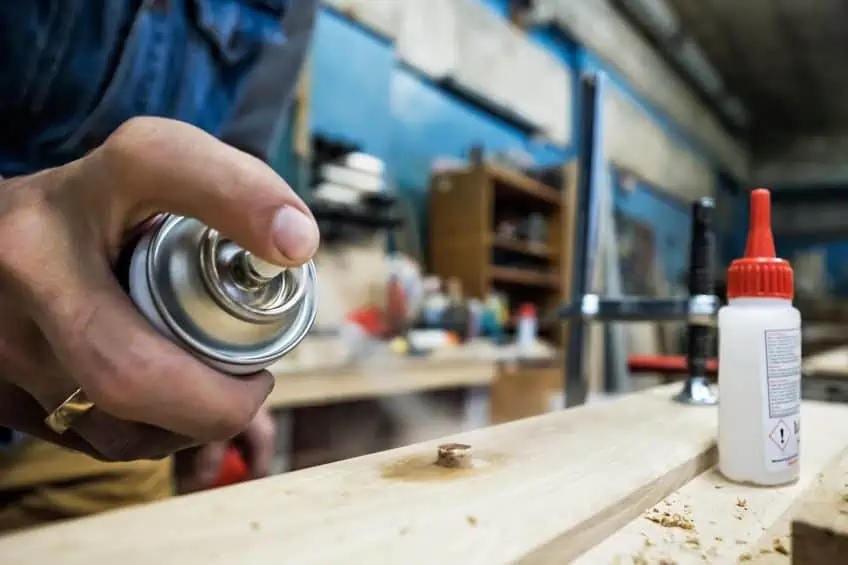 This form of application is helpful because it makes sure you apply with an even and smooth coverage, so the surface of the sprayed glue is even and flat, allowing for better bondage. It will not be sucked into the material, so you will not have to worry about the surface of the glued item distorting from the water in the glue's composition. It is a versatile adhesive, being able to bond all sorts of surface materials, making your projects diverse.
Uses for Spray Glue
Spray adhesive is great for many different approaches but the most popular one is with general crafty projects, fixing your tools and equipment, replacing broken knobs of your wooden furniture, or even outdoor plastic furniture. Always bear in mind where your glued item will spend most of its time, and whether they are sheltered from the various weather conditions that your home undergoes.
Tip: Always read the label. This is something we will go on and on about in each of our tutorials. This is very important because, without the instructions specific to the product you are using, you will not know how to properly apply, and store your item. Each manufacturer has specific recommendations and instructions for their product, and if your item falls apart after you glued it, you can not blame the glue if you did not apply it correctly.
A big plus with spray glue is that it will usually dry smooth and clean, and it will resist being absorbed by the item you are gluing. This prolongs the lifespan of your project because no warping will happen. Repositionable spray adhesive is one of the best spray adhesive options out there because the items you are gluing together can be repositioned before they are set in their final places, and allow the glue to cure.
Spray Adhesive Variations
From wood spray adhesive to fabric adhesive spray, there are so many different variations of spray glues that are suited to a specific task. If you are attempting a typical crafty session, maybe with children, or just by your happy self, you might not necessarily need the strongest spray adhesive, but rather a general spray glue that you would find in schools.
Spray adhesive for fabric is also an option for those who work in the fashion and upholstery industries, and more. These glues are generally stronger than your typical craft glue because they are formulated to produce a stronger bond.
Choosing the Right Spray Adhesive
When selecting the best spray adhesive, the idea is not to just go out and buy any old glue that comes in spray form. There are a few considerations for you to keep in mind, that will ensure your project is a success, and the item you are gluing lasts for a decent amount of time at least. There are many types of glue that all serve a different purpose, designed to glue some things and not with others.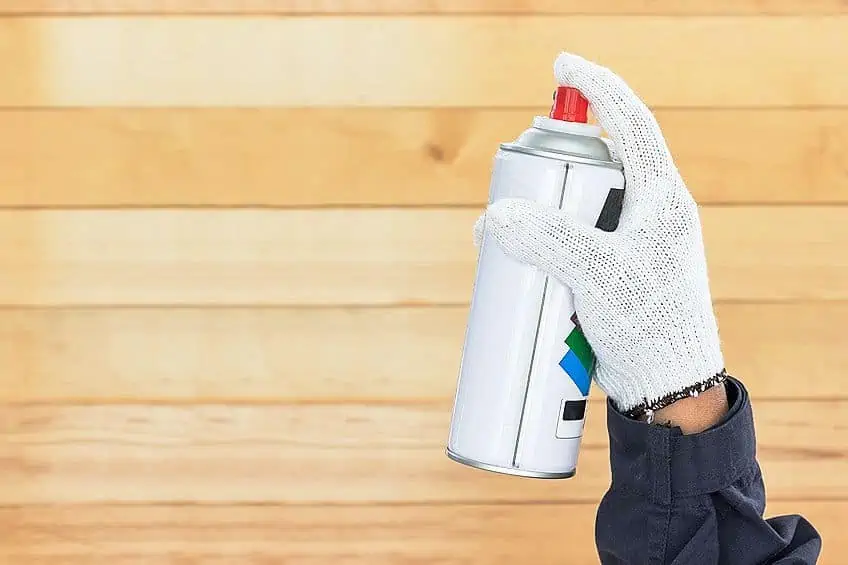 A repositionable spray adhesive will give you time to place, and reposition the pieces you are gluing. This type of glue is often a good choice to use as a fabric adhesive spray.
It is extremely important for you to consider the climate you are working in, what material you will be gluing, and the time you can afford to wait for the adhesive to dry before you purchase anything.
Working Surface Material
First, you should establish whether the glue in question will be suitable for the type of material you are trying to glue. If you are doing an upholstery job, then you will need a suitable fabric spray adhesive, but the strongest spray adhesive in this category. Make sure that the surface of the item you are gluing is cleaned of all grime and dust before you apply any glue. Preparation is key.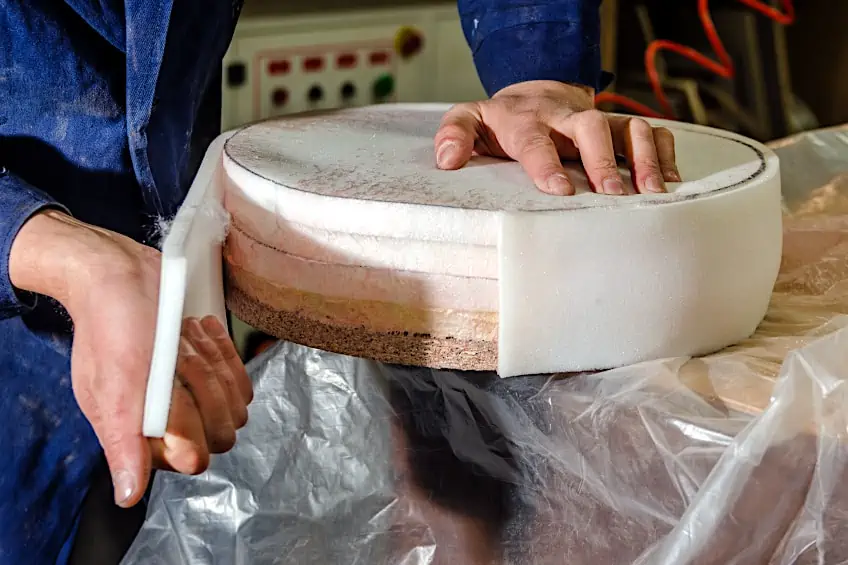 Adhesive Strength
The first thing you should do before going ahead with any project is figuring out the total weight your project will bear once completed. If there is not going to be any excessive weight put onto the object you are gluing, and it will not have to hold onto anything heavy, then you can use glue of average strength. However, if the project is expected to endure contact weight, then a stronger adhesive is needed.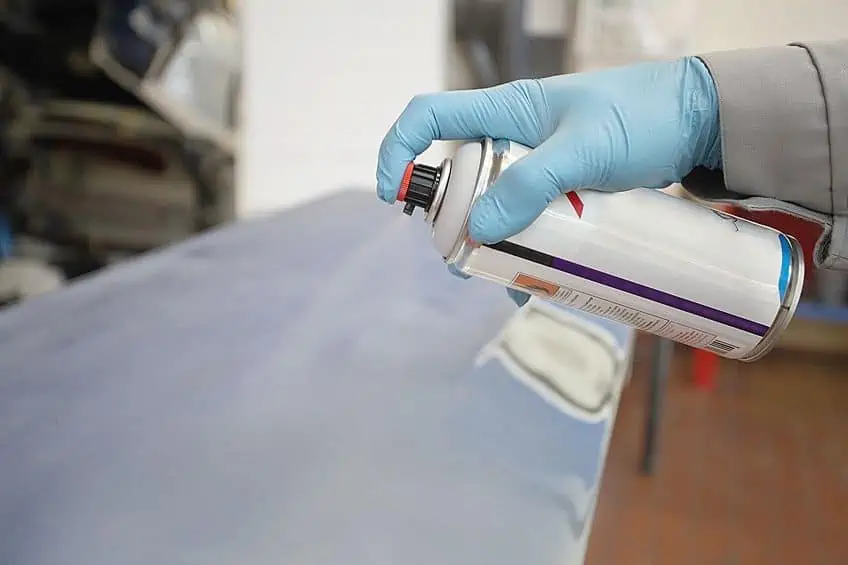 Spray Adhesive Dry-time
We have mentioned this before, but we shall reiterate it. Always ed the label. This is important to understand how long the glue takes to dry and cure. If you ignore this, you might not wait enough time for it to dry and the item will fall apart because the glue hasn't had a chance to cure properly. The strongest spray adhesive usually calls for an overnight drying time.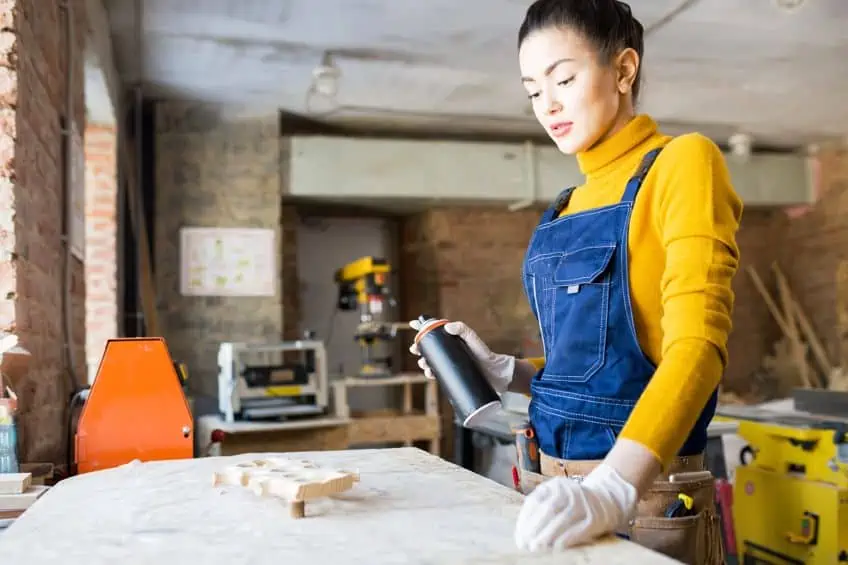 Our Recommended Spray Adhesives
Below are some of the best spray adhesives for various types of materials and their uses. You can select the one that is best for you. Always put your safety first, and the safety of those working with you. If you are not wearing your protective gear, you will stand a risk of breathing in too many fumes which is not healthy.
Top Spray Adhesive for Strength: GORILLA Heavy Duty Spray Glue
It is easy-to-use spray glue that can be used for various purposes, and it allows you to move the object you are gluing around, like if you cannot decide where it should be placed, for up to 10 minutes after application. As soon as the glue dries and becomes transparent, the bond is permanently formed and promises high-strength bondage. This glue is resistant to moisture, making it suitable for exterior projects.
It has a VOC (Volatile Organic Compound) level of 30%, making it moderately safe to use, but we still advise protective gear. It is a versatile glue, allowing strong bonding with a lot of different surface materials, so your projects will not be limited.
Heavy duty, multi-purpose, clear, and permanent bond
Repositionable for up to 10 minutes and is photo safe
Wide pad nozzle and controlled fine mist for even glue application
View on Amazon
PROS
You have up to ten minutes to move the pieces you are gluing around
The application is simple
Suitable to bond a variety of surface materials from fabric to wood
Suitable fabric adhesive spray.
The application is very controlled because of the specially designed spray pattern
Suitable to be used inside and outside
Promises very strong bond and high strength adhesion
CONS
Make sure the workspace is either outside, or has ample airflow
Protective gear is needed
May cause skin irritations, especially for sensitive skin
Highly flammable
Top Foam Spray Adhesive: 3M Foam Fast Spray Adhesive
This is the super and secret weapon of all fabric workers or upholstery professionals. This glue is designed specifically for gluing foam, or fabrics together, so if you are looking for a brilliant spray adhesive for fabric, then this is the right choice for you. Not only is this product an extremely quick-drying glue, but it also promises one of the strongest bonds known to the industry.
The drying time is a blink of an eye. In terms of glues and their time to dry, fifteen to thirty seconds is super quick! Regardless of the speedy drying time, you still will have enough time to move an object if you find that it is out of place. Another benefit of this glue is the lack of yellowing that happens after some time has passed. Also, it is suitable to bond a variety of surface materials like plastic, metals, woods, and more.
Specialist industrial strength foam and fabric adhesive

Fast tack for quick assembly of high-stress bonds in 30 minutes

Adjustable-width lace spray pattern for bonding flexible fabrics
View on Amazon
PROS
It will not yellow over time
The spray pattern looks like a lace pattern
Dried within fifteen to thirty seconds
The cylinders are not flammable
The amount of VCs the glue omits is low
Promises a permanent bond
CONS
Releases a horrible odor
More costly than other brands
Top Tacking Spray Adhesive: KRYLON Easy Tack Repositionable Adhesive Spray
Now for the Krylon spray adhesive product. This brand is reputable amongst professionals and hobbyists in a lot of industries. What makes this glue amazing is that if you are not satisfied with the positioning of the pieces, you have a decent amount of time to move them around before the glue dries and sets. This is why it is called repositionable spray adhesive. After about three hours, the glue will be dried fully, but you have up to 15 minutes to reposition your items.
Even though Krylon spray adhesive is considered to be a temporary glue, the bond is still remarkably strong. It is also suitable to work with a lot of different surface materials, like foam, fabric, metal, certain plastics, and more. Lastly, this product is free of acids and certain other chemicals, making it able to offer archival benefits, which means it will last a long time.
Non-wrinkling, low odor adhesive for most lightweight materials

Suitable for wood, metal, plastic, glass, plaster, fabric, glitter, photos

Completely repositionable throughout the life of the bond
View on Amazon
PROS
Effective on a variety of surface materials
Offers archival benefits
Free of acids
Drying time takes three hours, so you can reposition the pieces as you wish
Strong bond
CONS
Highly flame prone
Pressure risks with the cylinder
Comparing the Various Spray Adhesives
Now that you are fully equipped with some extensive explanations on the various spray adhesive brands that we like to recommend, you might feel like you are floundering in all the knowledge and are struggling to make your mind up on which glue to purchase. For this purpose, we have made a table that summarizes the uses of the three spray adhesive brands we mentioned above, so that you can make a more informed decision.
| | | | |
| --- | --- | --- | --- |
| Material/Substrate | Gorilla Heavy Duty Spray Adhesive | 3M Foam Fast Spray Adhesive | Krylon Easy Tack Repositionable Adhesive Spray |
| Metal | ✔ | ✔ | ✘ |
| Fabric | ✔ | ✔ | ✔ |
| Wood | ✔ | ✔ | ✘ |
| Plastic | ✔ | ✔ | ✔ |
| Vinyl | ✘ | ✘ | ✘ |
| Cardboard | ✔ | ✔ | ✔ |
| Paper | ✔ | ✔ | ✔ |
| Polypropylene | ✘ | ✘ | ✘ |
| Polyethylene | ✘ | ✘ | ✘ |
| Photos | ✔ | ✔ | ✔ |
| Trims | ✔ | ✔ | ✔ |
| Glass | ✔ | ✔ | ✔ |
| Foam | ✔ | ✔ | ✔ |
In the table below, we show the different properties of the various spray adhesives mentioned above. This table will make it easy to understand and choose which spray glue is suitable for your project.
| | | | |
| --- | --- | --- | --- |
| Properties | Gorilla Heavy Duty Spray Adhesive | 3M Foam Fast Spray Adhesive | Krylon Easy Tack Repositionable Adhesive Spray |
| Dries Clear | ✔ | ✔ | ✔ |
| Easy to Use | ✔ | ✔ | ✔ |
| Strong Fumes | ✔ | ✘ | ✘ |
| Permanent Bond | ✔ | ✔ | ✔ |
| Moisture-Resistant | ✔ | ✘ | ✘ |
Instructions for Applying Spray Adhesive
Applying the spray adhesive is not such a difficult task, but more time-consuming. To help the process go smoothly, we have listed some of the processes you will have to make sure are executed correctly. We shall take you through each step of the way, ensuring the smoothest and stronger application.
Prepare Your Workspace and Item
Make sure that the working surface you choose for your project has sufficient space for you to maneuver around freely. The working area should also be well ventilated so that you can work in comfort. As spray adhesive can be pretty messy when applied, make sure to protect any surfaces you wish to keep the glue from before you apply it. To ensure a successful bonding, you should thoroughly clean the surface to ensure it is free of any dirt, dust, grime, oils, or anything similar.
Spraying the Adhesive
The working temperature for spray adhesive application is ideally 95 degrees Fahrenheit, which is about 35 degrees Celsius. This plays a huge impact in applying the glue smoothly, so make sure that you adhere to this. Make sure that the nozzle is not blocked by testing the spray pattern out on a scrap piece of the material, and this will allow you to make sure the glue is suitable for the material.
Make sure you are spraying from the manufacturer's recommended distance, and that the nozzle is not too close. Also, ensure that you are holding the canister upright so that the tube inside that sucks the glue into the nozzle can reach the glue at the bottom of the canister.
Always read the label to make sure you are applying the glue correctly. The drying time is very important because you want to ensure an optimal bond. Make sure that you apply the glue in a thin layer, or as the manufacturer suggests. Bring the two items you are gluing together and apply gentle pressure.
Finishing Up
Let the can stand upright once you have finished applying the glue, then spray it quickly with water after it has dried. To avoid the spray nozzle from getting clogged and wasting the glue, you should make sure it is cleaned off the adhesive. You can do this by holding the canister upside-down and spraying what is left in the tube. If there was any spillage or overspray, use some mineral spirits or turpentine to clean it off.
Suggestions for Using Spray Adhesive
We have pretty much covered everything there is to talk about spray adhesives. For now, we have a final few helpful suggestions for you, offering a summarized version of our best tips of the trade!
Test a small hidden section of the material you are gluing to make sure the material will not be damaged by the glue
Every brand will have a different glue, even if they are designed for the same use. Mostly they will have differing bonding strengths, and differing drying times
Mineral spirits or turpentine is a useful substance to remove or clean glue from a blocked nozzle, or your skin, or spilled glue on the floor
Always clean the item you are gluing before you apply the adhesive, and also make sure that the workspace is clean when you are finished
Apply the glue in a thin coat rather than a goopy thick layer that might result in excess glue oozing from the edges as you press the two pieces together
Spray the glue from a distance of 8 or 10 inches from the pieces
Make sure you are working in a room with sufficient airflow, the chemicals in the adhesive can release fumes, in the form of VOCs that can be harmful to your health
Always wear your protective gear like your respiratory mask and protective gloves
So, what is spray adhesive? In conclusion, a spray adhesive is a versatile invention that allows the glue to be applied in a smooth and even matter, and will not be absorbed into the item you are gluing, threatening to cause warping. It is a strong adhesive that will enhance your projects in one job.
Frequently Asked Questions
Is Spray Adhesive Safe for Wood?
Woodworkers typically use wood glue or epoxy for gluing their wood pieces together since spray adhesives aren't as effective on wood. However, spray adhesives can serve as a substitute if you find yourself without wood glue on hand. A major benefit of spray adhesive is that it is quicker to cover large areas than conventional methods of glue application.
Do Spray Glues Last a Long Time?
Good quality spray adhesives can last up to two years. Unfortunately, the shelf life of spray adhesives is dependent on various factors such as climate factors, such as temperature, and humidity.
What Is the Drying Time of Spray Glue?
The drying time and composition of spray adhesives differ from brand to brand. It is advisable to always consult the label, but most spray adhesives dry within seconds and are completely dry within 3 to 15 minutes.
Will Spray Glue Leave a Residue Behind?
When used correctly, spray glue should not leave any residue. However, any residue that is left behind can be removed with mineral spirits.