Best Alcohol-Based Markers – Comprehensive Guide to Alcohol Pens
This post may contain affiliate links. We may earn a small commission from purchases made through them, at no additional cost to you.
Creating art can be a fun and relaxing experience, but there are moments when things do not go quite as planned. Maybe you are using ink, and you find it pooling on the surface and it never seems to dry. This can be a little frustrating and distracting, as you now have to fix the problem. Sometimes, it might even get out of hand with ink getting everywhere on your hands and clothes. Thankfully, you can now purchase some amazing alcohol ink pens that will do the job properly. There are many different brands available and alcohol markers come in a variety of colors. So, there should be something that fits your project. If you are new to alcohol brush markers, then read on to discover the best alcohol markers available.
Types of Alcohol Ink Pens
There are so many choices available today that it can be tough to pick alcohol markers that suit your needs. The best alcohol-based markers should not bleed through the paper, or make a big mess and get on everything. The type of alcohol pens will ultimately depend on what you want to achieve. Do you wish to create letters and words or are you looking to color areas in?
Doing a little research and finding out about the different alcohol brush markers is the best way to find alcohol brush markers that suit you. You might also discover other options that could lead to creating new ideas and art pieces.
Best Alcohol Markers – Our Top Picks
Interested in working with these great pens? Then you will need to find the right set. We have rounded up some of the best alcohol markers below to help you find the best option for your artwork.
Overall Best Alcohol Markers: ARTEZA Everblend Markers
Arteza is a popular brand that offers the best alcohol-based markers. These tried and tested alcohol ink pens are highly pigmented and offer a choice of vibrant colors. The caps on the pens include the color number as well as the color name, making it easier to choose the correct pen color. The alcohol markers are great for layering, shading, adding freestyle designs and they are also excellent blendable markers.
You can use these markers on different surfaces from paper to plastic, wood, and glass. The dual tips have a fine tip option and a broader chisel tip for finer designs or thicker lines. The nibs can be replaced, so the pens should last you a long time, saving you money. The case comes with 72 colors, so you should not have a problem finding the right color when needed.
The storage case is portable, and you can carry your pens around with you wherever you go. The pen is also specially designed to prevent it from rolling around and onto the floor. One of the disadvantages noted is the shortage of different skin tones, which could be a problem for some.
A set of 72 highly pigmented alcohol markers
Double ended pens with a chisel tip and fine tip
Acid-free, permanent, odorless and non-toxic
View on Amazon
Pros

Does not bleed, is odorless, and acid-free
You can replace the nibs
A variety of vibrant colors
Well-known and popular brand
The pen shape provides a relaxed grip
Easy to use and great for learners
Blendable markers
Cons
Colors may fade
No skin tone shades available
Best Beginner Alcohol Markers: COPIC Marker 12-Piece Sketch Set
Copic Markers are considered one of the best alcohol-based markers on the market. These alcohol pens offer excellent quality, are reliable, and provide superior performance when compared to other similar products. The alcohol ink pens are non-toxic, permanent, and offer vibrant colors that go on smoothly. Colors can be blended to produce amazing artwork. Whatever paper you are using, these alcohol markers are sure to perform.
You can use the Copic Alcohol markers for finer line drawings, as the markers dry quickly, and there is no chance for smudging. The markers will also create perfect shapes and provide texture to your work.
The perfect beginner marker set
Refillable markers and replaceable nibs
Permanent and non-toxic alcohol-based ink
View on Amazon
Pros

The ink dries quickly with no smudging
Colors blend easily
Superior tip performance
The perfect set of colors for a beginner set
Non-toxic and permanent ink
Most Versatile Set: ARTIFY Artist Alcohol Based Marker Set
The Artify Artist alcohol markers have a huge variety of colors and are a quality brand, great for all budding and seasoned artists. The tips apply ink smoothly and the colors can easily be blended. The white color marker can be used with a darker color to create amazing unique colors and shades. You have access to finer and broader dual tips, so you can easily create different effects. The chisel tips are tough and should last you a long time. The only problem is using the correct paper, if you do not, you might experience some bleeding onto the paper.
A set of 40 vibrant colors with a unique white color
Easy-grip triangle handles
Dual tip pens for greater versatility and flexibility
View on Amazon
Pros

The perfect starter kit for aspiring artists
The dual design offers versatility, so you can create all kinds of artwork
Contains a white color pen that opens up more color options
You have access to 40 vibrant colors that come in a carry case
Cons
The variety of colors might be limited due to similar shades
Might not be as vibrant as other alcohol marker options
You need to use the correct paper to avoid bleeding
Alcohol Markers: CALIART Dual-Tip Alcohol Ink Pens
The Caliart Ink Pens come in a variety of bright colors, packaged in a handy carry zipper case. The case will help to protect the alcohol markers and make them easier to take with you wherever you go. The different alcohol pens are easy to identify, each cap is marked, and the pens stand neatly upright together. You will not have to go looking for a certain pen or color you want.
There are many different colors, however, you also get a variety of color shades or tones to suit your needs. The dual tips offer both a fine tip and a chiseled broader tip for easy application. The alcohol pens are comfortable and have an easy-grip, which makes them great for doing calligraphy artwork and other more detailed designs. These alcohol markers do require a thicker paper to work on, as they tend to bleed on any other thinner paper. If you do use thin paper, make it a double layer to prevent the ink from bleeding into the next page.
A complete set of 40 vibrant alcohol-based markers
Dual tip markers and a round pen holder
The set includes color-coded caps and a travel case
View on Amazon
Pros

These alcohol pens are great value for money
Wide variety of vibrant colors
Each pen has a color coded cap
Includes a convenient zip case
Double-sided pens for better versatility
Cons
Many of the color choices are very similar
Affordable Alcohol Markers: DARICE STUDIO Alcohol Pens
Darice Studio Markers is a popular brand, used in all kinds of arts and craft projects. There are many different sizes available from a six-piece to it being a 48-piece set. The best paper for alcohol markers, specifically for the Darice Studio alcohol pens, is a coarse or rougher type of paper. The alcohol pens come in a dual tip design, one side offering a chisel-edge tip and the other is a pointed brush tip.
The pointed brush tip provides more fine lines and is great to use for more detailed work. The chiseled-edge tip is best for those broader lines, as well as fine lines. You can use these pens for a variety of projects from writing and calligraphy to pop-art and making cards. They are easy to work with, as the pens do not bleed and will not smudge. You can work with them for hours and the alcohol pens will still flow consistently. The colored caps help make identification simple and you will not have to waste time looking for your specific marker pen.
A set of 48 different colored alcohol-based markers
Dual-tip markers for better versatility
Easily identifiable color-coded caps
View on Amazon
Pros

These are affordable
Great as blendable markers and they produce smooth lines even on rough paper
Versatile dual tip
Color coded caps for better identification
Cons
May smell
Nibs may wear out quickly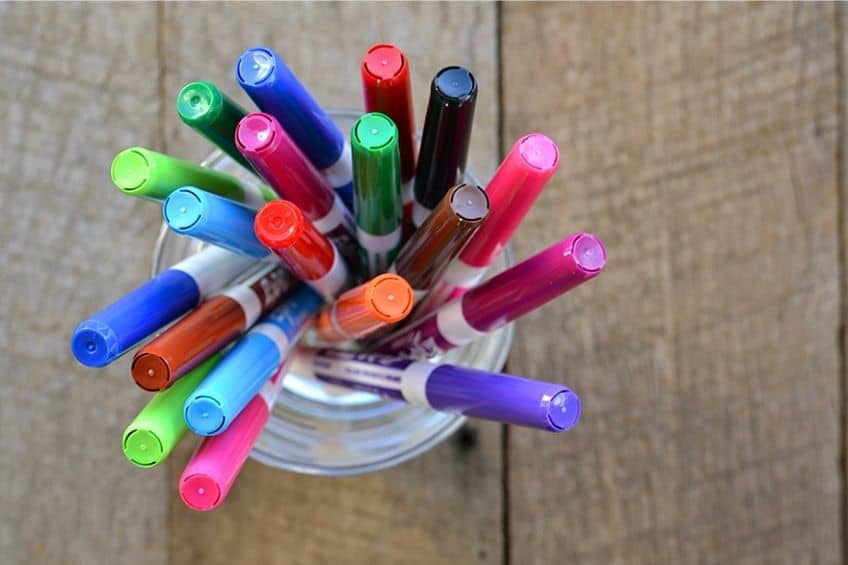 Best Colors: CRAFTER'S COMPANION Spectrum Noir Set
Spectrum Noir has a selection of 6 quality pens, each containing 3 colors in their coloring system. This basic set is perfect for those who wish to purchase a smaller set of colors in defined blends, such as muted blends, vintage, blends, woodland shades, and so on. These are specifically formulated blendable markers, as the set contains a great mixture of colors. The ink will not bleed, and you will not have to deal with any smudging as you work.
A 6 piece set of markers, each pen containing 3 ready-to-blend colors
Fully blendable colors for realistic shading and dimension
Fine bullet nibs for detailing in quality non-toxic alcohol inks
View on Amazon
Pros

Can be used on most types of paper
Will not bleed or smudge
Most of these alcohol pens are refillable
Fine bullet tip blendable markers
The colors are chosen for perfect coordination
Cons
Some inks are slightly different to the cap color
Best Basic Alcohol Markers: YOSOO Finecolor Markers
The Yosoo Basic 24 color set is an affordable option that contains bright colors that are stored in a practical fabric bag. The markers are quick drying and will not smudge when working with them. Acid-free and non-toxic, the dual nib option makes it simple to draw finer or broader lines when required. The artist-quality alcohol pens provide vibrant colors that come out smoothly for even application.
A 24 piece set of artist-quality alcohol markers
Dual tip pens to offer you a wider range of applications
Comes with a convenient handle travel bag
View on Amazon
Pros

No smudging
Ink dries quickly
Superior vibrant colors
Dual tip
Acid-free and non-toxic
Cons
Some sets have higher pigmentation
Best Starter Set: CHAMELEON DELUXE Marker Set
The Chameleon Deluxe Markers are of professional quality and are best suited for those who do graphic designing and for those who do fine art. The 22- pack set comes in a selection of different colors and tones. The dual tip pens, one brush tip, and the other a bullet tip are perfect for design professionals as well as the serious crafter. The ink only has a slight odor and is refillable, the nibs are also replaceable.
The perfect 22 piece alcohol ink starter set
Long-lasting with replaceable nibs and refillable ink
Non-toxic, permanent, and low-odor pens
View on Amazon
Pros

Non-toxic
Low-odor
Works on all kinds of paper
Easy to blend the colors
Long-lasting, as you can get replaceable nibs and the ink is refillable
Cons
Limited amount of colors
Does not come with a carry case
Why Use Alcohol Brush Markers
There are so many ways to color and paint through a variety of products. This can make it confusing to know what to use and what would work for your project. So, why should you use alcohol pens? Here are some of the benefits of using the best alcohol-based markers.
Blendable Markers
Most alcohol brush markers blend easily to create more original tones. Since the pens are easy to use, you can create a wide selection of amazing colors.
Alcohol Pens Dry Quickly
The best alcohol-based markers dry very quickly when applied to a surface. This helps to prevent any bleeding or smudging from happening while you work, and it makes using them easier.
Can be Applied to Many Surfaces
Alcohol ink pens can be used on paper. and some can also be used on plastic, wood, glass, cardboard, and more. After the ink has been applied, it becomes permanent and should last a long time. This mkes these pens a very versatile choice.
Some Alcohol Pens are Refillable
Eventually, the ink colors will run out, especially your favorite colors that you use the most. Instead of having to buy another set or pen, you can save money by simply using a refill. This gives your pens a much longer lifespan.
Replaceable Nibs
When using your alcohol brush markers, depending on how often you use them, they will begin to wear out. In this case, many of the alcohol pens have nibs that easily be replaced. By replacing the nib and refilling the ink, you basically have a new marker ready to use.
How to Use Alcohol Markers
The best alcohol markers are easy to use, similar to your regular marker pens. You will need to make sure you purchase alcohol pens that best suit your needs. Look at the different nibs available, you get fine nibs for more detail and broader nibs for thicker lines. Many of the markers come with a dual tip or nib. So, you then have a chisel-edge or broader tip on one side that is good for thick lines, and a fine brush tip on the other side for more delicate work.
To revive an alcohol pen, you can place the tip in some alcohol for 24 hours. You can try this out so you will not have to buy a whole new set each time. You can usually purchase alcohol pens in a set that includes a blender. A blender is a great tool for smoothly blending colors, and creating unique art pieces.
Taking Care of Your Alcohol Markers
Don't just buy cheap alcohol-based markers, as you really get what you pay for in terms of quality. Therefore, taking care of your alcohol markers is important and will save you money in the future. Once you are finished using your alcohol ink pens, it is a good idea to wipe the tip-off with a damp cloth, removing any ink blotches.
Most important, always replace the caps straight away to avoid the pens from drying out. It is best to store your alcohol ink pens lying flat or horizontally, which keeps the ink inside distributed evenly. This also helps to keep them from drying out. Store in a cool, dry, and dark place, away from any sunlight. Keeping the pens in sunlight can eventually damage the ink colors and you will not have the same color as when you bought them.
Considerations for the Best Alcohol Based Markers
When you want to purchase art supplies, you do not only have to figure out what the best brand is, you also have to know what to specifically look for. Do you want alcohol pens or water-based pens? Fine tips or broad, or both? Below are some recommendations when it comes to deciding what best alcohol markers to choose.
Alcohol Marker and Color
Any alcohol pens you want to buy need to possess vibrant colors that stand out effectively on paper – creating bright and beautiful images. Dull colors will only produce boring and unappealing work. The colors you choose should also blend well so that you can produce more unique artworks. You do not want to limit your creativity because the markers you have do not offer many options. To start, a good choice is a set of 12 colors. This ensures you have a nice range of colors to work with. However, there are much larger sets that provide a more extensive set of colors.
Alcohol Marker Tips
Depending on what you want to achieve, the nib or tip of your alcohol pens will play an important role. Each tip provides different effects from finer to broader lines. Chisel-edge tips are aimed at broader lines. A dual-tip, that contains both on either end of a single pen, makes drawing a whole lot easier. The tips should also be able to handle a lot of work and remain intact over long-term use. Take note if a marker you bought quickly wears down – do not buy it again. More durable alcohol pens will make it possible for you to work for longer periods. You should also be happy with the lines the pen produces and, if not, carry on searching for the best alcohol-based markers.
Drying Times
Alcohol markers are best if you are looking for pens that do not smudge, as they dry quickly. There is nothing worse than working on an art piece for hours, only to smudge an area you cannot fix. So, make sure to choose quick-drying alcohol markers.
Alcohol Marker Components
Alcohol pens contain isopropyl alcohol and, of course, the dye color. The quality of the dye plays a major role in the performance of the marker. High-quality dyes are best, as they produce more brilliant colors that last much longer. They also blend well with each other, creating more creative options. You will have to do a bit of research on products and read reviews to find alcohol pens that have superior dye pigments.
Alcohol Markers and Ink Flow
Smooth ink flow is essential in creating flawless artwork. The alternative is struggling with excess ink or too little ink that produces less than perfect work. An alcohol pen that dries up too quickly can be frustrating, a consistent flow of ink is what you are looking for.
Frequently Asked Questions
Are Alcohol Pens Better Than Other Types of Markers for Artists?
They are an excellent choice when it comes to budding and professional artists. Beginners also find the alcohol markers a great place to start. Alcohol pens should not fade, and they are more permanent when compared to other types of markers. The ink also dries quickly, preventing any smudging.
What are Alcohol Ink Pens?
These types of pens are markers that use ink that has been combined with alcohol. Once applied, the ink then dries quite fast, as the alcohol evaporates. This produces more consistent effects and there is less bleeding.
What Brands Stand Out as the Best Alcohol Based Markers?
One of the more popular brands is Copic Markers, which provides markers that can be refilled. Some other well-known brands include Sharpies, Prismacolor, and Spectrum Noir.
Best Paper for Alcohol Markers?
Paper that has not been coated is usually the best for markers, as it is smooth and will not affect the tips or nibs too much. Position another piece of paper at the bottom to prevent any bleeding onto the next page.
Where Can I Buy Alcohol Brush Markers?
You can buy alcohol markers at most stores, craft stores, and even bookstores. However, shopping online is the easiest as you can choose from the most options to find the perfect set. You can easily read reviews online, making it a bit easier to choose the best alcohol-based markers.
Are Alcohol Based Markers Cheap?
If you are looking for cheap alcohol-based markers, then you are going to get what you pay for – poor quality. Are alcohol-based markers cheap? Some are expensive and others are more affordable, you will have to shop around to find the perfect match. If you are a professional, you want to make sure you purchase only the best markers available.
Are Sharpies Alcohol Based?
Are sharpies alcohol-based, yes, they are. Many brands produce alcohol markers and Sharpie is one of them.
Alcohol markers offer a fantastic medium for creating colorful drawings and sketches. These markers are fun to use, and offer great results for all kinds of artists. Hopefully our guide has helped you to find the best alcohol based markers for your project. We hope you have lots of fun making art!