Best Paint for Wood Crafts – Every Paint Type Suitable for Wood
This post may contain affiliate links. We may earn a small commission from purchases made through them, at no additional cost to you.
Are you fed up with never knowing what paint to use on your wooden crafts? Today, many recommended paints promise the best-desired effects when used on our wood crafts. The only problem is that because of the diverse variety on offer, which ones are the best for your particular piece? Furthermore, what kind of craft paint is the best to use? If these are some of your questions, you have come to the right place.
Wood Craft Paints: The Ultimate Guide
Most of us have made the mistake of thinking that wood is the easiest thing to paint. The truth is that wood is one of the most complex surfaces to work with when it comes to painting. When done right, your wooden piece can look like a dream, but there is no turning back when you mess up.
If this is your first attempt at wood crafting or the painting of one, do not be discouraged if you do not get it right the first time. Think of it as if you are making pancakes. No matter how hard you try or how perfect the mixture is, the first one is always a flop. Then, from the second pancake, it is nothing but smooth sailing – mostly. The point is that you can only get better with practice, so do not get demotivated if at first, you do not succeed.
What Are Wood Crafts?
The ability or skill to work shapes and images from wood is known as wood crafting, where the completed project is called woodcraft. Another word widely associated with woodcraft is woodlore, which refers to the overall proficiency in matters relating to the woods, such as camping or hunting. The beautiful thing about wood-crafting is no limit to what you can create.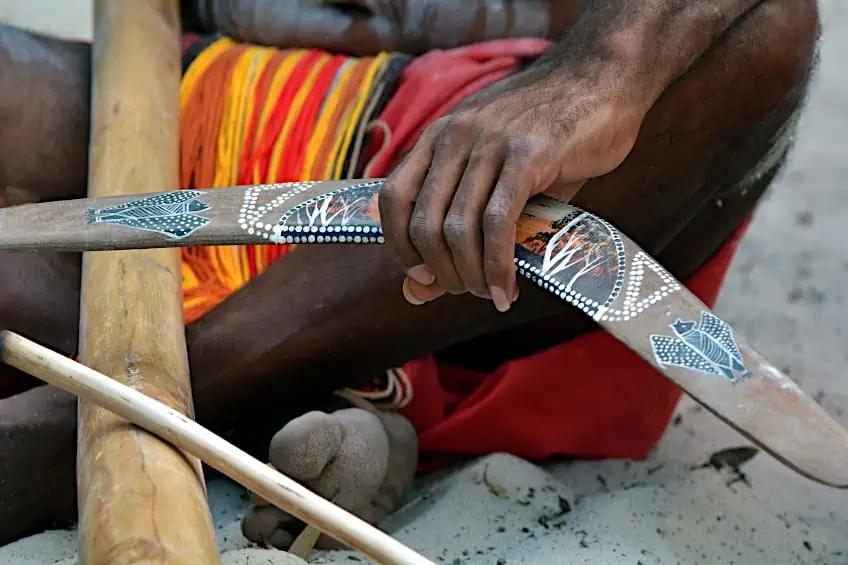 However, not all woodcrafts would benefit from being painted, as the medium creates different effects. For example, these wood crafts require nothing more than a coat of sealant to provide a good finish to your project.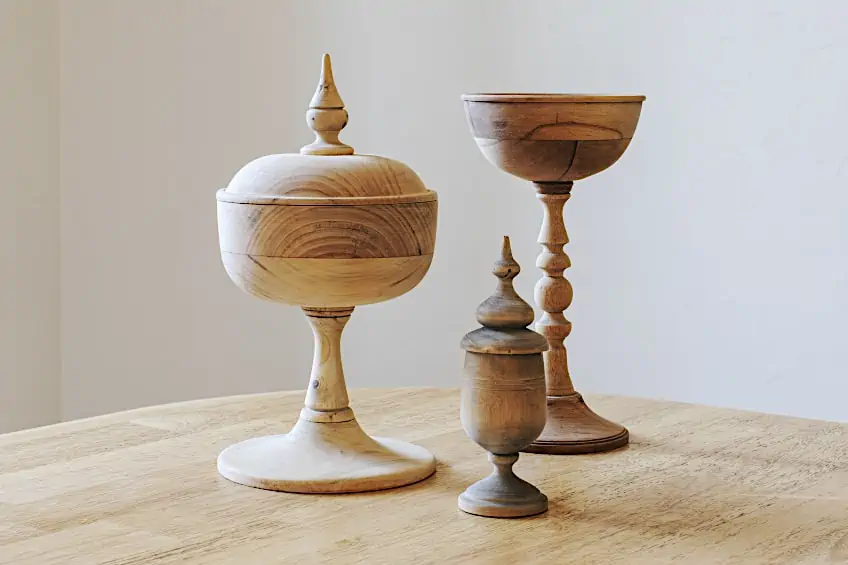 Marquetry
Originally derived from middle French, marquetry, also spelled Marqueterie, which means "inlaid work" this technique uses decorative patterns, designs, and pictures created with veneers and applied to a variety of objects.
Wood Burning/Pyrography
Poker wood, wood-burning, or pyrogravure, the art of wood burning, is a technique used by controlling the application of a heated object to burn marks and patterns on wood, paper, or other materials. Derived from Greek pur and graphos, the term translates to "writing with fire" and can be dated back to the 17th century.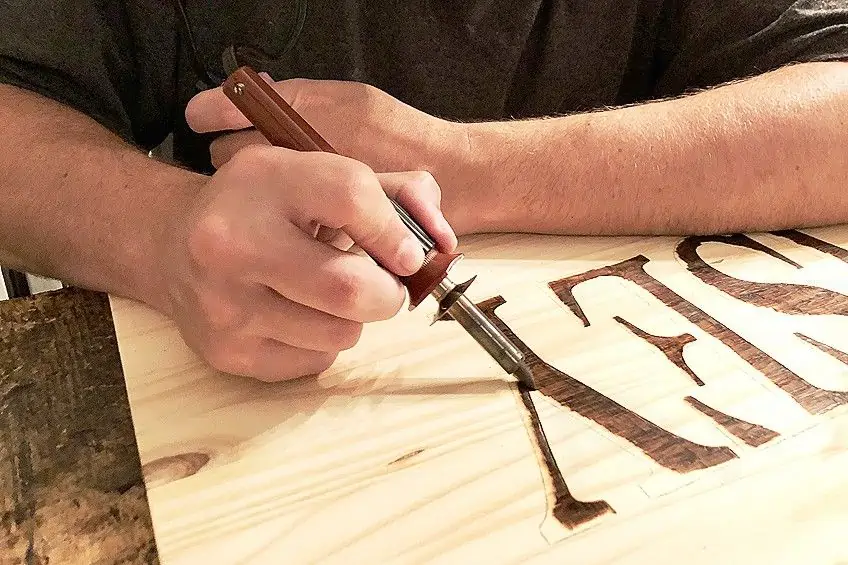 Lacquer Art
Initially practiced in East Asia for decoration on lacquerware by Vietnamese artists, this form of painting was developed as a distinct genre of fine art. Although the original form of lacquer art was different from that of wood painting, the art was revived and combined with French techniques later on. Those techniques later transformed into what we know today as Lacquer art.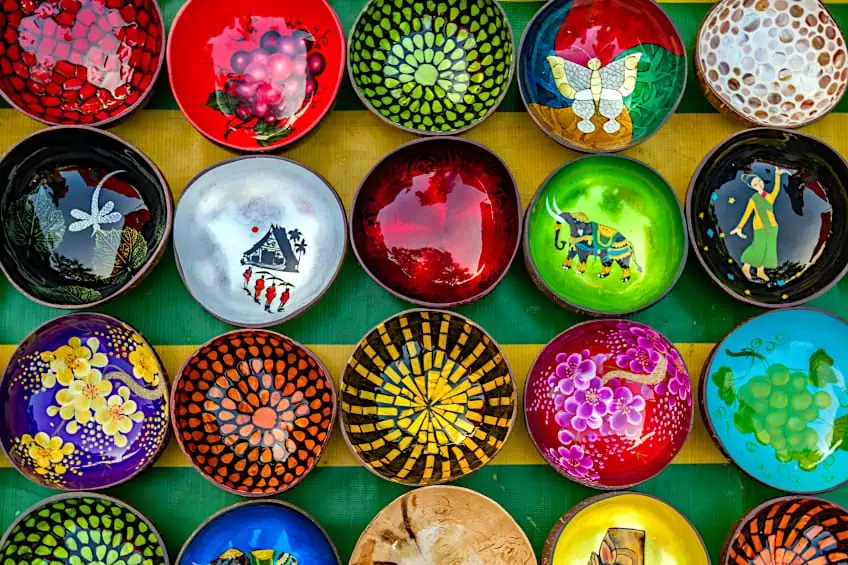 When it comes to adding creativity and color to create your finished piece, the best examples of wood crafts that we can paint for maximum effect are those such as:
Intarsia
Cabinet making
Carpentry
Woodworking
Wood carving
Whether your woodcraft is hand-made or bought, the creative potential it offers is unimaginable. Moreover, that is where your choice of paint comes in.
Paint for Wood
While there are endless options of paint to choose from, we have provided those that are most commonly used with wood crafts, as well as those with the best results.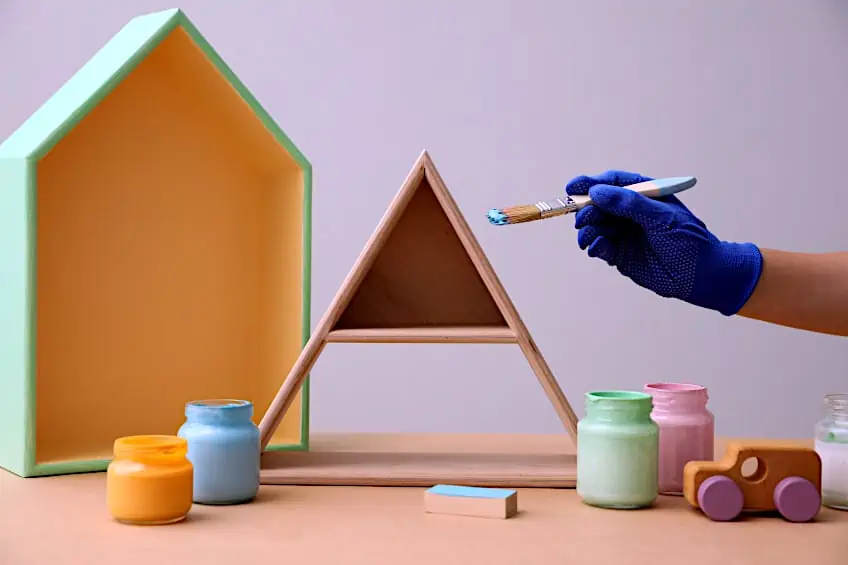 Water-Based Paints
There is no competition when comparing the ease of using water-based paints. Not only are they easy to clean, but they have a remarkable ability to stick to just about any surface they are applied to. For those of us who do not like to watch paint dry, water-based paints are superfast in drying time, allowing you to use the surface within hours after application.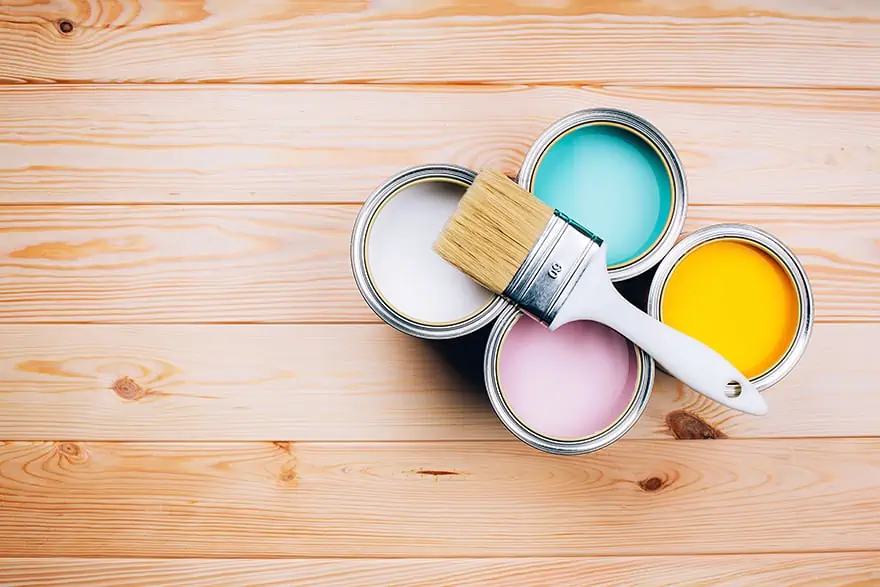 As with everything good in life, there is one pitfall when it comes to these paints, and that is their durability. When it comes to withstanding weather or harsh environments, you may be better off using an alternative.
Oil-Based Paints
Although oil-based paints do not really mix well with other paints, it is definitely one that offers a smooth surface with a matte or gloss finish after it has dried. Something that not many paints offer. It may not be as easy to apply as water-based paints, but it is among the easiest of the remaining options in the application and its ability to straighten out inconsistencies on the wood's surface.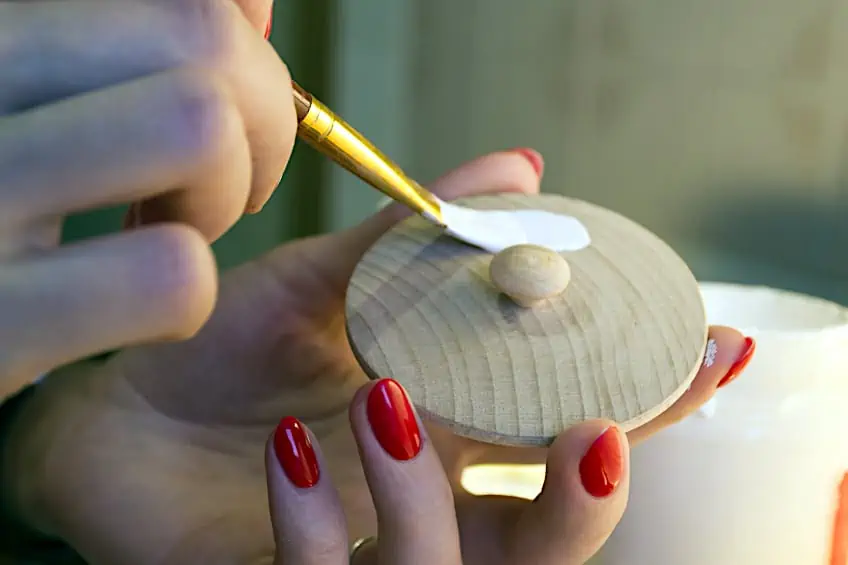 The major downfall is the fight that oil-based paints put up when cleaning, usually needing thinners or turpentine to get clean. After you win that battle, it is then a matter of waiting for it to dry, which can take anywhere up to 24 hours.
Latex Paint
Considering the difficulty of spreading latex paint, it is hard to imagine why it is on the list of paint for wood. Well, we recommend it because of its remarkable ability to stick to all surfaces, whether they have been treated and prepped or not. Another point in its favor is the variety of finishing options that it provides in terms of texture.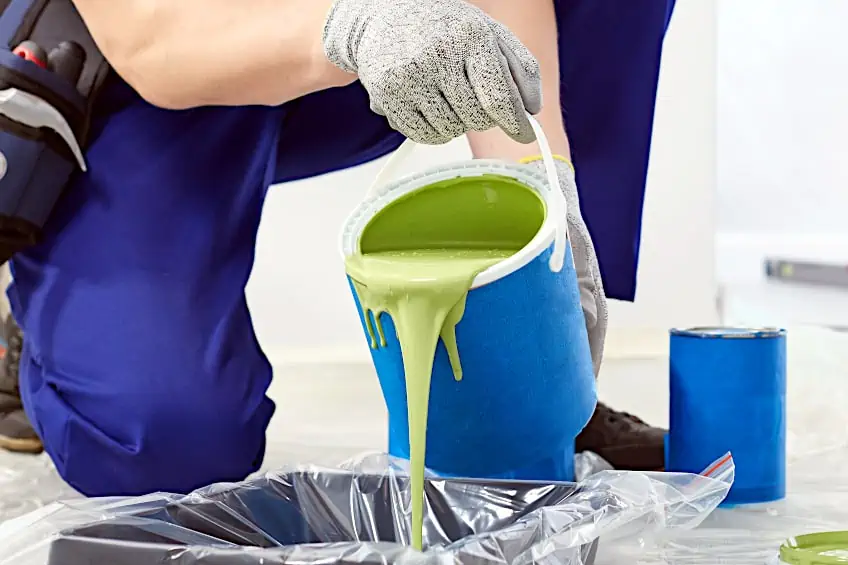 Yet, at the same time, it may also be a downfall when trying for a smooth and even finish as it is prone to leave brush marks. When it comes to being used on external surfaces, latex paint is not the choice to make if you are looking for durability, as it does not really do well against outside elements. However, their wide variety in color makes it the perfect paint to use when looking to brighten up the home or get creative with your projects.
Craft Paint vs. Acrylic Paint
Contrary to popular belief, acrylic paints and craft paints are not the same things as alike as they may seem, and as with any craft, the choice in color largely depends on what effect you are looking to achieve. To help you decide which one will best work for your project, we have listed the pros and cons of the two below when used on wood.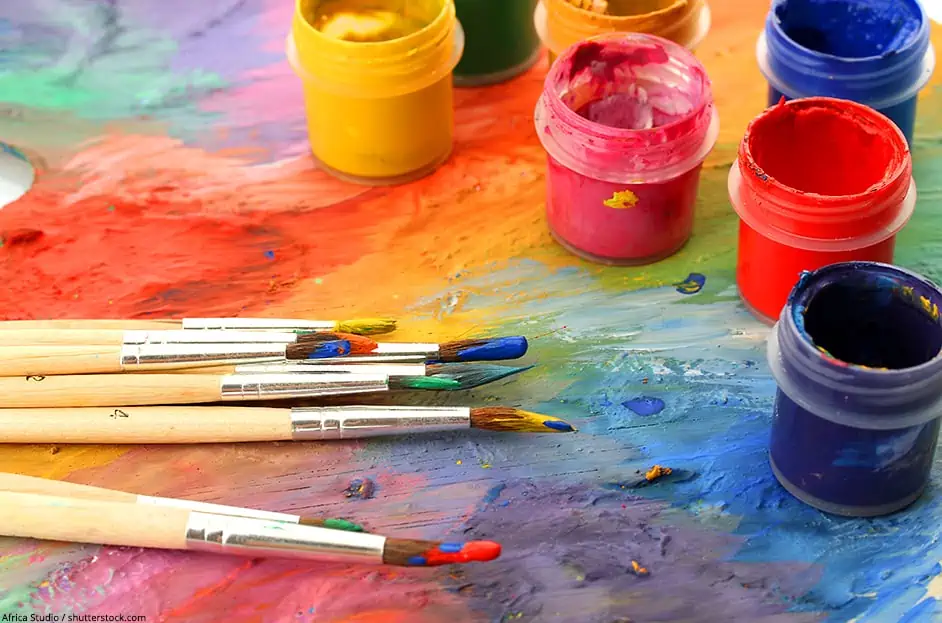 Craft Paint
There is more diversity on offer for craft paint than you may think, as they cater to all surfaces and needs. For example, you would choose oil-based or water-based craft paints depending on whether you are aiming for a semi-permanent washed effect or a more solid and texturized finish. There is even the option of acrylic or enamel craft paint, depending on the type of surface you will be working on and its intended use.
PROS
Density allows for smoother application
Easier to use than regular acrylic paint
Great for under-paintings or background washes
Cheaper than other paints
Most craft paints are non-toxic and safer for children
CONS
Lower pigment to water ratio
Less vibrant and more transparent
At least two coats needed for full coverage
More paint needed to achieve vibrancy
Acrylic Paint
We need to understand what paint to use, which means it is essential to know the basics. For example, acrylic paint is water-soluble and dries quickly because its pigment is suspended in acrylic emulation. As someone who just wants to paint their woodcraft and to know that it won't peel off after two days, that sentence makes absolutely no sense. So let us break it down. Acrylic paint comprises three components: the pigments, the binder, and the vehicle. So when looking at a product name, the components are listed as something like this: "ACRYLIC WATER-BASED PAINT, MATTE FINISH, YELLOW"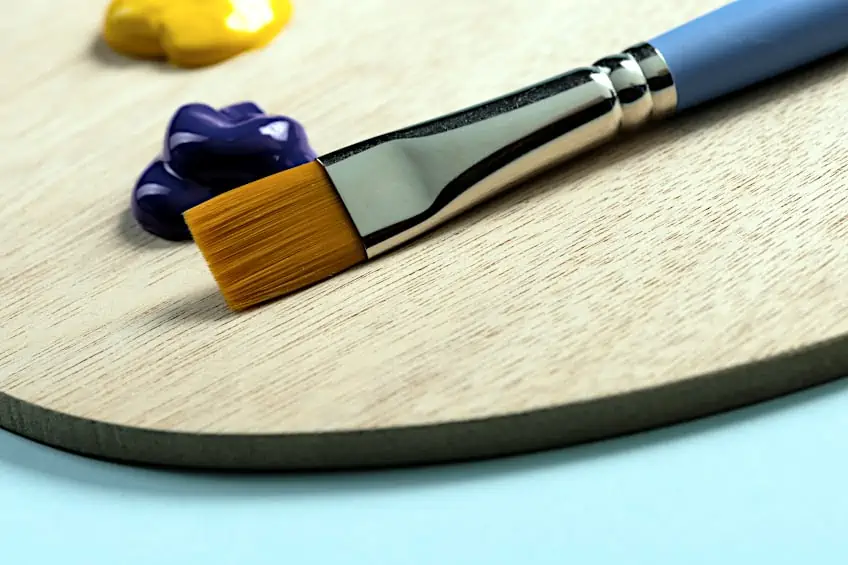 So, by looking at the selected paint you want to purchase, you now know that the pigments are your color, and the binder is your finished look (gloss, low-sheen, matte). Remember that your vehicle is the base used to carry the pigment and binder, but it also acts as the barrier to prevent the two mixing and setting while in the product casing (water-based or oil-based).
PROS
Thicker paint which provides more coverage
Dries quicker than craft paint
Only one coat needed
Colors are more vibrant
Great for texturizing
CONS
More paint is used for the first coat
Not as easy to apply smoothly
More expensive than craft paint
It cannot be reactivated once dried
The Best Craft Paint for Wood
The variety of paint options available can make choosing the best craft paint for wood incredibly difficult. To help you decide, we have done the research and selected the best of the best that will help you identify the exact paint you want to use on your woodcraft project.
Our Acrylic Paint Recommendation: CALIART Acrylic Paint Set
Not only is this a fantastic and affordable offer, but it's also excellent value for money with 24 vibrant colors and 12 brushes, all included in the price. What makes this product even better is that all paints are certified non-toxic, which means fun and creativity for the whole family. A fantastic paint for beginners and experienced crafters alike, Caliart acrylic paint is versatile and can be used on almost any surface while maintaining its durability and vibrancy. As a water-based soft body acrylic, the Caliart range can blend easily, dry with a matte finish, and only requires soap and water to clean up.
Premium paints glide on smoothly, dry quickly, and stay beautiful

High-quality, vivid paints offer a creamy consistency and will not fade
Water-based and non-toxic, so it dries quickly and is easy to clean
View on Amazon
PROS
The paint is thicker, which provides more coverage
Only one coat needed to achieve vibrancy
Colors are more vibrant due to higher pigment concentrate
Work great for texturizing
Quick to dry and are highly durable
Non-flammable and low in odor
Able to mix with many mediums, making it flexible
Water-resistant when dried
Durable on interior and exterior surfaces
CONS
More paint is used for the first coat
It does not cover plastic surfaces very well without primer
More expensive than craft paint
Not as easy to achieve smooth application
It tends to peel when used on glossy surfaces without primer
Our Spray Paint Recommendation: RUST-OLEUM Painter's Touch
Although spray paints are primarily seen in graffiti and street art displays, their use with craft projects is widespread because of the available finishes and the time cuts if offered. As with all mediums, spray paint has its disadvantages, but they do not come close to the positive side of things they have to offer. Thanks to its chip resistance and durable formula, Rust-Oleum painters' touch is perfect for interior and exterior surfaces. As an oil-based, odorless paint available in various colors, Rust-Oleum Painter's Touch gives you 12 square feet of coverage per can, allowing your craft a rich, smooth, and classic matte finish.
Tough, attractive, flat finish

hides surface imperfections

Covers surfaces with fewer spray passes for fast project completion
For interior/exterior wood, plastic, plaster, metal, masonry, and ceramic
View on Amazon
PROS
It can be used indoors or outdoors
Extensive surface coverage in shorter periods
Wider finger pad area on spray tip for comfort
Quick-drying
A variety of colors are available
Chip resistant and durable
CONS
Limited color options than other paints
More expensive
May begin to peel if applied incorrectly
Improper care may lead to clogged nozzles
Our Chalk Paint Recommendation: RUST-OLEUM Chalked Ultra Matte Paint
Best for those worn out, super matte finishes, chalk paint is easy to clean and fun for the whole family due to its non-toxic elements. Rust-Oleum Chalked range offers a variety of low-odor, latex-based colors that dry in just 30 minutes. This paint provides up to 150 square feet of coverage and is easily distressed when used on furniture, home decor, and many other surfaces, making it great value for money. Also available in a chalked decorative glaze, Rust-Oleum chalked requires little preparation to give you that vintage, ultra-matte velvety smooth finish.
Low-odor, latex formula d

ries to an ultra-matte velvety, smooth finish

Excellent adhesion, one coat coverage (150 sq. ft.), touch-dry in 30 minutes
For interior wood, metal, ceramic, canvas, and creating vintage paint effects
View on Amazon
PROS
Offers up to 150 square feet of coverage per tin
Little to no prep work is required
Latex-base makes for easy cleanup
Non-toxic and safe for the whole family
Thicker consistency which requires fewer coats
Fast drying time
CONS
It can be pretty expensive
It can only be used on indoor projects
Quick-drying time leaves no space for error
Can leave brush marks
Cannot customize colors
Colors are only offered in soft, warm colors
Our Milk Paint Recommendation: RUST-OLEUM Milk Paint Finish
The fact that milk paints are so versatile makes them a great choice. However, there is no better choice when you come across those made specifically for wood crafts like Rust-Oleum's Milk Paint range, which offers 125 square feet of coverage per quart. This water-based paint is not only low in odor and volatile organic compounds (VOCs) but also cleans easily and dries to the touch in 30 minutes. Another fantastic value for money product, Rust-Oleum milk paint finish products require minimal preparation and no topcoats to achieve a semi-transparent, modernized appearance or even an authentic antique touch to your woodcraft projects.
Available in six vivid colors, Rust-Oleum's milk paint can be used for various effects on raw or painted wood surfaces by enhancing their timeless designs and beauty rather than replacing them.
Highly adhesive and versatile paint requires no top coat and minimal prep

Water-based, low VOC, low odor formula cleans easily with soap and water

Create surface effects on raw or finished wood, metal, aluminum, or glass
View on Amazon
PROS
Few VOCs and low odor
Large surface area coverage
Water base makes it easy to clean up
Minimal preparation
It can be distressed and sanded for various effects
Perfect for porous surfaces
CONS
Unpredictable finishes depending on surfaces
Thin coats tend to scratch easily
Limited color variety
Needs protective finishes
Final colors and vibrancy end results may differ
Our Enamel Paint Recommendation: FOLKART Gloss Finish Acrylic Enamel Craft Set
With their extensive color palette, FolkArt Enamel Paints have a rich, creamy consistency that is ideal for blending and shading. This set offers terrific value for money with a whopping 16 bottles of non-toxic, brilliant opaque color. There are also a variety of finishes on offer, including neon, glitter, satin, and gloss.
Opaque coverage for durable, scratch-resistant, gloss finish
Non-toxic and easy clean up while wet with soap and water
Highly adhesive for use on glass, glazed ceramics, wood, and so on
View on Amazon
PROS
Easy to apply
Smooth finishing
Very durable
Large color range available
It can be air cured
CONS
It needs to be oven-baked in order to cure
It cannot be used in glass fusing
Not scratch resistant
Air cure takes up to 21 days
No industry standard for finishes
Our Latex Paint Recommendation: CHALKOLA Acrylic Paint Set
Latex paints are adored far and wide for their fantastic, smooth finishes that allow for different looks and effects when used on wood. The ability to achieve smooth blending as well as be used on any art surface are just a few reasons why Chalkola is on the list. Some others are the value for money with a set like this as well as budget-friendly seeing as you receive 32 different tubes of vivid colors that are rich in pigment.
An added benefit is that it is non-toxic, water-based, and extremely versatile. To top it all off, the Chalkola Acrylic Paint Set is suitable for beginners, professional artists, and crafters, which makes for a highly diverse product at a fantastic price.
Complete set includes paint tubes, brushes, palette and canvases
Richly pigmented and non-toxic for professionals, beginners, and students
Suitable for ceramics, stone, glass, plastic, wood, canvas, and so on
View on Amazon
PROS
Great finishing options
Unlimited color availability
Extremely durable once cured
Affordable for all pockets
It can be used on any surface
CONS
Small tubes of 11 ml which don't last long
Suitable only for fine art application
Colors can appear translucent on a single coat
Quick-drying time allows no room for error
Our Metallic Paint Recommendation: U.S. ART SUPPLY Professional Metallic Acrylic Paint
This metallic paint can be used to create gold, silver, and other metallic accents at a low cost since they mimic metals' shiny, pearlescent finish. Apart from eye-catching vibrant colors, this set provides great value for money as it comes with 36 different water-based metallic acrylic paint colors that allow magnificent creations at a reasonable price. The U.S. Art Supply metallic paints are water-based acrylic paints that are both highly pigmented and have a fine consistency for excellent covering strength; they are also non-toxic and acid-free.
This paint is versatile and can be used on canvas, wood, fabric, paper, and even wall art. The set includes a double-sided color mixing wheel, which is great for beginners or even as refreshers for professionals when customizing their colors. Perfect for home decoration, faux finishing, accenting picture frames, ornaments, and much more with that classy or rustic metallic finish.
High-intensity shimmering metallic and pearl colors with premium pigments
Non-toxic, water-based, acid-free, and smooth with excellent coverage
Versatile and suitable for canvas, wood, fabric, paper, and most art media
View on Amazon
PROS
Large color variety to choose from
Non-toxic and acid-free
It can be used on all surfaces
Various paint effects can be achieved
CONS
Lighter colors tend to have a less metallic effect
Requires at least two coats for metallic effects to show
It can appear translucent on certain surfaces
Best Craft Wood to Paint
Wood, in general, is always a great choice for any craft, thanks to its diverse options, but there are still some types of wood products that are preferred when it comes to painting.
Hardwood Panels
Most preferences point towards hardwood panels as the best option for being used with crafts. Used mostly for oil and tempera paints in history, hardwood panels were favored due to their resistance to warping and general durability. Since they fall into the costly category, hardwood boards made from birch, oak, walnut, and mahogany are more likely to be used on a commission or large-scale project.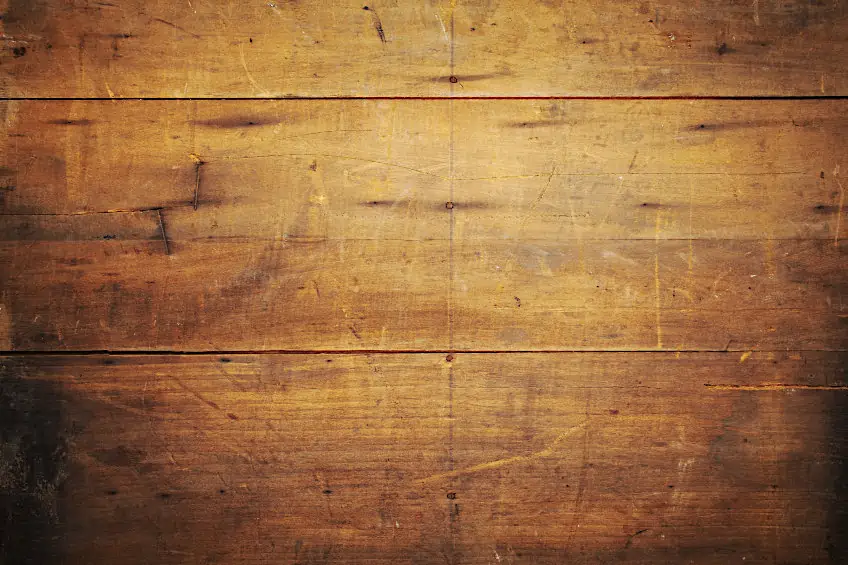 Plywood
Plywood is also another favorite amongst crafters as it is low cost and works great with acrylics. Although it will warp in the long run, you can still make plywood last for quite some time when it has been appropriately treated.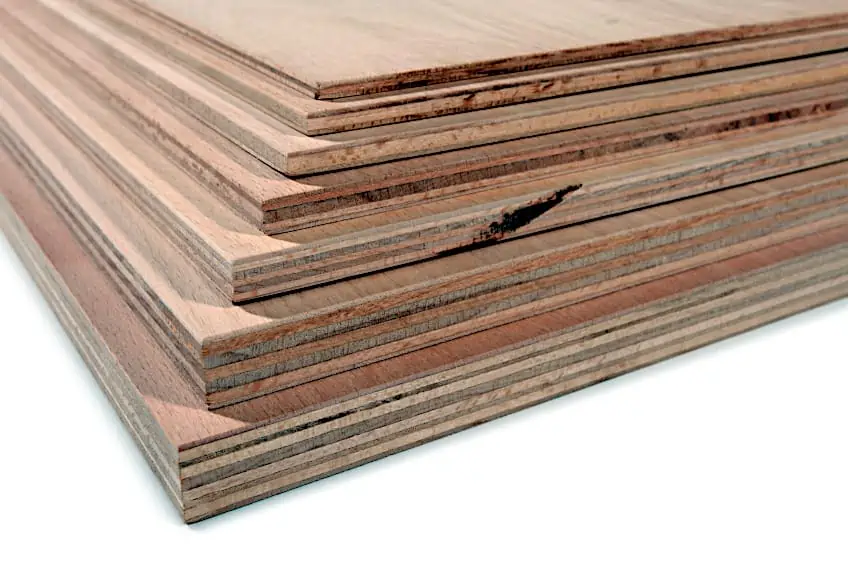 Masonite
Coming back to the hardwood, the most popular wood used in arts and crafts are hardwood panels, more commonly known as Masonite. Offered in tempered or un-tempered form, Masonite is made from a variety of wood fibers that have been broken down and reformed into a board using pressure, heat, and lignin adhesive (the natural glue found in plants). To put it bluntly, if canvas boards are too expensive for your budget, but you want something that is sure to last, then Masonite is your best bet.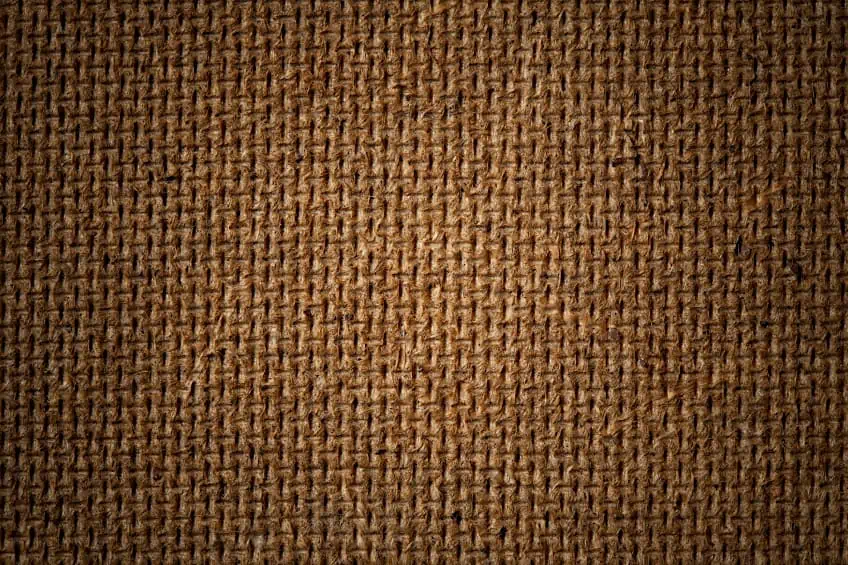 Medium-Density Fiberboard
The last and most recent addition is a little something called medium-density fiberboard, or MDF. Put simply, this is the modern-day Masonite, where the only difference is in how they are made. Both processes use similar heat and pressure methods to create the boards, but MDF consists of disintegrated wood fibers, resin binder, and wax.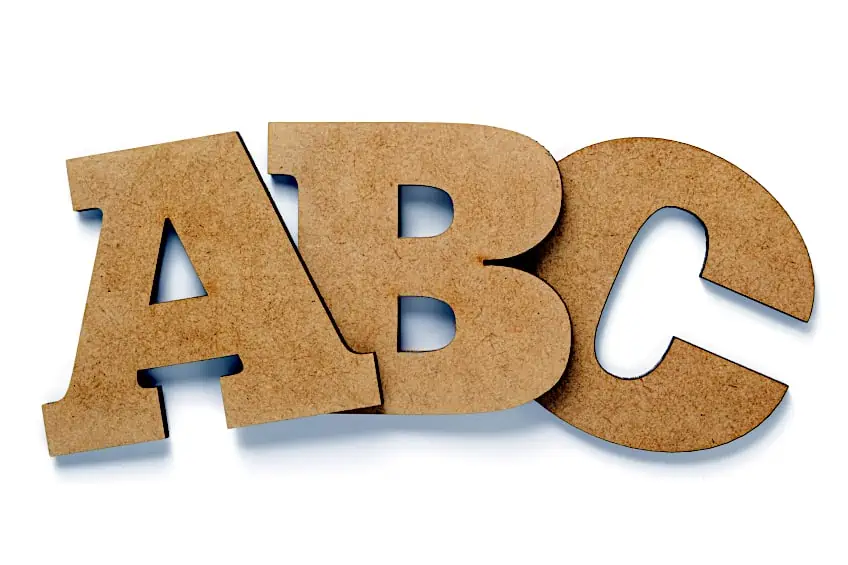 Wood Stains
Wood staining is the perfect finish to that natural-looking finish, as it brings out the natural colors of the wood. Although the stains are typically the same shade as the piece of wood, nothing stops you from giving your projects a bit more flair and originality, even with the help of a wood staining product such as General Finishes Gel Stain.
PROS
Oil-base allows for smooth, even finishes
Maintains the wood's natural color, grain, and texture
Excellent for difficult woods like pine or aspen
Available in 15 shades
Displays natural beauty of the wood
Prevents uneven penetration, which allows better color control
CONS
Heavy-bodied, which does not penetrate as deep
Less porous woods do not hold stains very well
Stained results are unpredictable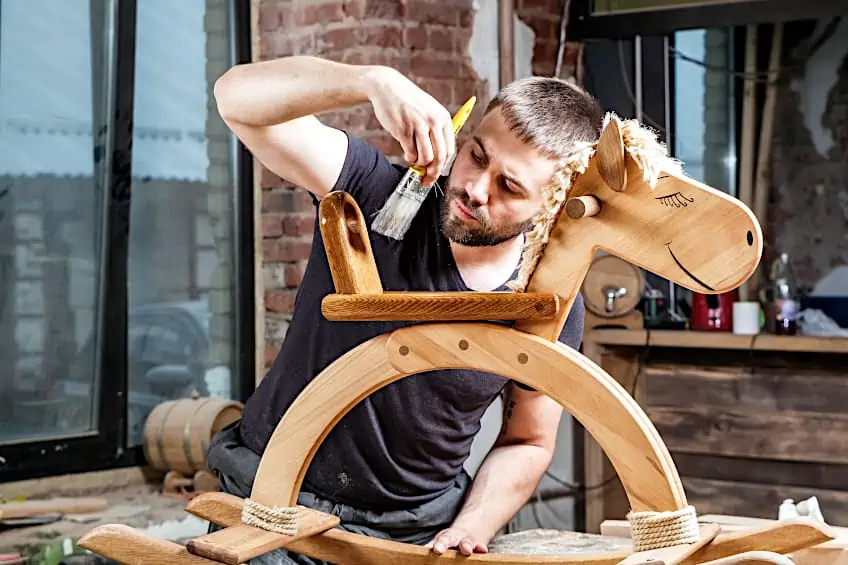 Preparing Your Wood Craft
Before you even start looking at paint, you need to ensure that your wooden piece has been prepared and primed correctly. Why? Because wood is purely organic, and as with all organic things, it also rots or decays without the proper treatment. By using a primer, you create a shield or barrier that protects the wood from coming into contact with moisture and prolongs its natural lifespan.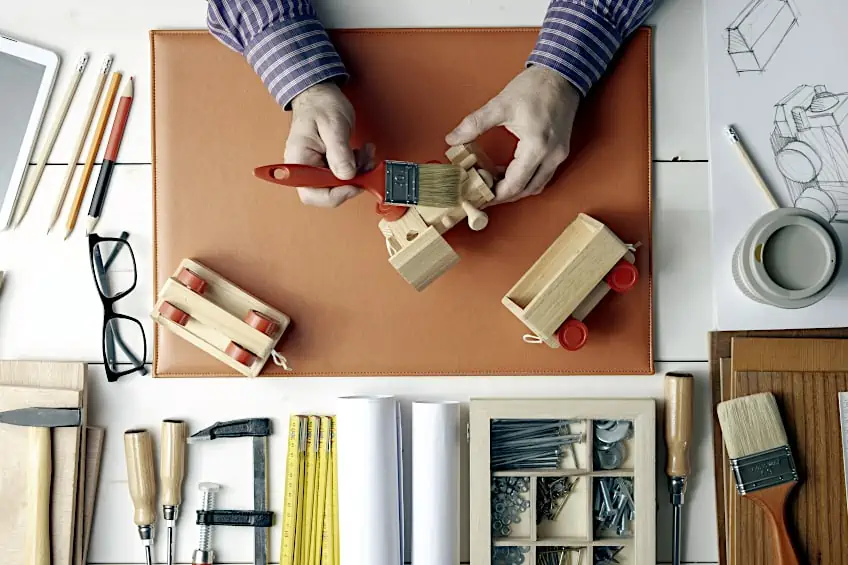 Another important aspect of using a primer is that it acts as an additional adhesive that not only joins any loose particles together, but also allows your choice of paint to better stick and cover the surface. Although you can paint directly onto wood, it is strongly recommended that these steps be taken first:
Step 1
If your wood is fresh (not like baking fresh, but as in never before treated or painted), then all you need is some fine-grit sandpaper to remove any imperfections or splinters. Once your sanding has been completed, take a damp cloth to wipe it down and remove any excess dust.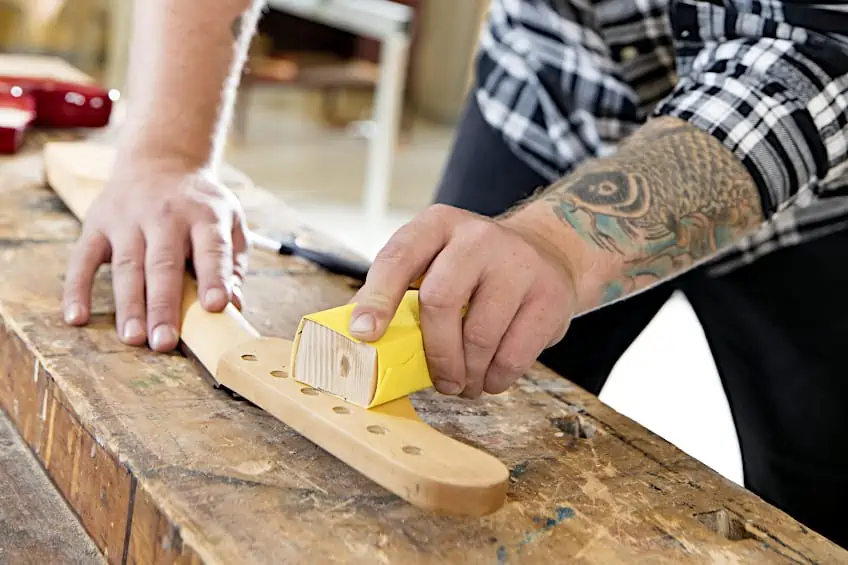 If you are taking an existing piece of wood that already has paint or varnish, a slightly rougher grit should be used to remove flakes. Afterward, take the fine grit, repeat the process above, and finish by wiping it down.
Step 2
The primer is the most important step before painting, as it ensures the surface that needs painting is readily prepared and primed – hence its name. It is best to use a high-quality latex primer for new wood and old or weathered wood, but if you don't have that, you can also use an oil-based primer.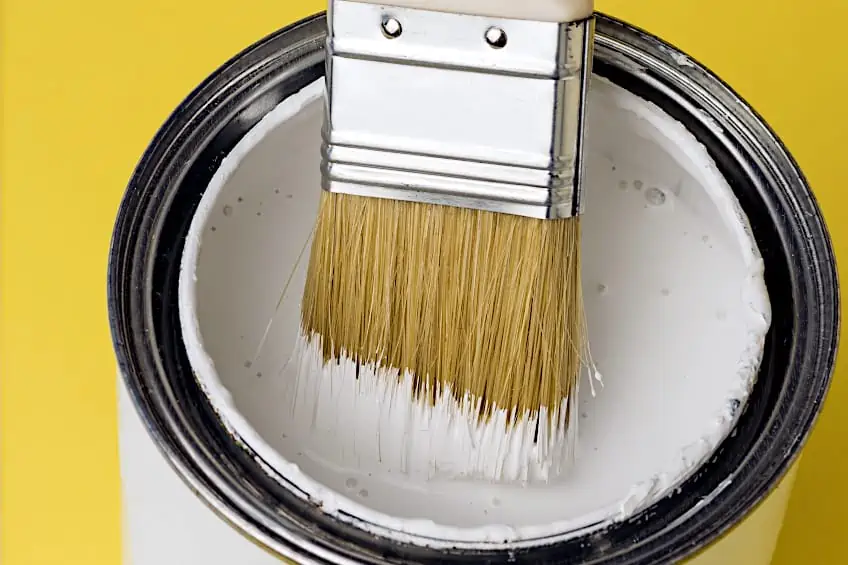 If your wood has been stained or previously painted, you should use a stain-blocking primer for best results.
Primer is recommended because it helps better apply the paint being used and allows the lighter colors to appear more vibrant. Once the above steps have been done, your masterpiece will be ready for your intended creation to be brought to life.
Choosing the Best Product to Paint Your Wood Craft
No wood shares the same porosity, so you are always better off treating it before any work begins. One way of making sure that you do not get mixed up is to create a simple checklist like the one below and use it to narrow down your options.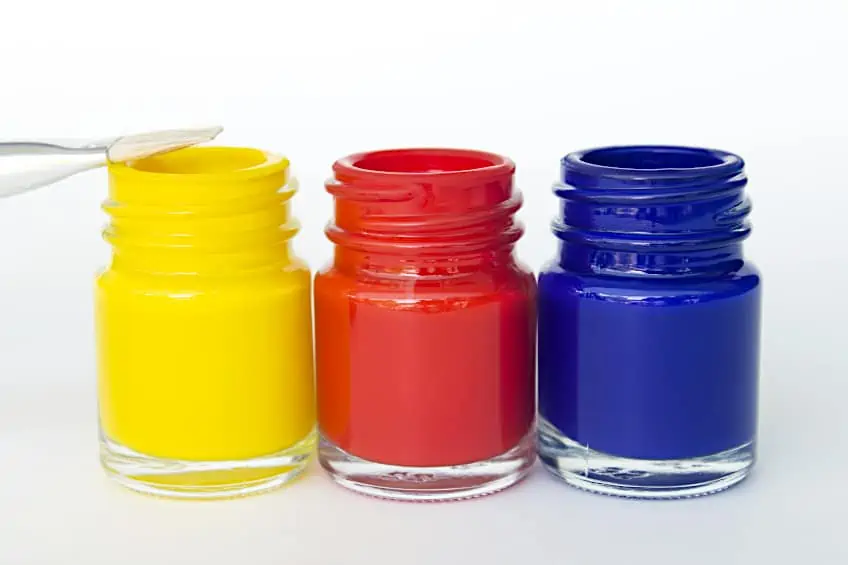 Primer and Sealant
The porosity of wooden surfaces is why primers and sealants are commonly used before applying any paint. If your wood has been treated, that can also serve as a basic primer or sealant. However, if you decide to save on these costs, your best paint options would be those with an oil base that acts as the sealant or even has primer properties.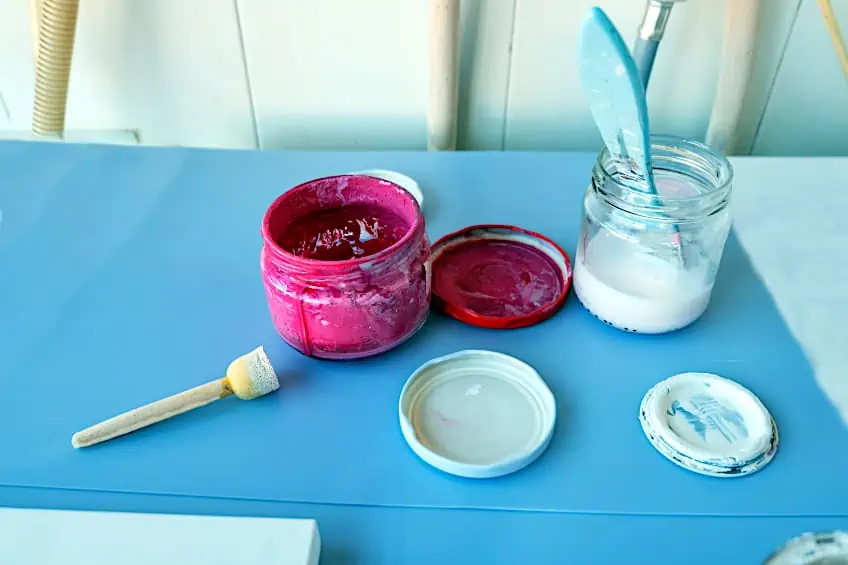 User Friendliness
Your choice in paint also comes down to your level of experience. For example, if you are a beginner or you have wooden crafts to paint for the first time, your best paint options would be those that are water-based. The reason is that water-based paints are more effortless in the application and allow room for mistakes that can easily be covered up. Thicker paints such as acrylics would be the next option. Although they might not provide the same amount of room for error, they still offer easy removal or correction.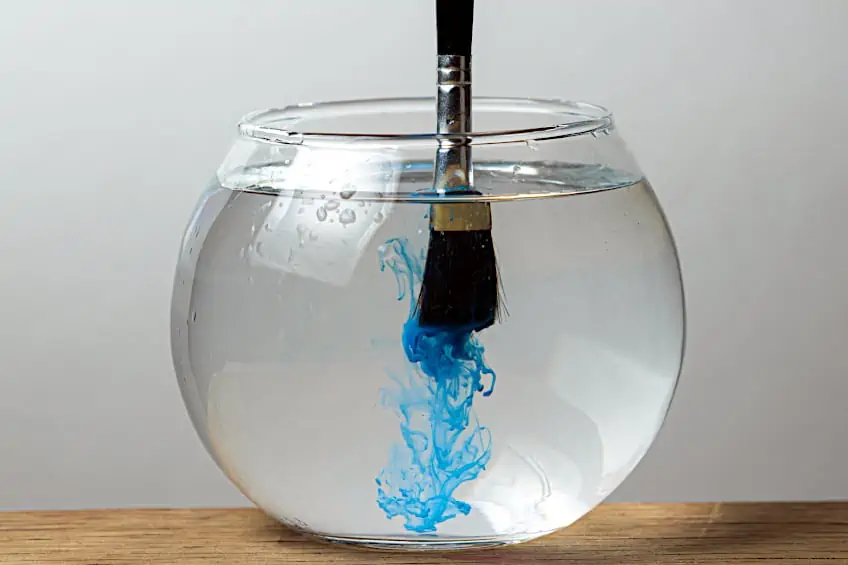 The last option is recommended for those with higher experience in oil paints or paints with thinner consistencies. These paints offer little to no room for error. Still, their ease of application is fantastic when you have the experience of using them.
Quality vs. Quantity
Apart from whether the wood has been treated and what your desired effect is, the consistency and quality of the paint used play a significant role in deciding whether or not your outcome is achieved. Using the same approach as you would when considering the user-friendliness of the paint choice, the result you are looking for determines the quality and quantity of paint required.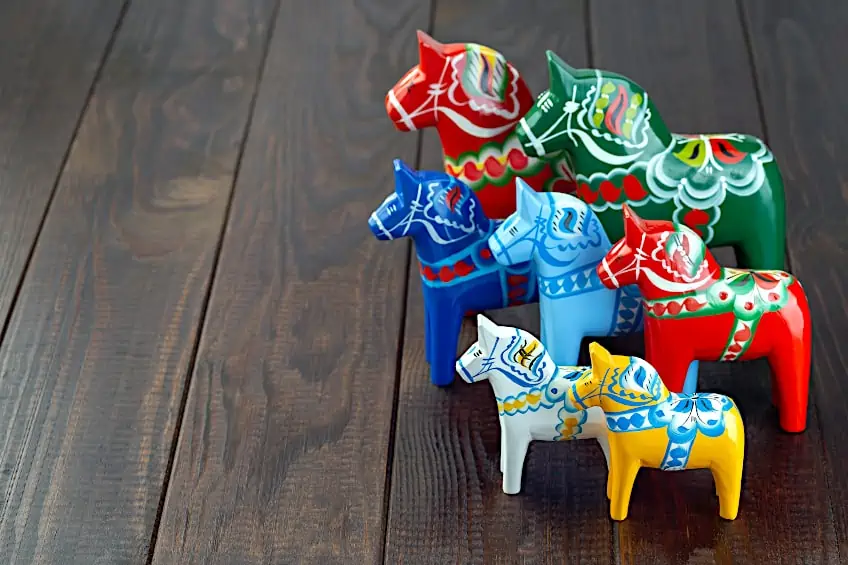 For example, if you are looking for a vibrant, solid finish, you would better look at acrylics because of their pigment density. Alternatively, if you want a more washed-out effect, your oil or water-based paints would be easier to control aspects such as shading and depth.
Drying Period
One of the main things to look out for when determining your choice of paint is the time it takes to dry. This will give you an idea of how soon you can display or use your finished woodcraft and also allow you to determine when the second coat of sealant can be applied without smearing.
Those such as acrylic and water-based paints are commonly used because of their quick drying time, which allows more work completed in a shorter time frame. Oil-based paints can be used for more detailed effects but have a much longer waiting period, sometimes up to 24 hours for those who do not mind the wait.
Did this answer all your questions? If not, take a look below to see if it has not been answered in our FAQ section. The main thing to keep in mind is that even though this may be a serious project you are working on, the purpose of crafting is to enjoy it and pour yourself into your work. As long as you do that, there are no ways that the final result will be spectacular.
Frequently Asked Questions
What Kind of Paint Do You Use on Wood Crafts?
The most commonly used paint on woodwork is acrylic which is what we crafters also call craft paint. As an alternative to oil-based paint, acrylic paint dries quickly and has a very mild odor making it desirable for wood projects. Being one of the more inexpensive paints also makes acrylic paints the more affordable option.
What Type of Paint Will Stick to Wood?
Any basic latex paint would be the best option due to its ability to latch onto any surface, even without prepping the surface. The main thing to remember is that latex paints' durability is not very good when exposed to external elements. So, if you are looking to use it on an outdoor project, you would be better off with an alternative.
Is Oil-Based or Water-Based Paint Better for Wood?
When compared, oil-based paints will always win without struggle and have been around for many years to prove their durability and strength. Whether you are looking to paint externally, internally, or both, you can never go wrong by opting for oil-based paint.